by
posted on September 20, 2021
Support NRA American Hunter
DONATE
Real Avid presents the Bore-Max Speed Clean System, a line of brushes, jags and patches designed as a faster way to clean a bore with less effort. The Speed Jag and Speed Jag Patch promise the same results as pushing four or more traditional square patches, in only one pass through the bore.

"In order to achieve maximize effectiveness, we found there needed to be an optimal balance between bristle density and bristle flexibility. In our testing, we recognized very quickly that having too few bristles was a waste of time and too many wouldn't provide enough flexibility to navigate the lands and grooves of the bore," commented Howard Tripp, chief innovation officer.
he bristle configuration of the Bore-Max Speed Brush is the result of finding that sweet spot, achieving maximum scrubbing density while retaining enough flexibility to effectively reach down into the lands and grooves, removing more carbon with each pass of the brush and getting maximum results faster. Those bristles are constructed from nickel-plated bronze, to resist chemical breakdown in the bore, extending the life of the brush.
In regard to nickel-plating, Tripp said, "Phosphor bronze has proven to be an ideal bristle material, with the exception of reacting poorly to bore-solvent. Nickel Electroplating these brushes solved that problem and increased their useful longevity as well."

By applying some new thinking to an old process, Real Avid has created a line of jags and patches developed in tandem to be paired for, caliber-specific bore fitment. Sized to account for both jag diameter and patch thickness, this combo provides optimal compression to reach into the lands and grooves thoroughly and consistently.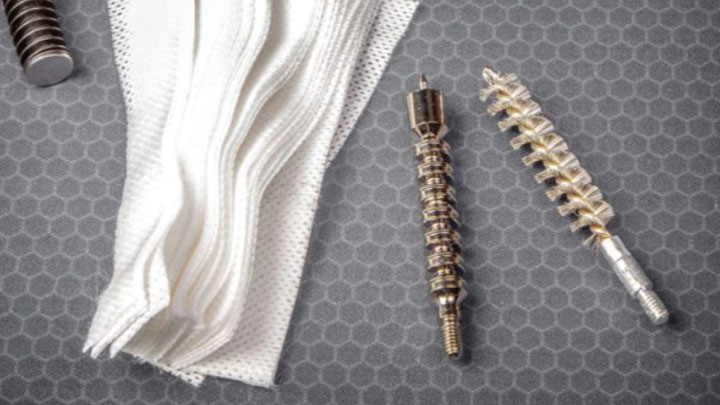 Patch material was also a big consideration in the development of the Speed Clean System. Real Avid selected a synthetic material that has shown better absorbency than cotton, and minimizes the remaining fray and excess solvent in the bore. The other benefit of using a synthetic material is the ability to create a quilt-like textured surface that is more effective at picking up and trapping crud as it passes through the bore, without fraying or dropping lint.
"To get the job done faster, we wanted to limit the amount of times it took to run through the bore in order to achieve the desired result, which in this case is a clear patch," Tripp explained. "First, we elongated the jag and eliminated the taper found on traditional jags. We instead created multiple compression rings along the entire length of the jag. Since we shaped the patch to fit the jag precisely without any wasted overlapping material, we no longer needed to accommodate for the patch bunching and could utilize the entire jag length."

For more information on the Real Avid Bore-Max Speed Clean System, please visit realavid.com. MSRP: $9.99