by
posted on February 11, 2013
Support NRA American Hunter
DONATE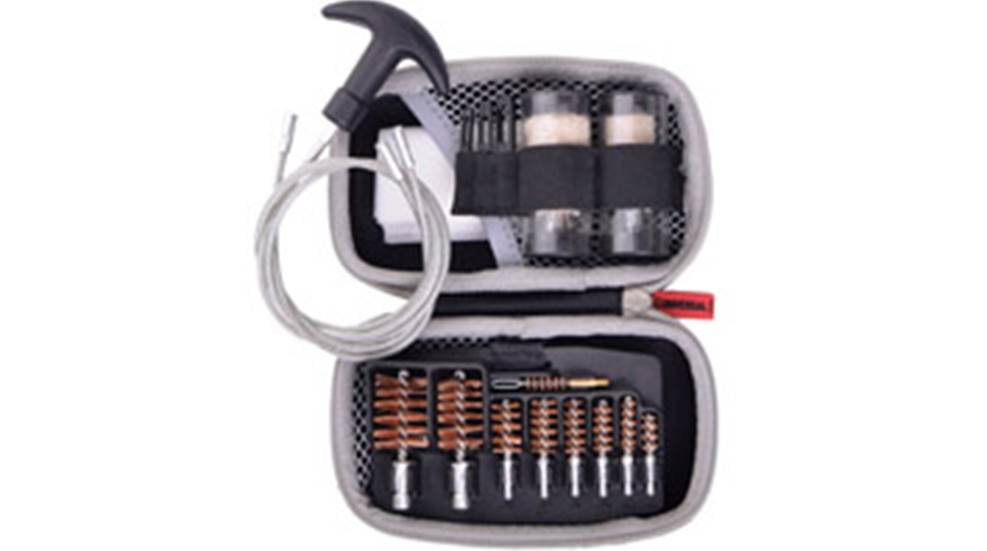 Being something of an clean freak (my wife's words, not mine!), I am always looking for a better way to clean my guns, especially when traveling. In years past I have put together my own little traveling cleaning kit, with aluminum take-down cleaning rod, patches, a little cleaning solvent, and whatever brushes and mops I need for a particular trip. I pack it in a half gallon-sized Ziploc baggie and pack the thing in my rifle case when flying, or in a little accessory tackle box I use when driving to hunts or shooting events. It's always been a hassle, but better than nothing.
Then I saw the Gun Boss Universal Kit from Real Avid at this year's big trade show, and it could be the answer.
The compact kit is designed on the premise that it is better to pull fouling from the barrel and not back into the chamber and action. It comes in a portable, weatherproof, floating molded case with a ballistic nylon shell. Non-marring aluminum connectors, adaptors, phosphor bronze brushes and a coated steel cable are included and all designed to protect the bore. Gun Boss kits are made for experienced shooters who shoot and clean on the go. They're airline safe. Included is everything needed to clean rifle and pistol bored from.17-.45 caliber and 20 & 12 gauge shotguns. There's one 34-inch long flex rod and one 9-inch long flex rod, a T-handle, 20 and 12 gauge shotgun mops and brushes, and brushes in .45, .357/.38/9mm, .30, .270 to .280 /7mm, .22 to .223/5.56mm, .22 short-action, and .17 calibers, 3 short-action, non-marring nylon slotted tips for long- and short-action ejection ports, large and small threaded adaptors, 25 shotgun cleaning patches, and 25 rifle/handgun cleaning patches, all packaged in a compact, weather-resistant case.
If this is a bit overwhelming, there are also specific rifle, shotgun, and handgun kits available. More information is available at the company's website, where you can order any of the kits for $34.99 plus shipping and handling. Another place to find information about the parent company, Real Avid—a company with some very cool stuff—is online at RealAvid.com.