Support NRA American Hunter
DONATE
On Feb. 8, during the
Great American Outdoors Show
, the
Pope and Young Club
convened a special panel of judges for a potential world-record black bear. Jeff Melillos' massive bear ended up scoring 23 5/16, which makes it the new largest bow-harvested black bear in North America, and a Pope and Young world-record black bear. T
he bear, which surpasses the previous world-record, shot by Robert J. Shuttleworth Jr. in Mendocino County, CA, Sept. 4, 1993, was taken Oct. 14, 2019 in Morris County, NJ.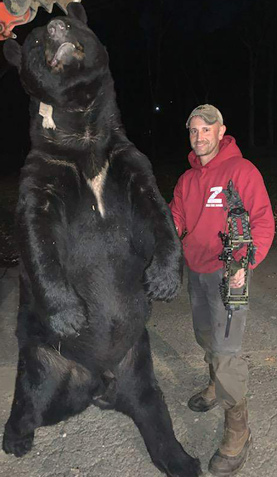 "It has been an inspiring journey, to say the least," said Jeff Melillo. "New Jersey, my home state, has its first-ever world record animal! Many years ago, I read an article in Outdoor Life Magazine stating that the new world record black bear will most likely come from New Jersey. They were spot on, and I never doubted it for one second. I'm very grateful that I get to be a part of all this. Pursuing bears with bow and arrow is a passion of mine. I'd also like to recognize the New Jersey Division of Fish and Wildlife for the outstanding effort they put into the management of New Jersey black bears. The dedication from our biologists, technicians and conservation officers make this all possible. I'd also like to give a big thanks to United Bow Hunters of New Jersey. Their organization had a lot to do with getting a bowhunting season for New Jersey black bears. Without their efforts, I would not be writing this."

The animal will be available to view at the Pope & Young Annual Convention March 26-28 in Chantilly, VA, as part of the Bass Pro/Cabela's Trophy Tower—the largest display of world record, North American, bow-harvested, big-game animals ever assembled. 

For convention information, check out 

pope-young.org/convention/default.asp

.