by
posted on February 7, 2012
Support NRA American Hunter
DONATE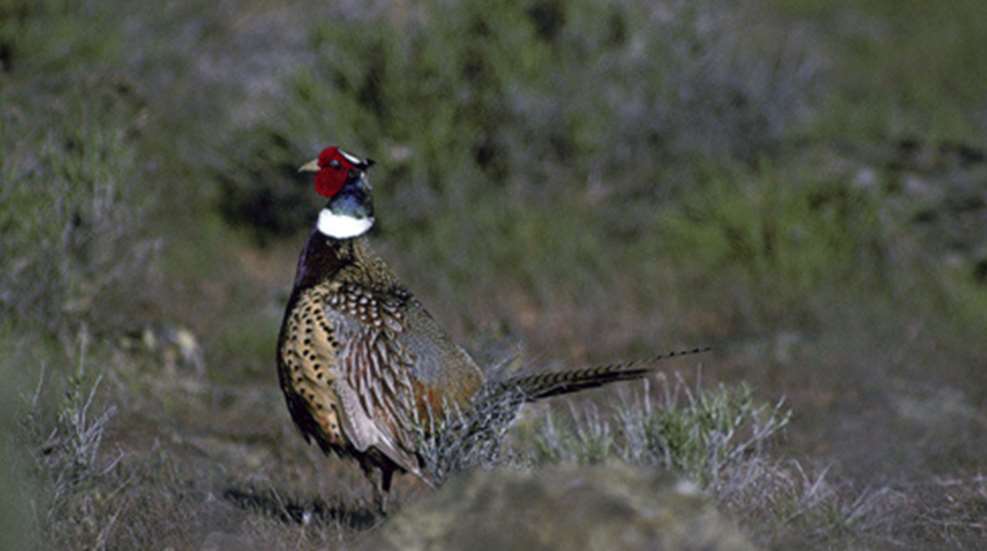 (Photo Courtesy of USFWS)

Lily, my 3-year-old English setter, didn't know what to think. At least a dozen other dogs—Drahthaars, Labs, shorthairs and even a large Munsterlander—all much larger than she, milled about barking excitedly. Several came up to her sniffing about in doggy introductions. Ten hunters and dog handlers were barking orders to dogs, loading and racking shotguns, talking and sputtering, adding to the cacophony. Lily leaned against my leg with her tail clamped firmly between her legs and gobs of drool hanging from her mouth. She looked up at me with a forlorn look as if to say, "What ever have you gotten me into?" The answer came about three minutes later when a gaudy rooster cackled as it rose from under her nose in the CRP weeds. The flyweight Benelli Legacy in my hands spoke, and the rooster did a face plant back into the weeds. Lily was on it in a heartbeat, and she buried her nose deep into feathers of the bird. "Ahh, so that's why we're here!"

September is a bit early for most pheasant seasons, but we were on a hunting preserve in Hecla, S.D., and the rules are a bit different for preserves. We were hunting Dakota Hunting Farms, a 6,000-acre piece of ground tailor made for that marvelous Chinese immigrant—the ringneck pheasant.
If your notion of preserve hunting is strolling around 160 acres, flat as a pool table and with about the same in vegetation, popping birds that have been dizzied into submission, forget it. This may not be like late-season, public land hunting where birds flush at 100 yards, but who would want that, anyway? These roosters run, skulk and hide much like any wild bird, and they fly hard and fast when they finally flush. The ground is big and tough, and it requires plenty of gun and dog power to bring birds to bag. Another solo hunter at the lodge decided to go it on his own one afternoon and came up empty.
Our first walk was for about 1 1/2 miles through the leg-grabbing, thigh-high CRP weeds. Every step is complicated by ripping the weeds and vines from one's calves and feet. The vegetation is dripping wet from morning dew, so if one forgot to wear waterproof boots and chaps (like I did), everything downstairs is sloshing within the first 100 yards. Combine that with falling into a couple of holes and twisting my right leg and its artificial hip—always a pleasant experience—and I was ready to block for a while. Derrek Sigler, a freelance writer from Michigan, was recovering from a dislocated knee, so he elected to block, too, as did Rick Van Etten, editor of Gun Dog magazine.
The three of us would load up into a UTV, along with Lily and Spur, my Border collie, and I'd drive it like I stole it around the next field to post as the rest of the group slogged their way toward us. Often we would encounter birds on the way. I'd stop and put out the dogs, and we'd start shooting before the drivers even got started. During the two-day hunt I got a half dozen rock-solid points out of the young setter in this way, and all told she had some four or five dozen birds shot over her. It was a great experience for the young dog, not only in terms of the volume of birds shot over her but in having to interact with so many other dogs in a hunting environment.
I was shooting a Benelli Legacy 28, a 5-pound, inertia-driven, semi-auto shotgun. Through the selected use of aluminum alloys and carbon-fiber materials, Benelli has successfully created the lightest auto-loading shotgun ever made. The cover may have been challenging to walk through, but the shotgun wasn't burdensome in the least. With a 26-inch barrel, the super-lightweight shotgun swung as smoothly as a heavier gun with a longer barrel. Stoked with Federal Wing-Shok high-velocity loads featuring 3/4-ounce of lead No. 7 1/2 at 1,295 fps the roosters fell regularly. I did not lose a single bird during the hunt thanks to the plethora of dogs. Most were stone dead upon retrieval, so anyone who thinks the 28 isn't a pheasant gun needs to be educated.
One thing about the Legacy took some getting used to: having a third shot. For most of my upland shooting I use one of my over-unders, so I wasn't "trained" to shoot a third time. It was a minor thing, certainly no fault of the shotgun, as it was the "nut behind the trigger" who was the problem. There were other shotguns available for us to use—the new Vinci and Super Vinci, as well as some 20-gauge Ultra Lights—but I was having so much fun and hitting so well with the 28 gauge, I simply stayed with it.