by
posted on August 21, 2012
Support NRA American Hunter
DONATE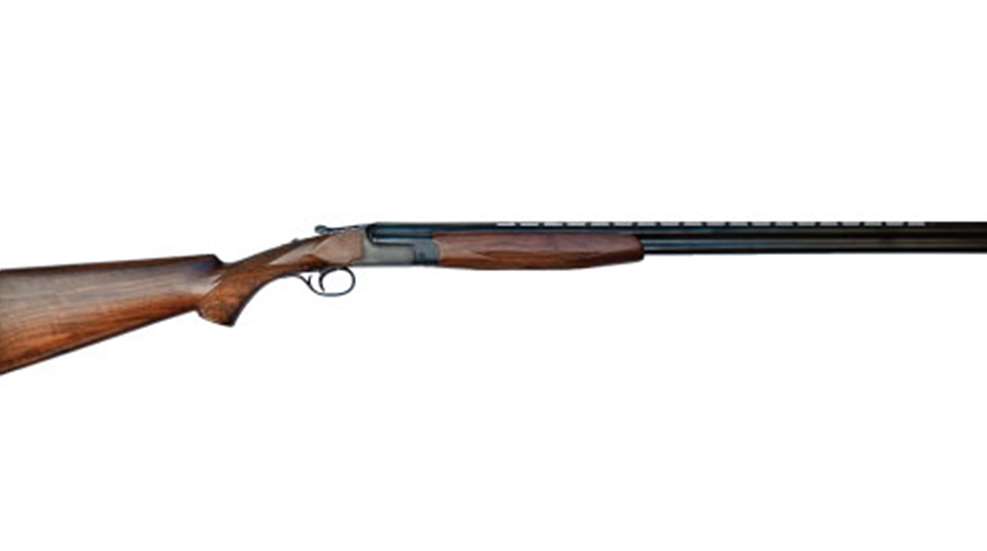 Since 1968, when an Italian trap shooter took Olympic gold in Mexico City with a Perazzi shotgun, the company has been synonymous with the very best competition guns, especially over/unders.
What is not widely known is that Perazzi also makes guns intended for game-shooting. This year, it introduced a 28-gauge over/under, the MX28B, specifically for quail and dove hunters. At a base price of $13,550, it is either at the low end of fully custom guns, or the very high end of production models—which is appropriate, because it is available either as a stock item or with enough options to qualify as a custom gun.
The sample I received for testing was the first MX28B in the United States, and as such it was fitted with stock and barrels to suit most shooters. The "B" in the model designation stands for "basic," and the company's goal was to provide Perazzi quality at as low a price as possible.
The barrels are 29.5 inches long with interchangeable choke tubes. The relatively plain walnut stock was 14.5 inches to a checkered butt. The true 28-gauge receiver was darkly blued with just a line of very discreet border engraving. At 5.5 pounds even, it is a good weight for a game gun intended for use on fast-flushing, swiftly darting targets.
Out of the box, the gun opened and closed as if it wanted to, the safety was crisp and firm, barrel selection flawless, ejectors beautifully timed and the trigger pulls were a perfect 3.5 pounds each without a hint of creep. There was no stiffness or reluctance whatever—no feeling of the gun getting between the shooter and the target. These are basic features one expects from a gun in this price range, but does not always get. With the Perazzi, they are all there.
A hallmark of competition Perazzis is the removable trigger group and the ability to replace a trigger easily, should it be necessary. The game gun, however, has a fixed trigger, which is accessible only by removing the buttstock, which is held by a through-bolt. A wrench is provided for that purpose, with a small hole in the wooden butt to accommodate it. Adjustment, therefore, is neither quick nor easy, but since it comes with perfectly adjusted pulls, this is not an immediate issue. The strikers are powered by coil springs.
How a gun shoots is determined largely by its stock, and how it delivers the shot is determined by the barrels. Both merit some discussion.
As a maker of top-flight competition guns, Perazzi is meticulous about its barrels. On the MX28B, barrels are available in lengths from 26 to 34 inches, with either fixed or interchangeable chokes. Perazzi does not label its choke tubes with conventional designations such as IC or M; instead, its tubes are numbered from '0' to '10' (all even numbers) with '0' being cylinder and '10' a tight choke. Our test gun was provided with seven tubes, one of each plus an extra '4.'
Perazzi's manual gives approximate equivalents between these numbers and the more familiar terminology but without committing the barrel to deliver specific percentages of pellets in a 30-inch circle at 40 yards. This is wise because, with the variety of modern shotshells and loads, the shooter can mix and match to suit.
What counts more than mere percentages is whether the barrels place their patterns exactly on top of one another, and whether they do so regardless of which choke tube is used. This gun was exemplary in that regard. Multiple shots with different chokes in both barrels merely enlarged the pattern without shifting its position in the slightest, and did so with three different brands of game loads (B&P, Federal and Winchester) in two shot sizes (7.5 and 8) and two charge weights (3/4 and 15⁄16 ounce.)
Perazzi takes great pride in its perfectly regulated barrels; these certainly were.
Some makers of competition guns produce "game" guns that are little more than their standard model with a short barrel, simple rib and plain stock. Not this one. Perazzi has gone to great lengths to tailor every feature to its intended purpose.
The stock design is inspired by the classic Purdey. It is slim, graceful, with a more "relaxed" or gradual pistol grip that places the hand higher in relation to the barrels and puts both hands in line. This makes the gun very fast-handling, and also helps it point naturally as it is brought to shoulder.
As with all Perazzis, stock dimensions can be customized completely to the client's requirements. This is done at no extra charge, and Perazzi recommends a professional stock-fitting before ordering a gun. The standard dimensions on this gun were fine for me, but more important, the overall configuration of the stock was comfortable and felt good in my hands. There was none of the awkward bulk found on many competition guns, or on some game guns made by other competition-gun manufacturers.
There is vast difference of opinion on whether a gun should have an automatic safety. This gun has a manual safety, but an automatic safety is optional at additional cost. Both the safety, and the barrel selector, which works in standard fashion in conjunction with it, functioned perfectly.
The safety was neither too soft nor too stiff, and it moved on and off with a positive "click." The knurling on the button was neither too sharp (which cuts up gloves) nor too smooth (making it hard to move). This is no small thing, either to a hunter or a competitor, and it shows Perazzi covered every base thoroughly.
Shooting tests were limited to spring clays-shooting, but I attempted to simulate as many game situations as possible by shooting in-comers, going-away birds, crossers and breaking a clay with the first barrel and then shooting at the largest remaining piece with the second.
I shot gun-down, safety-on, exclusively, and was more than pleasantly surprised at how well the gun handled and responded in unexpected situations. Given Perazzi's stellar reputation, I should not have been surprised, but few over/unders today live up to the claims of their makers. This one does.
Technical Specifications:
Type: over/under shotgun
Gauge: 28
Barrels: 29.5"; (26" to 34" available)
Trigger: mechanical-type, single selective, average pull 3.5 lbs.
Sights: single front bead
Safety: slide on top strap, manual; (automatic safety optional)
Stock: Two-piece oil-finished walnut; pistol grip; custom dimensions
Overall Length: 47" (w/29.5" barrels)
Weight: 5 lbs., 8 ozs. (w/29.5" barrels)
Metal Finish: blued receiver with border engraving; higher grade available
Accessories: fitted case, 7 choke tubes
MSRP: $13,550