by
posted on September 1, 2011
Support NRA American Hunter
DONATE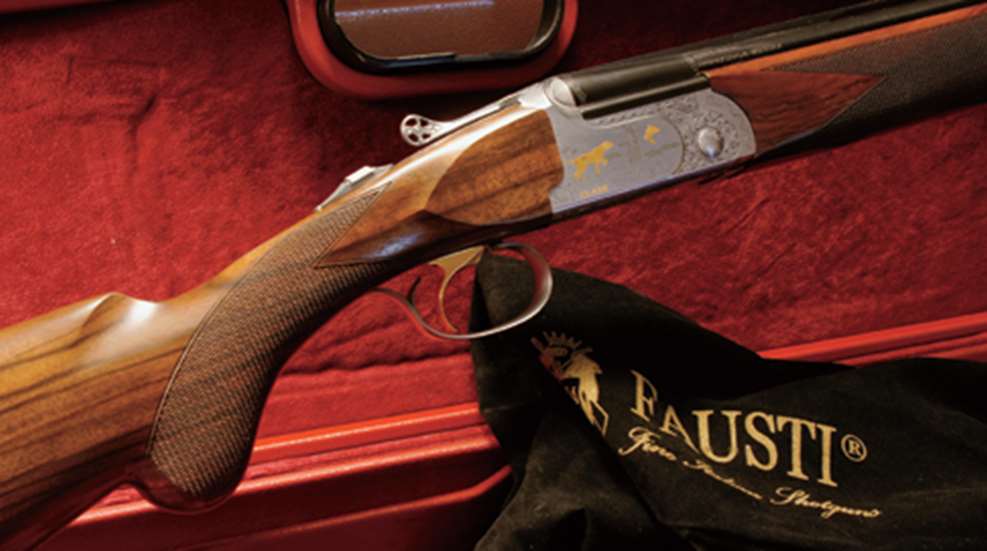 If there is one area where Italy reigns supreme, it is the manufacture of mid-range but good quality over/unders. In recent years, several smaller companies have challenged Beretta's dominance, and there is only one way to do that—offer more for less. Fausti has made a concerted push into the American market with both its side-by-sides and over/unders. The results so far are mixed, which can be put down to teething problems of setting up an import agency and distribution network, and providing gunsmiths for warranty work and repairs.
But while there have been problems, there is no doubt that, as a company, Fausti knows how to build a shotgun. Founded in 1948 by Stefano Fausti, a Brescia gunmaker, the company is still family-owned, run by his three daughters. It claims to combine Old World craftsmanship and tradition with the advantages of modern CNC machinery.
The Class is a low-priced over/under that looks more expensive than it is; At $2,449 in either 20- or 12-gauge, it is affordable for any serious shotgunner. It is available in all gauges (16, 28 and .410 are more expensive), with a variety of barrel lengths, but no other options. My test gun was a 20 with 28-inch barrels.
To start with the positive, the gun has quite lovely lines. This is no small thing. Over/unders by their nature look clumsy unless the gunmaker takes pains to minimize the dimensions and streamline where possible. Even with its semi-pistol-grip stock, the Class looks racy and sleek.
As a rule, graceful form translates into good balance—a shotgun that feels as if it is alive and springing into action when you bring it to your shoulder. In this regard, the Class scores high. At 6 pounds, 4 ounces, it is not the lightest 20 around, but this is the perfect weight for a shotgun regardless of gauge, making it comfortable to shoot and helping to dampen recoil with 3-inch shells.
The gun has a selective single trigger with the selection switch on the safety catch—a common configuration. Convenient and familiar as that is, there are pitfalls. If the safety requires unusual effort to move, it is easy to alter the barrel setting accidentally. The overall design of this safety is good, but it is quite stiff, and the serrations on top are not sharp, making it slippery. A definite effort is required to move it back and forth. Since it is an automatic safety, which has to be pushed off as the gun comes up, it needs a little work.
In a test round, the gun doubled once on me as a result of the barrel selector accidentally being moved over slightly. During one round of skeet, we had two misfires on the top barrel. When the cartridges were moved to the lower barrel they worked fine.
Another niggling concern was the grinding sound when the top lever was pushed to the side; not a big thing, but indicative of a larger problem, which we will address momentarily.
My final complaint was that the fore-end was ever so slightly loose. There is definite motion when it is attached to the gun—a problem that will only get worse over time unless corrected.
The trigger pulls themselves were quite good, albeit a little heavy for my taste. Both averaged exactly 5.5 pounds, with no creep. The bore diameters were amazingly uniform, measuring .621 inch everywhere I took a measurement. The standard bore diameter for a 20-gauge is .615 inch. Such over-boring is common practice on all gauges today, especially competition 12's. It is supposed to improve patterns and reduce recoil, and lacking any evidence to the contrary, I am happy to accept that.
The gun comes equipped with five different choke tubes, offering constriction from negative .007 inch to .024 inch. Shooting Winchester skeet loads with the IC/Mod. combination, I got nice, even patterns and my test shooter, Guy Loyd, broke 24 out of 25 birds first time up. It's hard to argue with that performance.
Personally, I like the automatic safety; I'm accustomed to it, and habitually shoot everything from a gun-down stance, pushing the safety off as I mount the gun. I particularly like it on field guns, what the Fausti Class is supposed to be. As a competition skeet shooter Guy doesn't like it, and it continually irked him during his round. But that is a matter of personal preference, and anyone who wants the automatic feature disconnected can do so easily. Such an alteration, of course, should be done by a qualified gunsmith, and that brings me to the overall assessment of the Fausti Class.
To paraphrase an old saying, a gunsmith can't put in what the gunmaker left out. A gunsmith can—and in this case, should—check the top striker, smooth the safety movement and roughen its top surface, hone the top lever, tighten the fore-end and, if possible, lighten the triggers. It would take a couple of hours, and would be money well spent.
What the gunsmith cannot do is add style and balance that are not there already. Fortunately, that is where the Fausti Class shines—it is a very nice gun that handles beautifully.
Modern CNC machining allows gunmakers to produce a gun of fairly high quality with a minimum of hand labor, but unless you are dealing in the absolute top realm, such as Fabbri (and paying the price), some gunmaking skills are still required to smooth out the little rough edges. In my opinion, this gun never passed through the hands of a gunmaker—hence the niggling little problems, but also the low price.
Computers and lasers also allow Fausti to give the gun some decoration that, while it is not true engraving, causes people, when you open the case, to say, "Hey, pretty gun!"
And it is. 
Specs:
540-371-3287
Type: over/under shotgun
Gauge/Chamber: 20-ga./3"
Barrels: 26", 28" (tested), 30"
Trigger: mechanical, single-selective, first pull, 5.5 lbs.; second pull, 5.5 lbs.
Sights: single bead
Safety: tang-mounted, automatic
Stock: two-piece oil-finished walnut; Prince of Wales grip; LOP—14.5"; drop at comb—1.5"; drop at heel—2.25"
Overall Length: 45.5" (w/28" barrels)
Weight: 6 lbs., 4 ozs. (w/28" barrels)
Metal Finish: coin with laser engraving and gold-colored gamebirds
Accessories: 5 choke tubes, case
MSRP: $2,449