by
posted on October 22, 2014
Support NRA American Hunter
DONATE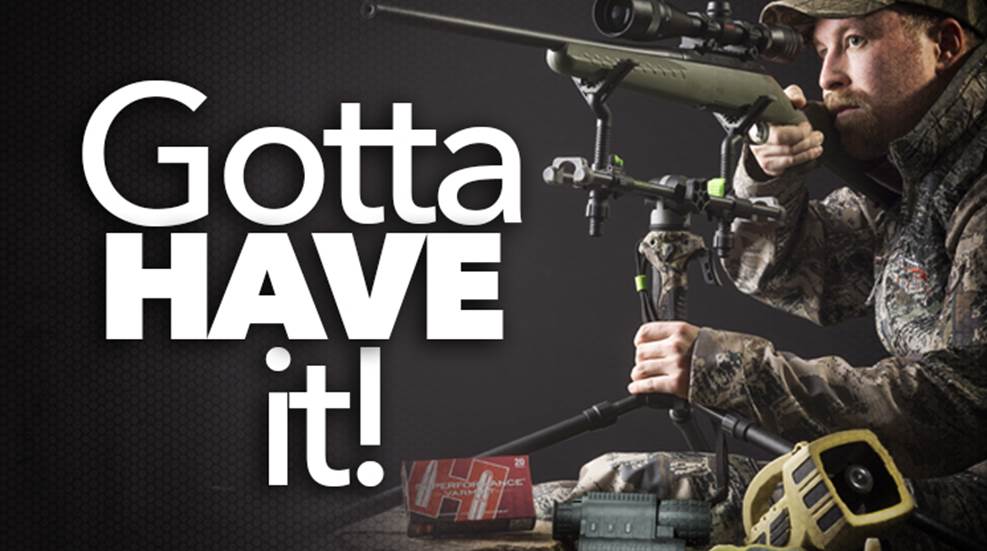 Hunters, as a whole, tend to find all-terrain vehicles to just be darn useful. Whether you're using a machine to assist in a hunt, recover downed game or haul materials to and from your latest blind location, an ATV can become just as an important a tool as your faithful pickup. So why not trick it out a little bit? Here I've assembled a handful of nifty ATV accessories from Moose Utility Division—all of which, by the way, are available in NRA-themed colors. Not a bad combination, am I right?
Pursuit Double Gun Rack
You wouldn't want your favorite shotgun or rifle getting bounced around as you moved from location to location, would you? Well, with the addition of the Pursuit Double Gun Rack, that's not a concern. The rubber-coated rack attaches to ATV handlebars, rails or metal racks and includes rubber snubbers for added security in rough terrain. The design uses a metal block and larger plus fork to keep the rack as versatile as possible—and, yes, as the name suggests, there's room for a pair of long guns.
MSRP: $67.95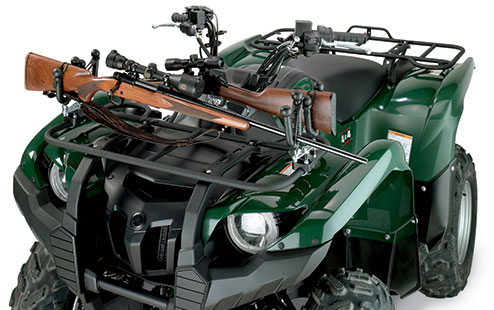 Specialty Gun Case
Should the aforementioned gun rack not suit your fancy—or if it's incompatible with your vehicle of choice—there's another option that you might find of interest. A universal gun sheath and storage system, the Moose's Special Gun Case is designed to keep the elements at bay and includes an external shell holder. The case's exterior features three foam-lined pockets with weather-resistant flaps, and the interior offers a large, padded storage sleeve that resists moisture. The mounting system is universal, too, so you should find that it'll work with just about any other Moose luggage system.
MSRP: $75.95-$79.95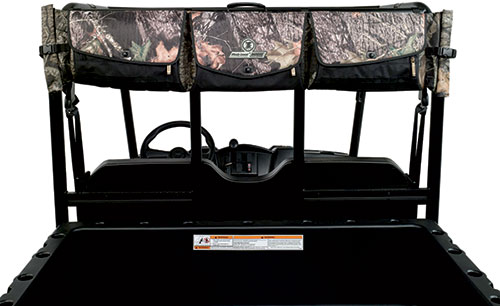 3000-pound Winch
This bad boy kind of speaks for itself—but where else are you going to find a winch that's sporting the NRA colors?
Features:
• 3,000-pound capacity
• Three stage planetary gear train
• Available in both wire rope and synthetic rope
• Wire and synthetic rope are both 50 feet of 5/32-inch cable
• Internal freespool clutch
• Mechanical spring brake
• Comes with plow-style roller fairlead
• Mini rocker switch and corded remote and socket included
• Made in the USA
MSRP:$51.95-$439.95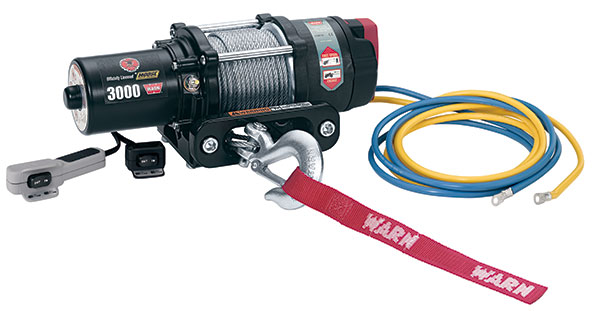 Legacy Fender Bag
You don't want to run out of storage space if you're taking your ATV afield, and the Legacy Fender Bag should lend a helping hand in that department—even if it won't quite be up to the challenge of the most prepared of hunters (but don't worry, there's more coming in the ways of storage). The form-fitted bag is designed to mount easily to an ATV's rack and fenders, with or without rack bags. Two, large zippered storage compartments include an internal key clip and two mesh storage pockets. The water-resistant exterior is 600-denier nylon and should clean up easily.
MSRP: $33.95-$38.95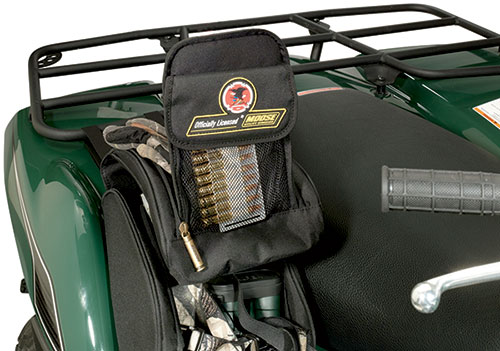 Tradition Rear Rack Bag
I promised you more storage capabilities, didn't I? If you need to maximize your ATV's gear-carrying quota, the Tradition Rear Rack Bag might be for you. The entire cargo system is manufactured with 600-denier nylon, meaning it should be able to put up with even the harshest of conditions. It includes two external compartments with adjustable weather flaps, elastic tool loops, key hooks and mesh storage pockets along with internal mesh pockets to store and protect all of your cargo. An insulated storage bag can double as a cooler, should the need arise. Just one quick favor, folks: I know it looks mighty comfortable, but please don't it as a seat. Safety first.
MSRP: $109.95-$119.95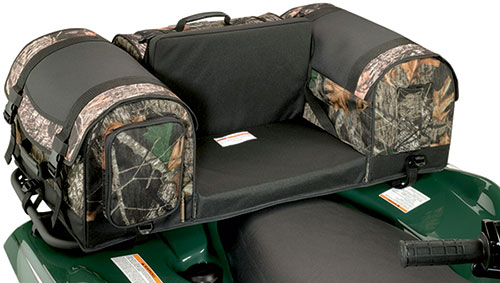 Quick Draw Gun Carrier
Whether you're on a hunt or in an emergency situation, the time may come that you need rapid access to your firearm while you're on a ride—that's where the Quick Draw Gun Carrier comes in. Made of aircraft aluminum and then finished off with powder-coat paint, the carrier holds two guns securely in a soft, cushioned cradle. The hook-and-loop pull-tabs are designed to form and fit the holding cradles to the size of the stock or forearm of any long gun. Better yet, it ships with all the necessary hardware required for installation.
MSRP: $88.95-$125.95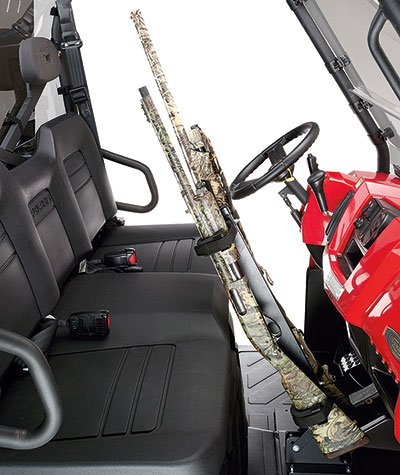 For more ATV-specific products, be sure to check out MooseUtilities.com.