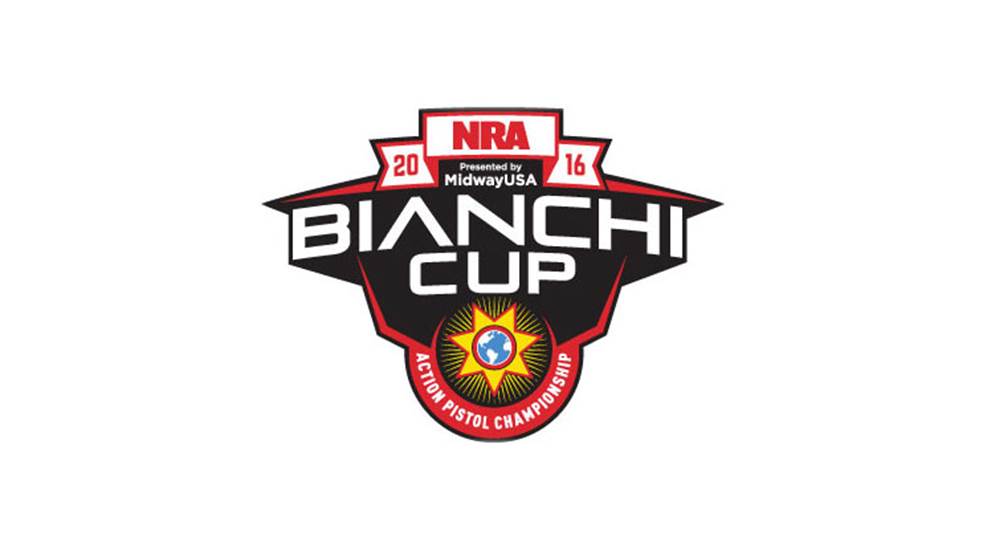 The National Rifle Association proudly announces MidwayUSA as title sponsor of its 2016 National Action Pistol Championship for the eighth consecutive year. Known commonly as the NRA Bianchi Cup presented by MidwayUSA for its world famous silver trophy, this major action pistol match will be held May 24-28, 2016 in Columbia, Missouri.
Joining MidwayUSA are event sponsors Colt, sponsoring the Colt Championship Final; FN America, sponsoring the Olin "Oli" C. Barjenbruch Falling Plate Event; Sig Sauer, sponsoring the Moving Target Event; Safariland, sponsoring the Barricade Event; Shooting Sports USA Magazine, sponsoring the Practical Event; Action Target, the event target sponsor; and A.T. Wall, the event magazine sponsor.
"We are proud to join our sponsors in continuing the legacy of the Bianchi Cup, the most prestigious pistol tournament in the world," said Executive Director of NRA General Operations Kyle Weaver. "We thank MidwayUSA for their outstanding support over the past eight years, and extend a sincere thanks to all our sponsors for helping us bring together the world's best pistol competitors."
Founded in 1979 by former police officer and holster maker John Bianchi, the 192-shot NRA Bianchi Cup presented by MidwayUSA attracts the world's best pistol shooters. This year's competition features a change in format, as there will be no multi-gun aggregate match.
Additionally, the top 36 competitors from the first 1920 Match X will advance to the Colt Championship Final, where they will fire an additional 1920 through the same four NRA Bianchi Cup events. The aggregate of both 1920s will dictate the 2016 NRA Bianchi Cup Champions.
Competition categories are determined by age, gender, and the number of modifications a shooter makes to their pistol to increase speed and accuracy.
"The Bianchi Cup has come a long way since its inception back in 1979, and it's still as exciting as ever. Brenda and I look forward to watching some of the best competitive shooters in the world practice both discipline and marksmanship," said Larry Potterfield, Founder and CEO of MidwayUSA. "MidwayUSA is pleased to return as the presenting sponsor of the 2016 Bianchi Cup and we welcome first time and returning shooters to our home town of Columbia, Missouri."
Sign up to compete here. For more information on the 2016 NRA Bianchi Cup presented by MidwayUSA, click here, or contact Damien Orsinger at (703) 267-1478 or email bianchicup[email protected]