by
posted on March 17, 2011
Support NRA American Hunter
DONATE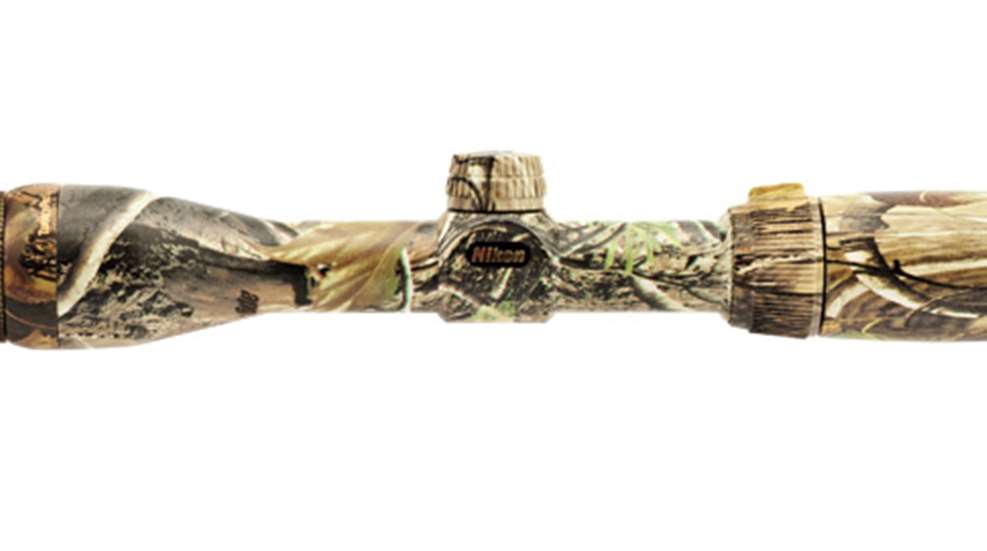 In the past I've been a critic of optics on turkey guns. I just didn't see enough advantages to justify introducing something else to get knocked out of whack or to whack me in the head. I felt they were laughable because I never wanted a shotgun that patterned so tight that a crosshair was necessary. But better turkey hunters than I espouse the benefits of optics, and so to find out why, several years ago I reluctantly bolted a scope to an otherwise perfectly fine shotgun. The result has been quite surprising: I haven't missed a turkey yet. I found out "turkey scopes" do offer advantages over beads, especially now that modern chokes and loads often produce patterns that look as if they were made by a 12-pound cannonball rather than a 12-gauge pattern of pellets. Recognizing this niche market, Nikon created its "Turkey Pro" shotgun scope. But before I discuss its features, I'll outlay my initial concerns and how this scope addresses them.
I prefer the heaviest turkey loads, but I like lightweight guns. So I know how hard shotguns can recoil, and I worry that the tremendous force will knock a scope out of zero. Academically, an 8-pound gun discharging a 2-ounce load at 1250 fps generates roughly 55 ft.-lbs. of recoil. That's like a .458 Win. Mag., a bona-fide elephant gun. To see if this $250 scope will handle this torture, I shot 25 Winchester Supreme 31/2-inch, 2-ounce loads from a Lead Sled. (Because it doesn't give as much as my poor shoulder, it's even tougher on the scope.) It survived, so I continued testing. I attached the Turkey Pro to a .223 rifle of known accuracy and shot the square to test the precision of its adjustments. And if hunting in a South Carolina swamp in the rain wasn't test enough, I froze it and dunked it in water back at home. It did not break, shift zero or fog.
Sometimes while turkey hunting, you must shoot from awkward positions. A scope can lend huge advantage in these scenarios because you don't have to line up two sights-just put the reticle on the target and pull the trigger. But at the same time, an optic can bite you. Nikon literature claims the scope has 5 inches of constant eye relief. My measurements, however, revealed 4 inches of practical eye relief at 5X, and 5.25 inches at 1.65X. It has a rubber ring around its fast-focus eyepiece for cushion just in case, but 4 to 5 inches is huge and should be plenty. The tradeoff with long eye-relief is field of view, but I'll take the extra eye protection over a few feet of view any day.
In fact, looking through any tube will hamper your view unless you've properly learned to keep both eyes open while shooting. In theory, a narrow field of view could prevent you from finding a running or flying turkey in the scope and cause you to miss an opportunity. This is a legitimate concern with any optic if you haven't practiced enough to bring the gun and scope to your eye without losing sight of the target. The Turkey Pro's field of view is 22.65 feet at 1.65X, 7.55 feet at 5X, at 50 yards. For comparison, at 50 yards a Nikon Monarch 2.5X-10X-40mm offers 20.15 feet at 2.5X to 5.05 feet at 10X. Taking the magnification differences into account, these scopes' FOV are very similar; I was surprised considering the Turkey Pro's generous eye relief.
Could the glare from the objective lens spook a turkey? Think what you will, but I don't even open my eyes wide when a tom is tuned up and coming. The Turkey Pro comes with a screw-on anti-reflection device (ARD) that hides its glare. These have been used in the military for years, and for short ranges, where light transmission and resolution aren't an issue, the ARD works as advertised.
After hunting with the Turkey Pro, I rediscovered that an optic forces me to concentrate on the target more, and it allows me to be more precise. With it I have the luxury of not just picking out the bird with the longest beard, but picking the one with the longest ear hairs. (If only Boone and Crockett recognized the importance!)
Additionally, there's a legitimate safety advantage that comes with using a scope. Of course safety ultimately rests with the shooter and not a device, but it's tougher to mistake a target when vision is enhanced.
The Turkey Pro is most like Nikon's Omega scope line, which is to say it's a mid-level optic (multi-coated, not fully multi-coated) made in the Philippines. It's not as good as its EDG or Monarch lines, but better than its economy-priced stuff. Because this scope is intended for short range (parallax is set for 50 yards), I don't see a need to pay for Nikon's optical best.
At first I thought a crosshair would be better-I'm familiar with it-but now, in my mind, a circle-in-circle like the Ballistic Turkey Reticle, which more closely represents the actual projectile pattern of the gun you are shooting, is ideal because it immediately lets you know where your load will strike. The BTR also serves as a rangefinder-at 40 yards on 5X the large circle subtends from the top of a turkey's head to the bottom of the wattles.
And finally, over the last few years I've seen more hunters miss turkeys than I ever thought possible. Why? It could be because some of the new ultra-full chokes and loads produce patterns much tighter than ever before. That's great for long range, but I know many turkeys are missed at ultra-close range, where a shotgun's pattern is about as big as a baseball. At 20 to 45 yards with full choke, a shooter must have a world-class flinch to miss, but at eight steps, if your bead and your gun's pattern do not exactly coincide, missing's easy. A scope that can be dialed in for your gun can help prevent these close-range fiascos. And it also forces the shooter to keep his head down on the gunstock amid the excitement.
Last year I finally shot a cagey old swamp gobbler at a little over 50 yards with a Winchester Super X3 and a scope attached to it. I've killed several turkeys at that range with dual brass beads, but I don't think I've ever been as confident when I pulled the trigger. I could clearly see his beard and eyes, and the scope made 50 yards seem like 15.
If your old brass-beaded shotgun performs satisfactorily for your style of turkey hunting, why bother adding something that might mess up your success? But if you demand maximum performance from the ultimate turkey gun, the Turkey Pro offers advantages you can clearly see. 
Type: variable-magnification scope
Magnification: 1.65X-5X
Objective Lens Diameter: 36mm
Reticle: BTR (Ballistic Turkey Reticle)
Eye Relief: 4"-5.25"
Exit Pupil: 7.2mm-21.81mm
Field of View @ 100 yards: 45.3'-15.1'
Coatings: multi-coated
Dimensions: length, 11.14"; weight, 13.58 ozs.
Construction: 1" aluminum tube
Accessories: anti-reflection device
MSRP: $279, Realtree or Mossy Oak camo; $249, matte (Feb. 15-May 31 get a $50-$80 "Strut Into Savings" rebate)