Support NRA American Hunter
DONATE
While they may not rival their cousin, the whitetail, in terms of overall popularity, mule deer are just as fun to hunt, and many experienced hunters consider a record-book mule deer to be the ultimate North American trophy. Finding a big mule deer buck is never easy, though. With age comes wisdom, and an old muley bucks that have eluded hunters long enough to reach maturity on public land are wary, cunning creatures indeed.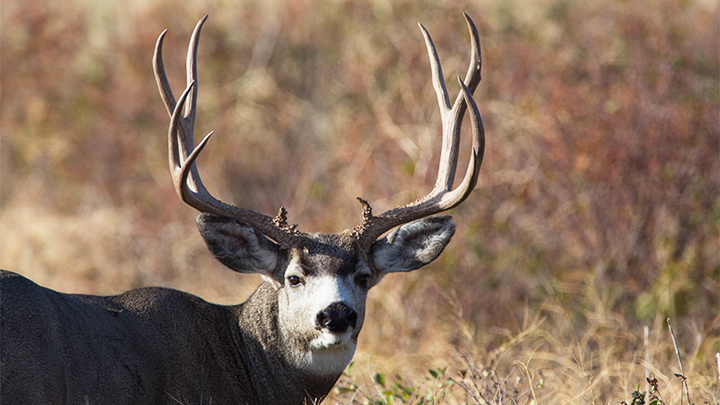 Big muleys can survive in marginal semi-arid deserts that offer very little browse or water and they are equally well-adapted to living at high elevations and surviving frigid winters. This adaptability has allowed mule deer to thrive across the western United States and Canada, but not all mule deer areas consistently produce big bucks. If a trophy mule deer is on your bucket list, here's a list of the best states and provinces to hunt right now.
1. Colorado: Colorado has a mule deer population between 400,000 and 450,000 animals, and this state has produced more record mule deer than any other. The largest typical mule deer ever killed, which scored 226 4/8 inches, was taken in Dolores County in 1972. In fact, six of the top 20 typical mule deer bucks of all time, and seven of the top 20 non-typical muley bucks were harvested in Colorado. While many of those deer were killed in the 20th century, Colorado has also produced big bucks in recent years: the two highest-scoring non-typical mule deer harvested since 2000 in the Boone & Crocket (B&C) record book were both killed in Colorado. Colorado operates on a preference point system, and it's a great place to start applying and building points if you want to harvest a really big buck.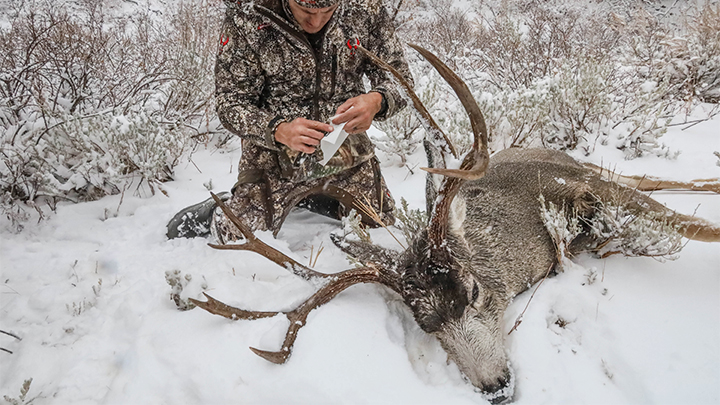 2. Arizona: Natural disasters like drought have had serious impacts on Arizona's mule deer population, which is estimated between 85,000 and 100,000 animals, but Arizona remains a prime destination for big bucks. The number four typical mule deer of all time was harvested in the state in 1994. More recently, a 211⅜-inch buck was killed in Mohave County in 2015, so Arizona's glory days are not behind it. The state operates on a bonus point system, and if you manage to draw a tag, this is as good a location to find a big muley as anywhere in the U.S. Units 13A and 13B, known as the Arizona Strip, produce giant bucks year in and year out, and these units are hallowed ground for any serious mule deer hunter.
3. Alberta: The largest non-typical mule deer in the B&C record book was killed in Alberta in 1926. That buck, which scored an unbelievable 355 2/8, was taken near Chip Lake, and while the odds of seeing a deer that large are very slim, Alberta remains one of the best places to bag a really big mule deer buck. The northern part of the province consistently produces deer over 200 inches, and there are a number of qualified guides and outfitters in the area that can help put you on good deer. At the moment, travel restrictions have hampered hunting, but hopefully that won't be an issue in the fall of 2021, and Alberta has a large and well-managed mule deer herd (164,000 animals) that will continue to produce good deer into the future.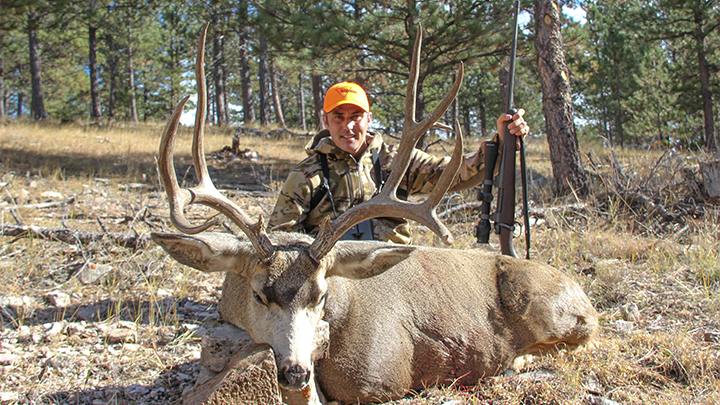 4. Idaho: Idaho offers excellent mule deer hunting opportunities and has the genetics to grow giant bucks. A quarter of the top 20 typical mule deer of all time were harvested in Idaho, and the number seven non-typical buck, which scored 320 4/8 points, was harvested in Madison County. Idaho's mule deer herd stands at an estimated 230,000 animals, and there are millions of acres of public ground in the state on which to hunt them. Additionally, Idaho doesn't operate on a point system, so you don't need to spend years accumulating points before you have a chance to draw a tag. The Idaho Fish and Game website offers extensive draw odds information, and while not all units produce record-book deer, there's potential to draw a quality tag your first year. 
5. Wyoming: Wyoming offers lots of public land, a robust mule deer herd (343,000 animals at last estimate) and superb trophy potential. Four of the top 20 B&C mule deer of all time were taken in Wyoming and, more recently, a 285 4/8-inch buck was harvested in Fremont County in 2004. Wyoming operates on a point system, but some hunts that can be drawn without any points. This state should be on your short list if you're looking for a quality mule deer buck, and there are several guides and outfitters in the state that can help you navigate the application process and put you on good deer.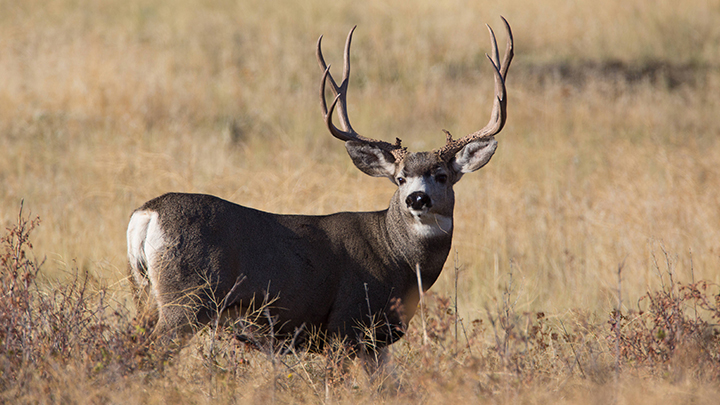 6. Saskatchewan: Saskatchewan's mule deer population is about half that of Alberta, but this province produces some absolute giants, including the new non-typical world record with a bow in 2018. Saskatchewan bucks occupy several spots on B&C's list of top 20 typical and non-typical bucks of all time, but even more impressive perhaps is how many really big muleys have been taken there in recent years. Two of the top 10 typical mule deer bucks harvested since 2000 came from Saskatchewan, and the province has produced three of the top 10 non-typical bucks during that same period. If you want to find a massive mule deer, don't overlook Saskatchewan.  
7. Utah: Utah is big mule deer country, and the state consistently produces some of the best bucks in the nation. What's more, Utah's deer are carefully managed, and the state has produced several top 10 record-book animals in the last 20 years including a 209⅞-inch typical in Rich County in 2004 and a 209-inch buck in Garfield County in 2008. Utah's deer herd is estimated at 319,000 animals, and there's lots of good hunting country. Utah operates using a bonus point system, and while it can be tough for non-residents to draw a limited unit tag, the odds of finding a giant mule deer are as good as anywhere. The famed Henry Mountains mule deer tag might be the most coveted big-game tag in the country; if you ever happen to draw it, you're a lucky hunter indeed.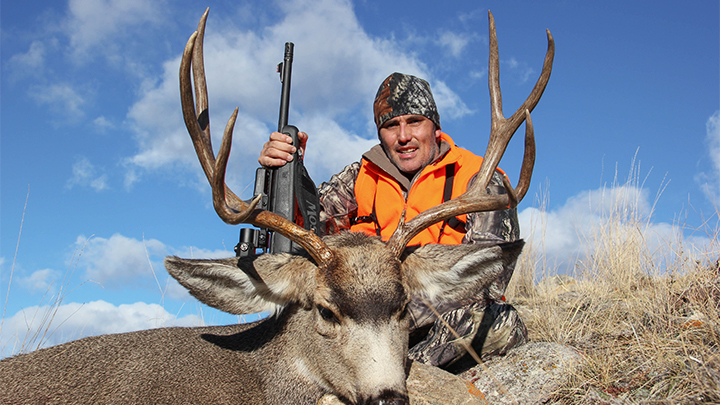 8. Nevada: The Las Vegas Strip may be the first thing that comes to mind when most people think about the Silver State, but this is a large state with lots of big deer. It may be the best-kept secret in mule deer hunting, too, because even though Nevada's deer herd isn't as large as other states (roughly 92,000 animals), and tags can be tough to draw, the herd is carefully managed and there's a good chance of tagging a massive muley. Nevada has produced some great bucks in recent years, including the new world-record with a bow in 2016 (205 6/8 inches) and the fourth largest B&C typical buck (201⅛ inches) in 2019. If you're wondering where to apply for mule deer tags this year, Nevada is certainly worth a gamble.