by
posted on January 10, 2015
Support NRA American Hunter
DONATE
I've gotten quite the preview on the ATA Show floor so far and will post a roundup of the many new-for-2015 compound bows and some of the top crossbows later this month. In the meantime, yet another good aspect of being here is that you can take advantage of the show floor's demonstration lanes to give some of the new models a try. In some cases, the bows are smaller, smoother and more efficient, such as with Bear Archery's Arena 30, which sports the new H15 Synchronized Hybrid Cam System and new limb-stop option that makes for a rock-solid back wall. Others are the happy medium, including Elite's Synergy, which at 33.5 inches falls right between last year's Energy 32 and 35 models but feels even more balanced than the Energy as you draw it. G5's Prime Rival, Bowtech's Prodigy with PowerDisk technology and Hoyt's Nitrum Series are driving a lot of booth traffic as well as PSE's new lineup, which includes the new Bow Madness Series, the fast but forgiving Premonition HD and the long-axle-to-axle Decree HD. But I think PSE's new crossbow, the Fang, featuring string stoppers and a dual safety, is just as popular for PSE, and the fact it comes with a scope and costs only $299 makes it a great buy. Not to be outdone, Barnett's BC Rage with reverse-draw technology and Ten Point's Stealth FX4, which launches crossbolts at a whopping 370 fps, are certainly worth highlighting.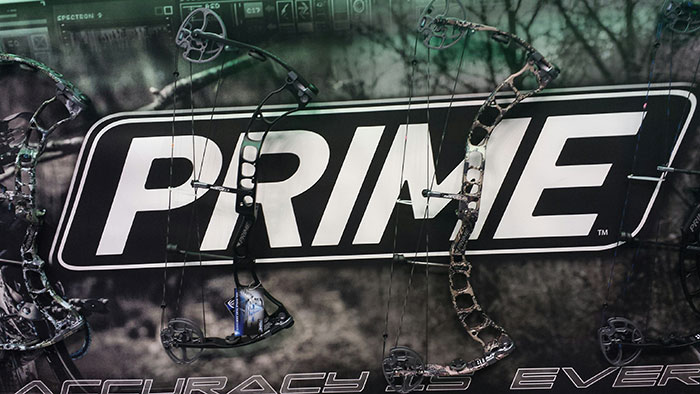 Every bowhunter needs a good arrow. But when I stopped by the Easton booth, sure, new arrows like the Deep Six SDs featuring "focused energy" X-diameter shafts with stainless steel Deep Six RPS inserts were getting attention, but I think the Easton booth's head-shaving event is stealing the action. Hair stylists are on hand to put your choice of five designs on the back of your head. It's a good deal since you get a dozen free Deep Six SD shafts—and the new look lasts until your hair grows out. I wondered what Phil would say if I put a big Easton logo on my head as he stood 15 feet away signing autographs and quickly decided against it. While Beman isn't conducting any hairstyling events, this 25-year arrow maker it is offering something both beginning archers and busy people alike will appreciate: 4-packs of pre-cut, fully assembled, 29.5-inch arrows with nocks, vanes, inserts and points designed for all bows up to 70 pounds. "Grab, Go and Shoot" is the motto as archery and bowhunting continues to grow in popularity. Jumping onto the "downsizing for durability and penetration" bandwagon are Gold Tip with its new Kinetic Kaos premium small-diameter shaft line and Victory Archery with its new RIP arrow, which promises that the game animal on your next hunt will, well, rest in peace, thanks in part to the shaft's forward-of-center weight distribution.
Every bowhunter appreciates a great pack. Chances are, whether you need a 3,000 cubic-inch model, a lumbar pack or a dry pack, Browning has it in its brand new Browning Pack line. I checked out the 2,500-cubic-inch model, which surprisingly weighs a mere 3 pounds. Its Baumshell DWR (Durable Water Repellent) fabric is touted as being twice as strong as that of many other packs at half the weight. I like its ultra-quiet Whisper zippers, which will let hunters access their gear without making a peep. When I shouldered the lumbar pack, I noted how the Infinite Loop shoulder straps move independently of each other—great for when you're climbing—so I'm definitely getting one in time for this fall. Browning's dry packs are not only "throw-in-the-lake" waterproof, but bowhunters can also use them for stashing clothing to keep it scent-free. ALPS Outdoorz fans will want to check out the Commander X hunting pack, which offers two packs in one because the pack bag detaches from the frame to make for a smaller waist-style pack.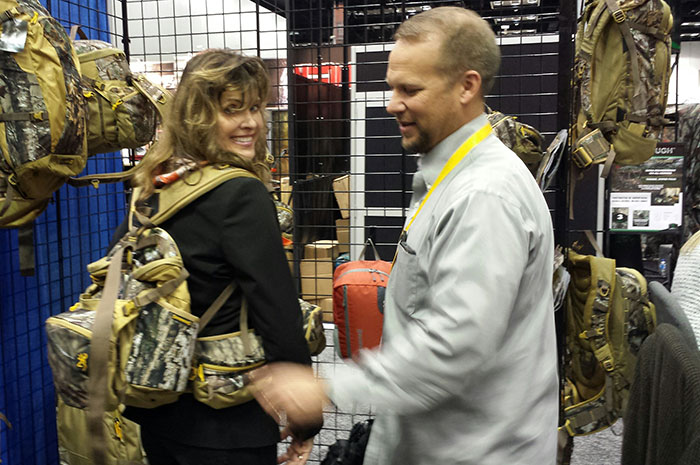 When I stopped by to visit bowhunter Amos Taylor at Apex Gear, he showed me the company's most advanced single-pin sight to date: the Covert Pro sporting PWR-DOT Illuminated Center-Dot Technology. Its green LED center dot adjusts for 11 brightness levels and it comes with 60 pre-marked yardage tapes. The aperture housing permits easy tilt adjustments for fine-tuning. TRUGLO's Rival FX gives you the ideal amount of pin contrast, thanks to what it calls FX Fiber X-Change technology, which lets you change fiber colors without changing pins. Its extra-long fibers are routed through the aperture for increased durability and it comes with a removable high-intensity blue LED pushbutton light.
Wildgame Innovations' new 360 Cam lets you see in every direction and just may provide that last piece of the puzzle for figuring out that big buck this fall. Moultrie has redesigned all of its cameras, from its infrared models with the most basic setups to its iNVISIBLE 940nm infrared mini-cams—such as the M-990i (Gen2) model and the Panoramic 150i, which takes three photos and assembles them into a single extra-wide image. I tried out this camera on an archery elk hunt this past fall and can't say enough about it.
After stopping by the HECS Stealthscreen booth to share how their HECS Suit worked for me last fall on everything from muskox to elk and deer last fall, I made a beeline to the Ozonics booth and say hi to owner Scott Elrod. At last year's ATA Show the chemist by trade assured me Ozonics' "scent transformation technology" would alter my scent molecules while in my bowhunting blind. Between wearing a HECS suit, which helps to block your electromagnetic energy by working like the grid on your microwave door, and using Ozonics, which alters your scent molecules, I dropped a 6-point bull and a 12-point whitetail on bowhunts this past fall. The combo is murder on game animals—literally!
Treestand Buddy is, well, your buddy because you no longer have to climb a tree carrying your stand. The safe, sturdy and quiet quick-attach slide mount system for hang-on treestands makes it easy to take your stand with you and ensures the same setup every time you install it.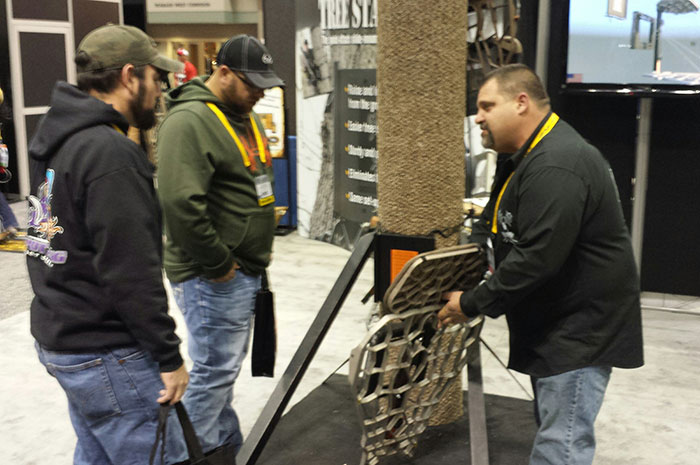 For a word in anniversaries, Wildlife Research Center's Special Golden Estrus turns 25 this year so it's being packaged in a gold bottle to commemorate the date.
And last but not least, I have some NFL news. There's no way I can be in Indy and not peek at the Colts stadium. Sitka Gear had a great launch party for its new Gore Optifade Concealment Elevated II line here so I snapped this photo of the field while waiting for the new product announcements. Sitka products are so impressive because its product designers are constantly testing and sourcing the latest textile technologies in real-world scenarios so their products are top-notch. The Elevated II line is the only digital concealment pattern engineered to make deer hunters fade into their surroundings. The lineup includes new lightweight, midweight and heavyweight base layers and jackets, pants, vest and glove options in the new Equinox, Fanatic and Stratus lines. I was thinking the Fanatic Hoody with its built-in hand muff would be just the thing for the deer stand this fall.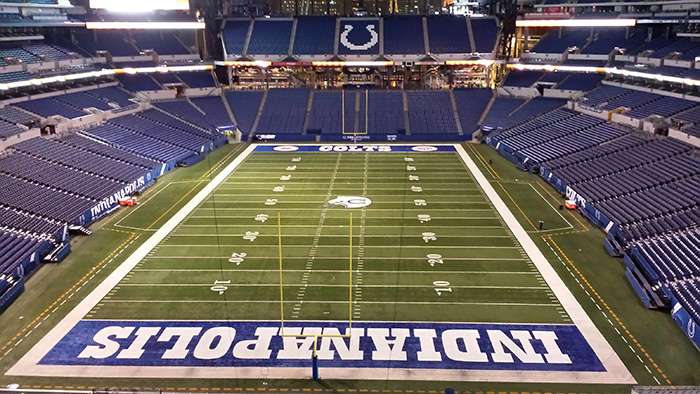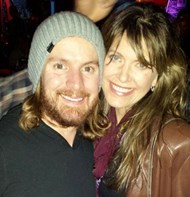 As for the NFL, last night I ran into my buddy Garrett Hartley, the kicker for the Cleveland Browns, who is the co-host of Southern Chaos on the Sportsman Channel. You may have heard about him. This owner of a Super Bowl ring was formerly with the New Orleans Saints and was in between teams in December when his agent called to let him know the Browns needed him in Cleveland. He was busy hunting in Texas and had a deer coming in so, like any serious hunter, he told his agent he'd have to call him back!
I'm heading back to the show floor now. I still have to see a few more broadhead and treestand companies—and there are way too many bows I haven't picked up yet. While having only three days to see everything isn't easy, it's a nice problem to have.