by
posted on January 4, 2023
Support NRA American Hunter
DONATE
TenPoint Crossbow Technologies recently launched its Flatline 460 Oracle X. Featuring the Burris Oracle X Rangefinding Crossbow Scope, the Flatline 460 launches arrows at 460 feet-per-second from a platform measuring only 26.5 inches by 7.5 inches.
"We are excited to team with Burris on the Flatline 460 Oracle X, which takes long-range accuracy in a compact platform to a new level," said Phil Bednar, CEO. "The entire system, including shorter 16-inch arrows, allows you to navigate the tightest spots without sacrificing speed or accuracy."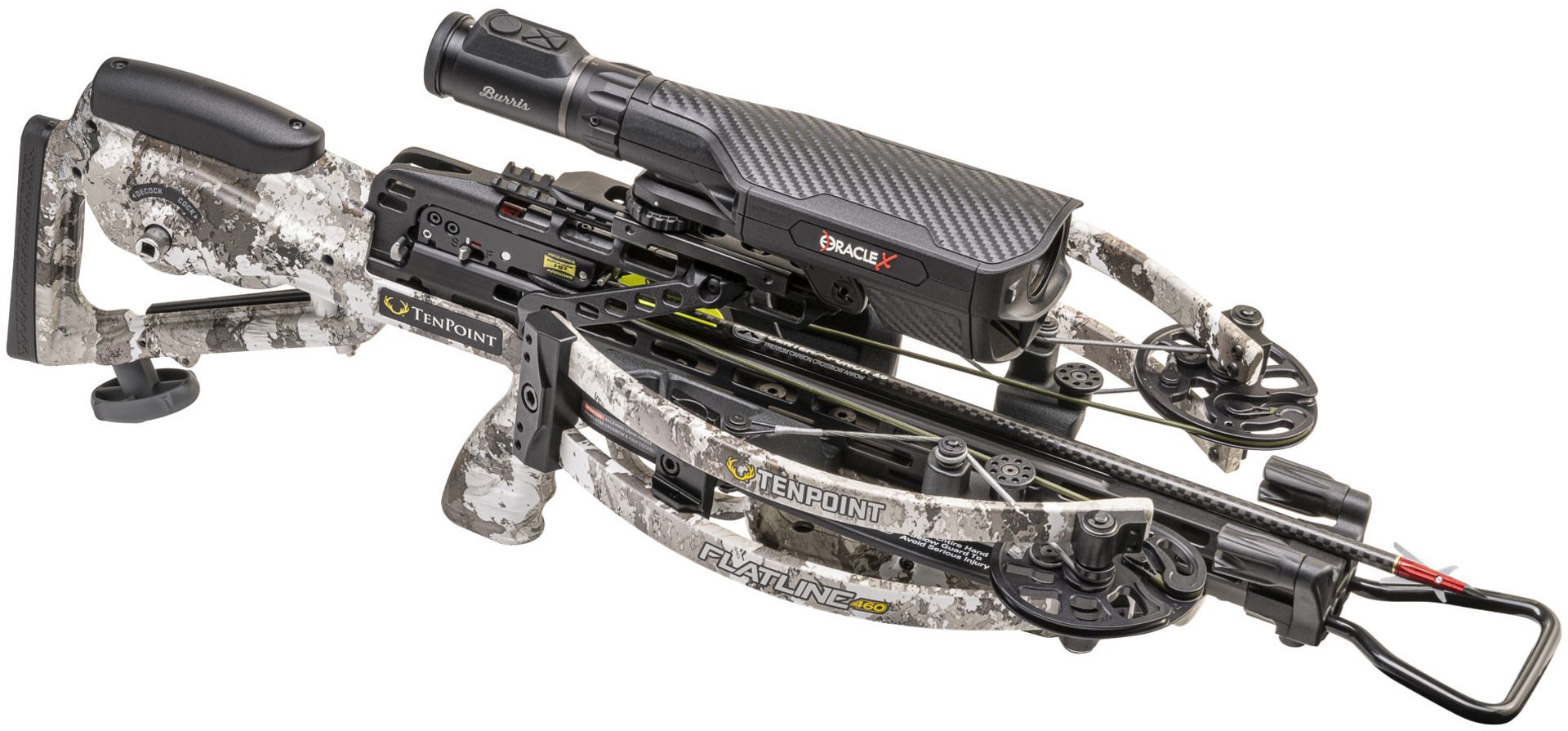 The Burris Oracle X Rangefinding Crossbow Scope features a built-in laser rangefinder that is activated via the wireless remote. With the push of a single button, the Oracle X can range game up to 200-yards away.
Forget the days of "gap shooting" with multiple aim points and reticle patterns —the 2-7X Oracle X displays the distance to your target and provides an exact aiming point factoring in the angle of your shot. This can allow for greater accuracy and more ethical shots at longer ranges than ever before. In addition, its reticle design sill allows for standard 20-yard aiming in the event of a battery failure.
The crossbow features a custom elevated cheek-piece for perfect eye-level alignment with the rangefinding scope, a longer dovetail than previous models (+1.5 inches) and dual aluminum scope struts that provide a rock-solid foundation for scope mounting. These struts increase strength and rigidity by 80 percent.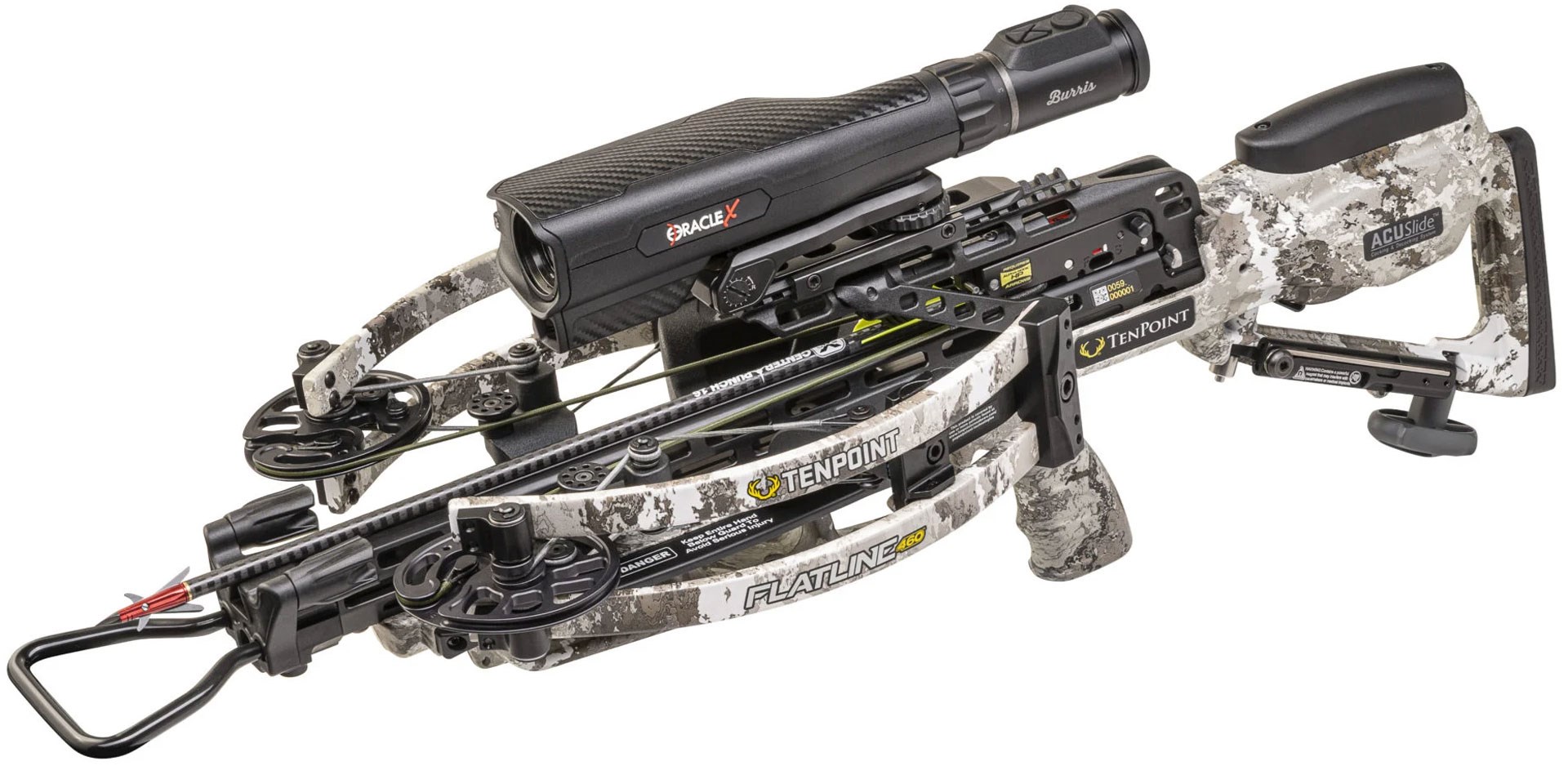 At the heart of the Flatline's is a patented reverse-draw bow assembly and 14-inch power stroke. By reversing the bow assembly and changing the riser-mounting position, the string's resting position is extended farther down the rail which creates a 47-percent longer power stroke than a forward draw crossbow measuring the same length. This increased power stroke provides several advantages over forward draw crossbows:
Generates higher top-end speeds.
Generates more speed with less draw weight, creating a smoother, quieter shot, with less shock and vibration.
Creates a longer nock-to-string engagement time during the shot, which equates to greater accuracy.
In addition, the center-mounted riser provides superior balance, eliminating the "nose heavy" feel of traditional crossbows. The RX8-Cam system allows for maximum rotation to produce speeds of 460 feet-per-second with the included 400-grain arrow. The crossbow's revolutionary Vector-Quad cable technology utilizes four cables instead of the traditional two which eliminates cam lean and generates straight-nock travel for greater accuracy.
The 16-inch Micro-Trac barrel reduces string-to-barrel contact by 50percent, while an ultra-light, two-piece Tec-Tactical stock is built for comfort for shooters of all sizes; it includes an adjustable butt plate that adjusts 1-inch to provide ideal fit. Further, the 460 Oracle X boasts TenPoint's Auto-Brake Gear System for maximum safety when decocking, and a two-stage S1 trigger for easily releasing shots. Finally, a Sentry Bowhanger allows the crossbow to be hung in a stand.
For more on the Flatline 460 Oracle X, which comes outfitted in Veil Alpine camo, visit tenpointcrossbows.com. MSRP: $3,299.99