by
posted on May 23, 2023
Support NRA American Hunter
DONATE
Maxima Photon SD hunting arrows are a strong, accurate and deadly small-diameter hunting arrow from Carbon Express. Structured to offer a terminal blend of strength, integrity, speed and tunability, the .203 (inner diameter) Photon promotes accuracy at all ranges, reduced wind drift, enhanced penetration and does not require special insert systems thanks to an aluminum half-out insert design. Fabricated from a custom weave of 30-ton carbon, the Carbon Express Photon boasts 25-percent faster recovery out of the bow than comparable models. When combined with patented Tri-Spine Technology, with 360-degree spine consistency, this exclusive blend of materials and construction generates up to 4X the accuracy of traditionally-constructed single spine arrows.
The aircraft-grade 7074 aluminum premium half-out insert system comes with a standard threaded 21-grain insert offering the ability to add weight, to customize F.O.C. to each user's preference, tune and arrow-balance priority. On the nock end, each arrow is furnished with ultra-strong Bulldog nock collars designed to amplify strength on each arrow's back end and protect the precision-constructed Launchpad nocks. Launchpad Precision Nocks control arrow release and shaft alignment for additional consistency and enhanced downrange accuracy.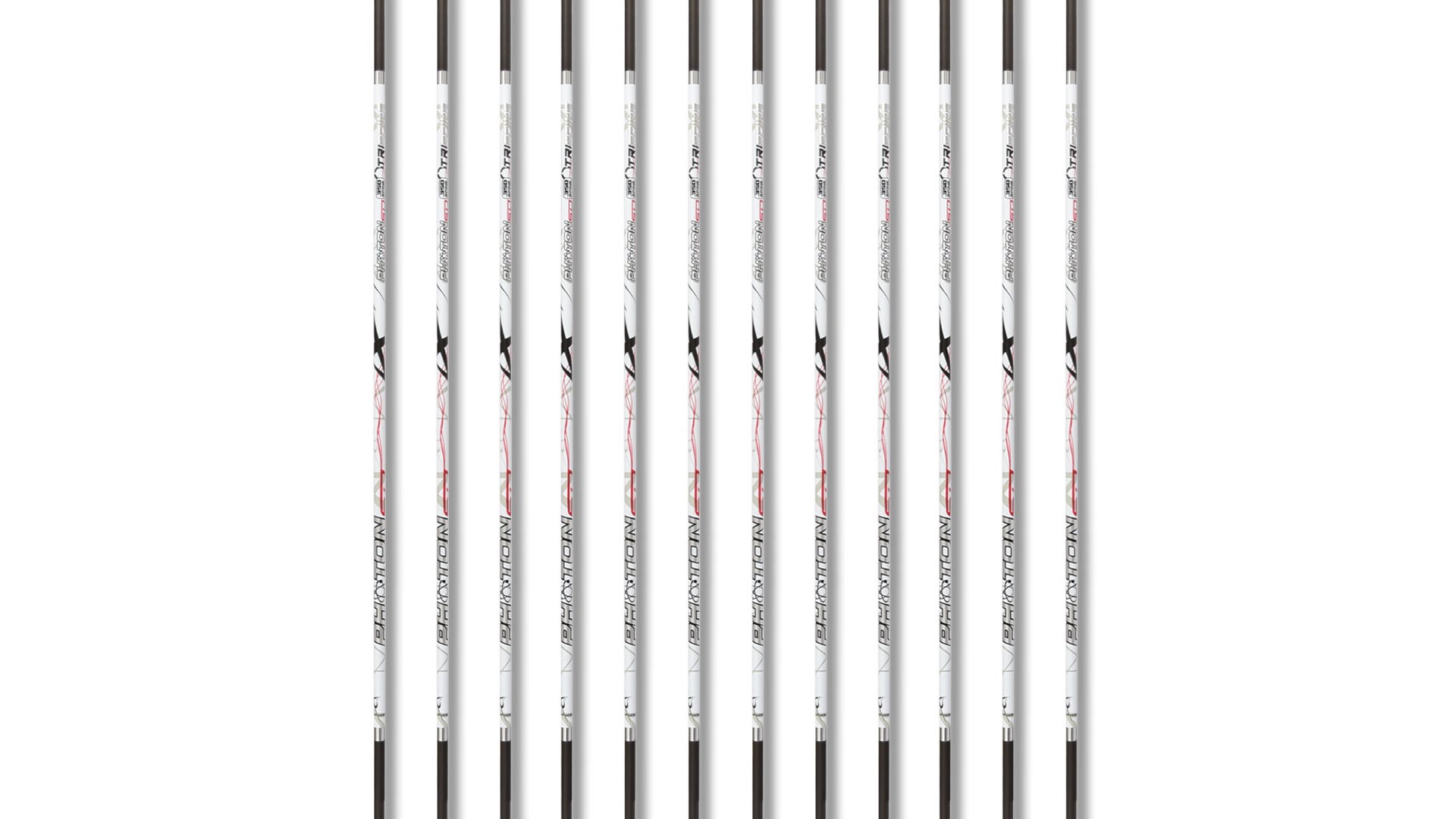 Like all arrows in the Carbon Express Maxima series arrows, the Photon's weaker center section or Red Zone helps generate faster recovery out of the bow, while the distal ends remain stiff to contain arrow oscillation and control the enemy of hyper-accuracy, dynamic spine. This means greater accuracy at all distances, especially from broadhead-tipped arrows. Each set is sorted & matched by spine and weight for best-in-class consistency with a spine-sorting tolerance of +/- .002 and weight-sorting tolerance +/- 1.0 grains. Further enhancing arrow-to-arrow consistency, each shaft is laser checked for straightness to 1/10,000 of an inch.
Maxima Photon SDs are available as 12-pack shafts, or six-pack arrows fletched with two-inch Quadel Raptor X vanes in bright white and smoke gray. The striking design of this new arrows series is as bold and eye-catching as their performance. As an additional bonus, users will be able to better diagnose the location of their shot thanks to the white background of the each shaft's background art.
For more information, visit feradyne.com.
Available in:
.300 spine – 8.9 grains per inch
.350 spine – 8.1 grains per inch
.400 spine – 7.2 grains per inch
MSRP $249.99–per dozen (shafts)
MSRP $134.99–per six-pack fletched arrows