by
posted on February 27, 2017
Support NRA American Hunter
DONATE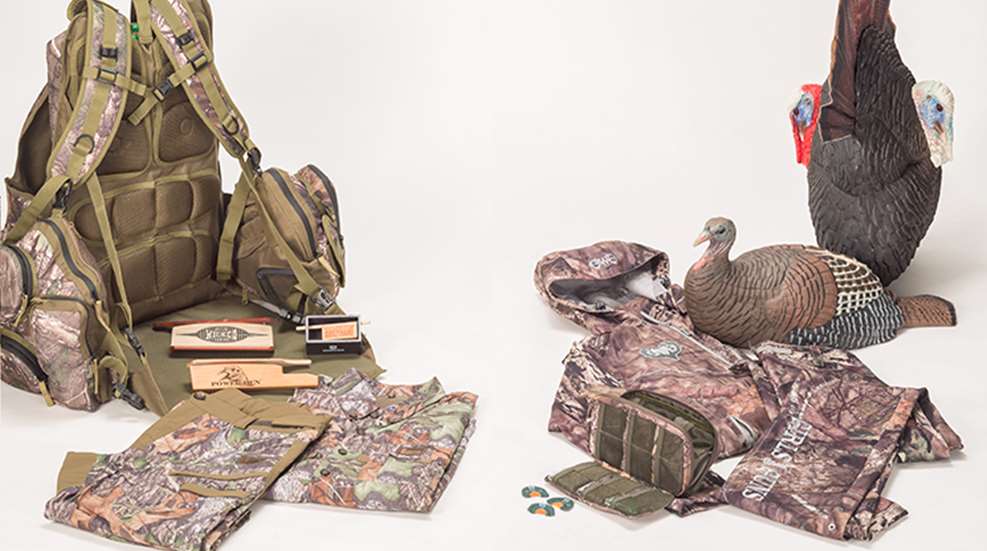 Primos Rocker Vest
For the long-haul turkey hunter, the Rocker Vest from Primos can just about carry it all. It sports molded, padded box- and pot-call pockets, a clear waterproof cell-phone pocket that allows you to use your phone without removing it, and even a pocket for decoy stakes or a hydration bladder. Fill those up and you'll still have plenty of room for extra gear, shells and a good lunch. When it comes time to make a stand, take a seat just about anywhere and still support your back utilizing the adjustable flip-down lounge seat. Available in Realtree Xtra Green and Mossy Oak Obsession. MSRP: $131.95.
Zink Box Calls
The Power Hen Hybrid and Wicked box calls from Zink are hand built and custom tuned, providing true turkey sounds from one of the easiest-to-use, yet most effective, call types out there. Each call is double-sided and able to produce all the common springtime notes from cutts to cackles—even gobbles with a little practice. The Power Hen's hybrid boat paddle creates those high to raspy double-notes that drive toms wild. The Wicked box call, made of poplar and super-dense bloodwood, is a collaboration between Zink and NWTF Grand Champion call maker Marlin Watkins. It produces what the company claims are the most realistic turkey sounds, from soft purrs to echoing locator calls, ever delivered from a production box. MSRP: Power Hen $79.99; Wicked $99.99.
Banded Lightweight Turkey Shirt and Pant
Banded just released its first clothing line made for the turkey woods. The Lightweight Shirt, made of ultra-light rip-stop fabric, has a vented back, magnetic pockets for simple and quiet retrieval of gear, and articulated shoulders for a full range of motion. The Lightweight Pant, made of a four-way, ultra-light stretch fabric, sports waterproof knees and seat panels, an adjustable waist, articulated knees and vent zippers down the legs. An integrated gaiter system keeps pant legs secure in tall boots. Available in Mossy Oak Obsession and Realtree Xtra Green. MSRP: Shirt $79.99; Pant $119.99.
Knight & Hale Calls and Run & Gun Call Pouch
New three-pack diaphragm calls from Knight & Hale include the Deadly Diva Series ($21.99/three), designed by Michael Waddell, and the Legend Series ($19.99/three), designed by none other than Harold Knight himself. Each three-pack comes with calls for a wide range of sounds from subtle, seductive purrs to attention-getting, raspy yelps. A hands-free, push/pull friction call, the Turkey Magnet ($39.99) magnetically attaches to a steel shotgun receiver so you can call with both hands on your gun. Haul your diaphragms and pot calls with the minimalist Turkey Keeper Run & Gun Call Pouch. MSRP: $19.99.
Girls with Guns Midweight Clothing
Finally, a line of women's hunting apparel designed specifically for the female form that isn't covered in pink! Girls with Guns Midweight Jacket and Pant are perfect for a cool morning in the turkey woods. A quiet soft-shell with an adjustable waist and Velcro wrist cuffs, the jacket sports three pockets with a removable hood and is wind- and water-resistant. The pant is wind-resistant and adjustable for waist and length, and has six pockets. Both garments are made of a polyester and Spandex blend, and have a soft, micro-tricot lining for warmth. Covered in Mossy Oak Break-Up Country. MSRP: Jacket $139.99; Pant $129.99.
GHG Decoys
With an aggressive, fire-engine-red head on one side and a passive pale face on the other, the new Jekyll & Hyde decoy from GHG gives old wary toms no choice but to come in for a closer look. And one glance at the ready-to-breed posture of the Laydown Hen will make those gobblers churn dust to get there first. Add a jake decoy and watch the jealousy take hold. Carry bags and decoy stake included. MSRP: Jekyll & Hyde $99; Laydown Hen $69.