by
posted on July 21, 2017
Support NRA American Hunter
DONATE
Mossy Oak has announced its new Eclipse pattern, the first camouflage design ever created specifically for hunting from inside a ground blind. Featuring a black overlay version of the company's Break-Up Country pattern without portions exposing the pattern, Eclipse is designed to erase the human outline inside a blind.
The interior of most ground blinds, as you may know, tends to be black. Lighter camouflage patterns tend to stand out against the matte backdrop. Eclipse is meant to correct that problem—which has become more prevalent with each passing year. Polls have suggested that 64 percent of big game hunters use ground blinds at some point during the season.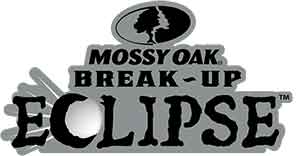 "A number of factors contribute to this growth including safety, ease of use, low cost blinds and how well blind hunting is suited to mentoring new hunters," said Chris Paradise, Chief Sales Officer for Mossy Oak. "To be most effective while hunting from a blind, the interior of a ground blind needs to be as dark as possible to hide the hunter. Until now, there hasn't been an effective camouflage solution to address the ground blind environment."
Dark apparel is a popular choice among ground blind hunters, and increasing demand led Mossy Oak to develop its own proposed solution.
"Our driving passion at Mossy Oak is to help others be successful in the outdoors," said Toxey Haas, founder and CEO of Mossy Oak. "With over half of hunters hunting from ground blinds where they are less exposed and hidden from natural light, we saw an opportunity to develop a pattern to help them hide even more inside the blind. Often hunters choose camo patterns for identity as much as effectiveness. Well, ground blind hunters now a have pattern for their hunting identity with Eclipse."
The Eclipse pattern will begin appearing on shelves by August 2017.
For more information, go to MossyOak.com.