by
posted on August 17, 2022
Support NRA American Hunter
DONATE
Be it a bucket list hunt in a land of giants, an anniversary escape with a loved one, a quick scouting trip turned big-buck showdown or the culmination of a trophy slam, American Hunter readers searched for and found opportunity near and far this past year. It feels good knowing that despite all the peaks and valleys life lead us through, we made time to do what is important with those important to us. So read on and become inspired, because another epic hunting season is right around the corner.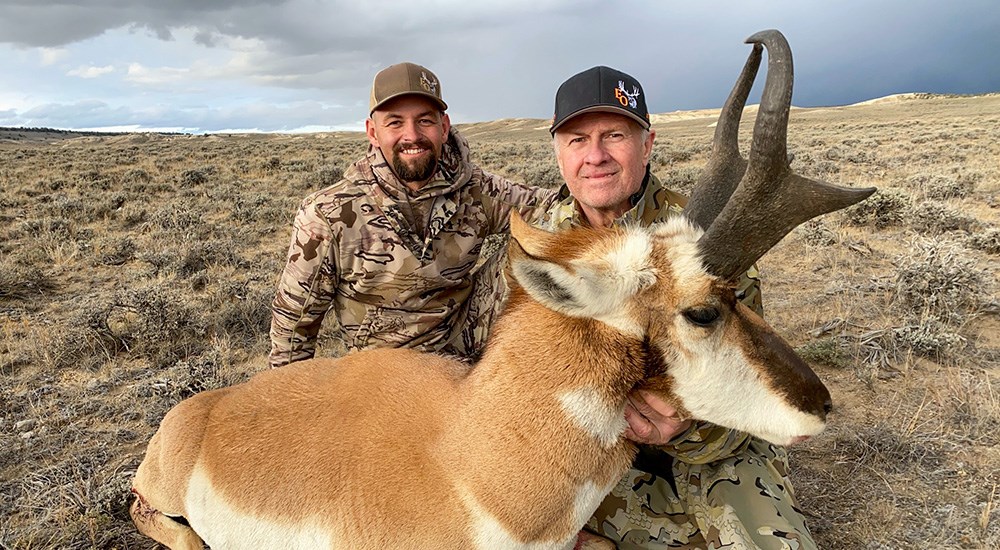 Jeff Murray, Magnolia, Texas
With 12 years of preference points burning a hole in his pocket, and a winter storm predicted to hit his hunting grounds around Jeffrey City, Wyo., Jeff had a decision to make. Of course it wasn't a tough one, and he soon found himself alongside Chance Marshall of Extreme Outfitters, glassing the landscape in search of a true representative from the "land of giant antelope." Though they spotted plenty of good goats, nightfall forced a retreat to the dinner table. Well, they say animals can become uneasy with a storm coming in, and that must have been the case on day two of Jeff's hunt as every group of antelope they found seemed to blow out from a half-mile away. This cat-and-mouse game continued for the better half of the day until the rolling hills and ditches of the unit's northern side finally offered Jeff and Chase an opportunity to close the distance on a shooter buck. Now, this is the part of the story where we love to tell you of the one-shot-kill that echoed across the countryside, but hey, this is hunting, honest hunting, and things don't always go as planned. But it's what we do in the face of adversity that truly defines a hunter. As has happened to the best of us, Jeff's initial shot was the start of a goat-rope of reloading and frantic chasing that by all accounts could have easily resulted in a "game over, let's go home" decision. But the hunters never gave up, and when they finally caught up to the buck with the wounded rear leg, Jeff was able to compose himself and deliver a perfect killing shot from his .257 Weatherby Vanguard on this incredible Wyoming antelope. That is what it's all about!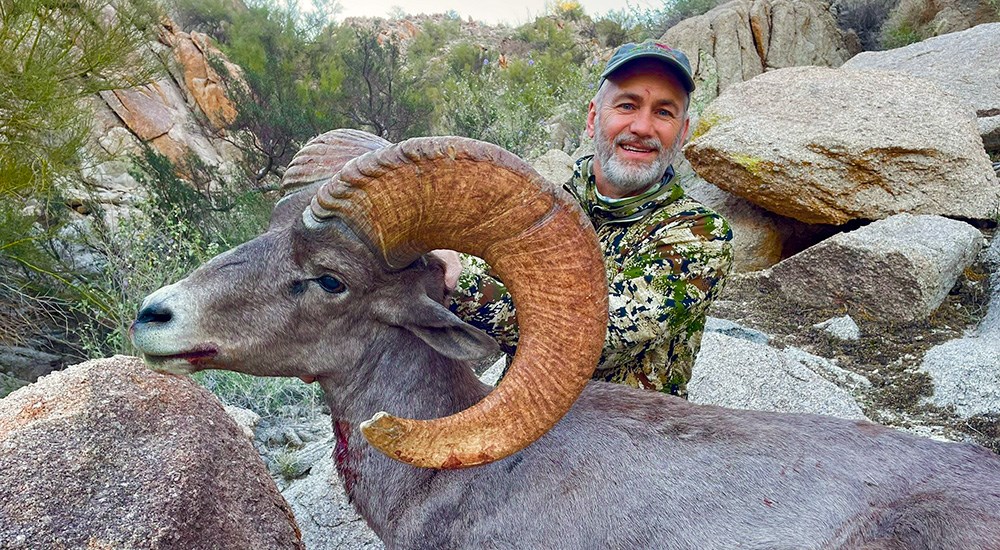 Todd Anderson, Sycamore, Ill.
On Valentine's Day last year, Todd found himself in Sonora, Mexico, pursuing a lifelong dream: a desert ram! A guide had spotted a decent ram but it disappeared in a big bowl, forcing the hunting crew to split up and search. By late afternoon there still had been no sight of the ram, and Todd figured the day was "pretty much over." But they found it, along with other rams, across the next valley. Todd dropped his pack and carried only his rifle as they drew near. The range to the big ram was 460 yards. Todd practices regularly out to 600 yards, so he knew he could connect. He took the shot and hit the ram low in the chest. It hobbled over the crest of a ridge and into the next cut to stand on a rock quartering away from the hunter; it now stood at 506 yards. Todd settled in and sent a bullet through his trophy, which taped in the 170s. He and his wife knew their savings would take a hit, but she's been married to a hunter for 37 years and knew this was a lifelong dream for him. "My Valentine's Day desert sheep was truly a gift from my wife," says Todd.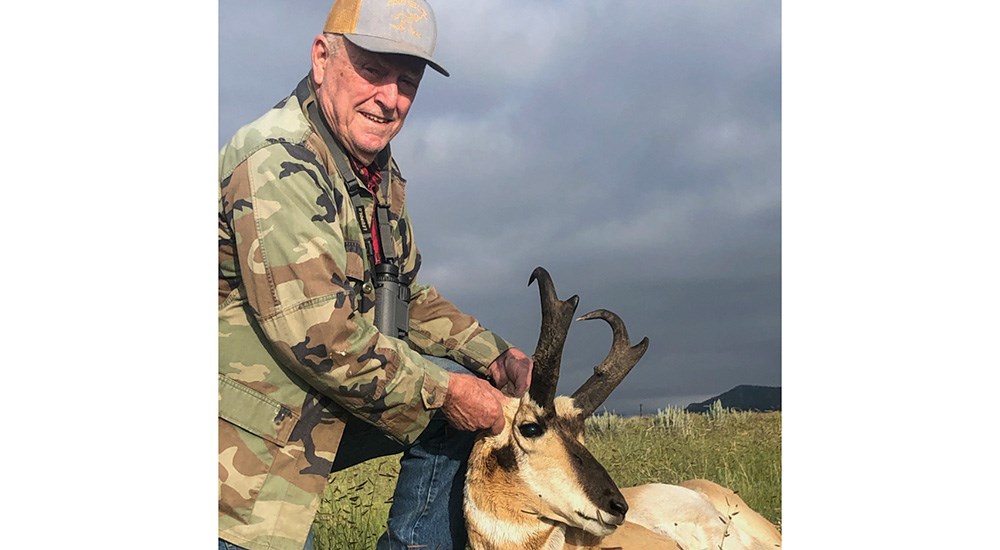 Harold Forester, Tyler, Texas
Eighty-three-year-old and 60-year NRA member Harold donned his old-school woodland camo coat to bag his first pronghorn last August near Raton, N.M. He used his Ruger No. 1 in .257 Roberts (a sweet cartridge for pronghorns!) and sent a 120-grain Speer Grand Slam 216 yards to its target. The horns measured longer than 16 inches!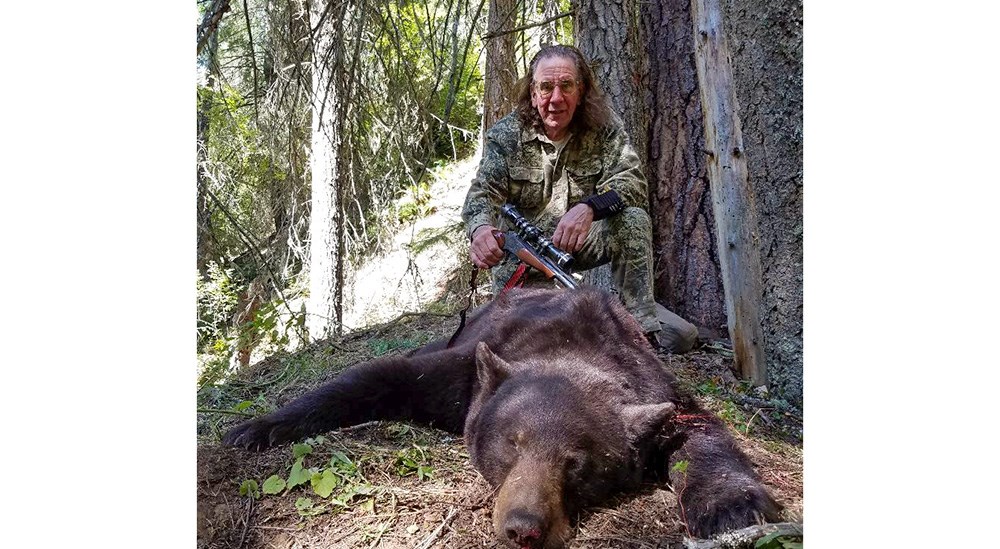 Tarey DeBenedictus, Gilbert, Ariz.
On the fourth day of his first bear hunt in Lucile, Idaho, Tarey and his guide located a "really good bear"—but they had to plunge 750 yards downhill in the steep terrain to get to it. The bear was 150 feet high in a tree. He knocked it out with his T/C Contender in .338 JDJ and a 180-grain Ballistic Tip, but it took three shots to drop the bear.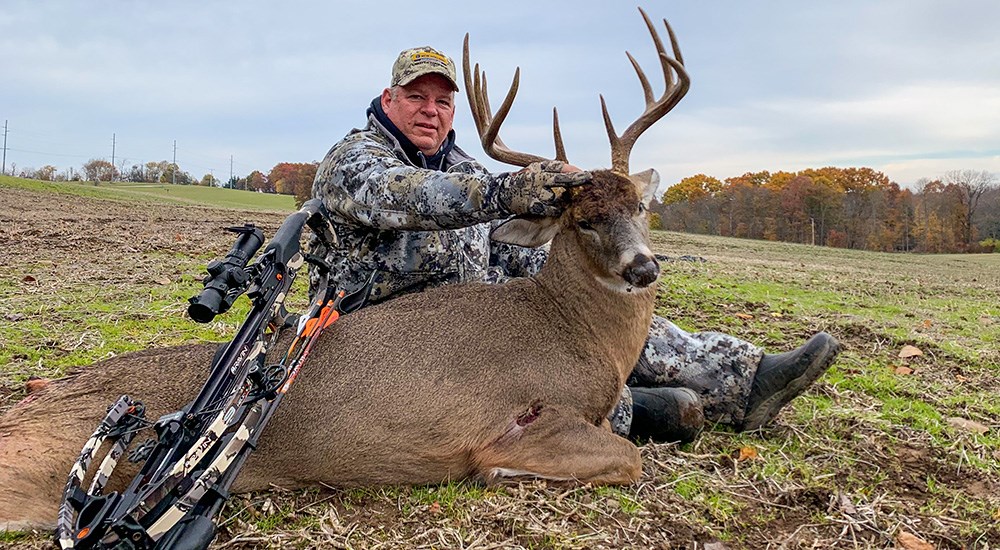 Scott Kerr, East Sparta, Ohio
Scott took this 10-pointer last November with his crossbow in Stark County, Ohio. Writes Scott: "As a proud decades-long member of the NRA, I appreciate the work you do not only protecting our rights to the Second Amendment but also protecting the tradition of our right to hunt and harvest incredible North American game."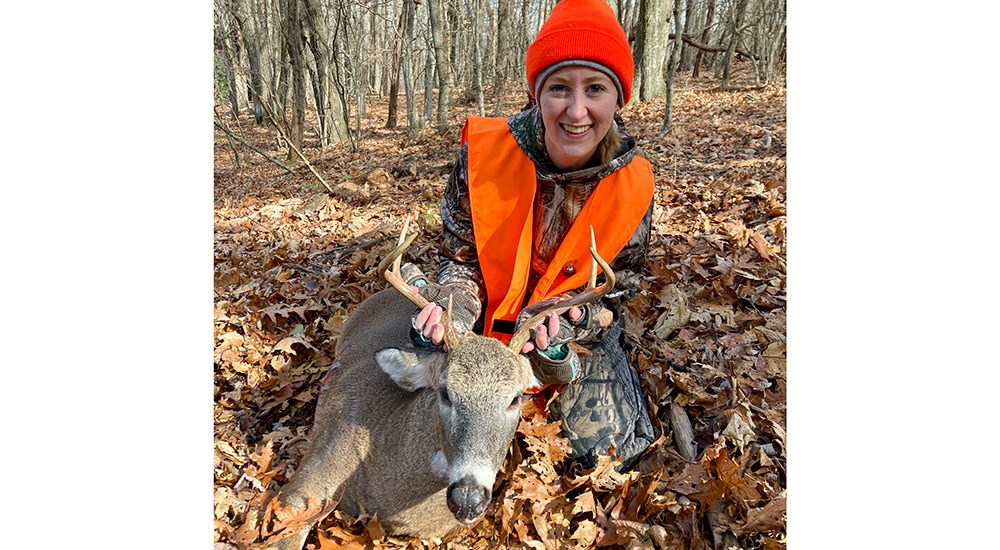 Stefanie Meacham, Boone, N.C
Harold was happy when his daughter Stefanie expressed an interest in hunting, but two seasons in Maine didn't deliver success, and he wasn't surprised when she declined to join him for another. When they moved to North Carolina, he captured a nice 6-pointer on a trail camera, and seeing the photo, Stefanie exclaimed, "I want to hunt again." On the first day of the season, they met with another new hunter he'd agreed to mentor. Within an hour, Harold saw a buck approaching and whispered, "It's 'Six!'" The buck stopped and stared. Harold grunted, which made the buck glance away from the young hunter, giving her time to aim. Turns out "Six" was only a 5-point, but it was an unforgettable hunt nonetheless.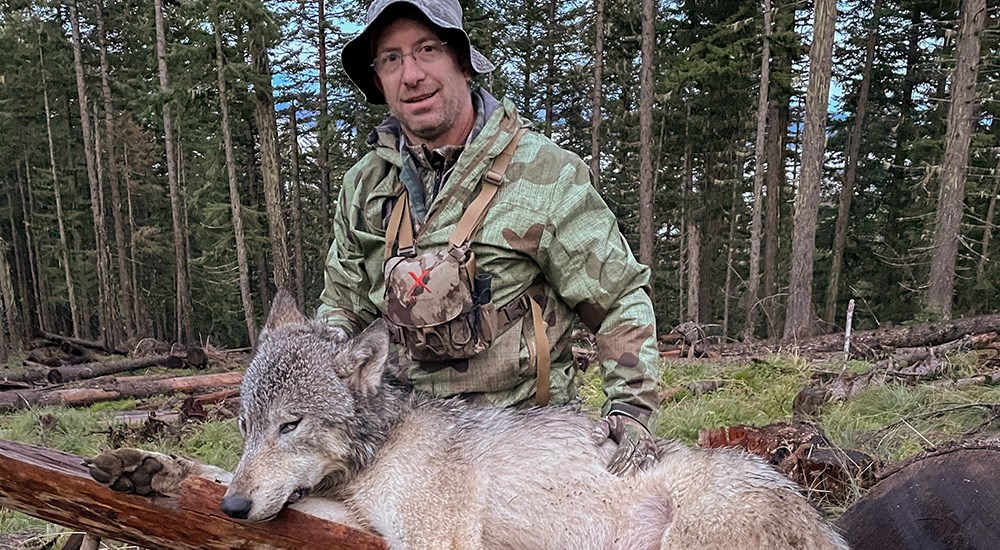 Walter Finney, Priest River, Idaho
In late May last year, Walter and a buddy were watching a bear bait in Idaho when a cow elk entered the picture; over the next 20 minutes elk and hunters played a game of cat-and-mouse. Then Walter spotted a flash of gray downslope at about 200 yards. He slowly prepared his rifle, and when the flash was 135 yards away he realized it was a wolf. He tried to talk his partner "onto" the wolf but the hunter couldn't find it. So Walter squeezed off a 165-grain Hornady SST from his Ruger American Predator .308. "I turned to my buddy," writes Walter, "and remarked: 'I just shot a wolf!'"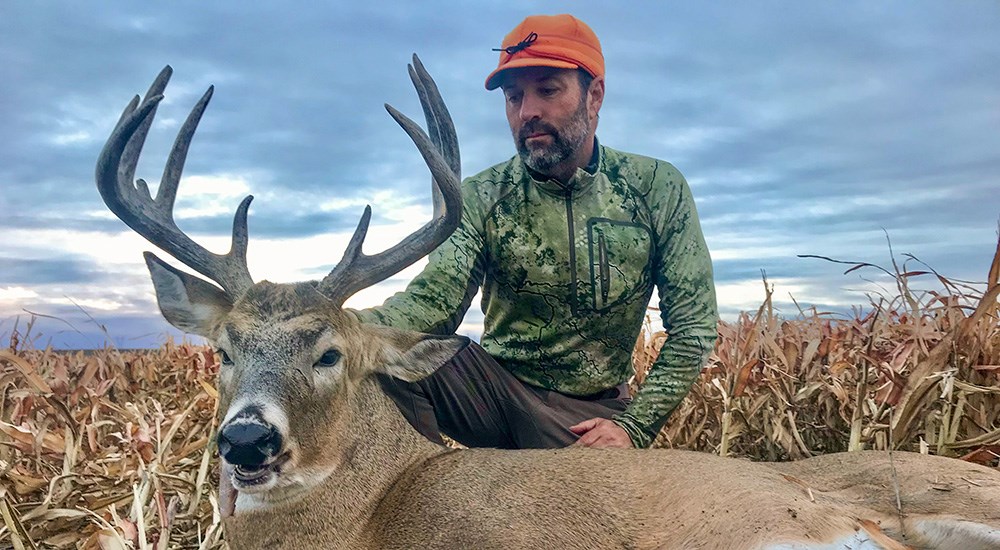 Ken W. Carter, Yolo County, Calif.
At the urging of his cousin, Mike, Ken crawled the last few hundred yards on a stalk toward a buck and doe in South Dakota last season. As he prepared for a shot at 350 yards, the buck, bedded next to the doe in a CRP field, spotted him. He didn't feel comfortable with the shot, so Ken tried a grunt call. To his surprise, the buck started walking toward him. When it got to 125 yards Ken shot, and the heavy horned buck dropped. "If Mike wasn't with me, I doubt I would have attempted the hunt," says Ken.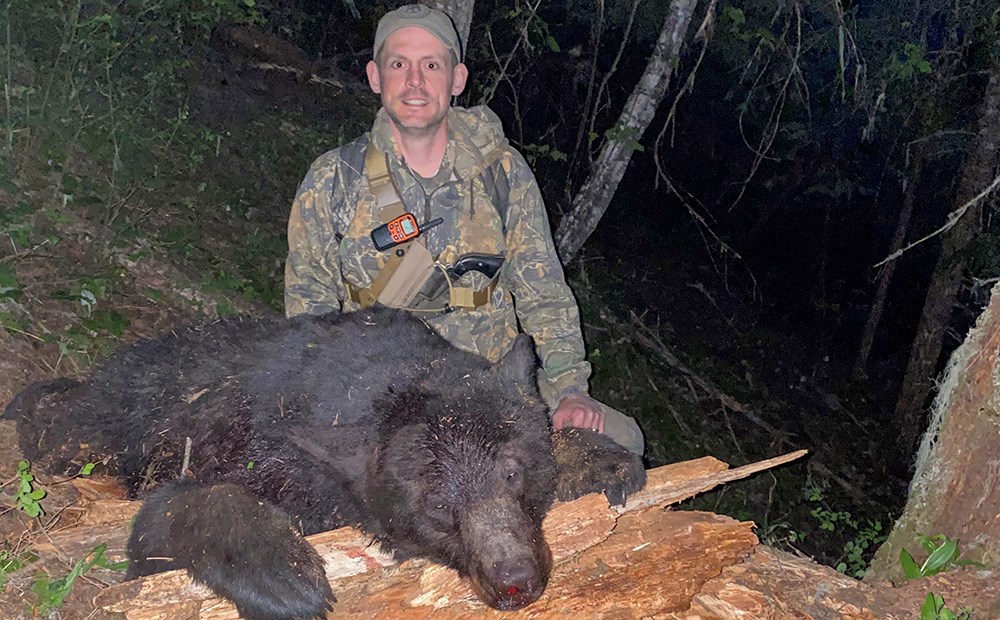 Tyler Jones, Charlotte, N.C.
Tyler and some buddies hunted Idaho for black bears last May, where he took this bruin in Elk River. "I was successful with one shot from a treestand at 20 yards using my Ruger Super Blackhawk .44 Mag. with a 2X scope," writes Tyler.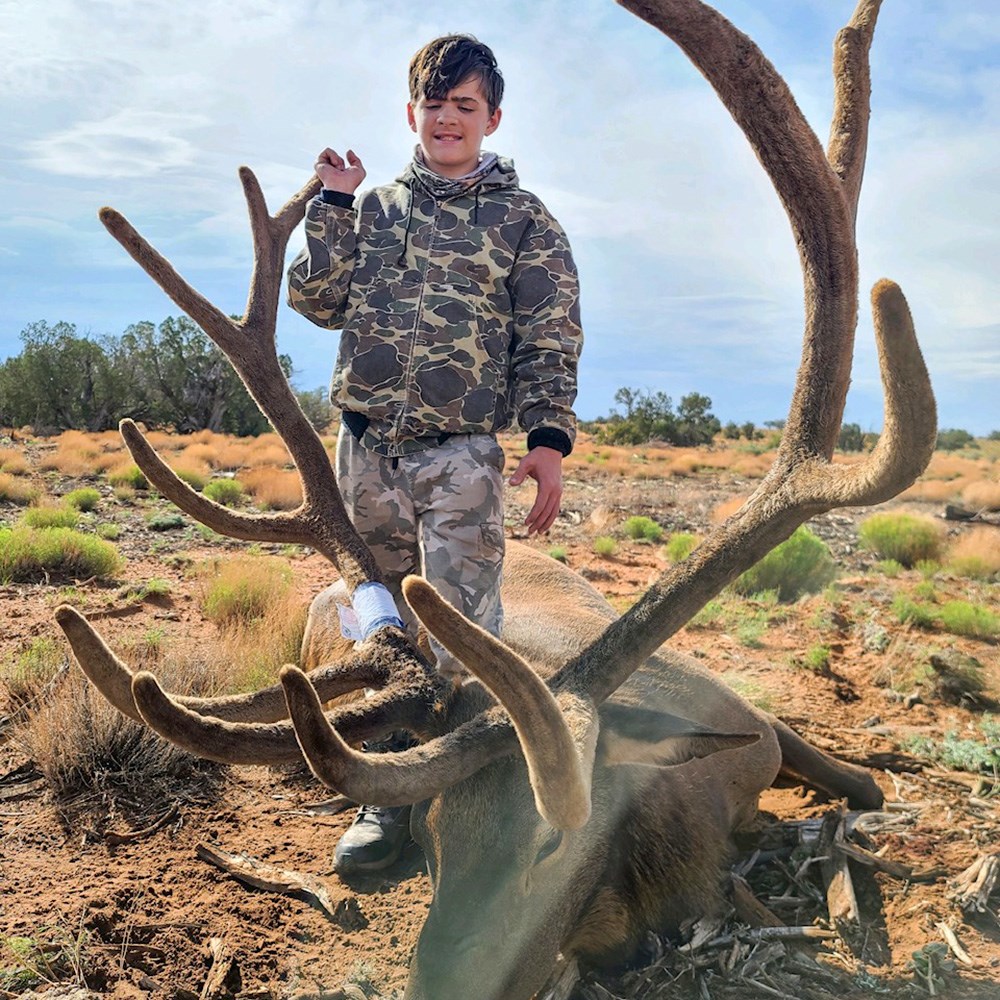 Landon Lanier, Yermo, Calif.
Last season, Paul Lanier's 13-year-old son, Landon, drew a depredation permit for an elk hunt that would occur in only four days. Paul panicked because he had an active-duty Army obligation. So Paul's brother-in-law stepped into the breech. "Day one, while taking care of my Army duties, I received a text with the three letters BBD (Big Bull Down), followed shortly thereafter by this photo."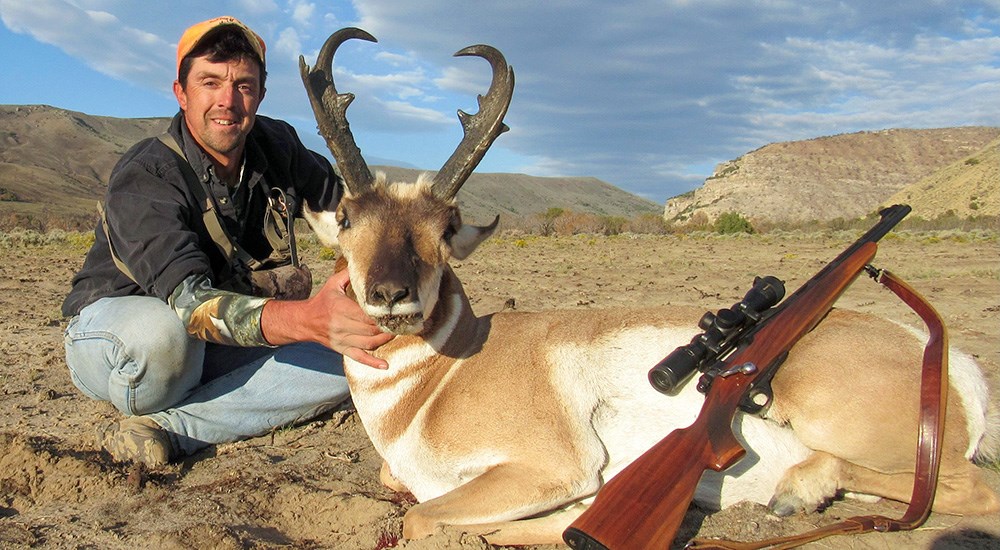 David Knight, Montrose, Colo.
As if shooting an 84-inch pronghorn isn't trophy enough, David shot this incredible Utah goat only five minutes into the opening morning of the season with his nieces .243 rifle on public land! Did you notice this 3x6 pronghorn is sporting some extra points? Way cool!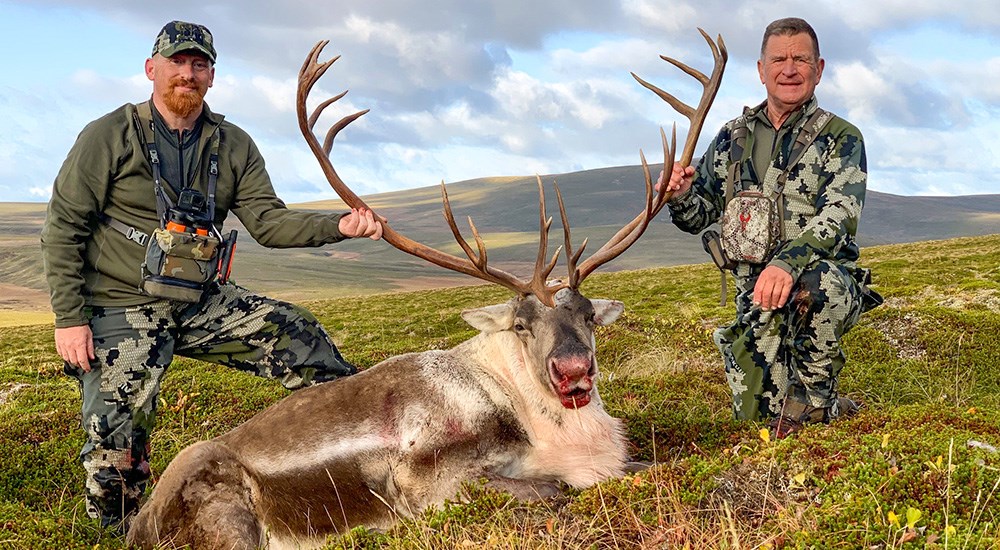 Harold Prather, Burleson, Texas
Harold Prather and his son, Patrick, traveled to hunt two continents last year. In June, they traveled to the Eastern Cape of South Africa where a vigorous spot-and-stalk by Patrick ended with a quick, 320-yard shot with his .300 WSM on a trophy kudu. Next up was Canoe Bay, Alaska. There last September, Harold made a 2.5-hour stalk across the tundra then made a 358-yard shot with his .300 WSM to anchor this fine caribou bull. Harold's "almost son," Brian, also was along to take the photograph and help pack out the trophy. Both young men also bagged nice trophies in Alaska.
Blake Powers, Sparks, Nev.
Blake drew his first Nevada antelope tag last year, but California fires in August and September made it a "smoky" hunt. By Saturday morning during Labor Day weekend, Blake and his dad, Tim, had seen three bucks chasing does. So they laid low in the brush, hoping to see one of those bucks appear again. Sure enough one did, and Blake made the most of the moment with his .243 Win.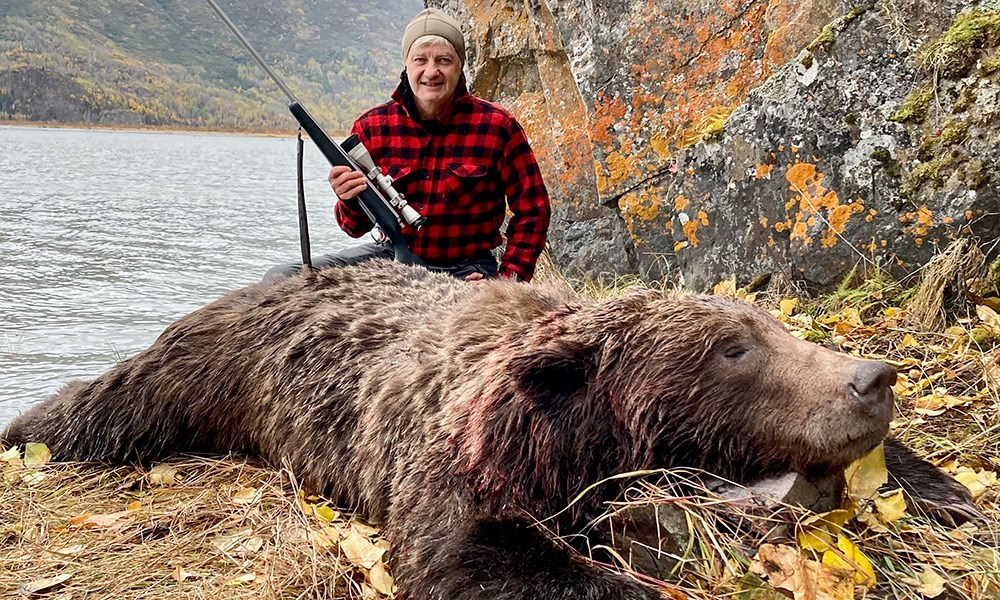 David Willette, North Adams, Mass.
This hunt was over before it even started. David arrived in Kenai, Alaska, on the morning of Oct. 7 and by evening he was on a bluff glassing the salmon streams that surrounded camp alongside guide Chet Nettles. After only 20 minutes of glassing, they spotted this giant brown bear emerging from the alders. When the bear stopped and turned broadside, David took his shot. Three more and the bruin was down for good, albeit nearly completely submerged in the lake. With a quick tow from the boat they were back to shore, and David made it home only two days later.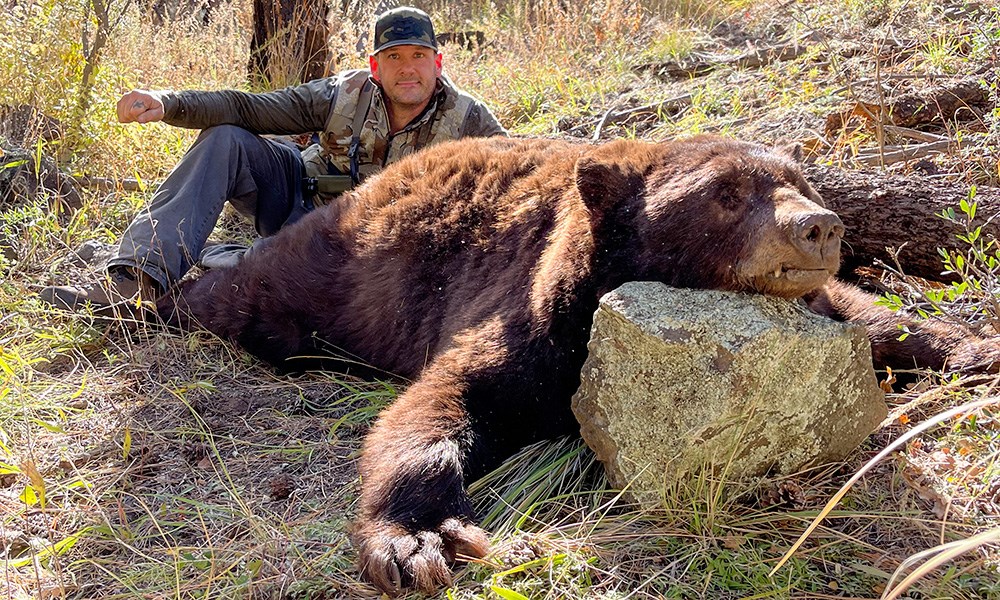 Frank Gagliardo, New Rochelle, N.Y.
While rifle hunting in New Mexico last fall with his pal Mike Root, Frank was blessed to take his largest bear to date with his Seekins Precision rifle in 6.5 PRC. The large boar provided Frank with a beautiful chocolate hide, plenty of meat for the freezer, rendered bear grease for the pot and an incredible 19⁶⁄₈-inch skull full of rotting and broken teeth.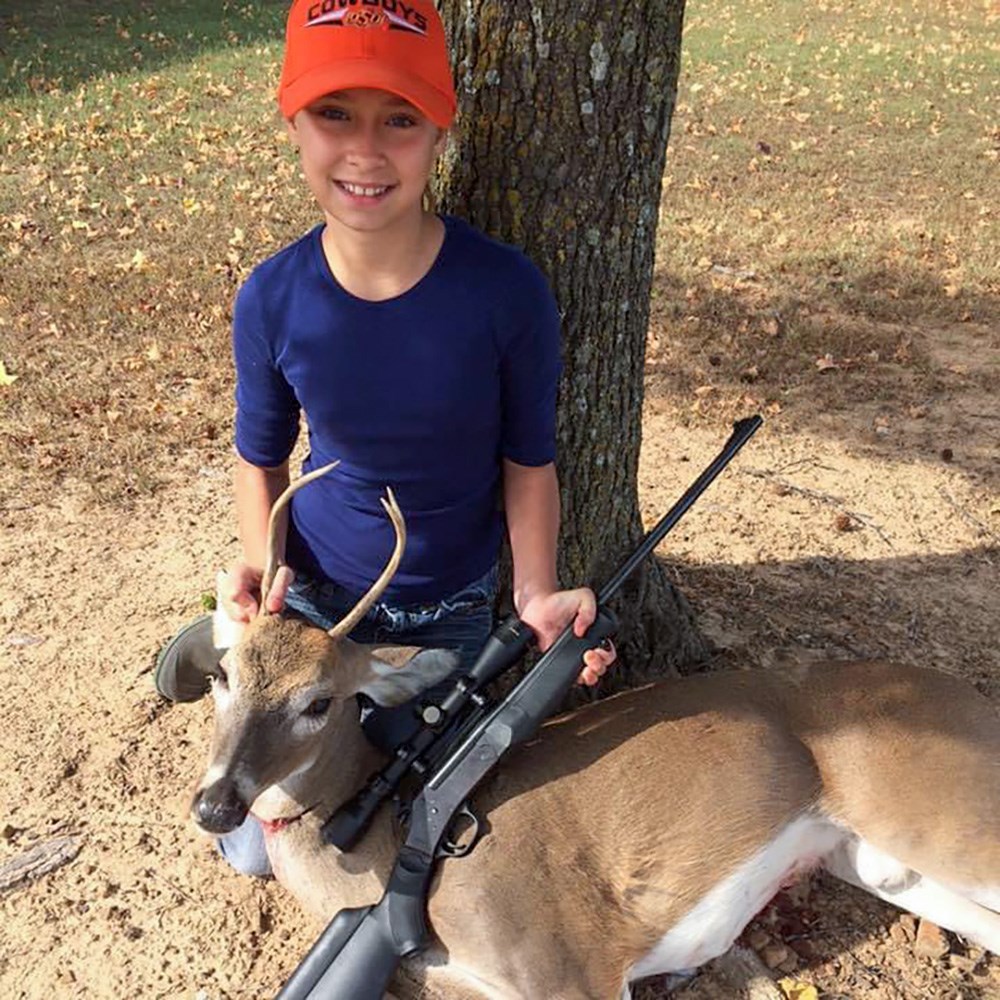 Azlyn Hallmark, Lamar, Okla.
Writes mom Megan Hallmark: "In a small town in southeastern Oklahoma, a young lady named Azlyn has spent every year since 2015 filling deer tags and making her grandfather proud." At age 10, Azlyn passed hunter ed and, alongside Papa, Donnie Rogers, she took her first deer with a Rossi .223 Rem. "A spark ignited within her after that," writes Mom. She has spent every deer season since with her Papa. Azlyn has killed nine bucks, including this handsome devil she killed with a Savage Axis in .243 Win.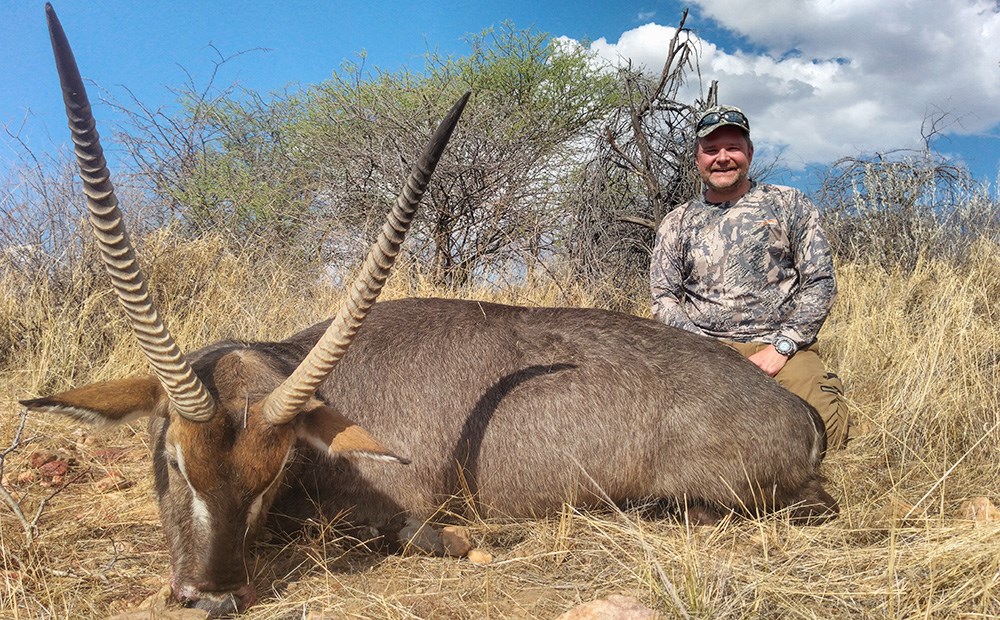 Scott Wolland, Suffolk, Va.
Last November NRA Life member Scott made his third safari, this time to the Khomas region of Namibia. In 100-degree heat, he and his professional hunter nearly had this bull in the hunter's sights before it disappeared. Then at 250 yards, standing and shooting off sticks, Scott put down the waterbuck with a single shot from his Weatherby Vanguard in .300 WSM.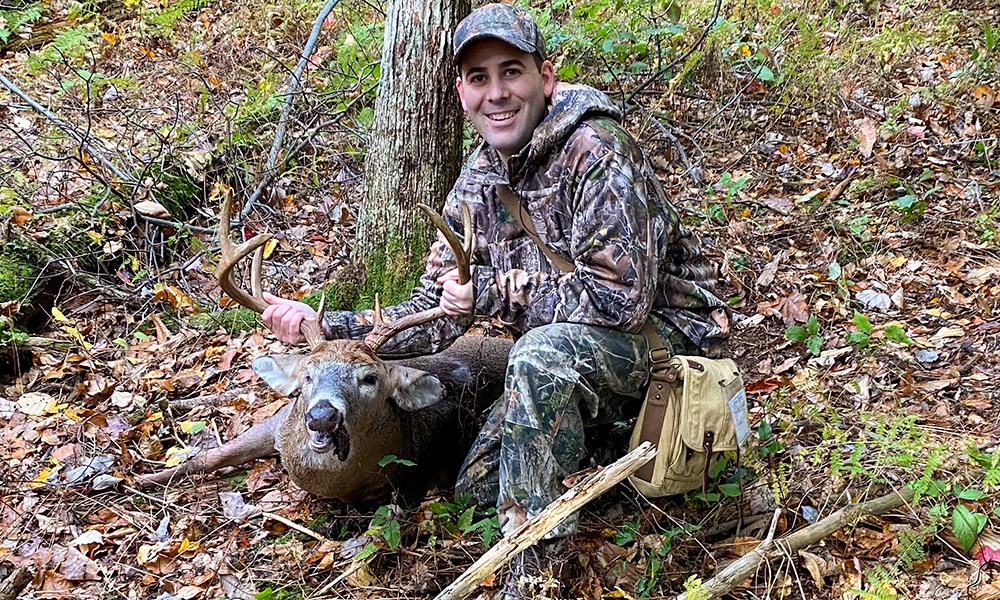 Andrew Campanaro, Clifton, N.J.
A new hunter, Andrew was more than excited about the possibility of taking his first deer. And wouldn't you know it, after sitting for only 15 minutes this 9-pointer walked into view. From his ground-level vantage (a tree stump), Andrew raised his Killer Instinct Boss 405 crossbow and let fly a HYPR Lite bolt. The 35-yard shot hit true, and after a two-hour blood-trail that took him across a deep stream Andrew stood proudly above his very first deer. One of the many lessons he learned that day: "A deer cart always beats a drag."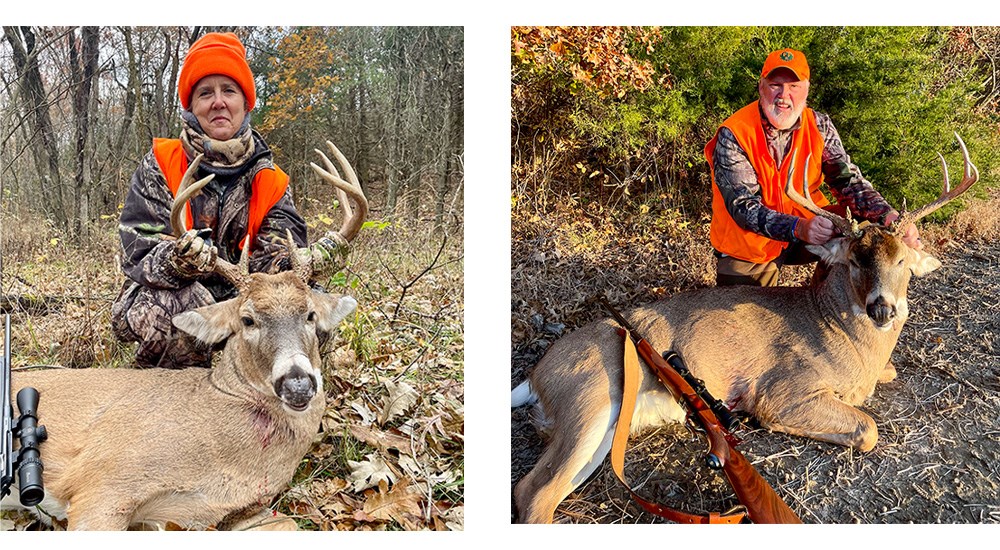 Joseph & Lynn Sheerin, St. Charles, Mo.
The third day of deer season in Macon County, Mo., was a banner day for Joseph and Lynn. After she missed a wide-racked buck in cover (which Joseph confirmed), a nice 8-pointer appeared, and after a few tending grunts from hubby stopped the buck, Lynn made a 100-yard shot, dropping him in his tracks. That afternoon, thinking the buck Lynn had missed would head for deep cover, Joseph set up at a creek crossing he figured the deer might use. At 4 p.m., sure enough, he caught movement. Soon after, the "missed" buck stepped into view in a small opening, and Joseph dropped it with his 6.5x55 Ruger No. 1. Heck, yes, it was the same buck; the couple even noted a fresh crease in the hair on his left shoulder. "It doesn't get much better than doubling up on nice bucks with your partner of 33 years," says Joseph.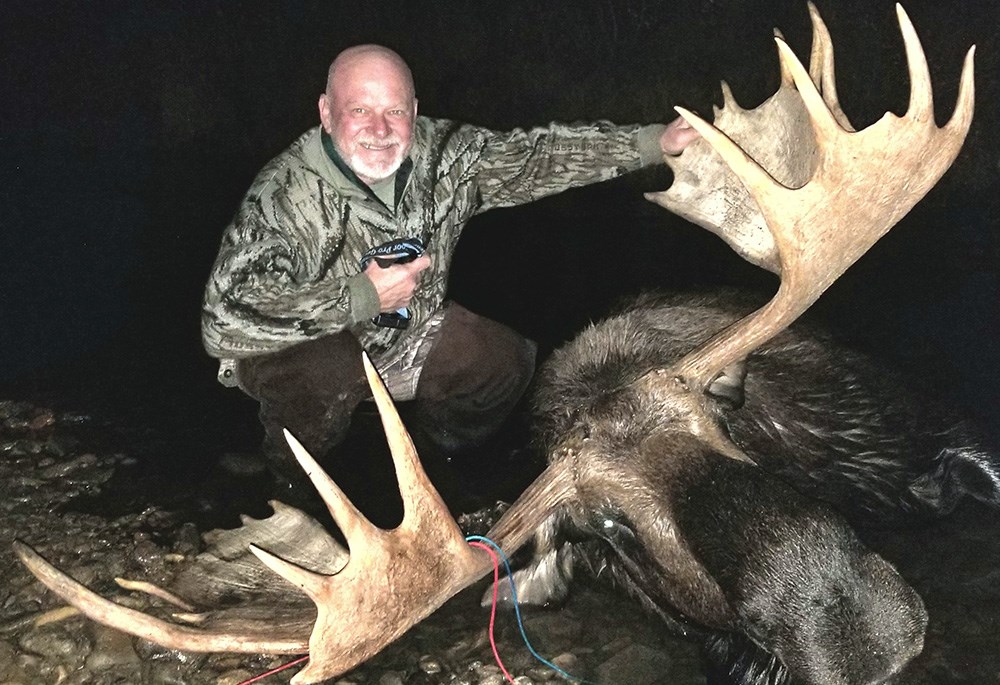 Ross Nurrito, Freeport, Fla.
An avid hunter since he was 16, Ross' passion is hunting Alaska. Last September, with the aid of an outfitter, Ross and his buddy Darin planned a 36-mile DIY float hunt; they carried moose, caribou and black bear tags. At 6 p.m. after three fruitless days, Darin took a bull moose that taped 59¼ inches wide. The next day, Ross spotted a bull they'd seen before across the river; he was standing at 250 yards and Ross could tell he was a trophy. One shot from his .340 Weatherby and the bull was down.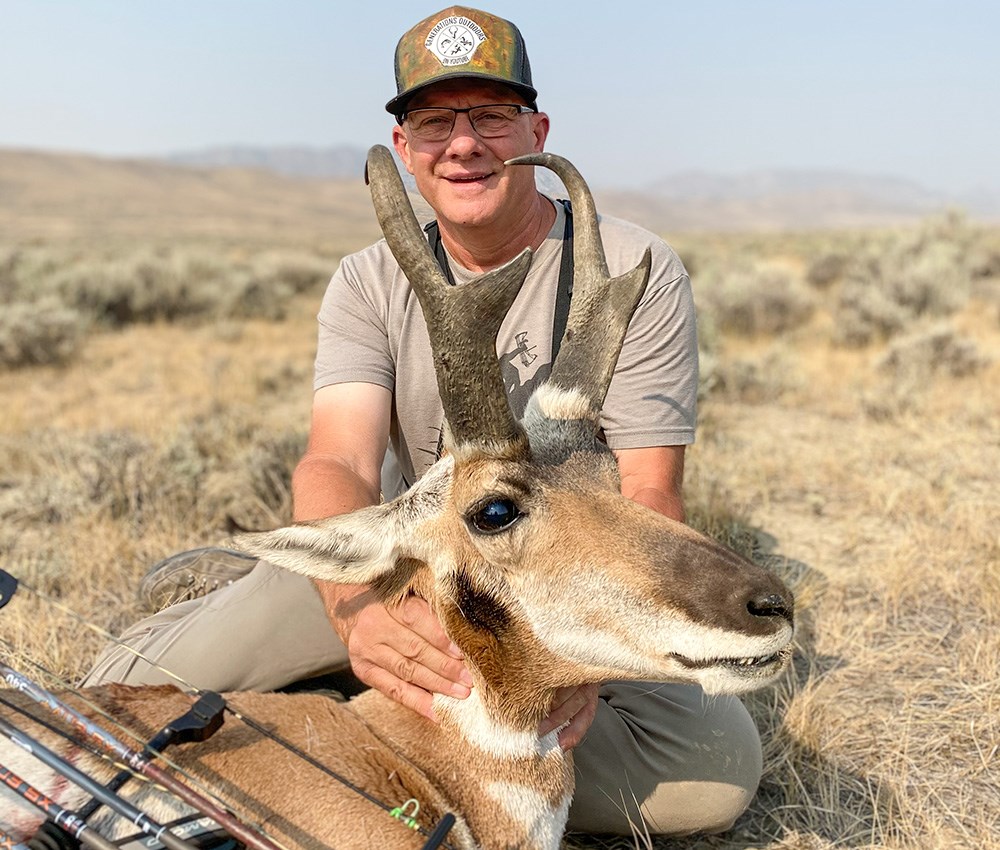 Tom Palmer, Spring Mills, Pa.
Tom heard his son whisper, "He's at 79," so he slowly began to draw his bow and stand. It was Aug. 16, 2021, day two of an archery hunt in Wyoming. The buck took several more steps, and Tom settled his 80-yard pin atop the buck's back, paused and squeezed the trigger on his release. The buck flipped backward and never rose. "Within minutes," says Tom, "I was surrounded by two sons, a grandson and even my wife who had been watching from a distance. Together we celebrated what may have been the shot of my life."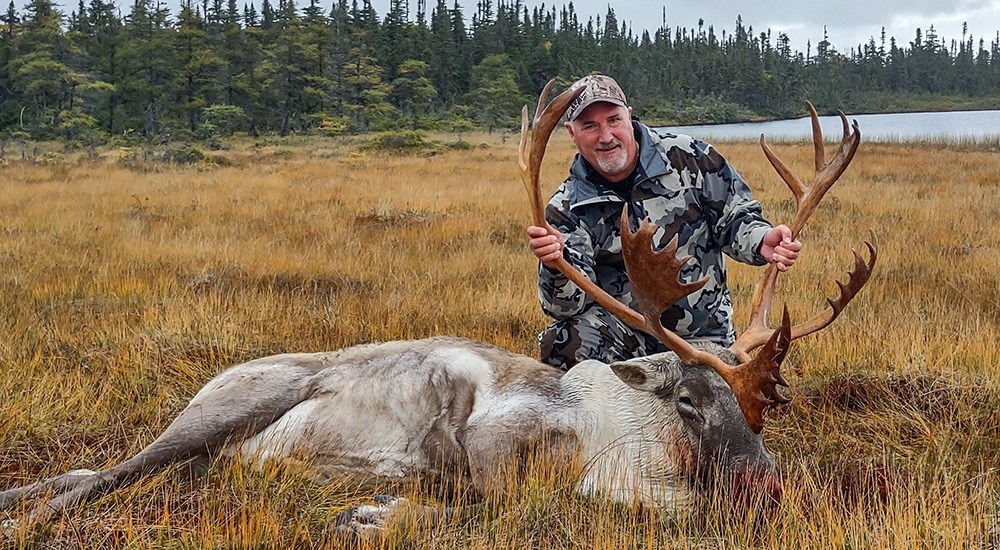 Dan Kluth, Kimberly, Idaho
Dan finished up his quest for all five sub-species of North American caribou last September in Newfoundland. Hunting with the assistance of Dylan's Northern Edge Outfitters, Dan and his guide spotted around eight or nine Woodland caribou and quite a few moose before this double-shoveled beauty was found. One shot from Dan's .30-06 at 225 yards and his quest was complete.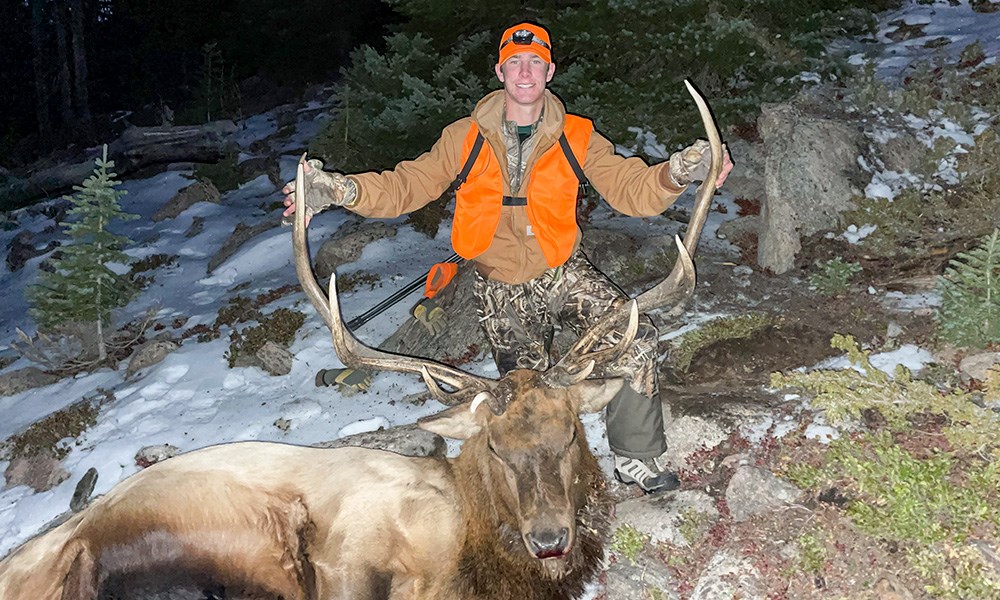 Caden Chrismon, Shiner, Texas
After five years of applying for points (and watching Dad travel to Colorado annually while he remained in school), Caden finally drew a Colorado bull elk tag for the first rifle season. Having successfully convinced Mom that sacrificing a few days of school was worth it for the trip of a lifetime, Caden, along with his father and grandfather, found themselves overlooking a herd bull with 15 cows on day one in Colorado. After what seemed like an eternity, and with Caden rested comfortably and confidently on a rock that was surely placed for such an endeavor, Caden delivered a single 595-yard shot across the canyon with his .300 Win. Mag., dropping this magnificent 6x6 bull in its tracks.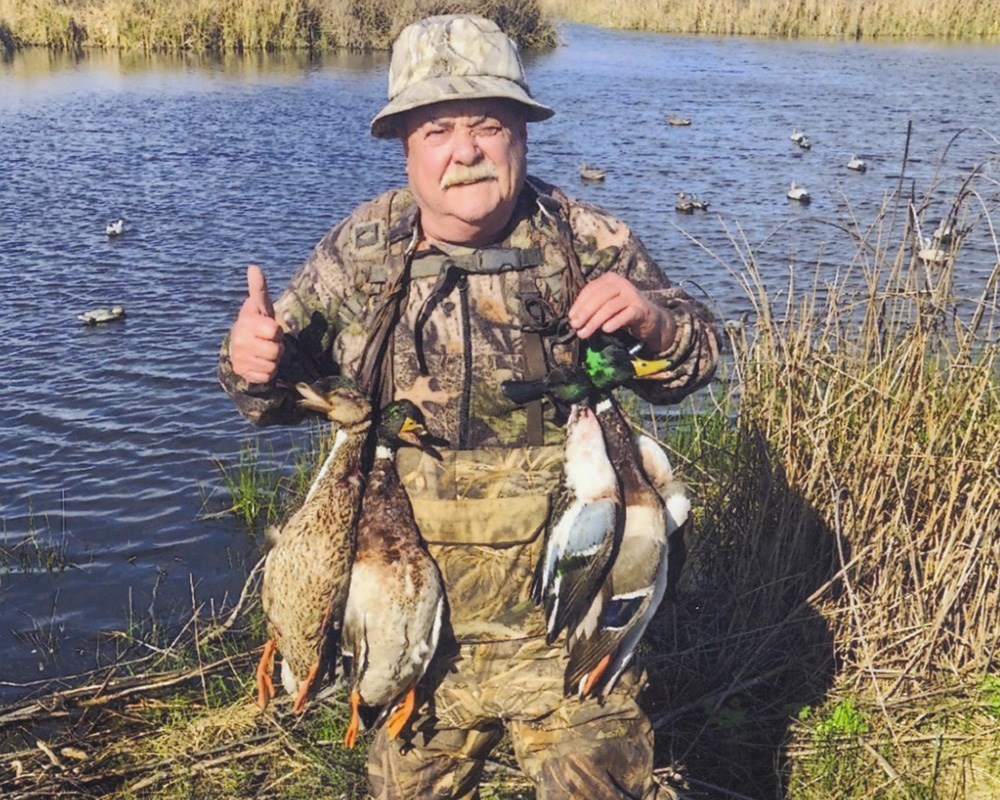 Steve T. Wildblood, Oroville, Calif.
Participating in his club's first-ever Veterans Waterfowl Hunt, Vietnam veteran Steve Wildblood and his son were not only able to land a steak and lobster dinner the night before, but ended up with a mixed bag of fat ducks and the best shoot of their season. With only a half-box of shells run through his gun, Steve's drake-heavy strap contained two greenheads, a gadwall, widgeon, two spoonies and one hen mallard! He even shot a scotch-double on the mallards!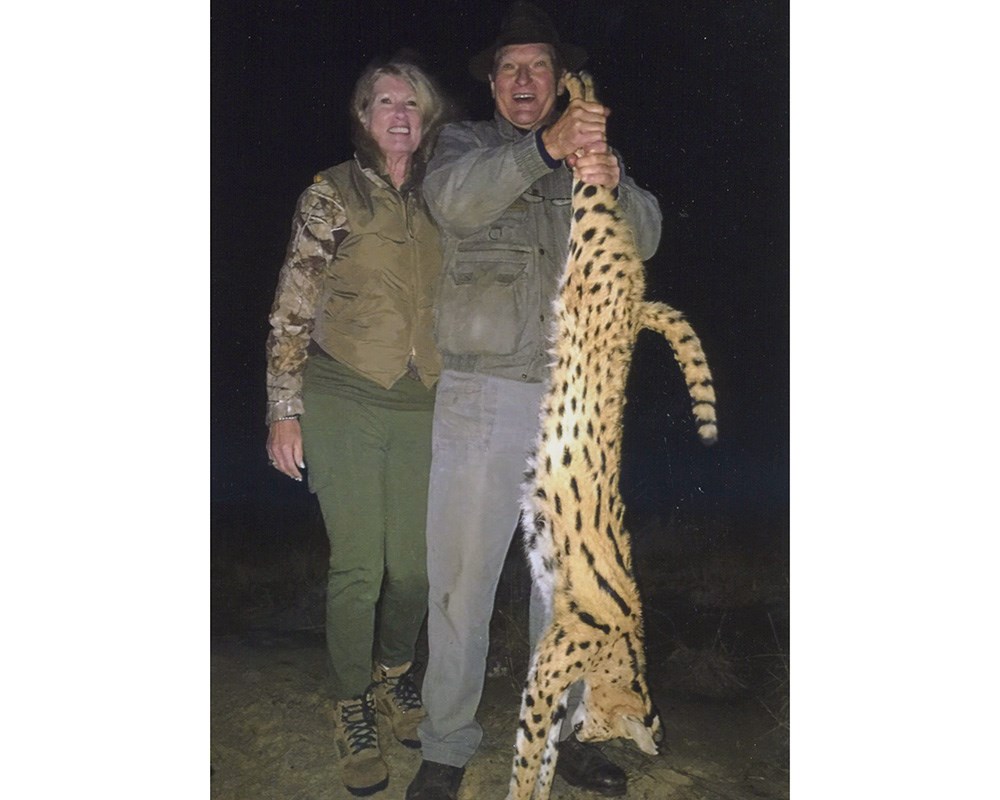 Wayne E. Hott, Wichita, Kan.
In celebration of their 50th wedding anniversary, Wayne and his wife, Paula, decided to take two trips! First they traveled in late July to Florida, where they enjoyed sunshine, beautiful beaches and fresh seafood. Secondly in September, the duo headed to South Africa for a hunt with Garry Kelly Safaris. Focusing on an animal he'd never had the opportunity to hunt before, Wayne got the chance on his 73rd birthday and took this beautiful serval with his Sako .243 Win.—the same rifle his son used to kill his first big-game animal in the early '90s—loaded with 85-grain Barnes TSX handloads. What a way to celebrate!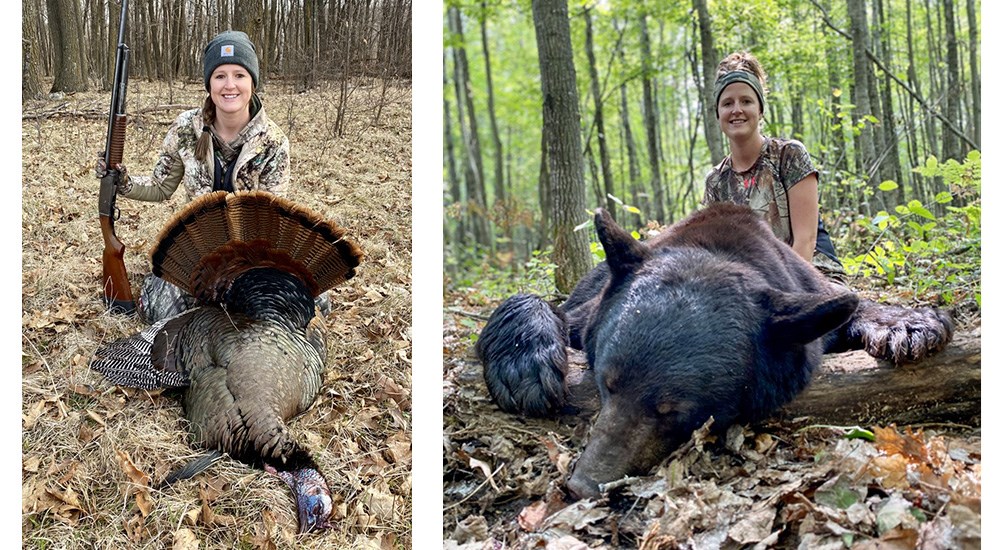 Shannon Wood, Pillager, Minn.
"This year I had the perfect Minnesota season," writes Shannon of 2021: "a turkey, a bear and a deer." On public land she dropped a tom last spring at 20 yards. In September, during a dry year, after five hours on stand, she looked up and saw a bruin coming to the bait. "It looked big, so I grabbed my .270 and took a shot. The bear ran about 15 yards and went down." Last came a whitetail doe, in mid-September. "After this season my freezer is full and I couldn't be happier."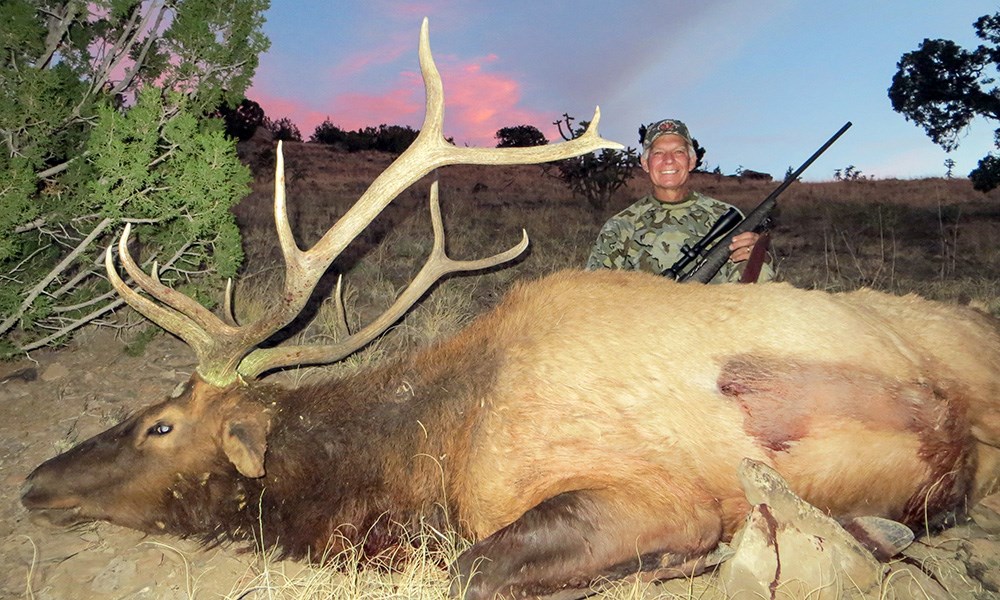 Steven Lysenko, Voorheesville, N.Y.
Near the end of a long day in New Mexico, Dr. Steven Lysenko and his guide made a stalk on a small band of elk that held a bull. Cow calls and bugles kept the bull interested; the cows wandered off; but the calls drew two smaller bulls. As the hunters closed the distance, one last bugle convinced the bigger bull to answer the challenge and turn broadside. "That allowed me to seal the deal at 353 yards with my 6.5 PRC," writes Steven.
James Mikkelsen, New Era, Mich.
James has been hooked on Colorado mule deer for 55 years, when after returning home from Vietnam he accepted an invite from a few soldiers from his unit to come chase deer on new ground. Last year, James made the drive with his son, Justin, for a late-season December hunt, and despite warm temperatures he was able to play it cool over two days of hunting and multiple big-buck sightings. On the third day James was set up on the sticks, steadying his 7mm Mag. on the biggest buck he had ever seen. When the shot presented itself, James sent a 168-grain Berger handload 250 yards into the buck's boiler room. The biggest and best deer of James' life was aged at 8½ years old, sports 8 points on each side, has an inside spread of 26 inches and carries roughly 200 inches of antler!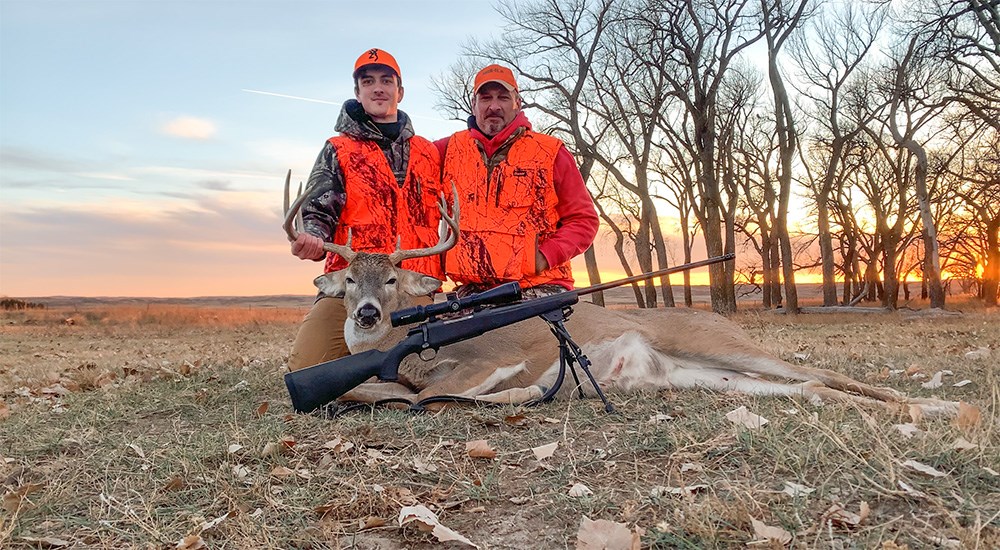 Steve & Jarrett Powell, Union City, Pa.
After two chances at big mule deer were ruined by other hunters, Steve and Jarrett tried their luck along a river bottom in Nebraska's Sandhills. On the sixth day, this whitetail buck strutted across a field with a doe at daylight, but Jarrett could not make the long-distance shot in dim light. The deer entered a cottonwood grove and, figuring they had bedded down, the hunters stayed put. Eight hours later the doe, followed by the buck, emerged, this time at just 253 yards. Jarrett anchored the buck with one shot from his .300 Win. Mag. Writes Steve: "I have been blessed to watch my boy grow into a fine young man, and to spend time with him in the field."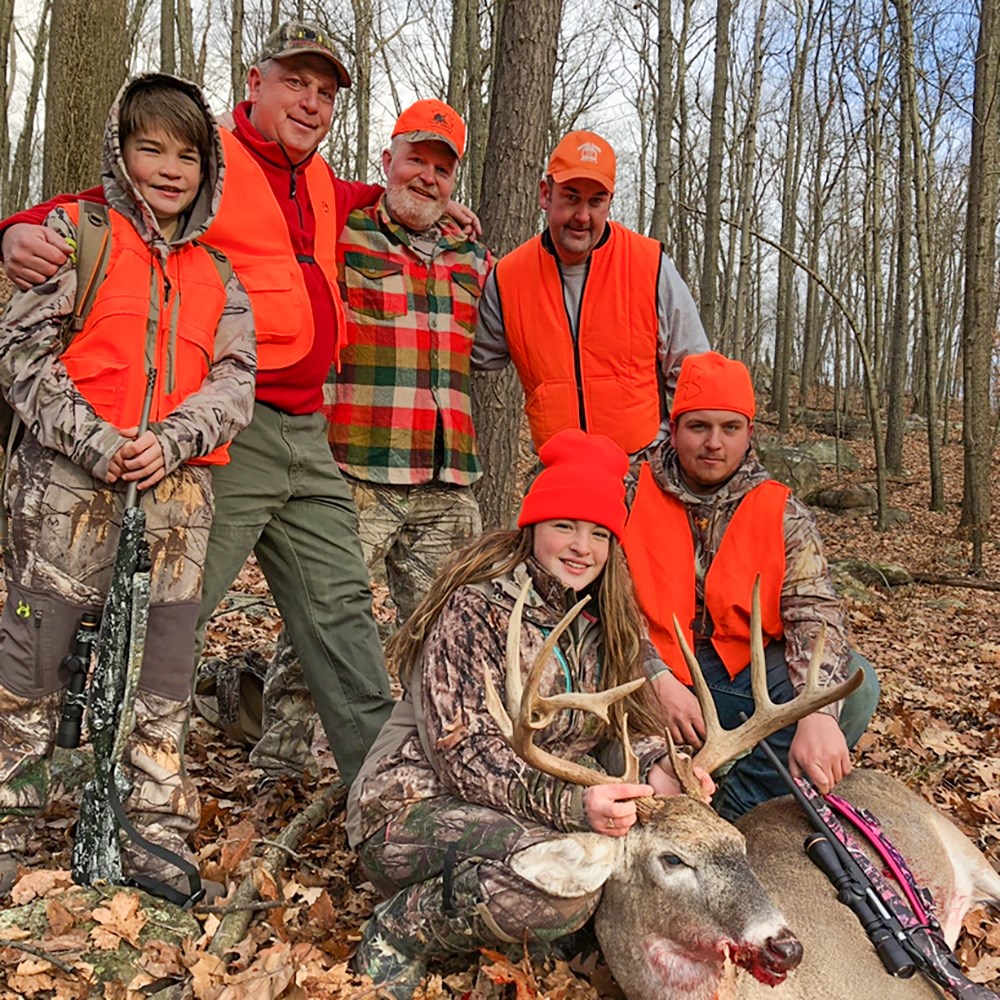 Angelina O'Neill, Warwick, N.Y.
Growing up in a hunting family, Thanksgiving has always consisted of family, food and deer hunting for Angelina O'Neill and the rest of her celebrating family and friends. The tradition is to set up a deer drive, and on this particular Thanksgiving morning, it was decided that Angela was to be a "stander," and would wait for the "pushers" to drive deer her way. It didn't take long. The big buck didn't make any noise as he broke from the thick laurel at the edge of the swamp, but the size of his rack made him impossible to overlook. Bringing her .243 Ruger Muddy Girl rifle to her cheek, she quickly found the buck's shoulder as he tried to slip through undetected. When he presented a shot, Angelina sent a 100-grain Nosler Partition into the boiler room, and the giant 11-point, 160-inch buck dropped before he could take a fourth step. Angelina says she has never been hugged so hard in her life as when her family and friends arrived. Her dad beamed with pride. That evening, as he said the blessing for Thanksgiving dinner, Angelina thanked the Lord a little extra for the gift of family, friends, the great outdoors and, of course, her beautiful buck.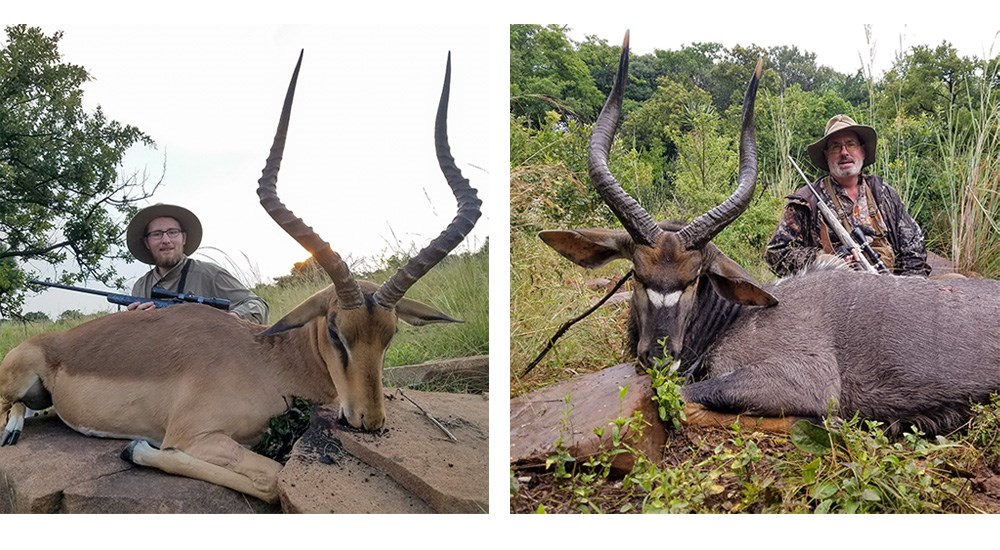 Kevin & Casey Fedorchak, South Park, Iowa
Father and son's 2020 South Africa safari was canceled due to COVID, but last March they made the journey. They started in the Free States, on black and golden wildebeest, a springbok slam for Dad and a white blesbok for Casey. In Zululand, Casey took an impala, left. After a torrential downpour turned the roads to mush, they hoofed it, walking hours in the storm and bumping herds of zebra and wildebeest. Finally Kevin's quarry, a nice nyala bull, appeared at distance beneath some trees. The hunters lost track of the bull during the stalk then spotted him again—and Dad dropped his "nice old bull" at 40 yards.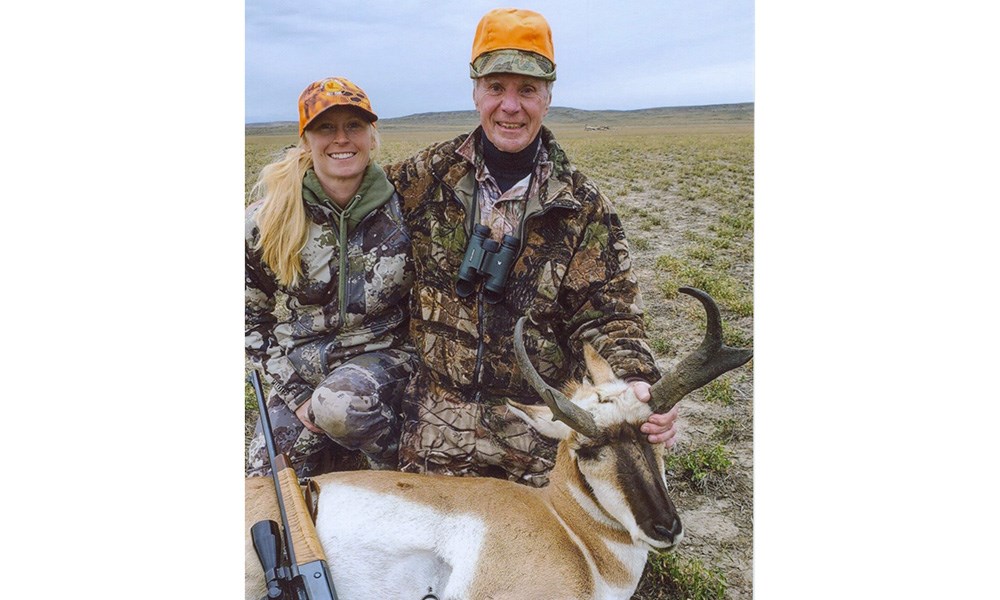 Terry E. Douglas Hyde, Tyrone, Pa.
As Terry tells it, anyone who says gals can't guide has never hunted with Halley. During his Wyoming pronghorn hunt in October last year with Devils Tower Outfitters, Halley gave Terry a spot-and-stalk experience he will never forget. After 250 yards crawling on hands and knees, and over an hour on their bellies zig-zagging through a maze of manure and low grasses, Terry was finally able to look up from the soles of Halley's boots to see this wide pronghorn standing 200 yards distant. With a, "Here's your chance," from his guide, Terry sealed the deal.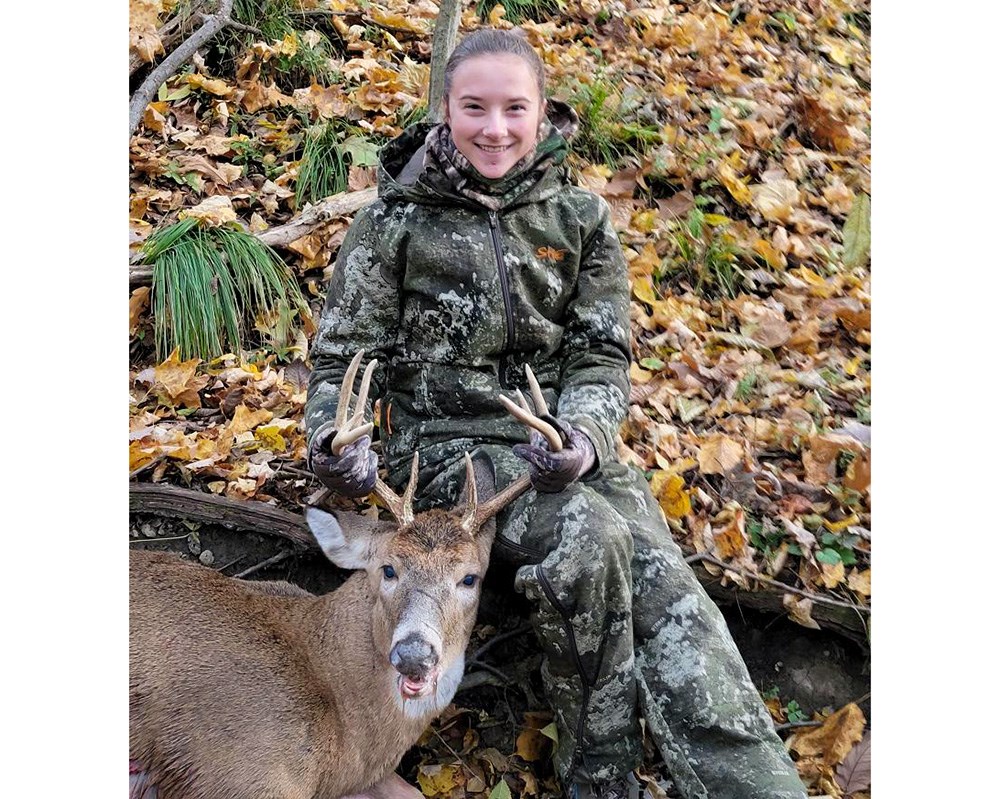 Lilian Brumbaugh, Huntington, Ind.
No stranger to the deer woods, Lillian has been hunting alongside her father, Chad, since she was 5 years old. After taking a doe with her crossbow in 2020, Lillian was determined to shoot a buck last year with the crossbow and wanted to make it happen prior to the rifle opener. Five days before she'd trade her bow for a rifle, this big buck was spotted on a scrape 100 yards from the ground blind from which Lilian and her father were watching. With Lilian patiently waiting with bow ready, the buck eventually closed the distance to 35 yards, and when a grunt from Dad turned the buck, Lilian saw her shot. The buck only went 50 yards.