by
posted on July 27, 2021
Support NRA American Hunter
DONATE
It is heartening to acknowledge that even though a pandemic has dominated our lives since last we gathered 'round a campfire like this, since last we reveled in the success of friends near and far, the commitment of NRA hunter-members to a pastime as old as humanity itself remains strong as ever.
Clearly, last year no one let details get in the way. In 2020, even amid COVID-19, the hunt was on across North America and beyond—the evidence of such exists here. (And at HQ we thought we hunted hard ... )
Please read the following 31 tales and smile—then resolve to make another plan to outfox that back-40 buck this year. This is what hunters do, after all.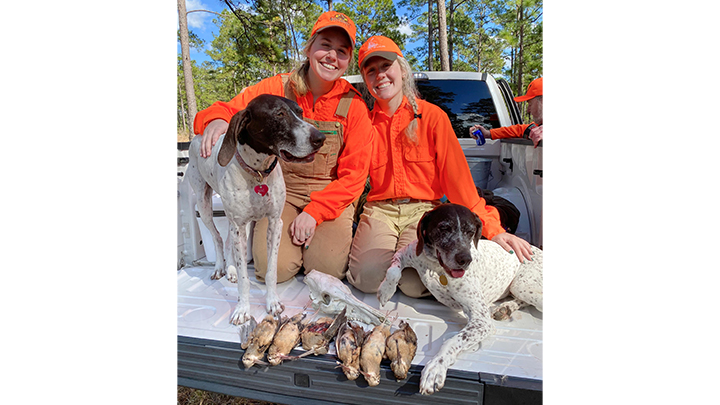 Franklin Sisters, Memphis, Tenn.
Sisters Maggie Franklin Joyce, left, and Grace Franklin have always been bird hunters. Ducks and geese, doves and quail—all are fair game not far from Memphis, where Maggie teaches fourth grade and Grace is a third-year nursing student. Every year around Christmas, they make it a point to travel to Louisiana for their grandmother's cooking … and to get in a woodcock hunt with their granddad, a pursuit they have engaged in for as long as they can remember. On a bluebird day in Louisiana last year, with their granddad, his friend and a remarkable pair of German shorthaired pointers (also sisters, named Milly and Mae Smith), Maggie and Grace bagged a limit each.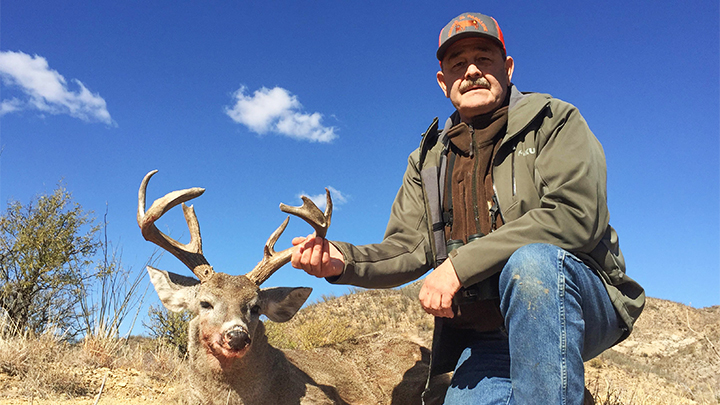 Michael Poulos, Cottonwood, Calif.
While hunting with Trophy and Desert Outfitters in Sonora, Mexico, Michael, along with owner/guide Jose, spotted a trophy-caliber Coues deer from the base of the mountain and went after him. But the terrain didn't look the same once Michael reached his vantage point at the top, and he couldn't locate the buck again. A few seconds later, Mike spotted this heavy old Coues buck further up the mountain and after firing the "obligatory warning shot," as he put it, his .30-06 Browning X-Bolt Hells Canyon rifle anchored the gray ghost. Jose still claims the original buck remained sleeping through the whole episode!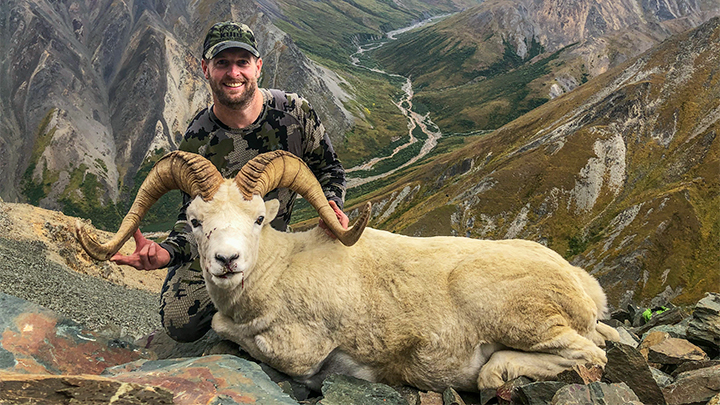 Andrew Gassert, Moose Lake, Minn.
Andrew saved money for a Dall sheep excursion for 15 years before booking a horseback hunt in the Alaska Range last August. The hunt began with a bush plane flight into the backcountry outside Healy, Alaska, observing "no-fly-and-shoot-same-day" regulations the rest of the day then a 21-mile horseback ride with his guide before setting up a spike camp. From there the hunters glassed sheep all day but saw no rams. On Saturday, Aug. 22, they hiked a few hours before spotting a small group of rams; the biggest ram stood behind a rock at 184 yards. It was not an ideal shot, but doable, so Andrew positioned himself to be ready then waited for the ram to expose itself. But after 45 minutes the ram had not moved an inch, so Andrew took the shot on which he'd concentrated. When the rifle roared, the ram reared backward then slid down the mountain before stopping 100 yards downhill. The ram he'd saved 15 years to hunt was 10 years old, its full curl displaying beautiful flare. "I've hunted all my life but was never so excited to harvest an animal," wrote Andrew.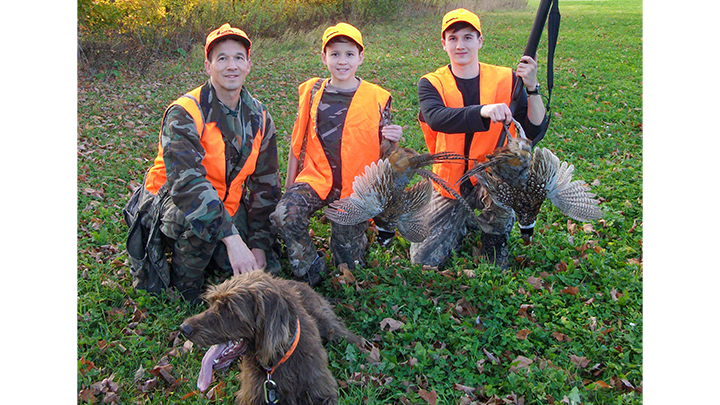 Nick, Christian and Samuel DiPasqua, Winfield, N.Y.
Nick DiPasqua wanted to do something special with his boys for his son Samuel's 13th birthday, so he arranged for the trio to hunt pheasants with his friend Bob, and Bob's poodle-pointer, Otis. Sam and his brother Christian went on to shoot their limits that day—two cock birds each, including one with an incredible crossover shot from Sam's 20-gauge Remington 870 that Nick says displayed some of the best gun handling he'd ever seen! Nick says it was a perfect October day spent with his boys and friends, and Sam said it was the best birthday he's ever had.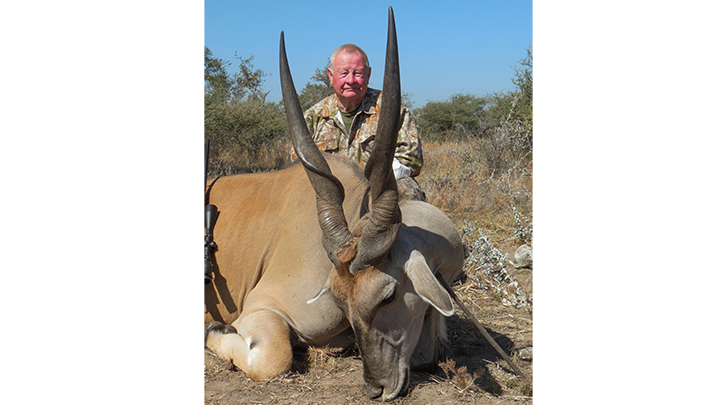 Michael Moddrell, Lawrence, Kan.
During a hunt with Tholo Safaris near Ghanzi, Botswana, Michael and his professional hunter, Jason Bridger, pursued eland in the Kalahari Desert. Michael used a custom Remington Model 700 chambered in .375 H&H Mag. fitted with a Timney trigger and a Zeiss Conquest V6 scope. Hunter and PH caught up with the bull at 75 yards, whereupon Michael fired a handloaded 250-grain Sierra bullet to end the chase.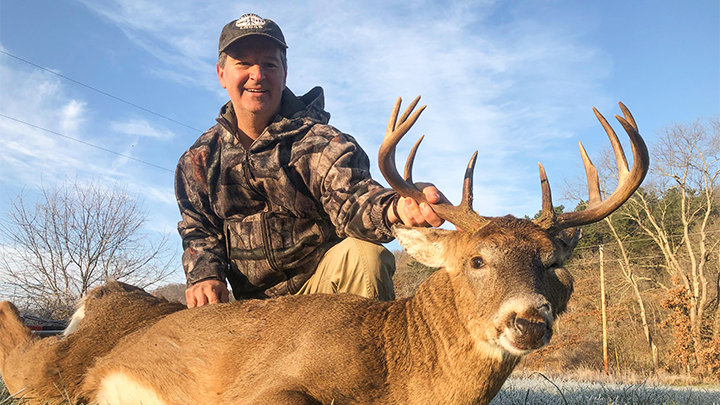 Sam Cacia, Sewell, N.J.
It was the last morning on the last day of Sam's Ohio archery hunt, and things weren't looking good from his ground blind. But, at 7 a.m., the big 8-point from the night before walked out and gave Sam the perfect 25-yard opportunity, which he took—and missed. Hours later, a doe came into the field at 5 p.m., and as Sam tells it, "she stood there just staring into the woods, so I paid her no mind." Then it hit him, "like a ton of bricks," and Sam leaned forward in his chair, looked hard left, and locked on to the big 10-point the doe had been staring at. The buck came in and Sam loosed another arrow, but with darkness falling, the tough decision was made to leave the deer overnight and come back at first light. They found the big buck only 60 yards from where he was shot.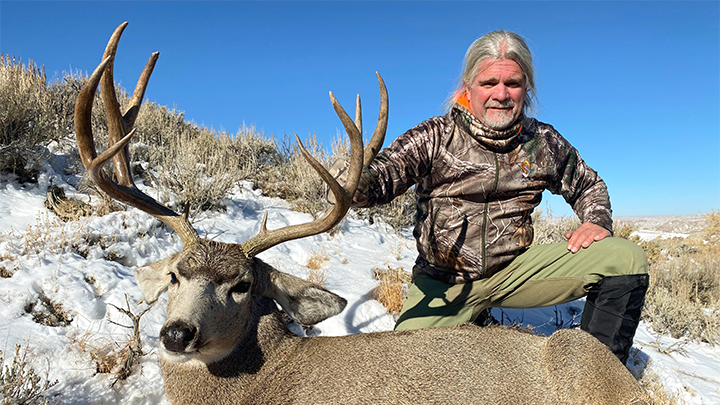 David Sullivan, Round Hill, Va.
David shot this buck on the third day of the second deer season in western Colorado. The hunter spotted the deer at sunup at 750 yards atop a knoll as it bedded with five does. The temperature was minus 9. David watched the deer for about an hour before they began to move then made a plan to intercept them. After walking almost a thousand yards, he spotted a couple of does in a clearing, so he crawled onto a rock outcropping and set up prone to await a shot. It was 20 minutes before the buck walked into view, along with the does, at 230 yards. The hunter shot his buck through the heart with a Thompson/Center Encore in .270 Win.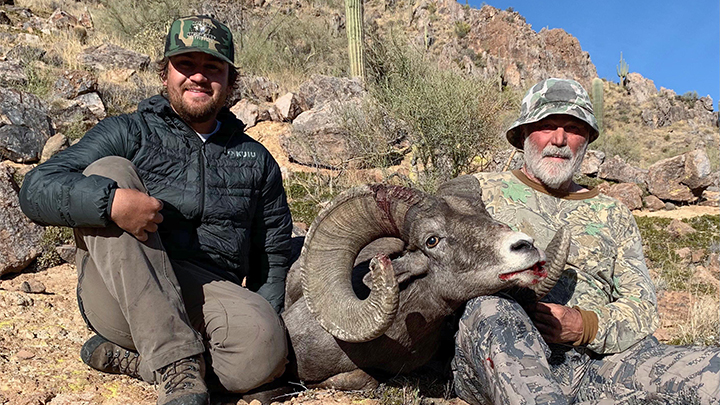 John Zenz, Sparks, Nev.
Sometimes it takes but a few words from a hunter to inform us all of his happiness. Such is the case with John, who wrote: "My Arizona desert bighorn from Dec. 12, 2020, after 50 years of applying. I am the gray-bearded guy. My guide, Zack Doster, of Arizona Desert Outfitters, is not old enough to have applied for 50 years."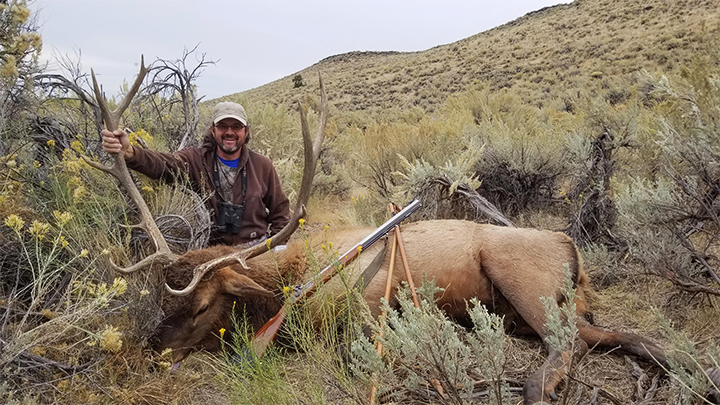 Ron D. Klimes, Buhl, Idaho
Think a 250-yard shot on elk is easy? Try doing it with iron sights and a .50-caliber caplock rifle! When Ron finally pulled a tag for a southern Idaho muzzleloader bull elk, he knew his Thompson/Center Renegade rifle would be coming with him. With a fast-twist LRH .50-caliber barrel, a Lyman 57 SML peep and a Lyman 17 AML globe sight with Lee Shavers BPCR inserts, using 80 grains of Pyrodex P behind a 458-grain Lee .500 S&W bullet, Ron has that rifle doped from 50-300 yards. After hunting hard for a week with no luck, Ron and his son, Jacob, were about to call it quits when they spotted two bulls. The bulls took off; one headed for the presumed safety of a creek bottom, where Ron raced to cut him off. After some intense cat-and-mouse action, Ron finally spotted the bull below him in the creek, presenting a 248-yard poke—a shot Ron had been training for with this rifle for the last 12 years. Ron held slightly into the breeze and sent a boom down the valley to his son's waiting ears. The bull hit the dirt, and a quick reload and second shot ensured he stayed there. The shot, which Jacob explained "was just like 'Quigley Down Under,'" broke both the shoulder and spine of the bull, and Ron's recovered bullet still weighed 454 grains!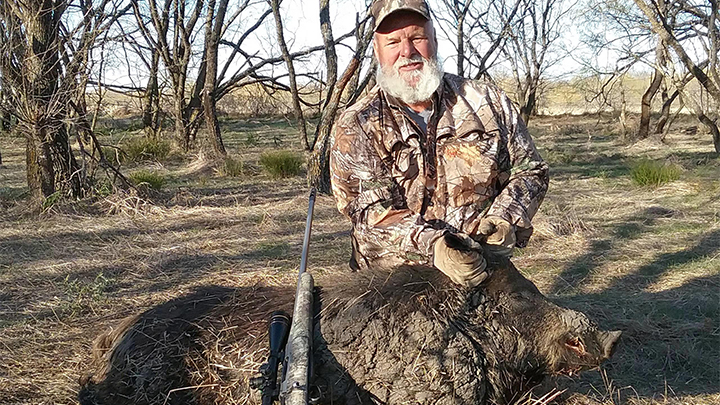 John Hudson, Howe, Texas
John owns a small piece of property to hunt behind his neighbor's house, and last November, trail cams had indicated the presence of a sounder of hogs there. He was sure their activity prevented deer movement, so he decided it was hog-hunting time. He knew he had to be in place before 3 p.m. for a chance at any hogs … and sure enough no sooner had he pulled down his facemask than they began to arrive. The first to show up were sows and piglets, but he was determined to wait for a "target boar" he knew to be the biggest of the bunch. The wait didn't last long. Three minutes later, the big boar and three others appeared at 40 yards, and John knew he needed to shoot before they winded him. A 180-grain Nosler AccuBond in the neck from John's Tikka .300 WSM stopped the boar in its tracks. He texted, "I got him," to his wife at three minutes past 3 p.m.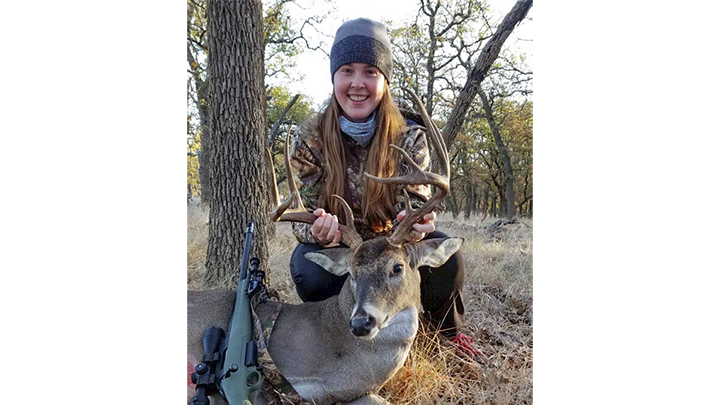 Bronwyn Roper, Granbury, Texas
Congratulations to Bronwyn on her first buck—and congratulations to the Roper family on introducing a new hunter to the fold. Bronwyn carried a Ruger American Predator chambered in 6.5 Creedmoor, and fired a 140-grain Hornady A-Max. "So proud of her," wrote father-in-law Phil Roper.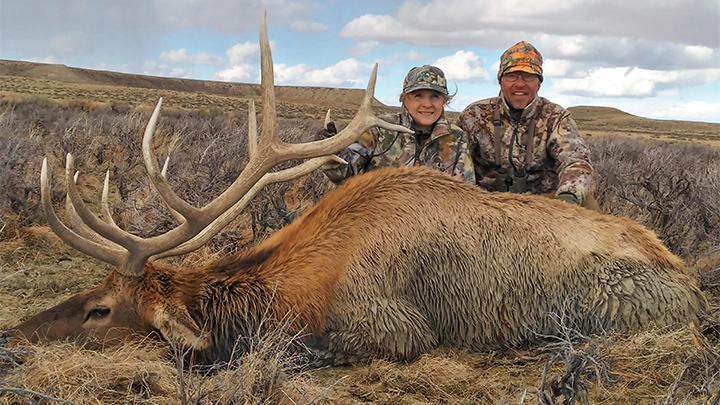 Dawn King, Lander, Wyo.
Wyoming's Red Desert elk tag is one of the most coveted in the state, so when Dawn King pulled it last year, she and her husband, Wayne, had reason to celebrate. The hunt was an incredible experience, and after viewing dozens of bulls, Dawn connected on this heavy-antlered 6-pointer one afternoon. As amazing as that was, just as they approached the downed bull, a text came through from their daughter along with a picture of the two bulls she and her dad, Wayne, had killed on that very same day, nine years ago. The same Browning .270, loaded with a 130-grain Barnes Triple-Shock bullet, had anchored another Wyoming bull with a single shot! And just as we did nine years ago with those two bulls, we are thrilled to feature Dawn's bull in this year's celebration of our Members' Best!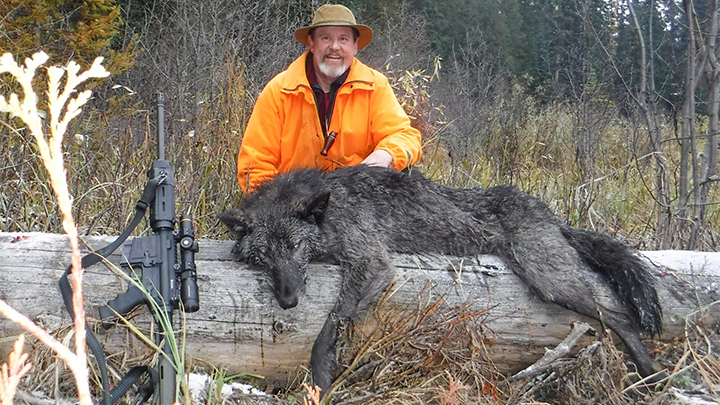 Jay Sheffield, Libby, Mont.
As severe weather blew in, Jay realized it was a perfect morning to call for wolves that wanted to feed ahead of a storm. He made several fawn-in-distress calls then a black wolf appeared across an ice-covered beaver pond. Another soft bleat brought it even closer; the wolf was now out on the ice, quartering toward the hunter at 90 yards. Jay centered the red dot of his Leupold VX-R on the wolf's chest then squeezed the trigger and heard the thump of the Federal soft-point. "Instantly the valley erupted with howls from other wolves still hidden in the tree line," writes Jay. He made more calls, to no avail. The retrieval was interesting. He broke through the ice and dropped into frigid thigh-deep water with each step before getting close enough to throw a rope around the wolf and pull it to shore. Yes, it was a cold hike back to the truck, but after the heater was blasting, Jay smiled all the way home.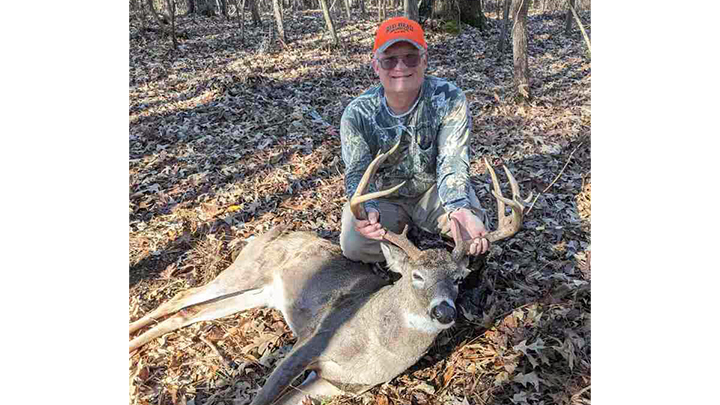 Wally Littrell, Puxico, Mo.
In the 45 years Wally Littrell has been hunting, nothing tops the season he had last year when he tagged two bruiser bucks! His first buck, shot first thing on opening morning of modern gun season in Madison County, Wisc., walked right down a hill to about 50 yards before Wally's Remington 700 .30-06 barked. Still hoping to fill the freezer with a doe or two, Wally didn't even know it was a big old 9-pointer until curiosity got the better of him and he went and checked! And wouldn't you know it, a few weeks later Wally did it again, from the same stand, dropping this big 11-pointer in darn near the exact same spot as the first buck. Wally says he is blessed by the Good Lord, and is incredibly grateful to the farm owners for letting him hunt over the last 13 years!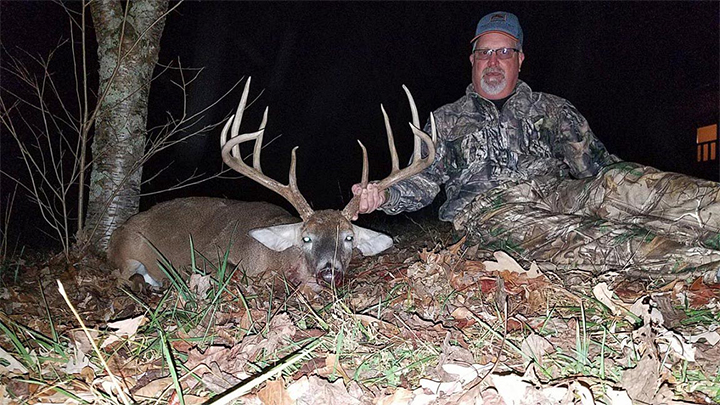 Michael A. Bivins, Dallas, Ga.
It was Nov. 17, and Michael had just climbed into his afternoon stand overlooking a food plot and CRP field in Butler County, Ky., when he noticed the two trees in front of him would severely limit his view and shot opportunities. Spotting a large body and flash of rack in the timber to his left, Michael decided to hunt on and see what he could make of the afternoon. At about 4 p.m., Michael saw this buck trailing a doe into the CRP, and immediately readied his rifle for a shot. At 150 yards, Michael pulled the trigger and watched in disbelief as the buck didn't react. Realizing his shot had clipped the side of the tree in front of him, Michael racked his rifle, leaned hard left to get a different angle—a clear shot at the buck's neck—and fired. The giant 163-inch buck with 25-inch main beams "dropped like a sack of taters."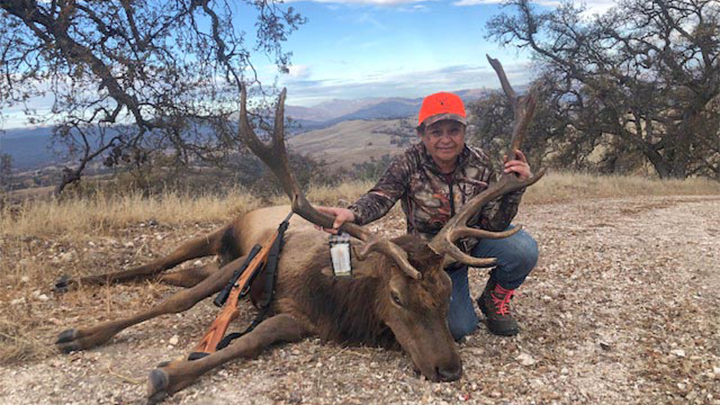 Holly Smith, Bradley, Calif.
For 20 years, Holly waited for a call informing her she'd drawn a tag to hunt tule elk on Fort Hunter Liggett, only 20 miles away from her home. Then last year, after two people turned down a bull elk hunt there, she got the call. It was Christmas morning when Holly lined up a shot with her .270 on a bull at 326 yards. "I aim, take a deep breath and squeeze the trigger," says Holly. "The bull takes about 10 steps and drops. There are no words to describe the joy and respect for the elk that I found in this hunt-of-a-lifetime. It is my best Christmas ever!"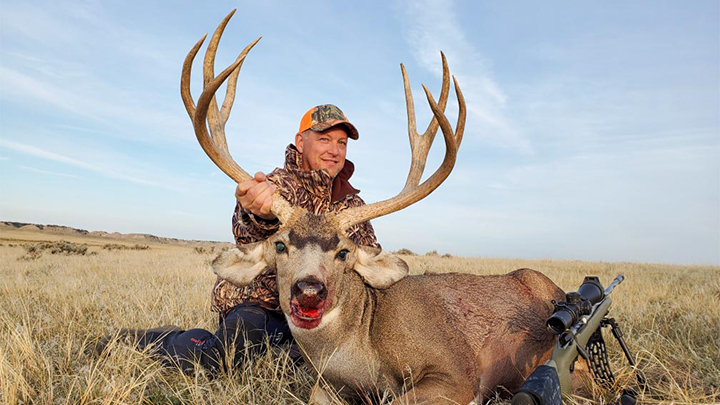 Gary Bergen, Lewiston, Idaho
Life member Gary Bergen and five friends were hunting with Brad Kooiman/Xtreme Dream Outfitters in Wyoming and had four goats hanging by the end of day one. The next day, Gary again came across this mule deer buck, and a short stalk led to a 160-yard shot from his Seekins Precision Havok PH2 in .300 Win. Mag. firing a 165-grain MTH from Cutting Edge Bullets. Game over! Later that evening he also took a great pronghorn at 170 yards! By morning of day three everyone tagged out. Another outstanding hunt in the books!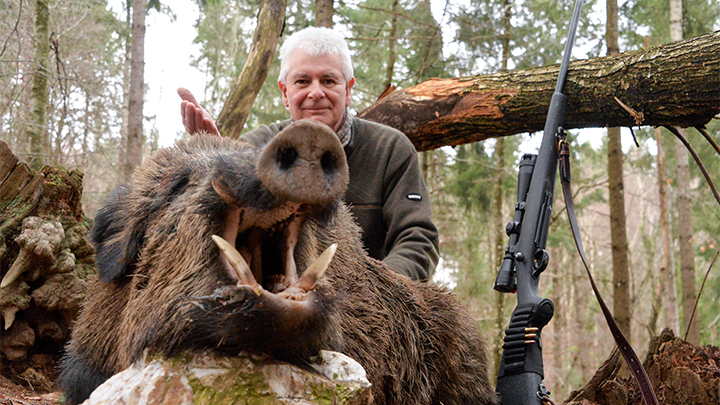 Ed H. Edwards, Marshall, Mich.
Ed's best hunt of the past year occurred just before the pandemic shut down travel, when he and his wife flew to France in January 2020 to hunt mouflon sheep and wild boar on an estate built in the 13th century. Ed had found success and tagged a sheep, so when the hunting party spotted what looked to Ed like a great boar, he settled his 40-year-old customized Ruger .270 on shooting sticks then sent a 140-grain Trophy Bonded Bear Claw through both of its lungs. Its tusks were long, heavy and unbroken—the best taken on the estate in years! "Wild boar eluded me on previous hunts in Belgium, Bulgaria, Russia and Spain," wrote Ed. "The scarred old fighter was worth the time, effort and 22-year wait since my last hunt in Europe."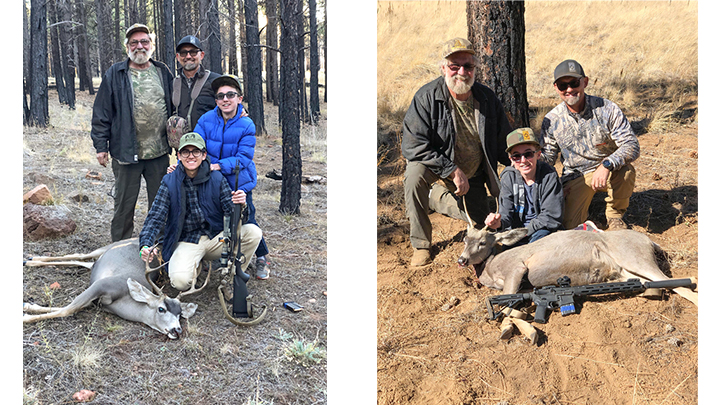 Gavin and Ian Turner, Yucaipa, Calif.
Having paid their dues the year before as camp apprentices shadowing their mentors, chopping wood, doing dishes, and helping to drag and butcher deer (a tradition for prospective new hunters in the Turner camp), 17-year-old Gavin and 13-year-old Ian finally had tags in their pockets and their own rifles to carry.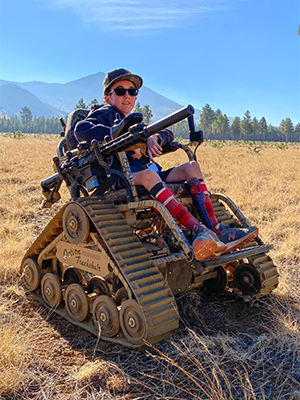 On the second day of Arizona's 2020 youth hunt, the two brothers shot their first deer only two hours apart. Gavin shot his buck with a Ruger Gunsite Scout rifle in .308, and Ian shot his with a suppressed Spikes Tactical AR-15. Ian was hunting under Arizona's Challenged Hunter Access/Mobility Permit, which allowed him to utilize an Action Trackchair to get into the field and hunt. Grandpa Larry, Uncle Craig and Dad, Ty—three generations of NRA Life members in all—were there to witness the boys' special day.
*The Turner family gives special thanks to Mr. Swenson of Action Trackchairs for helping their son, Ian, acquire this wonderful chair.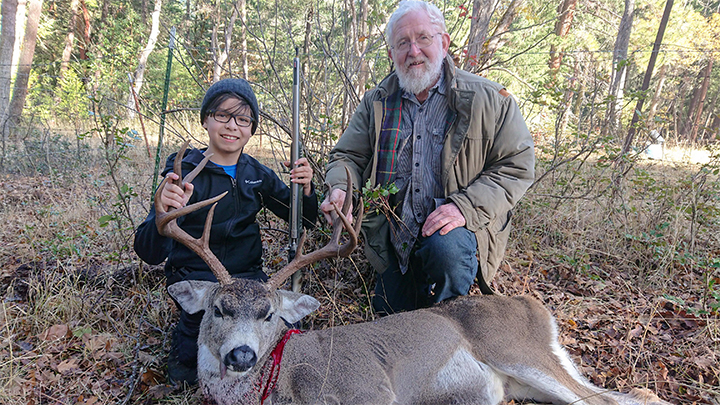 Cooper Delsman, Irvine, Calif.
Having not seen a single deer during his second day hunting with his grandfather Joe Delsman under Oregon's Mentored Youth Hunter program, 12-year-old Cooper began to seriously question his decision to pass on a fork-horned buck the day before. Day three, however, proved more fruitful when a nice 3-point began to move in on a group of does in front of his stand. Waiting for a shot, Cooper was beyond disappointed when the buck spooked and took off. But Cooper's luck soon changed when this trophy buck stepped out in its place! After calming his nerves, Cooper made a great shot with his dad's .50-caliber in-line muzzleloader, dropping this 140-inch monster blacktail deer where it stood.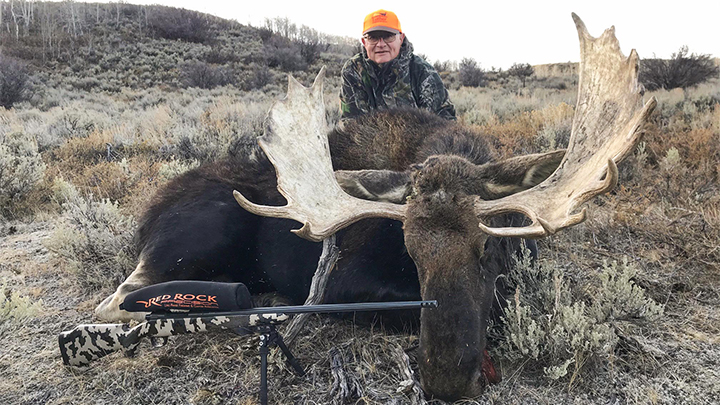 Steve McDonald, Hudson, Wisc.
Acquiring the "moose bug" in 2000 after seeing a group of cows and four big bulls during a hunt for elk, Steve started collecting the Wyoming permit points. His 20-year effort finally paid off when he drew the coveted tag and hooked up with Big Country Outfitters last fall. On day one, with his guide, Eddie, leading the way, the hunters glassed about 20 moose in the river bottoms and BLM land they were hunting. The next day, they again drove and hiked to various glassing points, eventually locating moose (some cows and a decent-looking bull) bedded in the aspens. After glassing awhile, the hunters determined they needed to work their way around the moose to get a better look at the bedded bull. Reaching another vantage, the hunters spotted a second bull behind the cedars but couldn't judge its size through the thick bush. Waiting out their quarry, the hunters glassed until the cows got up to feed, the bulls following right along with them and providing the perfect opportunity to quickly judge the second bull. He was a shooter, and having already ranged him at 340 yards, Steve didn't hesitate to make the shot and collect his long-awaited trophy.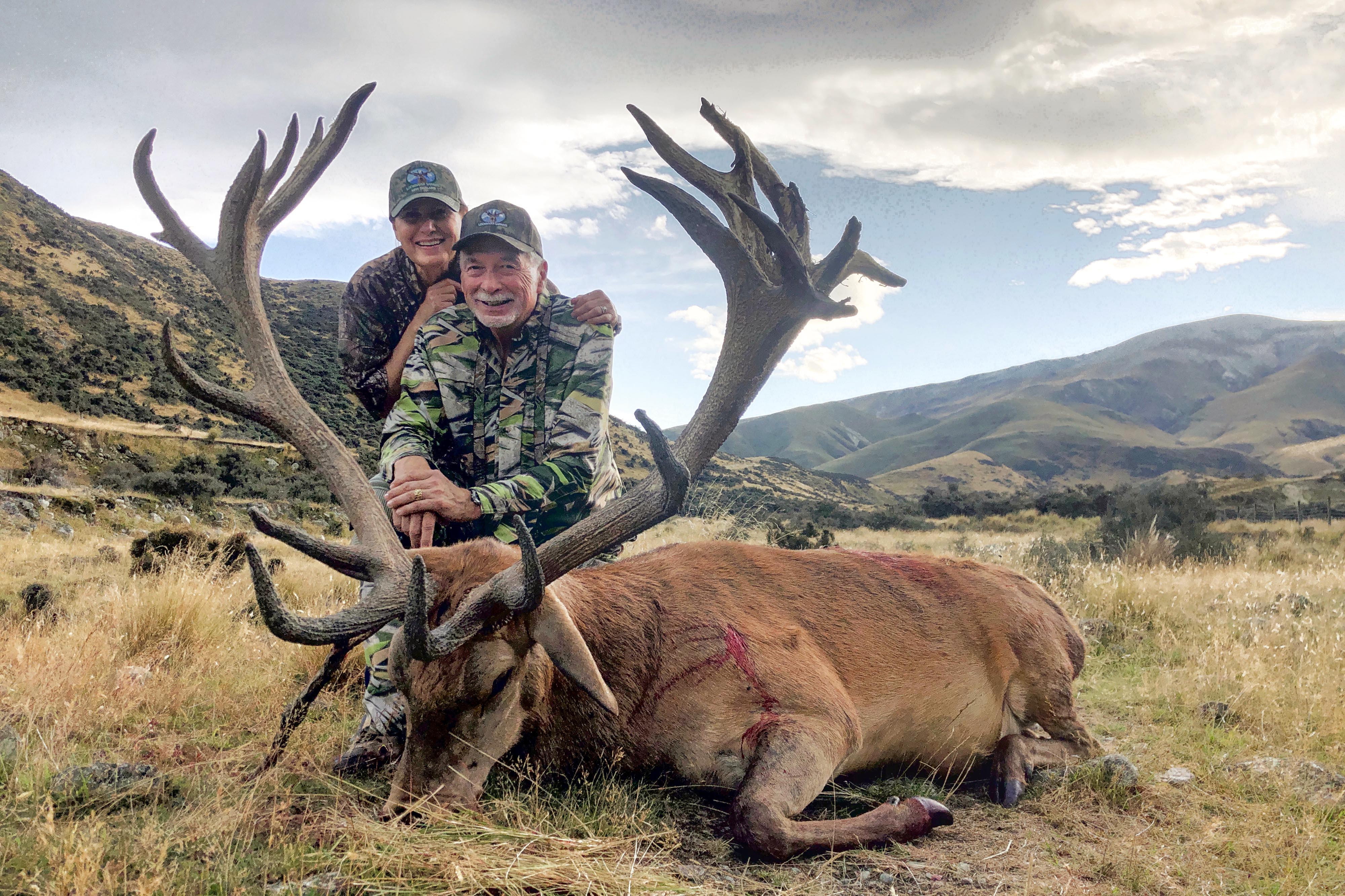 Robert Kammerer, Greensboro, Ga.
Robert Kammerer has always had a big red stag on his trophy bucket list, and he knows New Zealand is where the big ones live. So last year, with his wife, Debby, accompanying him on a big-game hunt for the first time, the pair flew 17 hours to Christchurch, New Zealand, to meet Mike Harrison of Lochinvar Safaris with whom they'd hunt. Debby's presence proved to be beneficial on day one, when upon spotting a fallow buck for the first time, she gave Robert the go-ahead to add the beautiful animal to his quarry list. He took the opportunity the next day, and shot a great fallow buck with a 165-yard shot from his Remington 700, 7mm Rem. Mag. But it would be two more days of hard hunting before Robert caught up to his red stag. The animal was running with three other stags, which forced the guide to assess the group before finally giving Robert the green light at 185 yards. "A red stag is a tough hombre!" reports Robert. It took two rounds from his rifle, both landing right in the breadbasket, to bring down the stag. Though Robert feels this may be his last big-game hunt, he's grateful to have experienced it with his wife.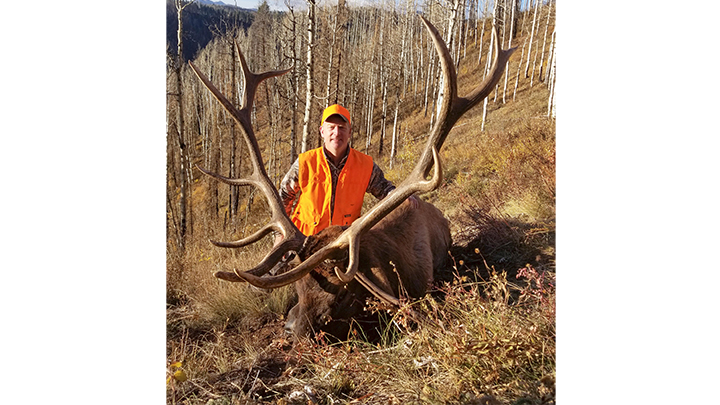 Tim Reid, Sykesville, Md.
Tim's quest for elk started with a trip to Montana and a hunt in the Bob Marshall Wilderness. Little did he know it would take another 20 years and one more unsuccessful hunt, this time in Wyoming, before he'd finally punch an elk tag. Opening day of Colorado's second rifle season last year found Tim once again holding a tag in his pocket and a rifle—a Browning X-Bolt in .300 WSM—in his arms, this time hunting with Travis Reed of Western Sky Outfitters. The morning was clear, and after a 1.5-mile hike, with the sky turning bright, several bugles broke the morning silence. After climbing to reach them, Tim was able to get into position and concluded his epic journey by sending a 180-grain Federal Premium Trophy Bonded Tip on a 300-yard, uphill journey into this magnificent 6x6 bull elk!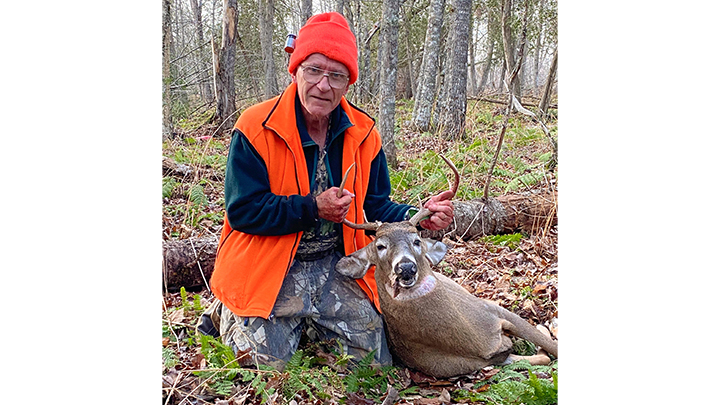 Harry Straub, Hudson, Maine
Harry had hunted the same location for more than 20 years but had never once seen a deer there. "If it wasn't for the charm of the spot and all the deer sign, I would have given up on it years ago," he says. But on Nov. 7, 2020, his luck changed. That day, he had to run an errand before hitting the woods, and by the time he headed for his spot a half-mile into the woods there was only about two hours of daylight left. So he just grabbed his .300 Savage and a folding chair and walked about 100 yards then picked a random spot to sit. "I wasn't there five minutes and this 7-point buck walked into my sights about 50 yards away," he says. "It was a one-shot kill."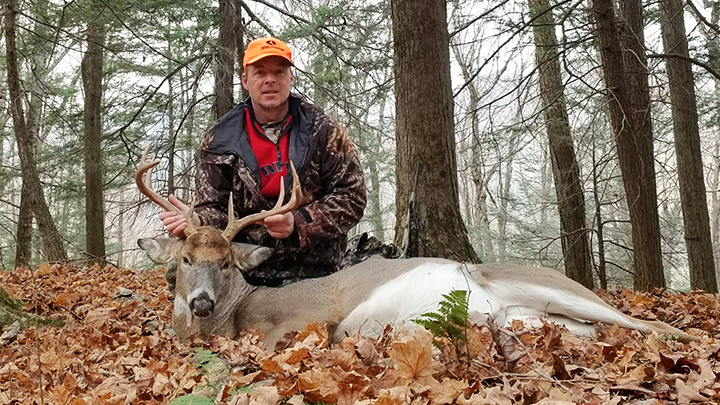 Raymond Flavell, Westerlo, N.Y.
It was opening week in New York's Catskill Mountains and Raymond headed out before daybreak to reach a field edge where he planned to wait out the sunrise. Once it was light, with a scent-drag attached to his belt, he began to still-hunt up the mountain. After climbing five or six ledges, Raymond spotted a rub line and fresh scat. He picked up his scent-drag, turned 90 degrees and climbed the next two ledges to wait. Fifteen minutes later, this buck came on down the trail and stopped at the same exact place Raymond had picked up his drag. A 110-yard shot from his Savage Axis rifle in 7mm-08, and this Catskill 10-point was down.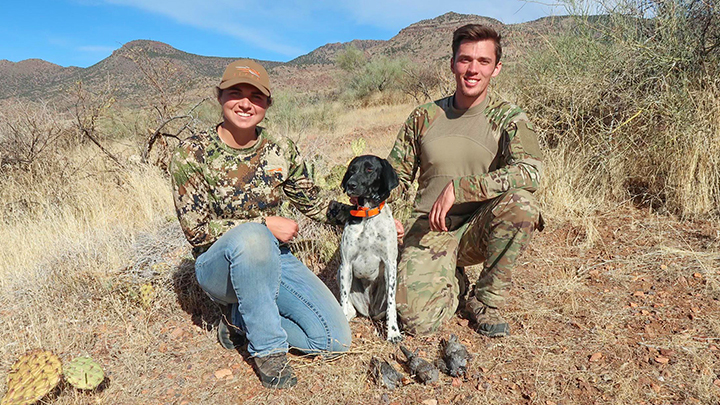 Cody Morris, Flagstaff, Ariz.
West Point cadet and NRA Life member Cody Morris joined Sarah Lutch to serve as camp jacks in Sarah's father's deer camp last year, where they found time to get in some high-desert quail hunting. Cody used Sarah's dad's Ruger Red Label 20-gauge to bag his first desert quail. The first bird flushed then flew straight toward Cody, to make for a rather easy straight-on shot that all bird hunters know is rare.

Roy Heilman, Shoreview, Minn.
Roy has been doing pheasant habitat improvement and restoration work on his family land for the past 15 years, and the result is an abundance of birds and good winter survival. On one evening hunt last year, though it was unseasonably warm, Roy bagged his limit of birds alongside Custer, his 2-year-old English setter, leaving them just enough time and light to admire their bag and snap a few photos!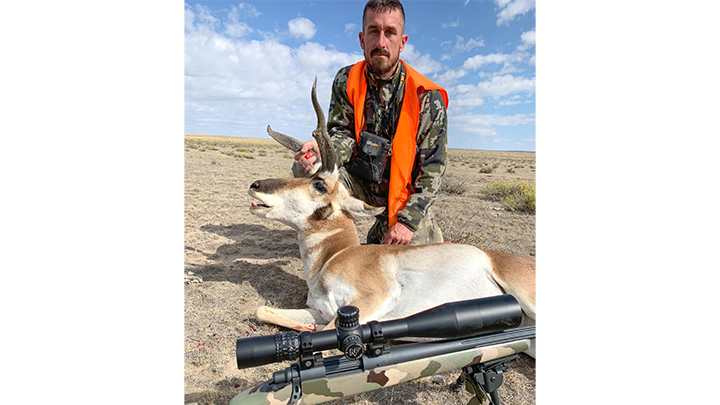 Frank Fieweger, Aurora, Colo.
Last year, Frank took a spring turkey with his bow, a bull elk with his bow in September and this pronghorn with his rifle in October—all on public land. Then he filled an antlerless-only deer tag in Nebraska. "2020 turned out to be an incredible year for me," he writes. Yeah, we'd have to agree.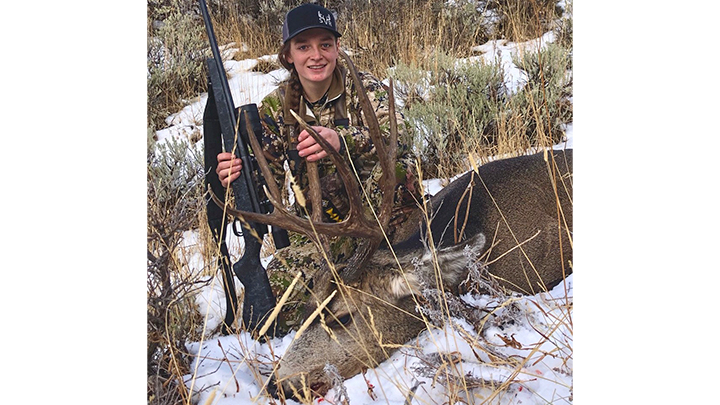 Molly Engle, Clyde Park, Mont.
Though fading light and a pesky cow that wouldn't get out of the way forced NRA Life member Molly to pass up shots on two large 6-point bulls during archery season, she chose to eat elk instead of her tag and took a nice young 5x5 bull on the last day of rifle season. As for the mule deer, Molly shot it while hunting for elk, as a matter of fact, by herself, in Montana's Crazy Mountains. Her father, Bob, says she had the deer gutted, down the mountain and already hanging on the meat pole before calling him. Both animals were killed with single shots from Molly's .257 Wby. Mag. rifle acquired at an NRA banquet years ago and given to her by her late granddad, Major R.J. Engle, an NRA member himself who fought with the 82nd Airborne during World War II.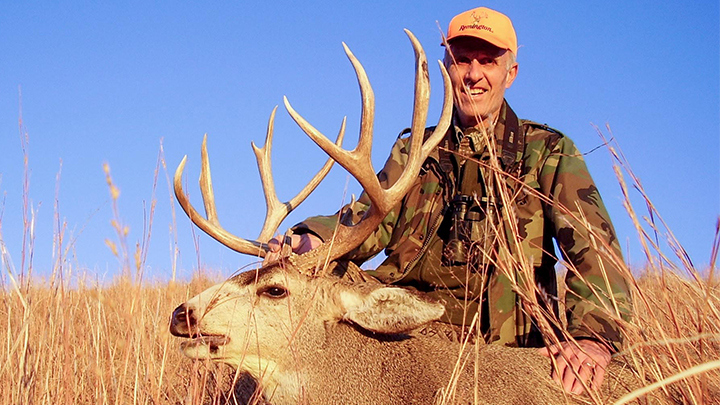 Jerry Fitzgerald, Waterloo, Iowa
On Nov. 14, 2020, Jerry was hunting Nebraska's Sandhills region with Pioneer Outfitters when his guide suggested checking out an ag field with an irrigation pivot that ensured the field was well watered to hold mule deer. When they arrived, deer were in the field around the pivot and more dotted the hills nearby. They spotted several bucks; one of them was outstanding. The weather had been worsening, the wind was increasing and now it began to snow. "My scope was full of snow," writes Jerry, "and determining which deer was the big one was impossible" until, finally, the buck moved over the hill and out of sight. Luck struck at dawn the next morning when they spotted it again. Jay went prone with his Model 700 .30-06, and a single shot at 230 yards tagged the biggest deer of his hunting career.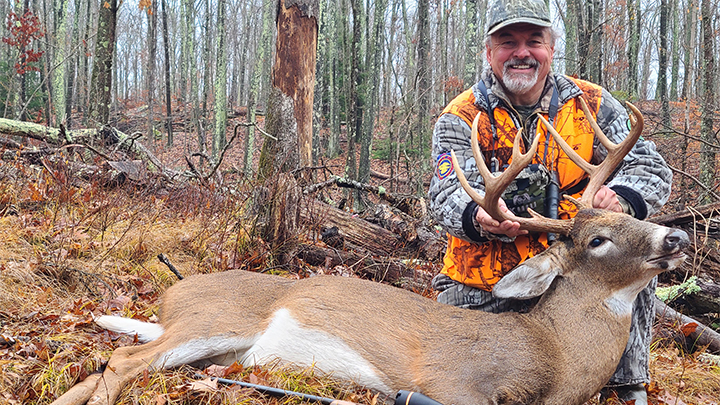 Dieter Bromkamp, Griswold, Conn.
After an unsuccessful week of hunting the same property, Dieter decided to try another piece of private property in northeast Connecticut. The weather for Nov. 28, 2020, was forecast to be balmy, and he didn't think he stood much of a chance to see deer. But he walked into his ground-blind setup and settled in, still hopeful as he overlooked an area that had been logged a few years prior. Hours later, after spotting some does but little else, and amid rising temperatures, Dieter had to admit he was discouraged. Then he spied movement about 100 yards away, and through his binocular he spotted antlers first then the body of a large deer lingering among some brush piles. It was a 10-pointer, but its vitals were obscured. Then, slowly but surely, the buck turned to offer a shot to the hunter with his Kimber .30-06. The buck dressed out at 155 pounds.