Support NRA American Hunter
DONATE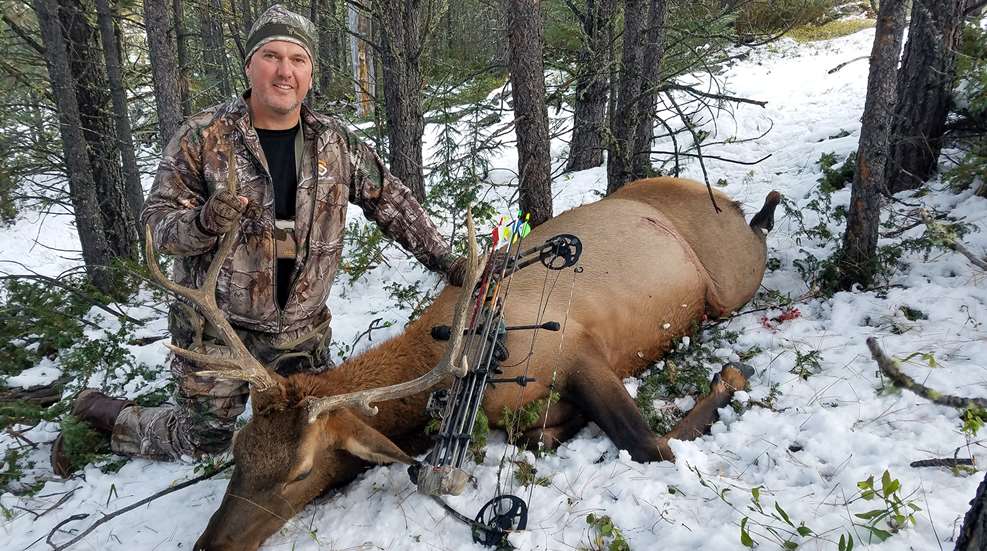 By Randy Malterud, Lead, S.D.
It was Labor Day weekend and we had just received nearly a foot of snow in the Black Hills. My friend Chad had finally drawn an archery elk tag and I was tagging along as the guide. After the storm broke we were running ridgelines, bugling and looking for elk, when we came across about 20 sets of tracks that headed down a finger ridge. We hadn't gone far when a bull bugled ahead of us—and he was close. Time to get serious. But our progress was quickly halted when we spotted a lone cow feeding on top of the ridge ahead of us. I ranged her at 65 yards. We decided to stay put so we wouldn't get busted and see how this would unfold. I was in the lead and Chad was only a step behind when we froze.
 Within 10 minutes there were four more cows feeding 40 yards in front of us. Then the bull came and stood by the first cow. He was a mature 6x6. He didn't feed with the cows. He would only move his head from side to side, staring in one direction for minutes and then staring in another. He was on edge. Another 10 minutes went by and now there were several more cows feeding just 10 yards in front of us. Another 10 minutes passed and now more cows were coming into view from the left. Within minutes, the cows to the left were working their way behind us and out of my peripheral vision. But they were close, as in feet-close, not yards-close. I couldn't see them but I could hear every footstep, every chew and every breath.
And then I could hear Chad rocking on his heels. I didn't dare move a muscle or make a peep with so many elk so close but I kept thinking, Don't move Chad. We had been standing perfectly still for half an hour now. Was he cramping up and couldn't take it any longer? What was he doing? But the elk didn't spook.
More minutes went by and the cows kept feeding past us to our right. Soon they started to get nervous, bunched up and walked over the side of the ridge opposite from where they had come. But the bull was still there. He hadn't put his head down the entire time the cows were feeding, but now that the cows were gone he started to browse.
I asked Chad, "Are you going to shoot that bull?" Chad asked, "He's still there?"
We both had to shuffle-step sideways for him to see the bull and get the shot. I ranged and Chad drew and released. The bull jumped the string and was well out of the way before the arrow got there. He just trotted off over the edge to join the cows.
At this point I'm thinking that Chad is going to be all bummed out over not connecting on a very nice bull, but he turns to me, smirking, and says, "An elk bit me on the butt." I heard him but couldn't believe what he said, so I replied, "What?" Chad says, "An elk bit me on the butt—not once, not twice but three times." As he says this he is holding up fingers to match his counting. He said that as we stood there he had seen a calf coming, but never expected to get bitten. He said that when we stopped he was straddling a log. The elk calf pulled hard enough, he said, that it might have pulled him over if his feet had been side by side. Then he asked me if he had holes in his pants. We never laughed so hard over missing an elk.
A couple of days later I was able to get a young bull to come to a call and Chad harvested it at 15 yards. That was close enough.
---
Do you have an exciting, unusual or humorous hunting experience to share? 
Send your story (800 words or less) to [email protected] or to American Hunter, Dept. MH, 11250 Waples Mill Road, Fairfax, VA, 22030-9400. Please include your NRA ID number. Good quality photos are welcome. Make sure you have permission to use the material. Authors will not be paid, and manuscripts and photos will not be returned. All material becomes the property of NRA.