Support NRA American Hunter
DONATE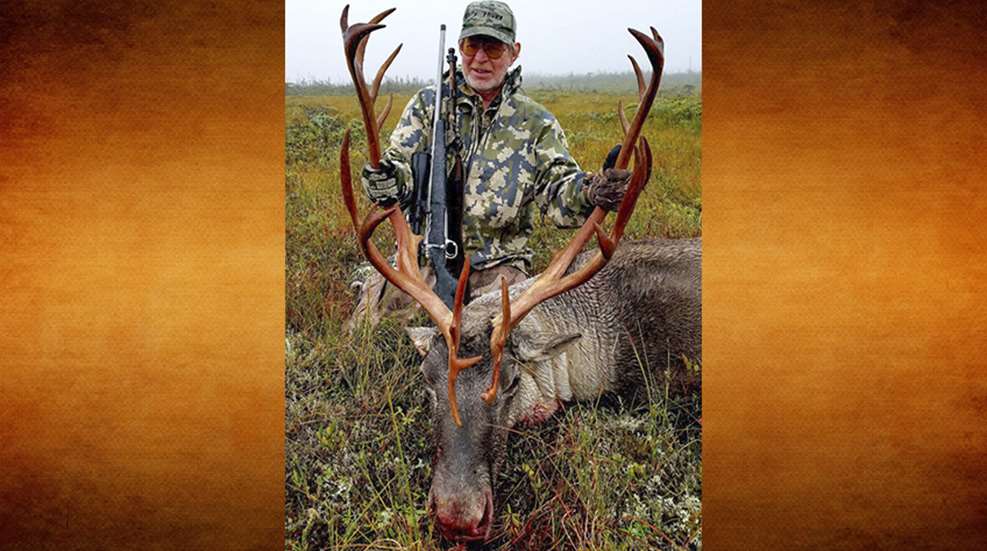 By Curt Gustafson, Huron, S.D.
Having never shot anything larger than a deer, I thought at this stage of life (I was 66) I should shoot something bigger. Twenty years ago, I was into benchrest shooting and hunted red fox and coyote. Needing a larger-caliber rifle, I had a .308 Win. put together by Borden Rifles in Pennsylvania. I reload most everything that I fire, so I was anxious to get this .308 to cook.
I started searching the Internet for caribou hunting and tried to educate myself about the various subspecies. Because of its rarity and beauty, particularly regarding the rack, which is much darker and, in my opinion, somewhat better shaped, I decided the first species I'd pursue would be the woodland caribou. I soon discovered the only place in the entire world a nonresident can hunt a woodland caribou is in Newfoundland.
The first outfitter I called back in January 2016 was Hinterland Outfitting of Bishop's Falls, Newfoundland. Craig Pomeroy answered the phone and gave me all the information I asked for and more, but he didn't have any caribou tags left for the 2017 season. He did have a hunter who he thought might cancel, and asked if he could call me back in March or April if the opportunity became available.
In March, the phone eventually rang and we set the date for my caribou hunt: Sept. 11-16, 2017.
I wanted to take with me Eric, my 37-year-old son, as my photographer, friend and partner in this exciting adventure. I checked with Craig, and he said Eric could come along.
The adventure started on Sunday, Sept. 10. It was noon when Craig picked us up, and we jumped into the vehicles and travelled more than two hours to camp. When the trail ended, we found ATVs waiting. We loaded all of our luggage and rifles into the wooden carts behind the ATVs and followed a beautiful winding trail about a block in distance to our destination: "Quiet Haven."
On Monday the generator started at 4:30 a.m.; the lights came on, breakfast was served and the first day of our hunt began. All of the ATVs were warming up in the dark, cool morning with their lights on as we prepared to head into the wilderness seeking caribou. Craig was my guide, and I jumped onto his ATV. My son followed us in another. We were off.
It was wet and bumpy, and the bogs were an education all their own. We traveled all morning and scanned the terrain with binoculars, but saw nothing other than the beautiful countryside and a lot of caribou sign.
Back at the lodge we had lunch and a quick snooze and were up again at 3 p.m. to tour the countryside, looking for the elusive caribou until almost dark. Unfortunately, we didn't see any animals, but we did see some grouse along the road.
Day two started similarly to day one—with the addition of rain. We did see a 20-point bull, a few cows and a couple of calves. This was the first woodland caribou I'd ever seen. It was unreal in the rain, mist and fog, and my son took some beautiful video of them. Craig suggested I not shoot the 20-point, and I agreed, as it was only the second day.
The third day started like the others: more rain and colder temperatures. We searched most of the morning and were deep into a bog we'd hunted the previous day when Craig wanted to change course.
"Hey, shall we take a trip to the new bog that I just cut a trail into this summer?" asked Craig.
Of course, I was all in, so we headed in that direction. About five minutes later, Craig said, "Shooter just ahead!"
The bull wasn't aware of us at all, so I had plenty of time to set up my bipod in the spongy bog. I ranged the bull at 175 yards through the rain and mist, and fired.
I downed my first-ever woodland caribou, and my son was behind us and was able to record the beautiful animal for about three minutes prior to my shot. I am sure I've watched that video at least 200 times!
Craig mentioned the rack might make the Boone and Crockett record book. It was very symmetrical and had no battle scars—exactly what I was hoping for. What's more, Craig was indeed correct: my caribou did in fact make the Boone and Crockett record book with a score of 291 2/8 inches!
---
Do you have an exciting, unusual or humorous hunting experience to share? 
Send your story (800 words or less) to [email protected] or to American Hunter, Dept. MH, 11250 Waples Mill Road, Fairfax, VA. 22030-9400. Please include your NRA ID number. Good quality photos are welcome. Make sure you have permission to use the material. Authors will not be paid, and manuscripts and photos will not be returned. All material becomes the property of NRA.