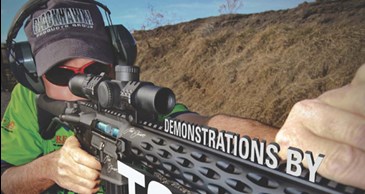 World-champion competitive shooter Todd Jarrett will conduct demonstrations in the Blackhawk booth (No. 5209) during the 143rd NRA Annual Meeting & Exhibits in Indianapolis April 25-27, 2014.
Stop by the Blackhawk booth to see Jarrett's tips regarding shooting and gun-handling technique, and to hear him discuss personal experiences and preferences when it comes to selecting Blackhawk gear.
Jarrett will appear Friday at 4 p.m.; Saturday at 11 a.m. and 3 p.m.; and Sunday at 11 a.m. and 2 p.m. After each session, he will answer questions and sign autographs.
Read the full press release here.