by
posted on April 16, 2020
Support NRA American Hunter
DONATE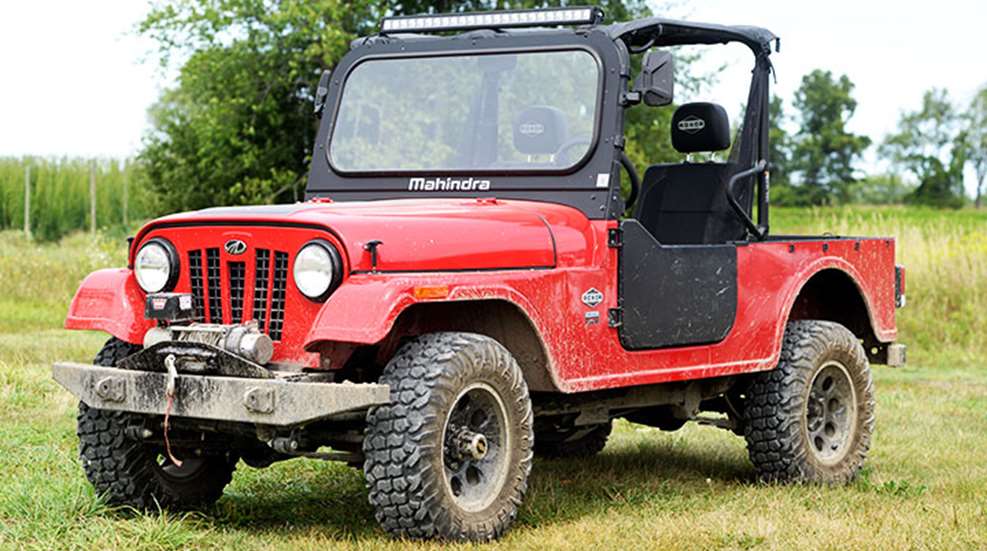 Roxor Offroad is engaging. That's the word from the company itself, and it's my impression after seeing the facility where each Roxor Offroad vehicle is assembled then seeing and driving several of them.
Roxor Offroad, for those who don't know, is a subsidiary of Mahindra Automotive North America. Its Roxor vehicle is the latest entry to the North American ATV market. It's a jeep, basically, same as the original "GP" or "jeep," which is to say it's a short-wheelbase, general-purpose vehicle with quarter-ton capacity and four-wheel drive just like our troops relied on in World War II. It's made for off-road use. It is not street-legal and never will be, say company reps. The process to make it so would create an entirely new vehicle, such is the design and technology in use here.
Think of a Roxor as an ATV on steroids. It may well be the kind of vehicle many farmers and ranchers and outfitters want—but in the end it is an ATV.
This ATV looks so much like what most of us think of as the Willys military or Jeep civilian brand vehicle because Mahindra of India was awarded the contract by Willys in 1947 to make jeeps post-war. In fact, it was Mahindra jeeps our troops used in the Korean War. (To avoid mistaken identity, Roxor Offroad agreed with Jeep of North America to alter its vehicle's grill.) Today, Mahindra is a $19 billion company that makes more than 600,000 automobiles every year. It is the world's largest tractor manufacturer by volume and the maker of the best-selling SUV in India.
At first blush a Roxor makes you blink. This thing looks like it jumped right out of the '50s. No keyless entry here. Heck, there are no doors. The ignition key still turns to the right. Turn it, feel the diesel engine fire then rest your right hand atop the shifter knob as it shakes. It feels good, like the Jeeps and Volkswagens and pickups any of us might've learned to drive as kids.
A group of journalists traded Roxor off-road vehicles for two days at a hops farm in Michigan. The flat terrain was not the place to test the capability of an off-road vehicle—this was not the kind of intro I am used to seeing in the ATV world. Nonetheless, I can't find fault with a Roxor. I think it's an incredibly capable, simple and fun vehicle.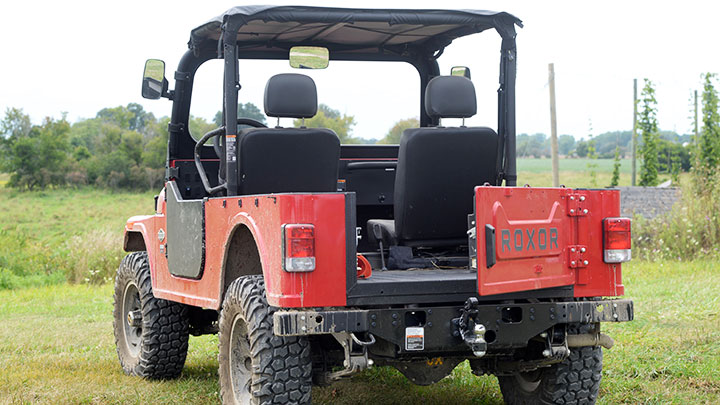 But don't take my word for it—take the word of Ned Bacon and his wife, Kat. The two have been off-roaders all their lives, running endurance events and off-road rallies as husband-and-wife driver-navigator. Last spring in a customized Roxor Ned and Kat completed the Sonora Rally, a five-day race across the Sonora Desert. Then Ned and navigator Bryan Lutz raced the same Roxor in the NORRA Mexican 1000 across the Baja California Peninsula in the legends class with other vintage vehicles.
"The Roxor is built to take a beating and keep on competing," Bacon was quoted in company literature. "It's not the most sophisticated vehicle on the planet, and for good reason: It's designed to be as reliable as an anvil."
Indeed, it's a surprisingly simply made vehicle, which may attract some shade-tree mechanics.
A five-speed manual or six-speed automatic transmission is part of a four-wheel drivetrain including a two-speed transfer case and manually locking front hubs. A full-floating front and semi-floating rear axle each carry a 3.73:1 ratio. Under the hood lies a four-stroke, 2.5-liter, four-cylinder, turbo-charged diesel engine with direct fuel injection and liquid cooling that makes 62 horsepower and 144 ft.-lbs. torque. Top speed is 55 mph.
Twelve gallons of fuel gets a driver about 250 miles behind hydraulic power steering. The vehicle weighs a lot—3,035 pounds—but it also tows a lot—3,490 pounds. Try that with a four-wheeler. Rear payload capacity is 349 pounds. Ground clearance is 9 inches. Stock tires are either B.F. Goodrich or Kenda that measure P235/70 on 16-inch wheels (steel is stock, aluminum is optional).
The wheelbase of this 21st-century general-purpose vehicle measures 96 inches, not 80 like the original. But it'd be hard to spot other differences. Overall, it's only 13 feet long, 5 feet wide and 6 feet tall. The chassis is a simple box steel frame. The body is made of steel, too. The straight axles sit atop leaf springs, buoyed by shock absorbers. A dual hydraulic, vacuum-assist brake system powers 11-inch discs up front and 11-inch drums in back.
The passenger compartment offers seating for two. The dashboard is simple—a single gauge. Headlamps are halogen. Passengers sit on bucket seats outfitted with three-point harnesses, and find within reach a 12-volt power port and glovebox-like storage next to their seats, and lockable storage boxes beneath their seats.
Every Roxor is assembled in Auburn Hills, Mich., in a facility spanning 100,000 square feet that opened in January 2018. Its 500 employees working two shifts make about 20 vehicles per day. (Its general manager is an NRA member and American Hunter reader.) Mahindra opened in Michigan precisely to tap the state's mature automotive marketplace. Today many parts to make the Roxor come from overseas, but about 50 percent are made right here in the USA. The roll-over protection system (ROPS) comes from southeast Michigan, for instance, and the exhaust system comes from Wisconsin. In a way, this is a story about outsourcing production back to the United States. Indeed, Roxor says it's here for the long haul with a long-term product plan to match its ambitions. A nationwide dealer network that seems to grow regularly can be tapped at the company's website, roxoroffroad.com.
A list of available options that seems to grow by the week includes: an Ox rear locking differential or Spartan "lunchbox" front/rear lockers; 3-inch lift kit; oil pan skid plate; dual pintle/ball hitch; heavy-duty front bumper with a Warn M8000 winch; spare tire kit; Warn manual locking hubs; drop-in bedliner; cargo stake box; half doors and full doors; soft or hard bikini tops; soft or hard, fully enclosed cabs (and a heater kit); windshield (and wipers and a defrost kit); back seats; all-weather Bluetooth soundbar; 40-inch KC LED light bar; snow plow mount; Mossy Oak camo graphics; and more. I'm pretty sure a buyer can even swap grills if he likes, because I've seen a couple of options in beauty shots online. Color choices seem endless—400 custom colors, to be exact, plus three new standard colors from PPG Paint. In addition, there are matte color counterparts plus wraps and even a bedliner-like total-body spray-on finish.
All this capability and simplicity and old-school cool doesn't come cheap. Base price of the five-speed unit is $16,599. The Roxor A/T with its six-speed, hydraulic-actuated automatic transmission that learns a driver's patterns to deliver consistent performance starts at $18,999. A Roxor A/T Limited Edition with the auto trans, a custom hood wrap, four-passenger roll-bar and matte-black grill starts at $19,599. True, one could buy three used four-wheelers or even a couple of used Jeeps for the same price as one Roxor. But none of them would be a brand-new Roxor that looks like a 1950s-era Willys jeep you just rolled out of long-term storage.
Technical Specifications
• Drivetrain: 2.5L, 4-cyl., turbo-charged, fuel-injected, liquid-cooled diesel engine w/62 hp, 144 ft.-lbs. torque; 5-speed manual or 6-speed automatic transmission; 4WD w/2-speed transfer case
• Brakes: dual hydraulic vacuum-assist; front 11" disc, rear 11" drum
• Suspension: box steel frame; straight axles, leaf springs front/rear w/shocks
• Dimensions/Capacities: overall length 148"; wheelbase 96"; width 62"; height 75"; ground clearance 9"; curb weight 3,035 lbs.; rear payload 349 lbs.; tow cap. 3,490 lbs.; fuel 12 gals.
• Base Price: $16,599 (5-speed manual); roxoroffroad.com