by
posted on March 22, 2016
Support NRA American Hunter
DONATE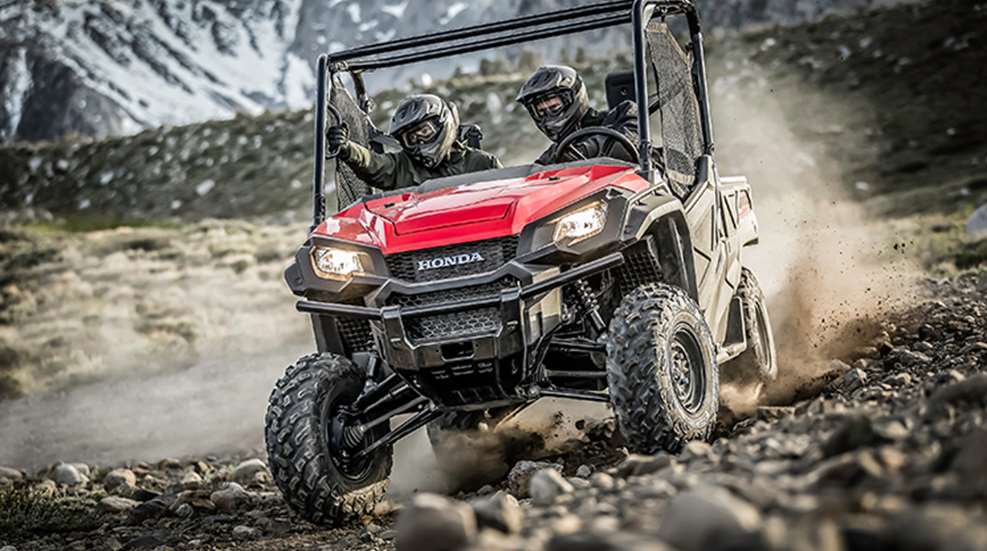 Some will consider the 2016 Pioneer 1000 by Honda a "game changer," for with this side-by-side the company takes design, engineering, utility and functionality in this category of OHV to the next level. As the flagship of Honda's SxS lineup, the Pioneer 1000 boasts the largest engine in-class, an innovative state-of-the-art automotive-style transmission, and versatility and utility that accommodate changing needs. Equally important, Honda has designed a "purpose built" platform, an all-new chassis to accommodate the unit.
The Pioneer 1000 is available in four models: the three-person Pioneer 1000, Pioneer 1000 EPS, five-person 1000-5 (also with EPS) and the 1000-5 Deluxe. All are powered by a new 999cc overhead cam, twin-cylinder, fuel-injected, longitudinally mounted, liquid-cooled engine—the largest-ever displacement in a production multi-use SxS. It boasts 72 hp and offers a cargo bed payload capacity rated at 1,000 pounds, which is plenty sufficient for hauling cargo plus a driver and passengers. Towing capacity is 2,000 pounds. The gross vehicle weight rating (GVWR) is 3,190 pounds; 3,358 for the 1000-5.
Transferring power to the wheels is an all-new six-speed DCT (dual-clutch transmission), a major departure from the competitive CVT belt design that up until now has represented conventional wisdom in the SxS world. Three operator choices are available: standard (fully automatic), sport (also fully automatic but with a more aggressive shift map) and manual (steering column-mounted paddle shifters permit gear choice and shift points). One clutch serves the odd-numbered gear sets (1-3-5), the other clutch serves even-numbered gears (2-4-6), reducing response and shift times. And because this is an all-gear system, there is no belt to wear out.
When performing in either of the two fully automatic modes, the Advanced Transmission Logic uses an algorithm that monitors throttle input, engine rpm, speed and brake input that together determine shift points, even sensing descents and delaying upshifts to provide engine braking. In manual mode, the driver makes shifts via paddle shifters on each side of the steering column (one for downshifting, one for upshifting). The paddles also can be used to override gear selection in automatic or sport modes.
Drive modes include 2WD, 4WD, diff lock and turf mode (for sensitive surfaces), and when negotiating demanding terrain or towing and hauling heavy loads, the operator can reduce the gear ratio by 42 percent by utilizing the sub-transmission, which in effect doubles the number of gears available from six to 12.
As Honda did with the engine, engineers began platform design with a clean sheet of paper, tailoring an all-new chassis to accommodate specifically the engine and the intended uses, from workhorse to trail machine. The bench seat holds three passengers, with the middle seat positioned slightly higher and forward for passenger comfort and enhanced load-carrying. The middle seat features hand-hold straps and a shoulder belt. The two five-person versions incorporate two innovative "QuickFlip" rear seats that flip up or fold down flat to allow cargo-bed hauling.
The dual A-arm suspension is fully independent front and rear, providing 10.5 and 10 inches of front and rear travel, respectively, which makes rock crawling up and over terrain/trail obstacles achievable. Ground clearance is 12.9 inches on the three-person models, and 12.4 inches on the five-person models. All four models are equipped with 27-inch tires. Radial tires are standard on the five-person Deluxe and are optionally available on the other models. A self-leveling rear-suspension system automatically maintains the appropriate ride height on both five-person models, so heavily loaded rear-end sag is preempted. Tilt steering comes with the three EPS-equipped units.
The easy-to-use dump-bed lever can be accessed from outside the vehicle as well as from a front seated position. All models are appointed with hard doors (with nets) to make passengers secure and keep mud and debris out of the cabin. Large, easy-to-reach transmission and drive levers feature positive detents that make finding the desired gear and drive mode a transparent process.  The 1000-5 Deluxe comes standard with LED headlamps (37W high/low beam) that draw minimal power while yielding a wide, bright beam. The other three models feature halogen headlamps (LED lamps may be added). The LCD multifunction dash display is large and friendly, offering information on speed, total mileage, trip A and B data, rpm, gear selected, transmission mode, drive mode, time, fuel level, water temperature and maintenance reminders. Two open dash-storage areas and a weatherproof glove box are included in the cockpit.
Owners wanting to customize their unit can choose from a number of different Honda combination groups, including wheels, body panels of various colors, roofs and tops, windshields and windscreens, doors, rear panels, covers, protection, winches, plow blades, towing components, electrical components and seat covers. Customers can mix and match from among the 70 accessories and the packages that are also available. For example, the five-person Hunting package, which retails for $2,415.70, includes camo fabric roof/rear panel and front and rear doors, a two-piece hard-coated poly windscreen and camo front and rear seat covers. Other packages include All-Weather, Trail, Work, Protection and Custom.
The base model Pioneer 1000 has an MSRP of $13,999. The Pioneer 1000 EPS, Pioneer 1000-5 and Pioneer 1000-5 Deluxe have base prices of $15,199, $16,199, and $17,199, respectively.
Technical Specifications:
• Drivetrain: 999cc liquid-cooled twin-cylinder, four-stroke, duel-injected Unicam engine w/72 hp; fully automatic Dual Clutch Transmission w/6 forward gears, reverse; 2WD, 4WD, turf, diff lock
• Suspension: front, rear independent double-wishbone; 10.55" travel front, 10" rear
• Brakes: front, rear dual 210mm hydraulic discs
• Dimensions/Capacities: overall length 116.8"; width 62.9"; height 76.1"; wheelbase 80.2"; ground clearance 12.4"; wet weight 1,519 lbs.; towing 2,000 lbs.; payload 1,000 lbs. (49 states); fuel 7.9 gals.
• MSRP: $13,999