by
posted on January 16, 2018
Support NRA American Hunter
DONATE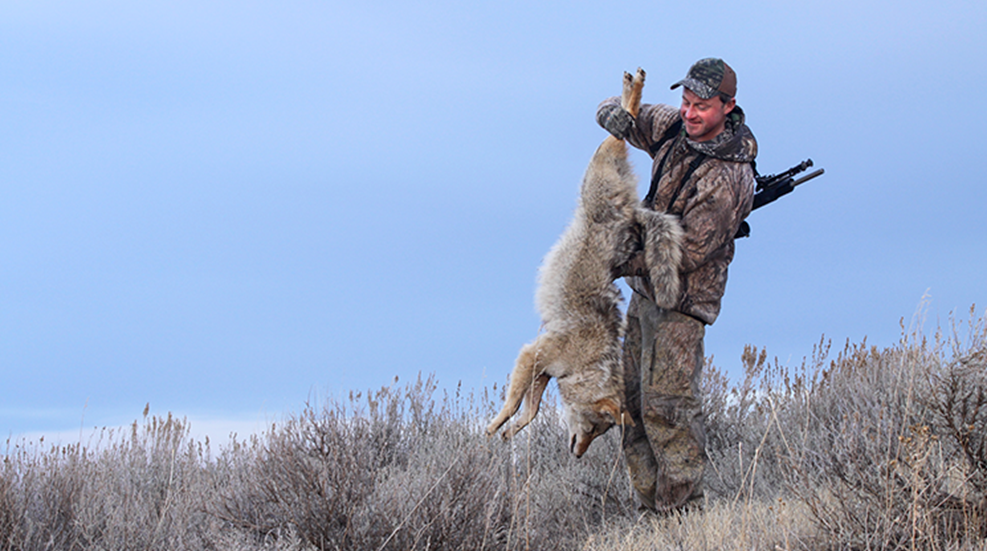 Whether you have access to only one farm or limited time to visit a nearby public parcel, it's common to call coyotes on the same ground over and over again. To avoid the dreaded no-show of cultured coyotes you need to interject some savvy into your hunts. Be unpredictable when calling the same ground. Start by varying your calls, but change up a few other things, too.
Play a Different Tune
It's human nature to fall into a calling rut, and use the same calls and sequence repeatedly. If it worked once it's bound to work again, right? Maybe, but it's also a sure way to alert coyotes to a possible ruse. Your electronic caller has an immense collection of sounds. Use them.
Simple ways to vary your tune include using coyote vocalizations. Lone howls and challenge howls, short and sweet, can arouse curiosity. Likewise, bird chatter from crows, jays and magpies added to sets or used alone pique interest. Coyotes come to any interesting, and especially tasty, sounds so don't be afraid to use calls from critters not found in your ZIP code.
Lastly, tone it down. Blaring brings in coyotes from afar, but lowering the volume changes the message and air of desperation to modify your con.
Hunt a Different Time
Coyote hunters tend to mimic the hunting strategies for other species. Dusk and dawn pursuits are the norm. That's a good schedule to follow as it coincides with prime traveling hours for all wildlife, but consider other attack times.
Heath Wood, a Mossy Oak pro staffer from Missouri, recommends allowing coyotes to retreat to bedding cover or interior hunting cover to boost their confidence before calling. "Waiting until midmorning, midday or midafternoon allows them to relax," he says, "and in the meantime you can use a downwind approach to set up on edges near suspected hideouts."
My personal experiences have proven this tactic. I always figured the best setup would be the first one at the crack of dawn, especially on cold winter mornings. My journal notes show otherwise, particularly on one swath of public land I pound relentlessly. Almost all of my midmorning and midday sets trumped my first set of the day.
Set Up in a Different Location
Throw another curveball by altering your setup location and access route. This variation goes hand in hand with current wind and weather. Since you likely know the property intimately, scout stands for every conceivable wind direction, prevailing and from surprise weather fronts. Hunting apps like ScoutLook Weather give you forecasts in the palm of your hand, and Google Earth maps help you chart a course to a setup site.
Vary entry to a different location by slipping in from a new access point. This may mean parking in a borrow ditch or even acquiring permission from an adjacent landowner to walk a fence line. Dry creek beds, irrigation canals, two-track lanes and even utility rights-of-way provide additional pathways to alternative sites.
Use a Different Tactic
A final way to mix up your routine is to employ a different tactic. An easy modification is simply to stay put longer. Any coyote questioning a barrage of sounds may take longer than the standard 15 minutes to respond. Staying on stand for 30-60 minutes may result in the appearance of a guarded coyote. It's worked for me for nearly three decades.
Also consider slipping in closer to coyotes that hang up. Matt Piippo, the head pro staff manager for Les Johnson's Predator Quest, shared with me he is not afraid to move on coyotes that answer his howls but refuse to budge. If cover and terrain allows he'll inch closer, howling as he moves. Every time he has a good view he'll stop and wait to see if a coyote is headed his way.
Using whitetail mentality and hunting from a stand with no calls also provides results. Find a trail, edge or opening with coyote sign, or one that has produced sightings in the past. Pick a downwind, elevated location and set up surveillance for a wayfaring coyote. When you hunt the same ground repeatedly, sometimes not calling is the smartest strategy.