Support NRA American Hunter
DONATE
For the typical hunter, a puppy comes along every decade or so. Ten years is a long time to remember what to do and how to prepare for the new four-legged baby, as I recently discovered when my first English setter puppy in 16 years arrived at the airport looking lonely, lovable and hungry.
The breeders, Deb and Chad Beirl of Beirl's English Setters setters in Wisconsin, reassured me that I already had the two most critical tools for raising a new pup: time and love. Every breeder and trainer I've asked agrees. The more personal interactions and positive reinforcements you can provide Pup, the faster he'll learn. And the less trouble he'll give you. Pups that destroy sofas and gnaw table legs are usually ignored and bored.
The age-old preventive for puppy mayhem is consignment to a crate or outdoor kennel run. Kennels are great for keeping a dog safe and out of trouble, but don't make the mistake of making it your new pup's primary baby sitter. Dogs are pack animals and they need regular interaction with you, their new pack leader. If left by themselves too long they'll develop bad habits like nuisance barking, digging, pacing, chewing … .
It's not practical to keep Pup by your side 24/7, but try for a good mix of family time, alone time, crate time, kennel time, and interaction with other families and dogs. Mix it up. Pups will be most active early and late in the day. That's the time to devote to them. Then keep them underfoot or sleeping nearby as you go about your daily chores, watching carefully for signs of dirty business. Catch Pup about to eliminate before she eliminates, carry her to your chosen place for this, and you'll soon imprint the right habit.
To make that first year of puppyhood more joy than mayhem, prepare with not only the right attitude, but also the right tools and supplies. Here are a bunch of them.
Food and Water Bowls
Karl Gunzer, senior manager for Purina's sporting dog group, likes stainless steel for durability and easy cleanup. In an outdoor kennel he clips a 6- or 9-quart bucket to the wire to prevent tipping. A deep, oversized food bowl minimizes spillage.
Food
Gunzer likes Purina Puppy Chow, no surprise, but Beirl recommends it, too, along with Taste of the Wild and Diamond puppy formulas. With any brand, shoot for 28 to 30 percent protein, 18 to 20 percent fat. Gunzer says to look for an Association of American Feed Control Officials statement on the bag. It should read "complete and balanced," and "appropriate for growth" or "all life stages."
Don't overfeed! "Fat puppies are not healthy puppies," Gunzer warns. Studies show lean puppies extend adult lifespan by 1.8 years. Check Purina's body condition score chart at library.tufts.edu/vet/images/bcs_dog.pdf.
Collar and Nameplate
I abandoned leather collars after my Lab ate a new one. Flat, thick nylon wide enough to tack on an engraved ID plate is preferred. Gunzer agrees with me that your name, phone number and/or email are sufficient. Adding Pup's name just makes it easier for a thief to bond with the dog. The Beirls fit their pups with a Seresto flea and tick collar as well.
Leash
A 6-foot leash is typical. One made of chain prevents chewing. It should snap to the D-ring on the collar. Avoid retractable designs; they only encourage lunging.
Stake-Out
Gunzer likes to introduce a puppy to a stake-out ring and chain or cable early in life. Pup needs to learn self-restraint while staked at hunting camps, rest areas, field trials, etc.
Bed
Bob Farris of Cedarwood Kennels keeps his award-winning pudelpointers on raised beds, the ones that remind me of little trampolines. Gunzer likes these, too, especially the Kuranda brand, because they keep Pup off the cold, dirty ground. Ballistic nylon or vinyl surfaces are easy to clean. The Beirls prefer a kennel pad in a portable crate for Pup's first few weeks in a new home.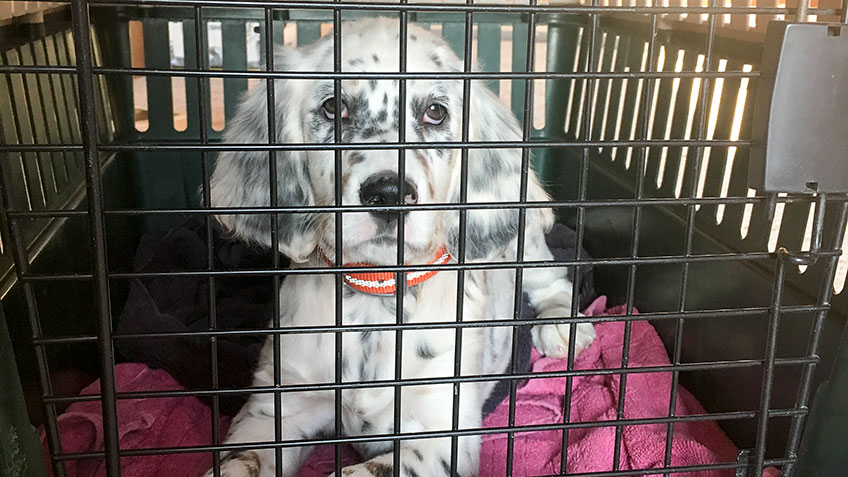 Crate
This most important tool gives Pup refuge, confidence and a secure feeling. It's like the den Mom would have made, and it's portable. Pup can feel secure in any room, any vehicle, anywhere and remain safely under control. Gunzer recommends hard-sided plastic crates because they offer more den-like security and less potential for chewing, which pups often do on wire crates.
Deb Beirl likes to line plastic puppy crates with disposable "puppy pads" to catch inevitable excretions. To minimize these, block off the back of your adult-dog-sized crate with a box to create a puppy-sized sleeping nook Pup won't want to foul. As long as he can stand up, turn around and curl up, he's cozy.
Toys
Dog toys are a rift in the training community. Some like them, some don't. Some like certain types. The Beirls like squeak toys to keep Pup interested and stuffed animals for playtime retrieving. Gunzer is in my camp: No squeak toys because they encourage biting. We don't want our dogs biting birds to get a squeak out of them.
Beirl's setters are eager retrievers, but I don't know if they're hard-mouthed. At 3.5 months old, my Covey pup doesn't seem to be. She releases fetched items of all types quite readily, and two days ago she retrieved her first two birds, both sharp-tailed grouse. Even though I let her mouth, worry and parade around with them extensively to reinforce her enthusiasm, their flesh was unmarked by tooth punctures. But Covey doesn't get any squeak toys, and we don't play tug of war.
Gunzer, Farris, the Beirls and every other dog breeder I know warns against any small toys or large ones that can be chewed down to swallowing size. Puppies are notorious chewers, and they'll ingest anything from prime rib to roofing nails. Gunzer prefers Kong rubber toys and knotted rope toys. Covey concurs on the knotted rope. She loves to fetch it, worry it and shake the ever-lovin' threads out of it. Thankfully the shaking hasn't carried over to birds. She brought in her first two gently, proudly and, except for a bunch of missing feathers, unscathed.
Beyond these basics you can get into more advanced field-training tools—everything from canvas or rubber retrieving dummies to bird launchers and check-cords and e-collars—but those are items for another discussion. For now, try your best to maximize your interaction with your new pup. Make her part of your pack. Reinforce good behavior positively, and be patient as she learns what bad behaviors to abandon. Negative reinforcement is rarely called for in the early stages. Good luck with your new pup!
---
Quick Tip: Use a Pipe Leash
I like to use a pipe leash for heel training. Run a short length of leash through a 3-foot section of narrow, rigid PVC pipe, and you have huge leverage over a lunging dog. It keeps Pup right at your side with less pulling.