Support NRA American Hunter
DONATE
Archery pronghorn hunting usually is best done solo, but there are times when it takes two to tango in pronghorn territory. Just having along someone to discuss strategies and stalk options is valuable, but pairing up could also be the best answer to executing those plans successfully. Next time you head into pronghorn country, consider adding a partner to your equipment list.
Spot-and-Stalk for Two
Two sets of eyeballs definitely trump a single pair in wide-open pronghorn homelands. Setting up in opposite directions on a high vantage point gives you unlimited pronghorn spotting advantages. Unfortunately when you spot a target buck and begin the long stalk, terrain could swallow your goal. This is where a partner helps. Your buddy stays behind, remains on the high ground and even makes veiled moves—all the while keeping tabs on the buck, which also may be moving.
As you advance to the target, covertly rise up and get hand cues from your spotter that provide updates on the pronghorn's location. Work out a series of hand signals in advance to signify direction, movement and whether the buck has bedded. If electronic communication is legal and you have cell service, text messaging is another option.
Your spotter can also provide a distraction if you arrive at a bedded buck with no shot. By circling 200 yards or so in front of the animal, your partner will catch its attention. As the pronghorn stands and looks away to watch your buddy, you get the green light for a shot at the unsuspecting buck.
Double the Blinds
Although pronghorn country is typically parched, the efforts of local ranchers and even surprise downpours from Mother Nature can create too many waterholes. No worries. Two of you can cover multiple hydration stops for thirsty pronghorns. After scouting reveals the water sources pronghorns prefer, stake multiple blinds at these locales for wider coverage.
You may find a popular pronghorn pond is too large to shoot across with your bow. Instead of abandoning one side, stake a blind on each. My son and I did that one season in Wyoming and tagged two nice pronghorn, each from a different blind at opposite ends of the waterhole.
Deal with Decoys
You won't find a more exhilarating pronghorn bowhunt than decoying bucks in the rut while spotting and stalking. Using a subordinate buck decoy could entice a dominant male to charge the intruder, giving you a spitting-distance shot.
Regrettably, wind in pronghorn country is as common as pronghorns themselves. Even the heavier plastic decoys have a tendency to lean or tip over in the wind when you're hunting solo. Put your partner to work at staking and bracing the decoy as you hunker beside, keeping your eyes on the real thing. When a buck trots over to investigate, your buddy can handle the decoy and even swivel it to hide your forms if a peeved buck circles. You're free to launch when ready.
Share the Load
Lastly, think positive. If all goes as you dreamed then your pronghorn partner automatically becomes a packer. The deboning job will take half as long. Pack loads will be half as heavy. When that pronghorn hits the cooler, it's your turn to support your hunting partner as you continue to tango in pronghorn territory.
Get His Goat
A decoy can improve your chances of getting a close-range shot at a pronghorn buck eager to defend his turf during the rut. If a hunting partner manages the decoy while you position yourself for the shot and draw your bow, all the better. Here are three options to present to your buddy for your next double-team effort.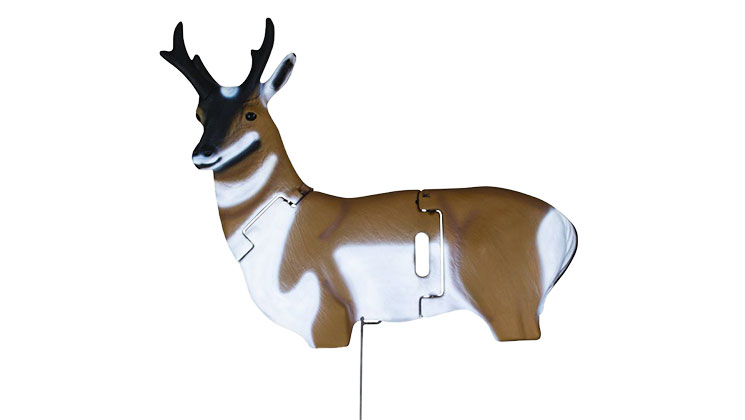 Flambeau MAD CommAndelope
Although the CommAndelope weighs less than 7 pounds, its blow-molded plastic construction keeps it rigid in the wind. An over-molded handle on the backside of the decoy helps with control during a stalk, and a ground stake secures the fake in the standing or bedded position. The tri-fold design packs down to 26x20x6 inches for carrying across the prairie. MSRP: $81; flambeauoutdoors.com.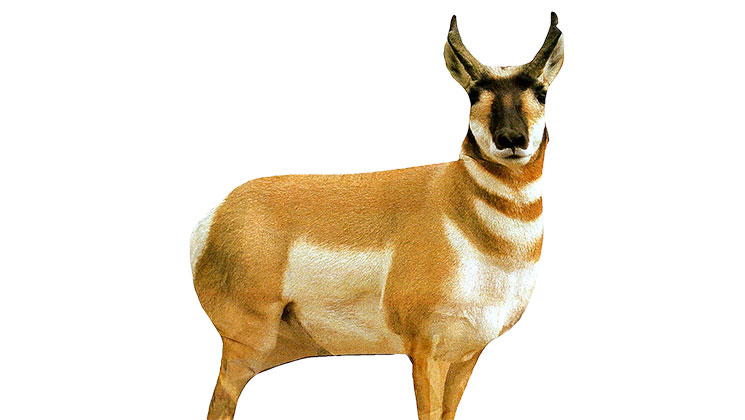 Montana Decoy Antelope Buck
There is no other life-sized antelope decoy as lightweight and compact as the one offered by Montana Decoy. It weighs just 28 ounces, including support poles. It's 13x10 inches and flat when folded, so it easily rides in your pack (or under your partner's arm). Best of all, deploying the photorealistic buck takes seconds. Montana Decoy also offers a set that includes a doe antelope. MSRP: $79.99 (buck), $119.99 (set); montanadecoy.com.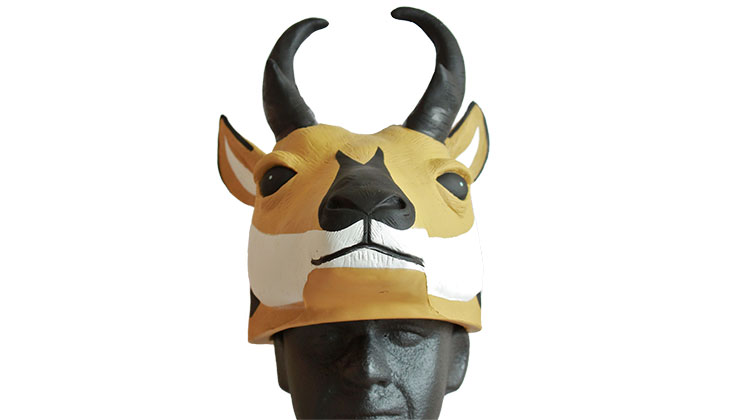 Be the Decoy SpeedGoat Hat
When you and your partner trade your caps for SpeedGoat Hats, you become the decoys. The pair of you crawling through knee-high grass with these on your heads is a sure way to pick a fight with a dominant buck. Made of soft, but firm, closed-cell foam, the hat comes with adhesive, interior pads to customize fit. MSRP: $45; bethedecoy.com.