We all know one of the most important things we can do is share our knowledge and create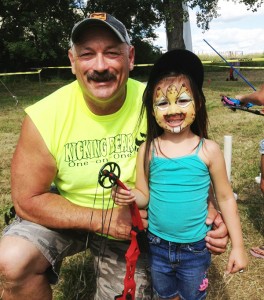 opportunities to get young people involved in our sport. While the NRA and like-minded organizations expose millions of kids to hunting and shooting sports each year, some special individuals have launched programs of their own to do their part for America's youth. NRA Life member and avid bowhunter Ray Howell of La Crescent, Minn., and his Kicking Bear Ministry (KBM) is doing just that in the name of introducing underprivileged and at-risk kids to God's great outdoors. His mission: to put a bow in every kid's hand to help a child build confidence and realize the power of setting and achieving goals.
"God had a purpose when my dad left me when I was 5 years old," said Howell. "Everything happens for a purpose. Mine is to help kids who are like I was so they don't go down the wrong path. Thousands of kids go through the Kicking Bear program each year at no cost—and we're turning them into enthusiastic, license-buying hunters."
Founded in 2000, Howell's non-denominational youth ministry program includes campouts, shooting sports events, hunting and fishing excursions and other activities that are vehicles for creating values, building skills and solidifying peer and adult relationships. I know a number of outdoor media—including my husband, TV host Phil Phillips, and outdoor writer Jim Zumbo—who have volunteered at these events as well as friends at industry companies who walk away feeling just as inspired as the kids whose lives they've touched.
"Watching these kids shoot a Mission bow and hit a target for the very first time is what it's all about," says Howell. "KBM pulls kids out of the darkness they're in, exposes them to the right 'gang,' and puts bows in their hands and dreams in their hearts."
Howell, whose organization conducted more than 100 events last year, does numerous speaking engagements and, in his spare time, is a World Powerlifting Championship competitor. In viewing youth as individuals to be developed, not problems to be solved, he dedicates his time and energy—his entire life—to fostering America's youth, demonstrating how one person truly makes a difference.
"Kicking Bear is a testimony to God," says Howell. "How else can you have an event with more than 1,500 youth participants and not one person pays a dime? And the program goes full circle. We now have kids from years ago coming back, in turn, to volunteer to help other kids and to help me start Kicking Bear events in more states."
The success of this 501(c)3 organization depends on the financial support of those who partner with it, including these sponsors in the bowhunting and outdoor arena: Mission, Mathews, Genesis Archery, AMS Bowfishing, Christian Bowhunters of America, Bohning Archery, Spot Hogg, Tru-Fire, Limbsaver, Reconyx, Raven Wear, Muddy Outdoors, Scent-Lok, Wildlife Research Center, Hunter Safety System, Realtree, Badlands Packs, BurzOff, Nikon, SKB Cases, Liberty Safes, Crimson Trace, Gamehide, Pope and Young Club, RMEF,  NWTF, SCI, Outdoor Edge, Whitetails Unlimited and Deerassic Park Education Center.
To make a contribution KBM or for information on upcoming events from Ohio to Texas, visit kickingbear.org/events. For those who wish to participate in fundraising events, next up is the 7th Annual Kicking Bear Fundraising Banquet in LaCrosse, Wisc., on Saturday, Mar. 29. For details, contact Justin Briski: 608-780-2374.