by
posted on June 24, 2010
Support NRA American Hunter
DONATE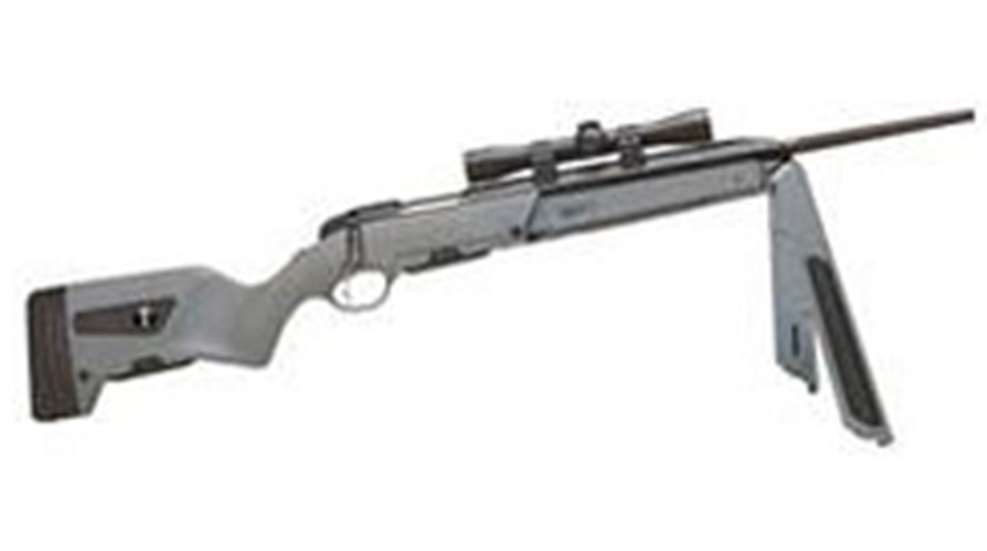 Steyr Arms has announced an extremely limited production run of the Jeff Cooper Scout Rifle in a commemorative package. This package is in the Scout's originally designed configuration as specified by legendary small-arms expert, author and founder of what would later become the Gunsite Training Center, United States Marine Corps Lt. Col. John Dean "Jeff" Cooper (1920-2006). Adorned with Col. Cooper's "JC" crest-of-arms, the first rifle of this special run, serial number JC001, made its public debut at the 2010 NRA Annual Meetings in Charlotte, NC.
Throughout much of the 1990s, Col. Cooper worked very closely with Steyr to produce what he would eventually consider to be the benchmark of his Scout rifle concept. As the ideal general-purpose rifle in the ideal general-purpose chambering, Col. Cooper's requirements were exceptionally specific, and the resulting .308 Win. rifle was nothing short of brilliant when finally introduced in 1999. Still today, it stands as the ultimate testament to Col. Cooper's meticulous understanding of firearms, tactics, ballistics and ultimate survival.
Based on the Steyr SBS action fed by a 5-round detachable box magazine, the Scout carries on Col. Cooper's legacy with a rifle weight of less than 7 pounds. The package also includes a long-eye-relief, forward mounted 2.5X Leupold scope and a multipurpose Ching Sling. Overall length is kept to Col. Cooper's maximum requirement of exactly one meter (39.4 inches). The polymer stock boasts a chameleon flip-forward bipod that solidly supports the rifle yet, when closed, transforms into an almost seamless traditional foreend. A UIT rail is nestled between the two bipod legs in their closed position, and a second box magazine is held in ready reserve along the bottom profile of the buttstock. The light-contour cold-hammer-forged barrel is fluted to further reduce weight, and it has a recessed match crown to maintain superb, sub-MOA accuracy. Flip-up auxiliary "Ghost-ring" iron sights provide a when-all-else-fails back-up to the Leupold optic.
For the 2010 offering, Steyr's Jeff Cooper Scout Rifle Commemorative Package is chambered in .308 Win., exactly as Col. Cooper conceived, and it sets in the original "Scout Gray" stock highlighted by the "JC" crest-of arms. A 2.5X 28mm Leopold Scout scope is attached to the integral top rail via Steyr mounts. An attached Galco Ching Sling is also inscribed with the "JC" crest, as is the Boyt TAC541 soft case and the Boyt H44 hard case. The latter also boasts the Steyr Arms logo. To finish off the package, a hardbound copy of Cooper's Art Of The Rifle is also included. The package has an MSRP of $2,975. Serial numbers begin at JC001, and sequential numbers are available on a first-come, first-served basis. Only 300 will be available.