by
posted on April 22, 2014
Support NRA American Hunter
DONATE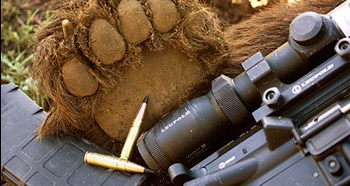 No doubt the .300 AAC Blackout is a trendy cartridge. It's not difficult to find info on it by snooping around online, and you may even know someone who's used it. What you've concluded is this compact .30-caliber cartridge seems to have some advantages over its little brother, the .223 Rem., mainly the size of the hole it will put into a given critter. While you understand the merits of bigger holes, you're still wondering if the .300 Blackout performs well enough to use on big game.
So was I, until I spent several days chasing black bears with hounds on the Jicarilla Apache Reservation in New Mexico, armed with an AR-15 chambered in .300 Blackout. You can read about my adventure in the May print edition of American Hunter, but what we're concerned with here is the cartridge. Is it enough gun for bears and other sizable creatures?
Well, I watched it put the hammer down on two bears, each around 375 pounds, in New Mexico. One of them received an extra couple of rounds in an effort to save the dogs from injury, but in hindsight it probably wasn't necessary to throw the extra copper. From my experience, yes, the .300 AAC Blackout will get the job done on black bears with the right bullet, which means it should be just fine for deer, antelope and similar-size game as well. But here's some proof, just in case my anecdotal evidence doesn't do it for you.
Richard Mann got his hands on 11 different factory offerings of the .300 AAC Blackout, from 110- to 240-grain loads, including supersonic and subsonic rounds.  He tested them with an Advanced Armament Corporation MPW carbine(the same gun I used on my bear) with a 16-inch barrel, topped with a Leupold VX-3 4.5X-14X-40mm scope.
Supersonic loads tested included: Hornady Custom 110-grain V-Max (this is actually a .300 Whisper load, but it's compatible with guns chambered for .300 Blackout); Lehigh Defense 110-grain High Velocity Controlled Chaos; Barnes Vor-Tx 110-grain TAC-TX; DoubleTap Tactical 110-grain Barnes TAC-TX; Remington Premier 125-grain AccuTip BT; and Remington Premier Match 125-grain OTM. (Note: The Barnes 110-grain TAC-TX bullet is very similar to the 110-grain TTSX bullet, and the two perform nearly the same.)
Subsonic loads included in the test were: Lehigh Defense 180-grain Controlled Fracturing; Hornady Custom 208-grain A-Max (another compatible .300 Whisper load); Federal American Eagle 220-grain OTM; Remington 220-grain OTM; and DoubleTap Tactical 240-grain Sierra MatchKing.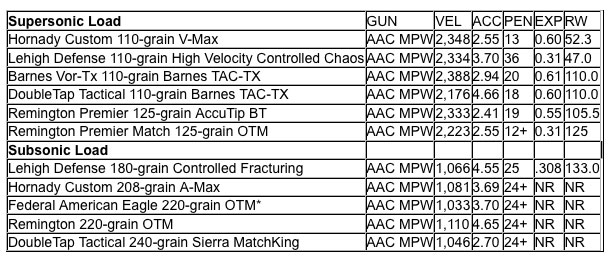 Velocity (VEL) measured in fps 15 feet from the muzzle for 10 consecutive shots using a Shooting Chrony chronograph. Temperature: 72 to 86 degrees Fahrenheit. Accuracy (ACC) measured in inches for one, 10-shot group at 100 yards fired from a sandbag rest. Bullet penetration (PEN) and expansion (EXP) measured in inches, obtained by firing each load into blocks of 10 percent ordinance gelatin positioned 20 feet from the muzzle. Recovered bullet weight (RW) measured in grains. NR = Not Recovered. NA = Not Applicable. * = engineering sample.
Note that Richard fired 10-shot groups for accuracy, which explains why they are larger than the standard three- or five-shot groups we're used to seeing in accuracy charts. Also keep in mind accuracy is gun/load-specific. Regardless, we are most interested in terminal performance here. Results show that expansion and penetration with supersonic offerings loaded with bullets like the Barnes TAC-TX, Hornady V-Max and Remington AccuTip BT are adequate for hunting deer-size game. As when choosing any bullet, though, it's wise to base your decisions on the build of the game, which is why I used ammo loaded with a solid-copper, controlled-expansion Barnes TAC-TX bullet to kill my black bear.