Support NRA American Hunter
DONATE
Named after the Picatinny Arsenal in New Jersey, where it was first developed and tested, the Picatinny rail immediately changed the world of firearm optic and accessory mounting.
The rail system consists of a series of evenly spaced grooves with a T-shaped cross-section that allows a pic-style bar to slide into the spaced-out section and be locked down tightly. Rails come in varying lengths, with some AR-style platforms featuring rails that run the entire length of the action and forearm/handguard. Then there are bolt-action makes that showcase lesser-sized Picatinny rails mounted above the bolt, as well as multiple pistols with Picatinny systems for sight and accessory mounting.
Looking back, I guess it was only a matter of time. And though I honestly didn't see the Picatinny rail coming to archery, I'm super thankful it did. If you're a serious stick-and-stringer, you should be too. While compound bows have evolved to levels few ever thought possible, the 2023 design push is improving accessory mounting systems of flagship bows.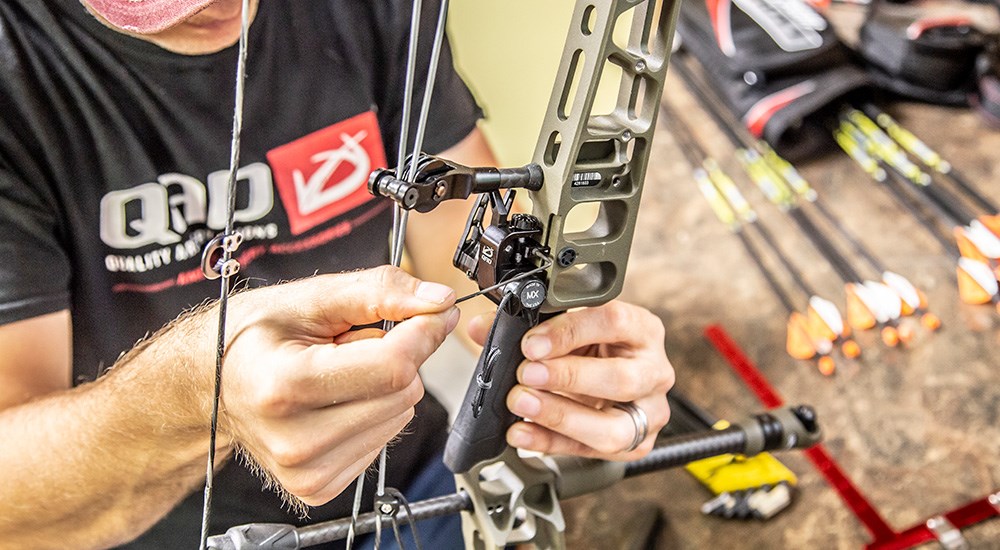 QAD Integrate Mounting System
Traditionally, all archery rests—fall-away or otherwise—mounted with a bolt that ran through the rest bar into the bow's Berger hole. Constantly pushing the limits of archery accessory design and function, Quality Archery Designs developed the Integrate Mounting System on its lineup of fall-away rests. Their engineers eliminated the need for the Berger hole by developing a dovetail-style clamping system that allows the rest to mount to the back of a bow's riser via slits integrated into the riser. The design does not require a rest mounting bar and mounting screw, which cuts weight, and it puts the body of the rest in line with the bow's riser, which boosts adjustment capability. It also creates an incredibly strong lock-up.
The design caught fire, and today, almost every compound bow manufacturer has partnered with QAD to add the Integrate Mounting System to their line of flagship bows. The Berger hole, in most instances, has become obsolete.
During my archery career, I've tested hundreds of different rest designs and styles. QAD's Integrate MX and Integrate Mounting System combine to create a rest platform that boosts tunability, functionality, balance and potential downrange accuracy.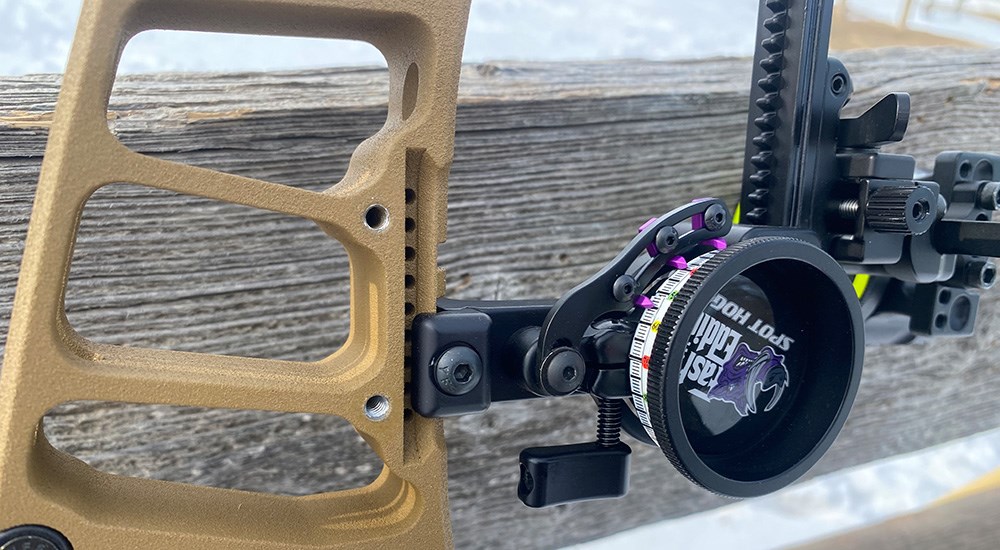 Spot-Hogg Pic-Mount
Things didn't stop with the pic-style rest design and mounting system. A few rest companies have partnered with QAD and added the Integrate Mounting System to their rest lineup, and, of course, some copycat models have emerged. It was only a matter of time before the accessory ante was once again raised, and sight-pin kingpin Spot-Hogg was there for the win. 
Spot-Hogg, one of the industry's most advanced bow-sight makers, recently launched its Fast Eddie PM. The 2023 addition to the Fast Eddie is the "PM", which stands for Pic-Mount, and the prized moveable bow sight comes in pin configurations of 1, 2, 3, 5 and 7. If you desire, Spot-Hogg will further customize the size and colors of those pins.
This new sight mounting system is genius. As with QAD's Integrate Mounting System, more bow builders will follow suit. Currently, bow risers from Hoyt's top-tier aluminum and compound bows have a series of slits integrated into the front of the riser designed to accept the pic-mount-style bar of Spot-Hogg's PM. The bar falls directly into the slot, and a single screw secures the sight to the back of the riser. Hoyt's carbon-style bows have an aluminum sight bracket attached to the front of the riser that accepts pic-mount-style sight bars.
Garmin's Xero A1i Pro Digital Sight is another excellent option for sight goers that want an all-in-one bow sight and rangefinder. The sight showcases Hoyt's In-Line Picatinny System for better bow balance and less weight.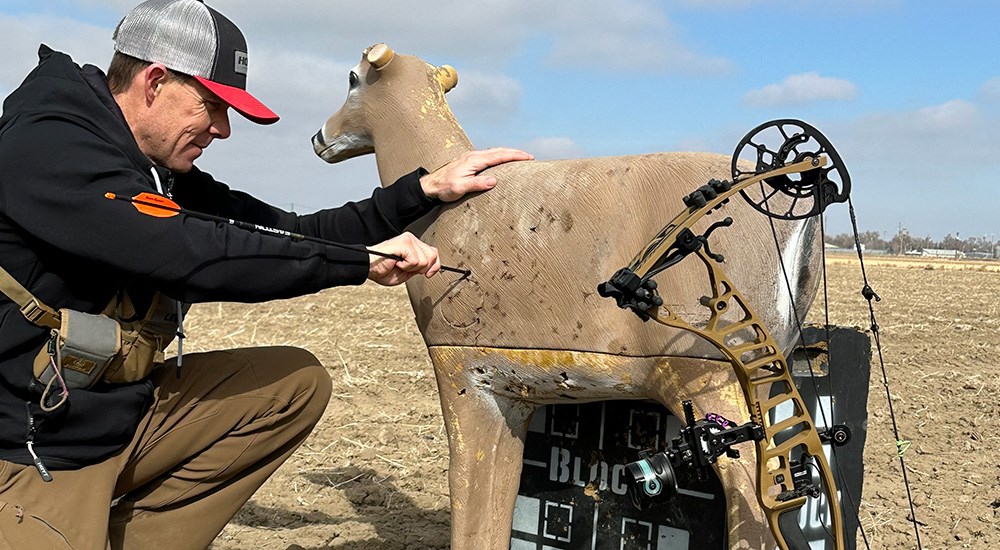 The Complete System
For 2023, my Hoyt VTM 31 (The company's flagship compound bow) wears QAD's Integrate MX drop-away rest and Spot-Hogg's Fast Eddie 3-Pin PM sight, and it is the most accurate, streamlined setup I have pulled back in 25 years of shooting.  
Why? Because it's all in-line, noticeable weight has been eliminated from the right side of the bow (left side for left-handed shooters). Not only do these systems reduce the overall weight of your bow, mounting the sight and rest in a straight line with the bow's riser rather than to one side boosts your bow's balance at full draw. Archers will experience a hike in accuracy, especially those who like to test the limits of their effective practice range.
Western hunters especially are flocking to this system for its accuracy potential and weight reduction. While most target archers like to heavy-up a bow to help it sit better on the range, many hunters want to build an ultralight and ultra-strong rig. An ultralight and ultra-strong compound bow travels well with a hunter over broken terrain, and is more maneuverable in tight hunting situations.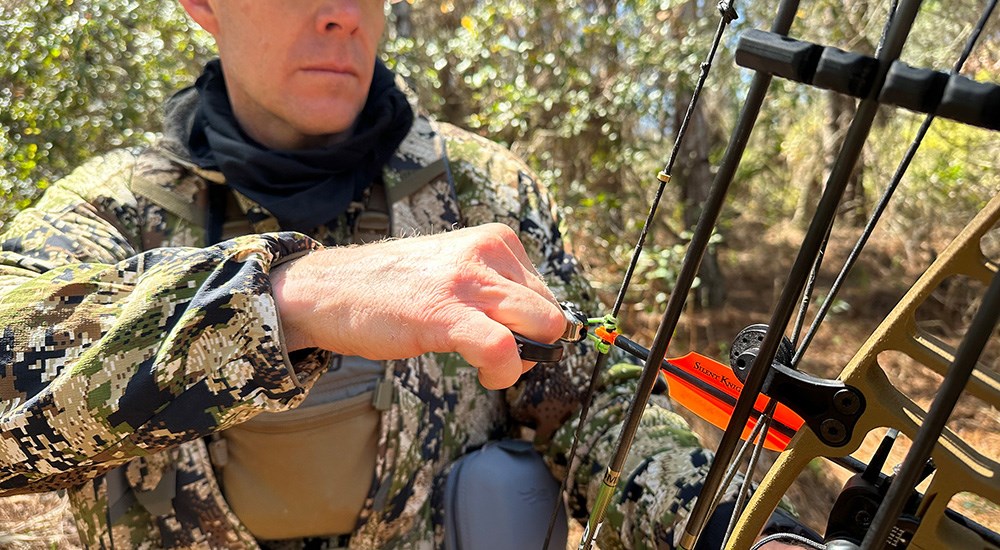 As those who've used the Picatinny rail for mounting optics and accessories on firearms have discovered, once a scope, laser or flashlight are locked down, they are locked down for good. Bowhunters who wander the backcountry searching for big-game nirvana love how quick, easy and solid these new mounting systems are.
Don't be a holdout. These accessory-mounting systems are that good, and so are the accessories that mount to them. If you're on the hunt for a new bow, sight or rest, now is the time to upgrade to a rock-solid, accurate, sleek, streamlined Picatinny rail system.