by
posted on December 6, 2018
Support NRA American Hunter
DONATE
I don't see how Jim Bridger did it. It seems like yesteryear's outdoorsmen could withstand the cold better than we can now. Maybe it's because we don't have to hunt for survival as they did, or perhaps we've just been spoiled by central heat and air all our lives. Whatever the case, our bodies—my body at least—simply isn't as conditioned to bitter-cold weather, and if you've ever sat in a metal stand 20 feet up a leafless tree during December in Kansas (or Iowa, Minnesota, Canada or anywhere else north of about Georgia), you know it can get bitter-cold.
The body can take frigid temps if it's free to move around, as activity generates heat and promotes blood flow to the extremities, but sitting motionless generates nothing except shivers, thoughts of Momma and a warm fireplace. So, if you're a late-season treestand hunter and movement isn't possible, you have three real options:
1. Bulky, insulated clothing such as down, wool and advanced synthetics like PrimaLoft.
2. Artificial heat generating devices.
3. A combination of both.
What follows is a layered, cold-weather clothing system that works for me, as tested via trial and error spanning 30 years of treestand hunting. It keeps me comfortable while allowing me to stay quiet and actually shoot. Please comment if you've developed your own cold-combating strategies, as mine are ever-evolving with newfound knowledge and technology.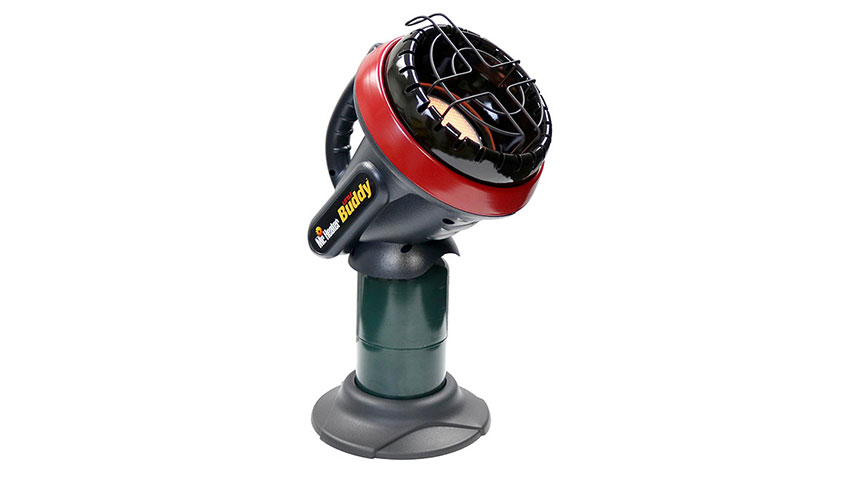 Extreme Cold
A few times in my life, I've hunted in Canada for whitetails during the late season, and each time I swear I won't do it again. It's so cold that I soon forget about Milo Hanson and his record-breaking buck. At negative 20, your spit freezes instantly, and after 10 minutes, your lunchtime sandwich turns into an ice cube if it's not kept close to your body as if it were a baby kangaroo. If you're not wearing the right footwear, your toes can be frostbitten before the guide comes back for you at dark. It's serious business out here, and more than once I've been worried about more than whether or not I'd kill a stupid deer.
Thankfully, many outfitters nowadays place clients in tent-style ground blinds or wooden box blinds to cut the wind and create a pocket of warm(er) air. Then they add a propane space heater like the Little Buddy to bring the temperature up around zero. The thing hisses, but it makes sitting for 8 hours out there doable. Some savvy hunters bring a sleeping bag to the blind, and while I've never done it because it's embarrassing carrying that thing around like Linus Van Pelt's blanket, I always wish I had. It's a great idea that allows sharing some of your body's natural heat with your toes that don't produce much on their own.
Winter Treestands
I've endured treestands in December over Kansas, Nebraska, Montana, South Dakota, Iowa and Illinois that felt colder to me than in Canada, because in Canada everyone knows it's going to be dangerously cold, so they're prepared for it. But when high in a metal treestand, exposed to the wind and with no room for heaters or sleeping bags, it all boils down to how you dress. Too much can hamper movement, produce noise and cause you to sweat while walking in. Too little can turn what is supposed to be an enjoyable deer hunt into a Siberian prison camp.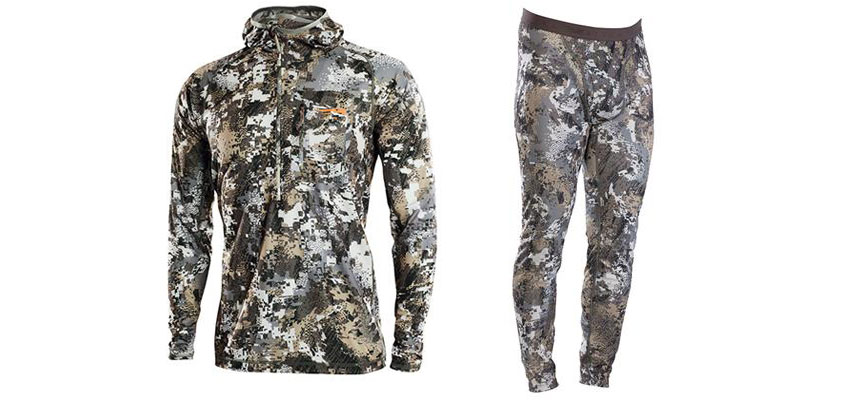 Base Layer
For the coldest days, I start with a polypropylene base layer. I love Sitka's Core Lightweight Hoody and Core Lightweight Bottom because they're a blend of poly and lycra, so they're warm and moisture repelling, but not so bulky that I can't get my next layer over them. I like the hoody because the thin hood moves with my head and doesn't completely block my peripheral vision like many parka hoods do. However, it's pricey. If you don't have that kind of cash, any poly-based thermal underwear product—including the ECWCS gear you can find at military surplus stores or Sportsman's Guide—works fine.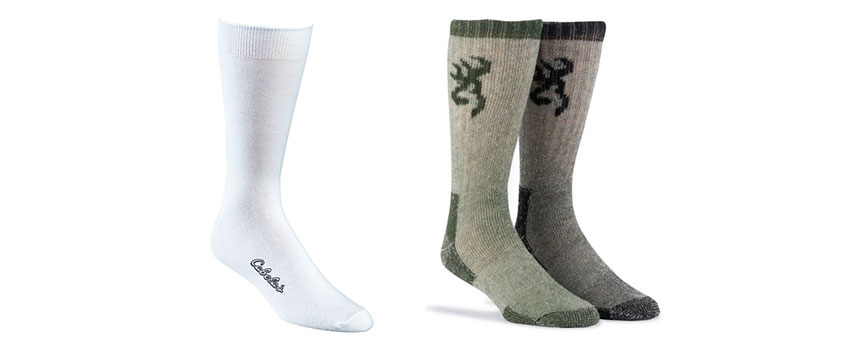 Socks
Of all the clothing listed, my footwear is the most important to me, because I've found that my toes are my Achilles Heel. In trying to prevent them from freezing, however, I've also found that less is often more, because compacting the micro air pockets in wool or synthetic socks defeats the whole purpose of this air-trapping insulation. So I wear one sock liner from Cabela's—it's a paper thin poly sock to keep moisture off my feet—followed by one thick pair of wool-poly/spandex blend socks like those from Browning. They're warm and dry. Then I rely on my boots and occasionally artificial heat to do the rest.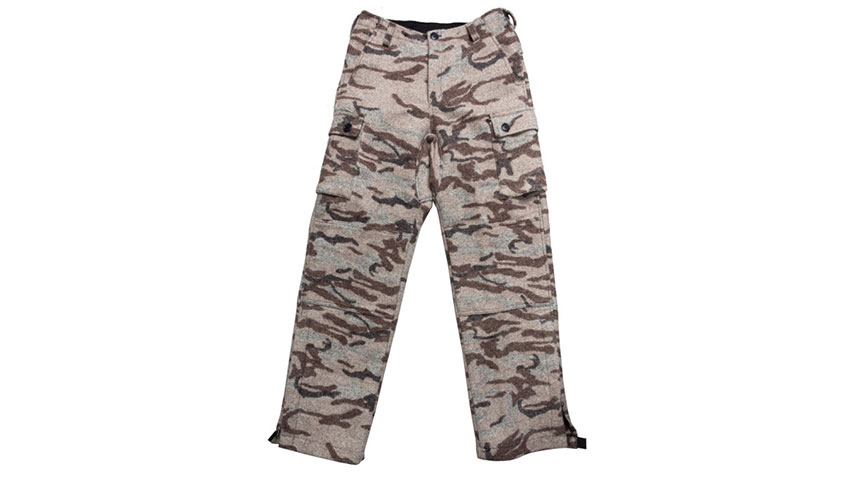 Pants
If it's not raining, I've found no finer cold-weather hunting pants than Weatherby Wool. They're quiet, lined so they don't itch, and ridiculously warm. I can't find them from Weatherby anymore, but a company called Silent Predator out of Canada makes basically the same thing called its Stalker Pant. It uses an outer ply of 22-oz. virgin Pendleton wool, then lines it with a 90 percent wool insulation. The thing about wool is it's so warm that even a relatively thin layer will do and allows flexing for movement. This stuff is expensive, but it will last a lifetime.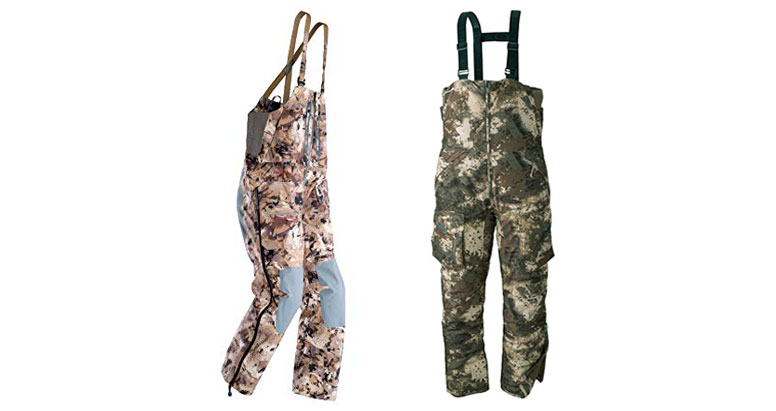 If it's raining or snowing hard, however, I opt for Gore-Tex/thinsulate-lined bibs like those from any of the high-end hunting companies such as Sitka or Kuiu. On the less pricey end, Cabela's MT050 Bibs are great. While not as purely warm as the wool pants, the top priority is staying dry, and pants such as these can be used for other endeavors like waterfowling or ice-fishing.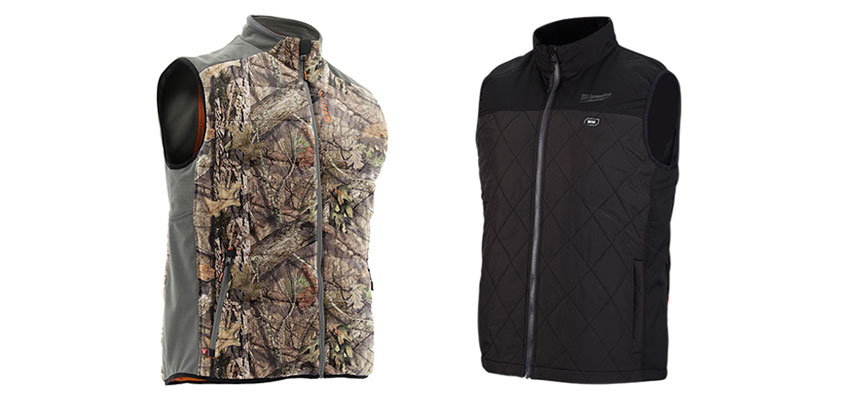 Vest
A down or PrimaLoft vest worn under a parka does several things. First, nothing is warmer than goose down, and so it keeps the core toasty. However, if you get too hot, all you have to do is unzip the thing and in a second all the trapped heat escapes and you're cool again. Lastly, a vest keeps your core warm while allowing your arms and elbows a full range of motion. While companies like Nomad (I love it's Dunn PrimaLoft Vest) Sitka, Browning and dozens more make wonderful down and synthetic vests with all the bells and whistles, any down vest that's not overly bulky will do. You'll be glad you have it.
As an alternative, Milwaukee Tool makes its M12 Heated Axis Vest—and indeed a parka system—that uses the same battery packs the company sells for its cordless tools to heat the vest. While it's great and works better than a toaster, the battery packs are expensive, and keeping them charged is yet another thing to remember the night before the hunt. But wow is it a good feeling when that heat hits your kidneys! It'll also charge your phone.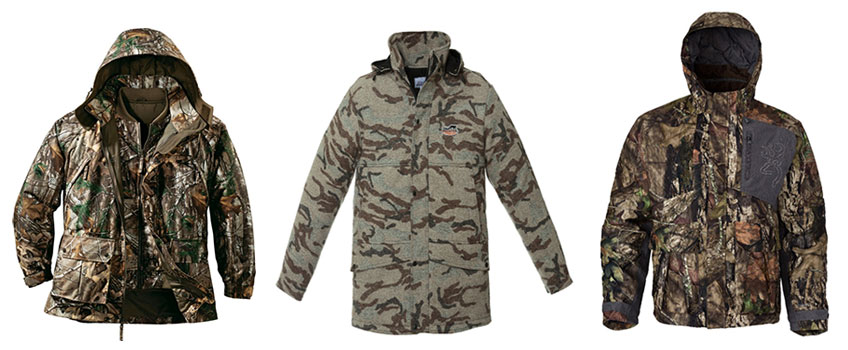 Parka
For most cold-weather hunting, I prefer a thick, lined, pure wool parka like that from Weatherby or Silent Predator because it's quiet, warm and easy within which to move. However, if it's raining, I'll go with a Gore-Tex 4-in-1 waterfowl-type parka with a down or PrimaLoft liner. They're available from virtually all the upper-end waterfowl hunting clothing companies; Drake, Sitka, Browning, Kuiu, Cabela's, Columbia and many more make them.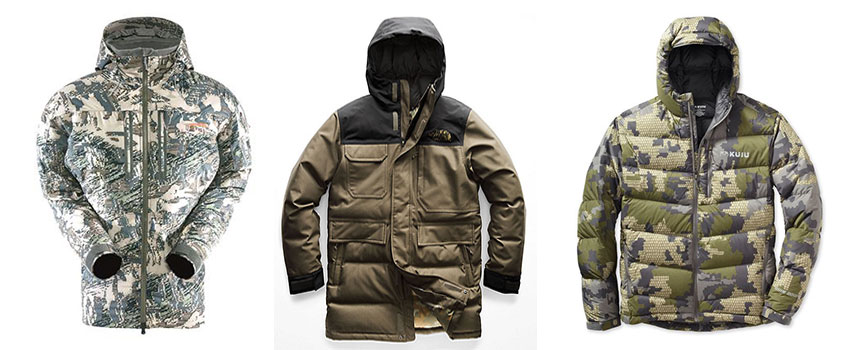 Finally, for the coldest and windiest situations, nothing beats a thick, down-filled nylon-shelled mountaineering coat like Sitka's expensive but hotter-than-Hades Blizzard Parka, The North Face's McMurdo Parka or Kuiu's Super Down Pro Hooded Jacket. On the less expensive side, Browning's Hell's Canyon BTU is a good buy. While the nylon is relatively noisy and the coat itself is bulky and not recommended for bowhunting or for stalking, for stationary stand hunting in wind and negative temperatures, such a coat can't be beaten. If it's nylon and not Gore-Tex lined, I spray the shoulders with Atsko Silicon Water Guard to keep my dry in the event of a light snow or drizzle.

Boots
I've tried virtually every boot available for keeping my feet warm, and all of them struggle if my feet remain inactive for hours on end. Some, however, are better than others. For cold weather stand hunts where I must move or walk some, I prefer Schnee's Hunter II Pac boot. They come with a heavy wool liner that's better than thinsulate. It's waterproof and the leather upper makes it flexible for walking. I buy them two sizes too big so I can fit my heavy wool socks in there—and maybe a foot warmer—with room to wiggle my toes. For hunts where hiking isn't anticipated, LaCrosse makes a 1600-gram Thinsulate rubber boot called the Alphaburly Pro that's as warm as an oven. Make this your dedicated stand hunting boot, and buy it two sizes bigger than normal.
Headwear
My headwear consists of four parts. First, I like a Gore-Tex cap. The Gore-Tex allows vapor to escape so my head doesn't sweat while walking, but it blocks the wind. The cap bill shields my eyes from the sun. If it's silly cold, I'll take my Stormy Kromer wool cap with ear flaps instead. Next, I like a beanie to put over my cap if it gets really cold. Third, I always wear a thick neck gaiter that keeps my neck and chin warm. If it gets freeze-my-snot-cold, I can pull it up over my entire face. It also serves as a facemask to camouflage my mug from wary animal eyes. Finally, I like a hood of some type, either on my parka or core layer. Sure, a parka hood blocks some peripheral vision and stifles hearing, but when the snow falls and the wind howls, it's invaluable for keeping the cold off the back of your neck and creeping all the way down into your soul.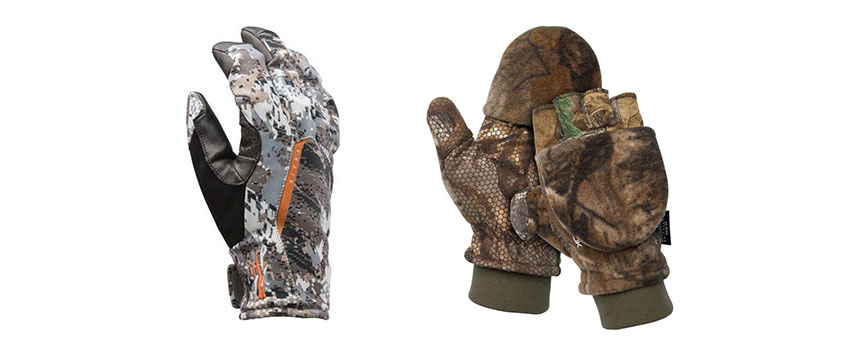 Gloves
Gloves are important, but I must be able to shoot my rifle or bow in them, so I've gone to a thinner glove and then rely on pockets or hand warmers for the majority of my sits. Some people swear by mittens, but I can't stand them because I feel handicapped in them. If it's raining or snowing, I use a medium-weight Gore-Tex glove like that from Sitka, but for all else, relatively thin wool ones with a tacky grip work well—when combined with either a dedicated hand warmer pouch or heat packets placed in the pockets of your parka. I've also tried ScentLok's fingerless Pop Top gloves/convertible mittens, and I love them. Too bad I lost them.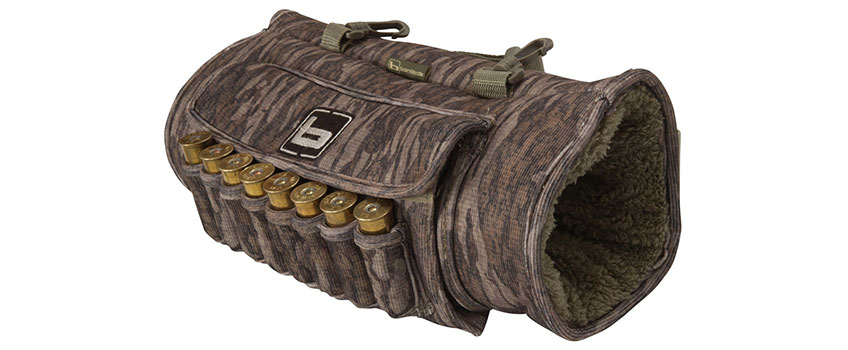 Handwarmer
A dedicated hand warmer pouch like the Banded Neoprene Handwarmer with PrimaLoft is a great investment. Drop a couple heat packets in there and your hands will always have a sauna-esk refuge even as you alternate holding your rifle or bino.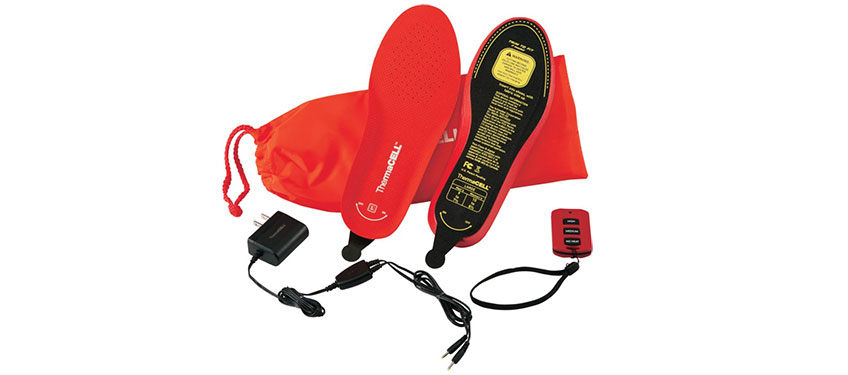 Heated Insoles
While I used to consider such technology cheating, the heated insoles made by ThermaCell changed my life. About the time I begin to feel my blood turning to vodka, I simply push the button on the remote and over time, I can start to feel my toes again. They're expensive, but I'm glad I have 'em. Once again, however, keeping them charged and the remote located can be a challenge, so I also rely on heat packets for when it's so cold my eyeballs hurt.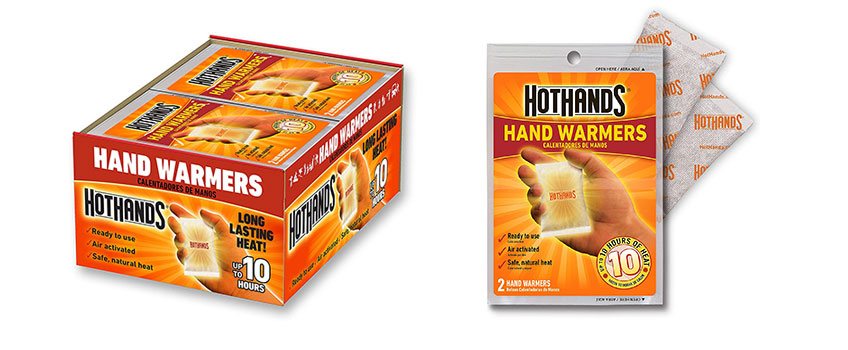 Heat Packets
Hand-warming heat packets are a must for me in truly frigid weather. Buy a giant box of them and take many with you. If something happens—like the heater goes out or you just need a friend—they're worth whatever cost the price gouger down at Tom's Hardware Store puts on them. Trust me on this.  
Thermos
While I'm not a big coffee drinker while on stand, as I believe my odds for scaring a buck are great if I'm up there having a round, some hunters swear by it. No doubt hot lava down the hatch keeps you warm. Have at it if it suits you, but avoid Thermos-type bottles that squeak, clank or reflect light like a mirror.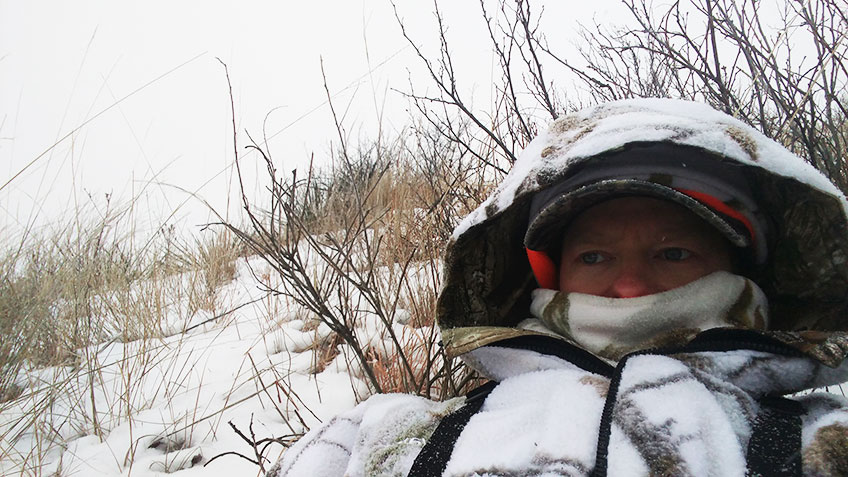 Fire
When it's really and truly cold, I always carry a lighter and fire starting material. Things happen out there; maybe you fall in a creek or your guide gets a flat and leaves you in the woods for most of the night, whatever. Heck, sometimes I've salvaged a hunt by hiking over a hill, making a fire, warming up, then climbing back into my stand. And occasionally, when it gets too cold to hunt any longer, I pack it up and go home where I pop in a DVD of Jeremiah Johnson and take delight in watching him suffer for a while.