by
posted on December 9, 2017
Support NRA American Hunter
DONATE
Hunting ducks under open skies and on wide waterways across America is a big experience. These are hunts where you might sit shoulder to shoulder with friends and family, and take turns rising from a blind to swing on decoying ducks your group has tracked for long minutes while they circled the spread. You'll then watch, smiling widely, as a Lab splashes into the icy water to retrieve.
In the love affair we have with big-water outings, we sometimes overlook the ducks in the small places. These are quiet, simple hunts that depend more on stealth than decoys. Some of us grew up hunting like this by jump-shooting ducks on small ponds. But for those of us who don't have farm ponds to slip up on, there are other opportunities. Often these tight places are publicly accessible but ignored by most hunters.
Each autumn I put a kayak into a small creek during the first duck season. The trees are still clothed in leaves nearing peak color. The creek's almost pond-still as black water creeps along in pools and oxbows. I'll have to yank the kayak over logjams and beaver dams.
Well before the sun lights the bright autumn trees, a low rumble of booms will come from a large and nearby public marsh. I'll anchor my kayak and put out a half-dozen mallard decoys in a pool that's 20 feet across and that stretches 100 feet to a bend. I know the decoys are actually optional, as the ducks will come either way. To me, though, it doesn't feel like duck hunting without a few decoys bobbing in the current.
Soon the ducks will whistle in. They'll often be in pairs. Some come as they are pushed off the larger waterways and marshes, but many simply live and feed in this small creek. I'll again be reminded that shooting while sitting in a kayak is a little different than when sitting in a blind. On small streams it's more like trapshooting than anything if you take the ducks early or late. Shooting them as they pass can be like shooting the last station on the skeet range. Shots are usually close, and on the smaller streams I use a modified choke and 2¾-inch shells.
The limit is six ducks in my neck of the woods, but I am usually satisfied with less. The downside is this is mostly a lone affair. The upside is the pressure is typically nonexistent. Once you start looking, you'll be surprised how many streams and small rivers you can access at pull-offs adjacent to some roadway before paddling into your own private duck spot. Later in the morning you can jump-shoot ducks by carefully paddling your kayak or canoe along a bank. Either way, it's a slow, quiet sort of duck hunt that can be effective at any time of the season as long as ice doesn't lock up the water.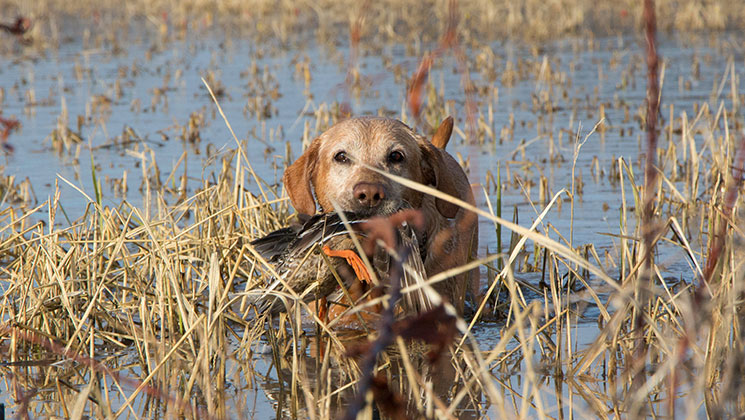 To succeed at this style of waterfowl hunting you must first find a creek (easy, just look for those blue lines on a map). You also need to know your state's waterway access laws (not quite as straightforward). In many states, as long as you stay on the water (in a boat) on a navigable waterway you can legally be there and hunt, outside of the safety zones that surround occupied buildings and other structures of course. In some states if you touch the bottom of a stream you are trespassing, while in others you aren't even allowed to float without permission from the landowner(s). In Montana, as long as you're in a stream's floodplain you are legal. Check with your state's game agency for details.
Next, find the spots ducks particularly like, and then make a smart setup. The key to getting within range of ducks on small or medium-sized streams is finding slack water. This is where the birds like to rest. Here are some examples of what to look for.
Points
These are little peninsulas formed where a stream takes a sharp turn. There will be calm water on the downstream side of a point. Ducks like to loaf in these places, so put out some decoys here. Ideally the wind will be blowing upstream, as ducks like to land into the wind and the current will bring downed birds to you. Really though, on small streams the wind direction doesn't dictate setups to the extent it does in big marshes and other open places.
Swamps
Follow the ribbon of a stream on a map and look for the blue symbols that indicate a wetland area. Boots-on-the-ground scouting is even better, as swamps and other areas of standing water next to the main channel can be small and might have been so recently formed that they're not even on a map. For example, beavers are on the comeback in many areas and their dams can create swamps almost overnight. These are places where ducks feed. On many tight creeks you won't have to call, as ducks will often fly right down the waterway. But in these open feeding areas, calling and decoy placement becomes more important. Ducks will often land at the outside of a spread unless you give them a landing zone nearer to your boat.
Oxbows
Rivers meander over time. Sometimes a flood will cause a river to bypass a sharp turn by cutting through it. The quiet bends of the stream that remain, but are off the main channel, are oxbows. Ducks like these places because the water is calm in them and there is often good cover.
Side Channels
Many streams have islands that form side channels. These places can also be duck magnets. Put some decoys just upwind of your position and take ducks as they pass over or drop in. Keep in mind that mid-morning is a great time to set up on a side channel or any of these small-stream features, as ducks often come to these places after feeding in some bigger place.
Bends
Just around the downstream corners of sharp bends there are often pockets of slow water near the bank. This is another place ducks like to rest. Anchor and brush in your canoe near the shore just on the upwind side of your decoys. In these small places along streams ducks often just zoom in. You won't hear or see them coming. You have to stay hidden and ready for the many species—mallards, wood ducks, pintails, black ducks—these places offer to stealthy hunters who want a simpler hunting experience.