by
posted on April 17, 2015
Support NRA American Hunter
DONATE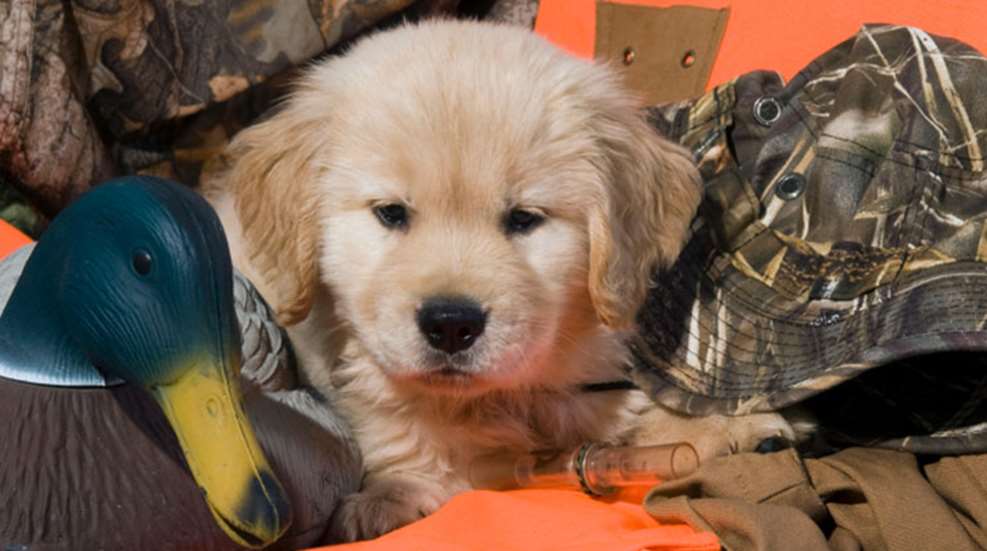 "I'd heard springer spaniels were great hunting dogs and good in the house, so that's what got me interested in them," said the young professional joining our training group for the morning. "I do a lot of grouse hunting, but I've never had a dog. Any pointers would be appreciated."
But when the gentleman opened the hatch to his SUV, it revealed a stocky, big-eared springer—the non-field-bred variety—as opposed to a leggier, more athletically built, field-bred spaniel. Such springers may do well in the show ring, but most have all the hunting instinct of the average Chihuahua. If only he'd contacted us before buying the dog.
"So, did you tell the breeder you wanted a hunting dog?" someone asked.
"Yep, she said one of her springers would be exactly what I was looking for."
Clearly he had been duped, a sad truth that became slowly evident to him over the course of the morning. I doubt the breeder ever had hunting instinct in mind for the litter in which his pup was whelped.
Perhaps this is an extreme example of how a lack of care in breeder selection can result in disappointment. However, it illustrates the buyer's remorse that too often stems from a lack of research. After all, while most breeders of sporting dogs are in it for the right reasons—namely to benefit their chosen breeds—anytime an endeavor involves the exchange of money, not everyone will operate above board. So, here's how to find and vet potential breeders to ensure your goals and expectations align with their puppy program.
Finding a Breeder
As with most modern markets, these days much of the breeder research takes place online. There's a right and wrong way to go about it. Don't just do what the springer owner mentioned in the intro did: Google up the nearest breeder and buy a pup.
Instead look up the major governing body for your breed of interest. And ensure you have the field-bred group—not the show- or bench-bred one—though in some cases the two overlap. Often these groups are the American Kennel Club "Parent Clubs" of their respective breeds. Website information for all AKC-recognized breeds can be found here. Contact the group, let them know the type of dog you're looking for: Do you want a docile dog or a dynamo? Do you have an aesthetic preference? Are you looking for a line known for good house manners? Parent Clubs can recommend reputable breeders in your area or in other regions of the country. Breeders recognized by these groups are also required to follow a certain code of ethics and puppy-health guarantees.
For example, our springer owner could've contacted the breed's Parent Club—The English Springer Spaniel Field Trial Association—and browsed a list of breeder referrals.
Nothing beats this word of mouth, unless of course you've actually hunted over someone's dog and desire a similar animal. Then obviously it's all a matter of inquiring about the breeder—especially if said dog owner has a certain level of expertise with the breed and can provide info on why or why not the breeder is a good fit for you. But, if you have no information to go on otherwise, contacting the official breed organizations is a good way to start gathering intel.
Visit the Breeder
If it all possible, visit the breeder prior to deciding you'll buy a pup from him or her. Any hesitation on their part to allow you to visit is a major red flag—go elsewhere. A good breeder welcomes potential buyers and in fact likes to meet them to ensure the pups go to good homes.
The primary reason for your visit is to get a sense of the breeder's personality, philosophy and whether his or her hunting-dog program is for you. But you also want to note whether the kennel conditions for the adult dogs and pups are sanitary and provide adequate space.
You can also ask to see the potential dam and possibly the sire (though he likely doesn't live at the same kennel full-time) to gain a sense of their overall personality traits. How do the parents interact with you as well as other dogs? Are they social, standoffish, or—at the extreme end—aggressive?
Given that many of the country's best hunting dog breeders also frequently train their dogs, consider scheduling your visit during a session. It's a good chance to see the dam and/or sire in action or, perhaps better yet, to observe some of the pups they've produced. Alternatively, ask if there's any video of such dogs at work. Doing so is all about finding a line that fits your taste. I like dogs with some get-up-and-go, but you may like a slower, more deliberate animal—every breed has lines of dogs to meet varied tastes, but they must be vetted to ensure you've picked the right one.
Questions for the Breeder
Ideally during your visit—or minimally over the phone—there are some questions you should ask any breeder under consideration. Their answers matter, as does their willingness to provide them in a thorough. Hesitation is a definite red flag. So, here are a few questions to consider asking:
Q: What about the sire and dam caused you to consider them for breeding?
The answer to this question can tell you so much about the breeder. Someone who simply paired two dogs to make money on their pups will have no good answer. A thoughtful breeder will provide a host of justifications. I take it as a particularly good sign if the breeder can talk specifically about the genetic tendencies of the pedigree—it shows care, research and expertise in the breed. But at the very least they should note—as specifically as possible—the intelligence, personality, trainability, hunting skills and other traits possessed by the sire/dam that make the breeding an intriguing one. "She's a great dog and I wanted to breed her," is not the best answer. A lot of people think they have a good dog. Doesn't mean it should be bred or that it will produce the kind of pup you're looking for.
Q: Is pedigree and health information available?
I'm not suggesting you can't find a good dog from a backyard breeder. But I'll go with the guy who cares enough to keep pedigree records and certify the health of the parents (hips/eye/elbow checks) every time.
Q: What health guarantees do you offer?
Guarantees can vary, but all reputable breeders offer them. If you're sold a pup that quickly proves to have serious health issues, you want to know a refund is in order.
Q: Can you provide references?
All good breeders have a list of people who've purchased a pup (or several) from them. Follow-up with these folks. What are their likes and dislikes regarding the operation? What do they feel are the pros and cons of the kennel's line of dogs? You should also ask for a veterinary reference—good breeders will be in good standing with one.
Q: Do you have any questions for me?
Hopefully you don't even have to ask this one. A good breeder wants to know its dogs are going to a good home. If the breeder asks whether you hunt—or even insists that you do if you intend to buy a pup from him—take it as a very good sign. Dogs bred to hunt ought to hunt. If the breeder seems apathetic in regard to this notion, it's a tad concerning.
Given the crapshoot that is genetics, there's no way to guarantee you'll visit a breeder and bring home a champion hunting dog. However, by doing your research and asking the right questions, you'll ensure you've found a reputable breeder whose goals and love for dogs align with yours.