by
posted on April 30, 2016
Support NRA American Hunter
DONATE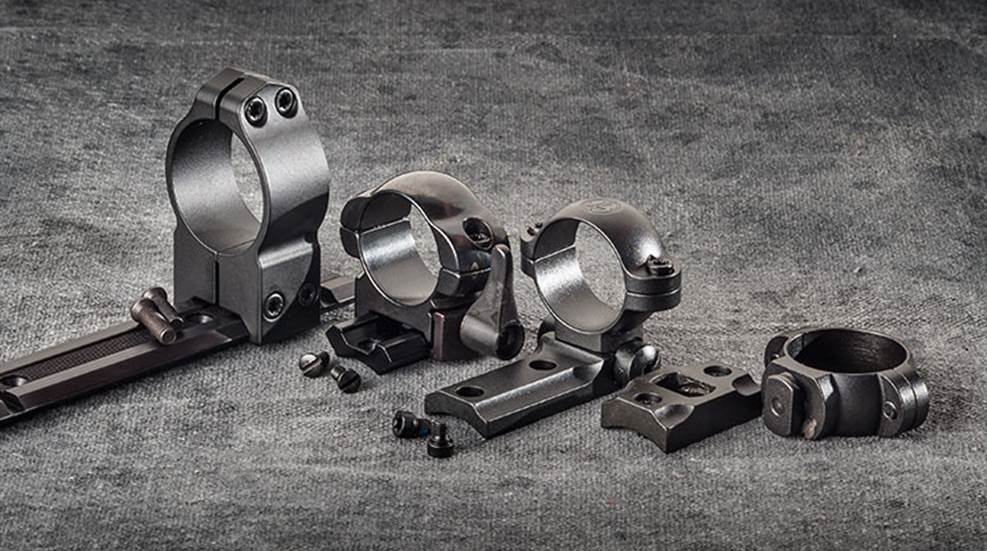 The wide variety of scope mounting systems makes choosing rings and bases about as confusing as choosing a rifle or scope. Let the dimensions of your scope and the intended use for your rifle be your guide.
1. Fixed systems are just that—fixed to your rifle. Once installed, they cannot be removed without tools. Extensions for fixed-mount systems are available for scopes that don't provide enough mounting space between the bells and the center hub to sufficiently mount them on long-action guns.
2. Detachable systems allow you to quickly remove a scope from a gun in the field if the optic fails, or if you need to follow-up dangerous game in vegetation that negates the advantages of an optic. Also, if you plan to use one scope on two different rifles, use a detachable system. Detachable systems usually include removable rings, but some bases can be removed without tools, too.
3. Bases are either one- or two-piece. One-piece bases better resist the forces of recoil, but they may interfere with access to the chamber and loading/unloading. Weaver-style and Picatinny bases (or rails) have slots that accommodate a matching cross-bolt on each ring, and their angled edges provide an interface for clamping the rings. Talley bases are similar, but they are machined to accept the entire foot of the base instead of a cross-bolt. Dovetail bases feature an oval-shaped cutout that accepts a wedge on the bottom half of the ring. Windage-adjustable bases, usually for the rear only, have a set of opposing screws for centering the ring (and scope) over the receiver. Proprietary, integral bases are included on rifles from some manufacturers such as Sako and Ruger.
4. Rings are generally designed to match bases: Use Weaver-style rings with Weaver-style bases, and so on. Rings may split horizontally or vertically. Only the bottom half of each horizontally split ring engages the base, which makes installation easy. Each half of a vertically split ring engages the base, producing a strong mount, but one that's more difficult to install properly. Rings come in 1-inch, 30mm and 34mm diameters to accommodate scope tube sizes, and in different heights from low to high to accommodate objective bells, bolt lift and comb height. Choose the lowest height that provides clearance for your scope and bolt, while simultaneously positioning your aiming eye in line with the ocular lens. This keeps the optic and bore as close as possible and assists with proper cheek weld so that you're not raising your head to look through the scope.
Further Notes:
• Ruger bases are integral to the rifle and require matching proprietary rings.
• Turning the lever on Weaver Lever-Lok Rings allows you to remove the rings and scope from the bases without tools—a benefit when you'd rather use your rifle's iron sights for close-range shots.
• The Leupold STD System features a rear base with opposing screws that secure the ring. They permit coarse windage adjustments when mounting to align the scope with the bore, so as not to use up the finite adjustments built into the scope during sight-in. The front ring's dovetail locks to its base when inserted and turned 90 degrees. Leupold also offers a Dual Dovetail System with one- and two-piece bases.
• Nikon S-Series Rings have a crossbar that fits Weaver-style and Picatinny rails. Use the high version with a large-objective scope or on an AR-style rifle with a raised comb.