by
posted on January 11, 2017
Support NRA American Hunter
DONATE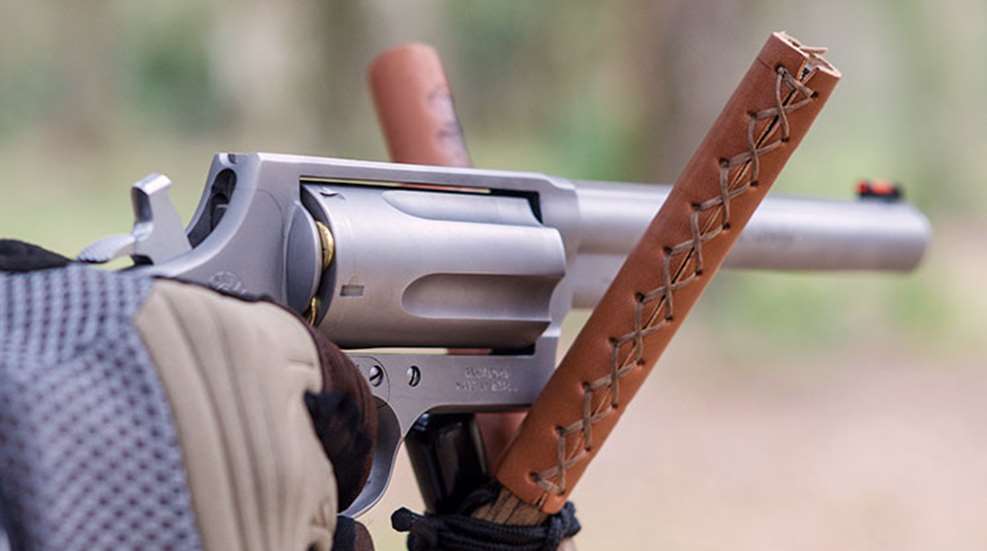 The scene could have been cut from some B-movie about backwoods miscreants who terrorize teenagers: Three of us, sloppily dressed, unshaven, crept through muck toward conflict. From a tangle of trees before us came bawling.
I realized, of course, that the trouble with this description was we were the miscreants. That didn't seem right, especially since we were merely hunting. Still, I couldn't help conjure the chorus from "Run Through the Jungle," Creedence Clearwater Revival's 1970 hit heard so many times in, well, B-movies:
"Better run through the jungle,
Whoa, don't look back to see."
The song was written by Creedence's lead singer, guitarist and songwriter, John Fogerty, and released on the band's 1970 album, "Cosmo's Factory." The album and song are among my favorites, though Fogerty admitted in an interview in 2016 he wrote the song because he was concerned about the proliferation of guns in America. When I learned that late last year, an irony occurred to me: Fogerty sang for gun control, and in Florida I exercised it perfectly—in my view. Last March, I crept through a jungle on Florida's Space Coast handgun hunting for hogs with dogs to celebrate the 10th anniversary of the release of the Taurus Judge, a monster revolver capable of taking down big hogs so long as I did my part.
Except my first shot that night did not do the job. My second shot did, though, as well as my third, fourth and fifth.
The Judge was released in 2006 as a home-defense revolver to put down anything standing in a hallway before a homeowner: miscreants, zombies and, well, pigs, if they happen to make it to one's hallway. The story goes that it got its name because a certain Florida judge was looking for a courtroom-defense tool, and so the president of Taurus USA at the time named the revolver in the jurist's honor.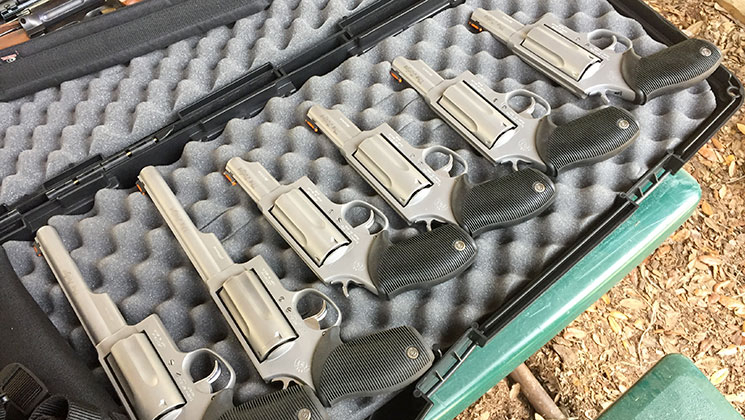 It chambers .45 Colt/.410-bore loads, so the one who controls it has two choices at short range. It's available fitted with 3- or 6-inch barrels with rifling tuned to spread shot or guide a .45-caliber bullet. To tame all that power, the Judge features a dual lockup cylinder for stability and a soft rubber "Ribber" grip for comfort. An extended ejector rod ably extracts those long cases. Aiming is accomplished with a fixed blade in back and a fiber-optic tube up front. A transfer bar prevents the hammer from striking the firing pin unless the trigger is pulled fully to the rear. Make no mistake: This is a large-frame revolver.
But if .45 Colt/.410-bore isn't enough, the gun is also available nowadays as the Raging Judge Magnum (a nod to the Taurus Raging Bull). Chambered in the mighty .454 Casull and weighing a hefty 4.5 pounds, it takes "large" to another level.
An encounter the next morning convinced me I needed to "rage."
We stalked into the jungle toward the bawling again, and my shot was true: I nailed the hog with a .45-caliber bullet. But it ran anyway—right by my guide, in fact. He, outfitted with a Judge of his own, let loose a volley of .410 shot at close range. ("Close" is misleading. Every shot we fired was at close range, but when the distance is reduced from 15 yards to 2 feet … .) Still, the hog kept running. To be sure, we caught up to it and put it down, but not before things got a bit Western. To be fair to the gun, the .45 Colt loads we used were pussycats. They just didn't pack enough oomph to drop a big hog. There are plenty of proper .45 Colt loads on the market that produce enough velocity and energy to do this job, but we chose poorly.
So I switched to a Raging Judge and loaded its six-shot cylinder with all I could handle.
Thereafter, things went my way. I dropped another pig that morning. And on the last evening, I snuck up on a big ol' boar feeding (sans dogs), and walloped him good. The hog ran perhaps 10 yards and dropped. I went to Florida to "run through the jungle" with dogs in pursuit of hogs, and to test my skill at wielding a 4-pound revolver and hitting my mark. I left having chalked up a new experience, and with plenty of sausage for my freezer. Recently, I filled my kitchen with smoke as I fried Florida sausage and again thought about words John Fogerty sang:
"Over on the mountain
Thunder magic spoke,
Let the people know my wisdom,
Fill the land with smoke.
"Better run through the jungle … "