by
posted on March 17, 2015
Support NRA American Hunter
DONATE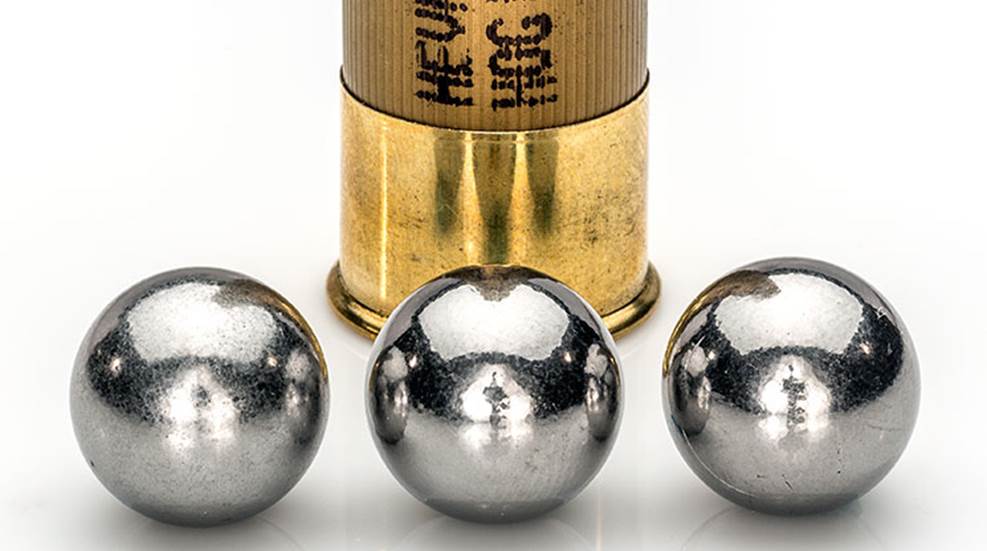 As feral hog hunting has surged in popularity across the country, ammunition manufacturers have responded with a number of "hog-specific" loads designed to penetrate better and bring down stout, wild swine. Most ammo makers have concentrated on rifle loads, but among the newest offerings are the Hog Wild shotshells by Hevi-Shot, a company best known for non-lead waterfowl loads.
Hog Wild is available in 12-gauge only, and it comes in two varieties: a 3-inch shell that holds two, .625-caliber zinc-alloy balls, and a 31/2-inch shell containing three of the same. Each ball weighs about 200 grains, and at a claimed velocity of 1250 fps, produces more than 800 ft.-lbs. of muzzle energy. 
The balls are spaced apart inside the shell via Hevi-Shot's BC1 technology, a small plastic spacer with a cup on each end that cradles the balls. The spacer guides the balls down the barrel and keeps the interval between them intact; once out of the muzzle, the spacer is designed to stay attached to the balls as they hurtle toward the target and create a tighter pattern than if they were loose and hitting each other. 
At 20 yards and closer, the Mossberg 500 Tactical Tri-Rail shotgun I used for the 3-inch shells and the Benelli Nova I employed for testing the 31/2-inch loads both put the balls on target, plenty close together to kill a pig. But at 30 yards, what had been fist-sized patterns spread out to the point that I could get only one of the balls on target with either load. At 40 yards I may have been able to put a ball into a hog, but who knows where in the hog it would hit? The Mossberg had a fixed cylinder bore, while the Benelli had a modified choke tube. A quick call to the people at Hevi-Shot and I came away with a new directive: Hog Wild works best in full-choked shotguns.
On my next range trip I toted a Benelli Super Black Eagle with a 26-inch barrel and a full choke. I also took a Caldwell Lead Sled. Recoil is stout but not objectionable with the 3-inch shells, but the 31/2-inchers kick like an angry mule. 
At 20 yards, both loads produced half dollar-sized patterns. More than once with the 3-inch shells, the two holes in the target were touching. My best pattern with a 31/2-inch load showed two balls hit side-by-side with maybe a half-inch between them, and the third ball was about 4 inches distant.
Patterns spread with both shell sizes at 30 yards, but they were still more than adequate to take down a wild pig. With most of the 3-inchers, one ball hit within a few inches of the bullseye and the second ball was 3 to 4 inches away. Patterns with the 31/2-inch load varied from two holes separated by a couple inches and the third hole 3-5 inches from those two, to three-ball vertical strings 6 to 7 inches long.
At 40 yards, it became apparent the 31/2-inch shell was the only real choice, at least with the shotgun I was firing. This load consistently placed two balls within a rough 8-inch circle. Sometimes the three balls hit in a vertical string, sometimes two hit along a horizontal line several inches apart with the third 5-6 inches away. A couple times one ball hit near the bullseye, a second impacted 4-6 inches away, and the third was off target. 
The 3-inchers were literally hit or miss at the 40-yard mark. About half the time, one ball struck within 3-4 inches of the bullseye but the second was a foot away. Frequently the two balls straddled the bullseye at this distance, and I would be worried about either hitting a pig in the heart-lung area.
Much like how certain rifles are more accurate with certain loads, I suspect some shotgun and choke tube combinations will pattern Hevi-Shot Hog Wild as well or better than what I experienced—and some will likely go in the opposite direction. Stalking up close to hogs in thick brush (and then doing some fast shooting) would be a good time to go Hog Wild.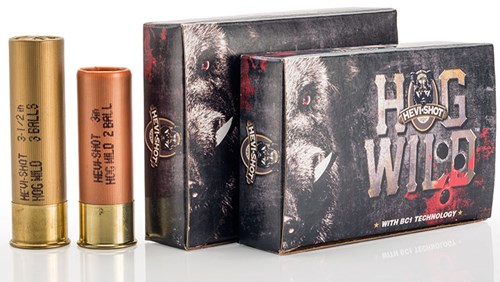 Technical Specifications:
Type: non-lead shotshell
Gauge: 12
Length: 3", 3 1/2"
Shot Size: .625"
Payload: 2 balls (3"); 3 balls (31/2")
Shot Material: zinc alloy Advertised
Muzzle Velocity: 1250 fps
MSRP: $8.99-$9.99 per box of 5