by
posted on April 18, 2015
Support NRA American Hunter
DONATE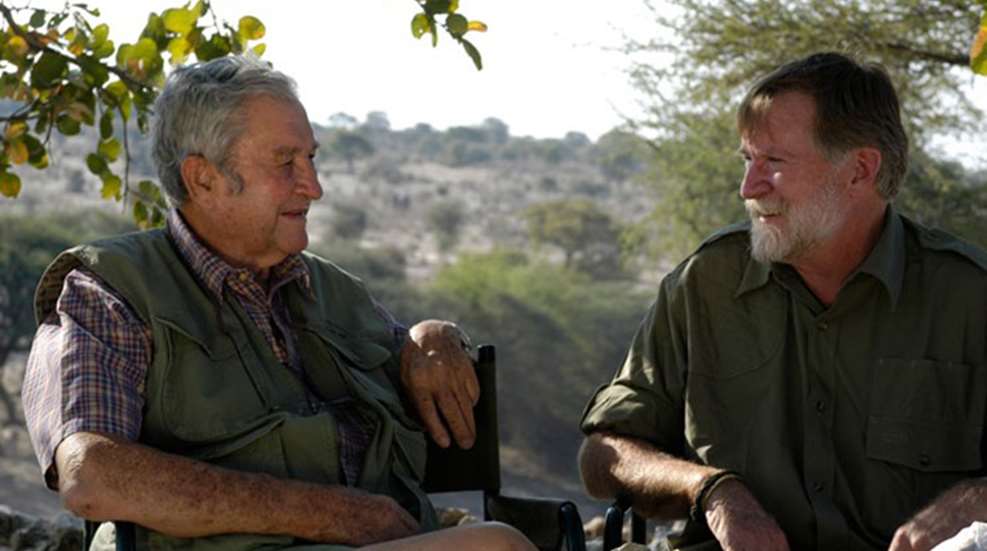 I've known Harry Selby for more than 40 years, and remember meeting him for the first time like it was yesterday. Some 20 years before I met Harry, Robert Ruark had immortalized him in his book, Horn of the Hunter. In safari circles throughout the world Selby became an established and recognized name. When I met Harry he was the managing director for Ker, Downey & Selby (KDS) Safaris' Botswana operation. He had flown up to Nairobi from Botswana for the annual end-of-season meetings at the company's headquarters. Bill Ryan, a senior professional hunter with KDS introduced us. It was December 1972.
"Prior to the commencement of business, I was advised by a colleague, Bill Ryan, that he knew a young American by the name of Joe Coogan, who lived with his family in Mombasa," Harry remembers. "I agreed to meet up with Joe, who was keen on hunting and eager to apprentice to a safari company in order to one day become a professional hunter himself."
That brief, but fateful, meeting in Nairobi with Harry set the wheels in motion for the beginning of my PH apprenticeship a couple of months later in Botswana. To my mind, the opportunity for me to work under Harry Selby was the equivalent of a garage band opening for the Rolling Stones. Harry became my mentor, boss, confidant and friend, and he handed me the opportunity to live an absolutely incredible way of life.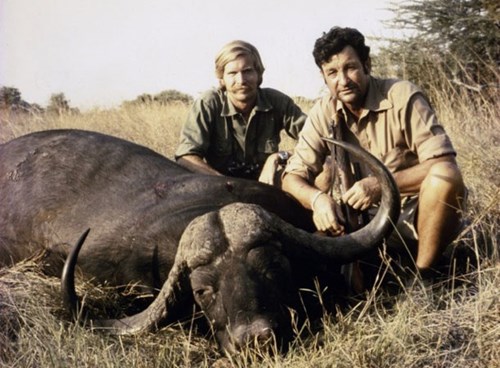 Robert Ruark was already a famous writer, who habituated the upper echelons of New York society, pounding out critically acclaimed books and articles, when, in the early 1950s he fulfilled a lifelong dream to go hunting in Africa. Ruark booked a six-week safari with the prestigious African outfitter, Ker & Downey (K&D) Safaris to British East Africa (now Tanzania and Kenya). By pure fate, and the fact that Ruark requested to hunt with the PH who employed a recommended tracker named, Kidogo, Harry was assigned as Ruark's PH, accompanied by a crew of experienced native helpers, including Kidogo.
Harry quickly gained Ruark's respect, describing him thusly, "Selby is an extraordinarily handsome young man, with the kind of curly black hair and dark eyes that bring out the mother in women. He also has wrists as thick as an ordinary man's ankles, and a hard mouth that turns down at the corners. In town, he looks like what the writers call a "pretty boy." Taking him into the bush, among the blacks and the beasts, and he is called 'm'zee' by natives. M'zee means old man. It means respected, ancient sir. It means wisdom and courage and experience. At that particular moment I decided that I had met few people with so much to admire and so little to worry about."
After his safari with Harry, Ruark published a best-selling novel in 1955 called, Something of Value, which captured the horror and ramifications of the Mau Mau Uprising by Kenyan rebels against the British Colonial rule. It was adapted into a successful film starring Rock Hudson and Sidney Poitier. Seven years later, Ruark published Uhuru, not meant as a sequel to Something of Value, but along a continuing and similar theme. The follow-up novel portrays Kenya after its independence, and it is said that characters based on Harry's character and experience continued to appear in Ruark's fiction.
Harry grew up on a 40,000-acre cattle farm in Kenya where his family had resettled after leaving South Africa in the late 1920s. Right after the war Harry earned his stripes as a PH by training under Philip Percival, the white hunter in Ernest Hemingway's Green Hills of Africa. In 1945, with Percival's support and endorsement, Harry received his first PH license. He was not yet 20 years old, and by the time he was 25 his reputation was well established. His illustrious and eventful career spanned more than five decades; a time spent exploring and establishing new safari destinations and guiding clients that included many notable people, including royalty, presidents and heads of state, not to mention known and recognized celebrities, film stars and captains of industry.
Today, Harry, who recently celebrated his 89th birthday, lives with his wife Miki in Maun, Botswana, their home since moving there from Kenya in 1962. Other than his knees plaguing him, his health is good. Harry embraces the latest technologies of the modern world and most particularly has adapted to the computer age, which exists even in the remotest parts of Africa. He stays busy writing his memoirs, magazine articles and scanning his many thousands of photographs to digital format. His computer allows him a way, via email, to keep up with an array of people, who were once among his safari clients, but are now lifelong friends from around the world.
Harry is a man of great confidence and capability, possessing a world of knowledge about the bush, and the chance to work with him for close to 20 years was an amazing experience for me. On a recent trip to Maun I had a chance to visit with Harry at his home overlooking the Thamalakane River, the southernmost extension of the Okavango Delta. Listening to him reflect back on his incredible career, I asked him which of the Big Five he enjoyed hunting most—it seemed to me, after hearing his stories about big ivory that it might be elephant. He smiled, savoring the memories of past hunts.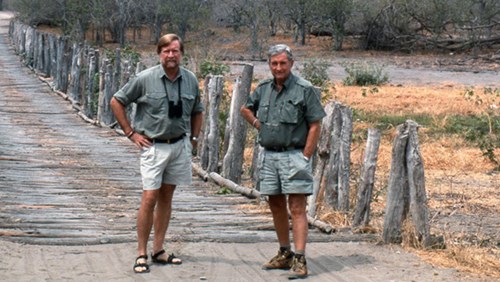 "Hunting elephants for big ivory certainly held a special attraction for me from the first time I hunted them in Kenya's Northern Frontier District," he said. "but at a young age I rapidly found that I was excited by all kinds of hunting. And looking back, I think one of the most exciting hunts, and most challenging, is leopard.
"Although you bait them, it's always a case of matching wits—yours against his. You do something and the leopard will respond to it and then you have to counter that with something else. It's as if he is trying to outsmart you.
"I think that if I had to choose something for real fun, it's to creep up into a herd of buffalo and have them all around you—your senses are completely alive. That's probably one of the greatest feelings that big game provides. Now if you want real chilling stuff, it's tracking lion on foot in thick bush—nothing can compare."
His answer was thoughtful and clear with no words wasted. It bespoke a respect, even compassion, for the animals that he's spent his life hunting. Harry Selby has experienced the situations he described many times, but he still enjoys recollecting and recounting the events of a lifetime spent afield—those memories are the safari trophies that Harry savors the most.