by
posted on February 27, 2023
Support NRA American Hunter
DONATE
It's a great time to be a 10mm Auto handgun hunter. In the last decade, 10mm Auto ammunition and handgun offerings have surged, and among the newest of the latter is SIG Sauer's P320-XTEN pistol.
Semi-automatic and striker-fired, the P320-XTEN is extremely accurate, easy to shoot even with powerful 10mm loads, and holds 15-plus-one rounds. Anyone looking for a 10mm handgun for hunting, backcountry bear protection and home defense needs to seriously consider this functional and affordable pistol.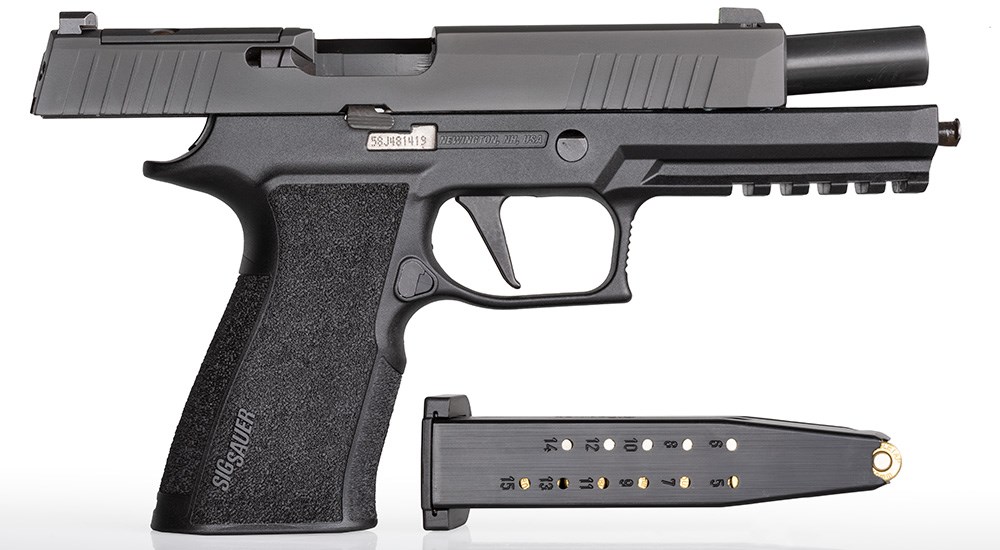 SIG Sauer's popular P320 line includes more than 20 variations of the pistol, nearly all of them made in 9mm. Within this and other SIG pistol lines are those with SIG's "X-Series" designation. For the P320-XTEN, the "X" translates into a deep trigger undercut, an extended beavertail and aggressive pistol grip stippling.
The P320-XTEN also features a 5-inch, carbon-steel bull barrel. The nitron-finished stainless steel slide is optics ready and compatible with SIG's ROMEO2 red dot and the Trijicon RMR optic. Standard, the P320-XTEN arrives outfitted with X-Ray3 Day/Night sights, an under-barrel rail for lights and other accessories and two 15-round steel magazines.
My test P320-XTEN arrived with a ROMEO2 T6 red dot already mounted. That optic does not come standard with this pistol, but given that I was going to stretch out the shooting distances, the ROMEO2 was a perfect addition. It was easy to zero thanks to precise elevation and windage controls and featured a 3 MOA red dot, 12 day and three night vision illumination settings, and a side-loading battery compartment.
I did three separate shooting sessions with the XTEN at my outdoor shooting range. Temperatures were in the mid-60s and low-70s; two of the days were bright and sunny, the last overcast. My first day's shooting was frequented by gusty winds coming in from multiple directions, but the next two days were flat calm. 
First, I zeroed the ROMEO2 and pistol at 12 yards, shooting from a rest and using SIG Sauer's Elite Performance 10mm range ammunition firing a 180-grain full-metal-jacket (FMJ) bullet.  Within six shots, I was on the bullseye. Then, I fired a five-shot group at a new target and it scored .60 inch.
I switched over to the Remington UMC 10mm ammo, also launching a 180-grain FMJ bullet, and the zero held. I tried out this pistol and ammunition combo at 10 yards offhand, and scored impressive groups, including six shots all touching that measured just .80 inch on a Birchwood Casey Darkotic mutant deer target.
Of course, a serious hunting handgun has to be accurate at longer distances, so I moved to my range's 25-yard lane. Here, I switched over to three brands of 10mm hunting ammunition: Federal Solid Core loaded with a 200-grain flat-nosed lead bullet coated with Federal's Syntech polymer; Hornady Handgun Hunter firing a 135-grain MonoFlex bullet; and SIG Sauer's V-Crown with its 180-grain jacketed hollow-point (technically a self-defense round but the closest I had to a SIG hunting option).
I shot from a sandbagged rest, and all three brands of ammunition pegged three-shot groups of 2 inches and less, with Hornady's Handgun Hunter winning out with a 1.2-inch group against the SIG V-Crown drilling a 1.4-inch group and Solid Core at 1.8 inches. At 50 yards, the P320-XTEN proved itself very capable, making many three-shot groups between 3 to 4 inches. Interestingly, I placed five shots of the Hornady Handgun Hunter at 3.9 inches, with three of those shots coming in at just 1 inch. The Hornady was shot off a sandbagged rest, but about half my other groups were fired off sticks from a low-to-the-ground hunting seat to mimic potential field conditions. 
In firing over 150 rounds, the P320-XTEN experienced no malfunctions. The empty brass kicked out 10-plus feet to the right. For the reloader, the retrieved 10mm brass was all undamaged—no indentations at the top of the casings, no gouges or stretch marks on the rims suggestive of excessive extraction.
In hand, the P320-XTEN felt rock solid, even when my hands got wet with perspiration, and the web of my shooting hand fit neatly under the extended beavertail. The pistol's striker-fired trigger had some take-up, but not the mushy, soft kind common on many striker-fired models. Take-up was smooth until the trigger hit the wall, and then the trigger snapped off cleanly.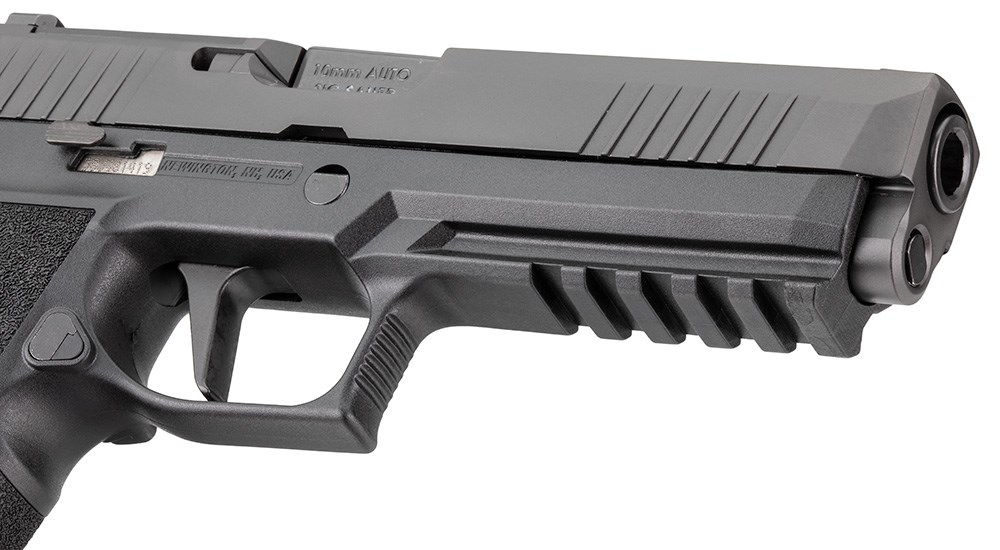 What most of us would likely refer to as this pistol's "frame" SIG calls the "grip module," which includes the grip and the horizontal sides under the slide, plus the accessory rail.  The grip module is made of polymer, but the module is not a frame, legally speaking, because it doesn't have a serial number affixed. Legally speaking, the frame of the P320-XTEN is the fire control unit (FCU) found within the grip module, which is serialized.  The FCU contains the trigger, sear, slide release, takedown lever and trigger bar, plus the springs and pins necessary to keep everything together. Nearly all of these parts are made from stainless steel.
The beveled magazine well made for the easy insertion of mags even without looking, and the front and rear slide serrations grabbed my fingers nicely when racking and unloading the pistol. 
I can usually find at least a couple of features I'd change on a firearm, at least of the personal-preference variety. I was stumped to find anything on the P320-XTEN that didn't work or needed "fixing." Of course, 150 range rounds is not a torture test. The pistol's real functional test will come hundreds of rounds later in the field. I simply didn't have the opportunity to hunt with the pistol and, ammo supplies being sketchy, 150 rounds was all I could expend on this evaluation. 
As things stand, a threaded barrel option for those hunting and shooting suppressed would be appreciated; I hope SIG will offer this option in the future.
The P320-XTEN is available online from $800 to $890, and the ROMEO2 lists for as low as $599.
I own three different 1911s chambered in 10mm Auto, and they are first-rate handguns. Yet they are heavier than the 33-ounce XTEN by 5 to 6 ounces, and they only hold 8-plus-one rounds. If I had to face a charging bear or came upon a sounder of hogs, I'd really appreciate not only the accuracy of the P320-XTEN but the pistol's 15-plus-one rounds of 10mm Auto power. This pistol is a hunter.

Technical Specifications
• Type: semi-auto handgun
• Caliber: 10mm Auto
• Magazine Capacity: 15 rnds.
• Barrel: 5"; carbon-steel; bull
• Trigger: striker fired; SIG X-Series straight
• Sights: SIG X-Ray3 Day/Night; red-dot optics ready
• Grip/Stocks: X-Series; polymer
• Metal Finish: Nitron
• Overall Length: 8.5"
• Weight: 33 ozs.
• MSRP: $899; sigsauer.com