by
posted on December 12, 2018
Support NRA American Hunter
DONATE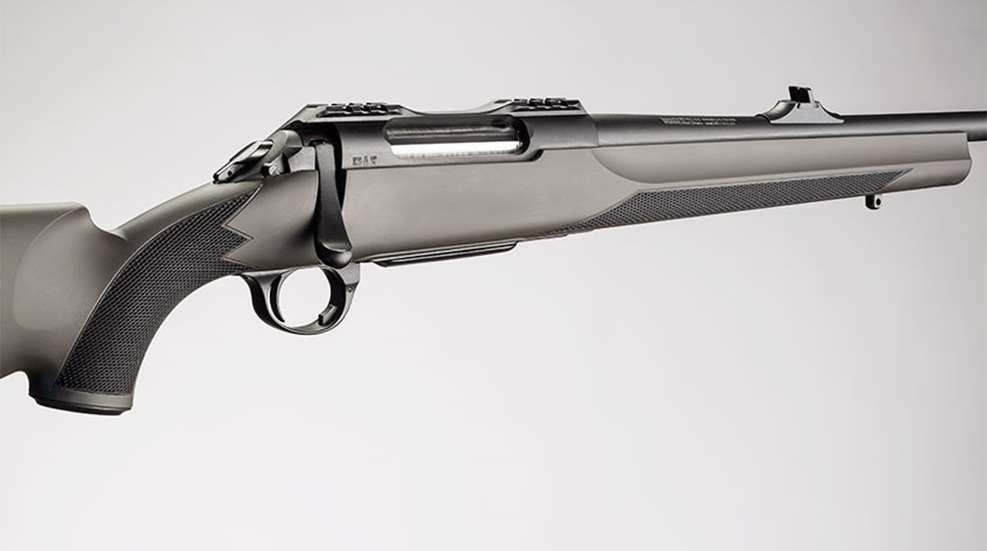 Sabatti's new bolt-action SAPHIRE (an acronym for Sabatti All Purpose Hunting Italian Rifle) is a pleasant surprise for at least four reasons: It has interchangeable barrels. It has an unusual Multi-Radial Rifling bore. It shoots sub-MOA groups. It's Italian made.

If you've long admired famous Italian shotguns from brands like Beretta, Fausti and Perazzi, you might wonder why you don't see equally famous Italian rifles. Are the Italians too busy making shotguns to try their hands at rifle building?
Maybe, but Sabatti is changing that. Sabatti got its start with family members building barrels and locks way back in the 1700s. Three Sabatti brothers formed the current company in 1960, and at first primarily focused on side-by-side and over/under shotguns along with big-bore, dangerous game rifles. Only recently has Sabatti focused on bolt actions. The SAPHIRE offers precise workmanship, smooth function, nice balance and handling characteristics, impressive accuracy, and great versatility in a classically styled hunting rifle with a touch of Italian flair evident in the stock lines and receiver.
The heart of this firearm is a 24-inch, cold-hammer-forged barrel with Multi-Radial Rifling (MRR). Instead of cutting or broaching rifling grooves with vertical walls and sharp, 90-degree angles, Sabatti hammers its barrels around a mandrel featuring gently rounded groove/land edges. It looks like a version of polygonal rifling to me.
Advantages of MRR claimed by Sabatti include less barrel wear, less copper fouling, easier cleaning, higher bullet speed and enhanced accuracy. Much of that is hard to prove without a "control group," but it sounds plausible. Less bullet engraving (cutting or tearing against sharp-edged rifling lands) should reduce friction and fouling, and it might even minimize bullet distortion that robs ballistic coefficient. One thing I can attest to is the easier cleaning claim. Not only did my SAPHIRE .30-06 Sprg. test model clean quickly, but the cleaning rod, with a tight bronze brush up front, glided through more easily that I'm used to with traditionally rifled barrels.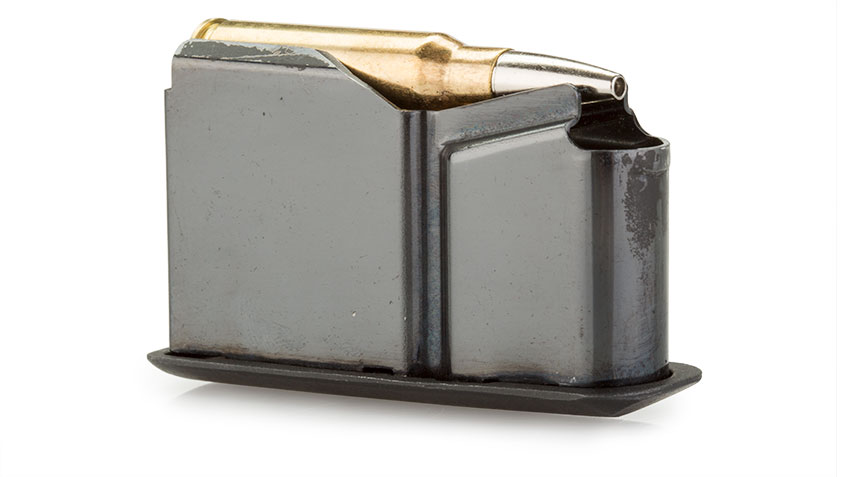 The rifle showed a decided tendency toward sub-MOA groups with most ammo brands and bullets. With its short, quick, 60-degree bolt lift, I'd call it a smooth, pleasant shooter, too, despite a hard rubber buttpad and just a hint of initial trigger creep. Once that was taken up, the trigger broke crisply and consistently at 3.25 pounds. I did not find recoil uncomfortable at all thanks in no small part to the high, full, straight comb and raised cheekpiece on the stock of this 7.5-pound rifle. The Riton 4X-20X-50mm scope and Talley QR rings I mounted brought total weight to 10 pounds, and that dampened .30-06 recoil quite well.
On the fore-end, sharp tumblehome—almost equivalent to finger grooves—enhanced grip. Narrow bands of checkering provided a surprising degree of friction right where it seemed to be most effective: on the first finger pads and the thumb pad. All of this, plus checkering panels on the grip, helped my test rifle handle like a hunting rifle should, even at 10 pounds.
Contributing to the SAPHIRE's accuracy is the floating, removable, three-lug bolt head with an inset extractor claw and a plunger ejector that throws empties with authority. The floating head is free to align precisely for full contact with the lug recesses in the steel barrel extension. This specially hardened extension is pressure-fitted into the Ergal 55 aluminum alloy receiver via three Allen-head screws in a split clamp on the bottom of the front receiver ring. The split clamp also serves as the recoil lug. It's bedded snuggly to a matching recess inletted in the stock.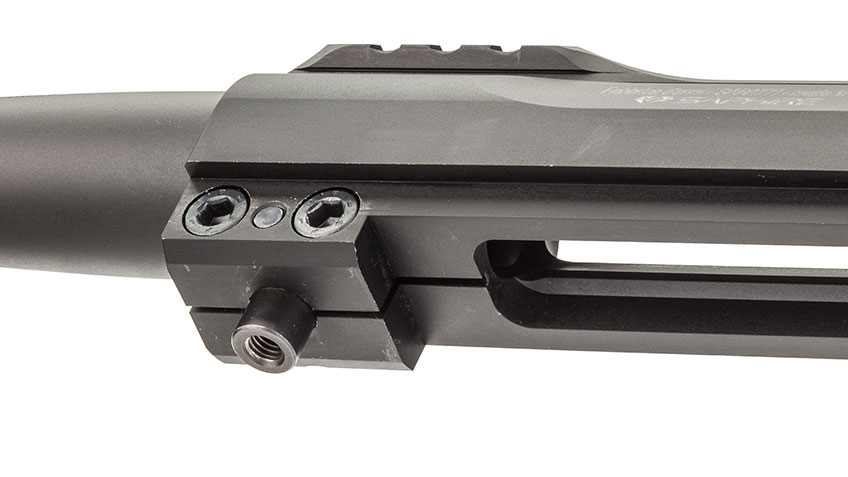 Removing and replacing the free-floating barrel was quick and simple, but I did not have a second barrel to try. Sabatti currently chambers for 12 cartridges from .243 Win. to .300 Win. Mag. If you swap barrels chambered for cartridges with magnum casehead sizes, you change out the bolt head as well as the barrel. The lugs lock into the barrel extension instead of the receiver ring, which aids in repeatable accuracy. A notch in the extension mates with a key in the receiver for precise alignment, too, and by closing the bolt before tightening the clamp, you secure the most precise matchup possible.
All actions are standard length for this system to work, so you'll run the bolt a half-inch farther than necessary for .308-length cartridges. You can also change out the bolt handle from butterknife to standard ball. I found the butterknife handle easy to use for a rapid-fire palm-lift technique, quite fast and effective for high-volume, driven-boar shooting (or packs of called coyotes). To my surprise, this Euro-style bolt handle also worked well with an index finger/thumb cycling approach.
The muzzle of my sample SAPHIRE is threaded and capped, suppressor ready. The barrel also sports well-designed open sights that rise above the integral Picatinny rail on the receiver.
A two-position safety makes this rifle ready to fire. The one-piece bottom metal frame encloses a single-stack, three-round detachable steel magazine and includes the trigger guard. The magazine release is set into the front curve of the trigger guard.
The lines of the synthetic stock reflect American tastes in heads-up shooting with optical sights. Neither the medium-radius pistol grip nor the fore-end is overly thick, making for a comfortable handful. The flat fore-end tip shows a different look than most American or European rifles, but works for me. That might be the Italian flare I noticed, along with the relatively high, humped look of the receiver.
A good stock, full-diameter bolt, floating bolt head, interchangeable free-floating barrels, an integral Picatinny base, open sights, Multi-Radial Rifling, MOA accuracy … I'd say Sabatti hit all the right marks with the SAPHIRE. Yes, Italians build nice rifles as well as shotguns.

Technical Specifications: Sabatti SAPHIRE Syn
• Type: bolt-action centerfire rifle
• Caliber: .30-06 Sprg. (tested)
• Barrel: 24″; cold-hammer-forged, Multi-Radial Rifling; 1:11.5″ RH twist; quick-detach; threaded muzzle
• Magazine: detachable box; 3-rnd. capacity
• Trigger: single stage; 3.25-lb. pull weight
• Sights: fully adjustable rear notch, ramped front blade; Picatinny rail integral to receiver for mounting optics
• Safety: two-position toggle
• Stock: Monte Carlo matte-black synthetic; LOP 14.5″
• Metal Finish: matte black
• Overall Length: 45″
• Weight: 7.5 lbs.
• MSRP: $1,230; italianfirearmsgroup.com