by
posted on April 3, 2016
Support NRA American Hunter
DONATE
Ruger has been on fire in recent years. I've been writing about guns since the early '80s, and I can't remember any company introducing so many new guns in so short a time. With this unprecedented volume of new firearms it's reasonable to expect that the company would cut corners and ship some clinkers. But my experience has been quite the contrary. The guns I've reviewed have all been winners. From the little LC9s carry handgun through the Precision Rifle, they have all performed well enough to be called category leaders.
That of course includes the Ruger line of hunting rifles, too. For example, the Ruger American has pretty much set the performance bar for budget-priced rifles. So when I received the Ruger Hawkeye Predator FTW rifle in 6.5 Creedmoor I expected great things. What resulted is as hard to find as true love or an honest politician, as this gun exceeded my high expectations.
The "FTW" in the name is for the FTW Ranch, home of the Sportsman's All-Weather, All-Terrain Marksmanship (SAAM) school in Barksdale, Texas. This facility is perhaps the premier long-range shooting school in the country, and it's where a lot of the development of this rifle was conducted.
Last spring I was fortunate enough to use a Hawkeye Predator FTW rifle in 6.5 Creedmoor at the FTW Ranch while training on SAAM's challenging long-range targets. By the end of the two days I ran a series of first-shot hits on targets 1.5 MOA in diameter from 300 yards out to 500 yards in 100-yard increments. Then I shot from 600 yards to 1,200 yards on 1-MOA targets, again all first-round hits. That's an amazing level of accuracy from any rifle, let alone a production-grade "hunting" rifle. The rest of the shooters on the line were using precision rifles, many of them custom guns, but even in an informal competition I held my own with this Ruger.
The accuracy of my test rifle when I shot it using American Hunter's evaluation protocol of three, three-shot groups bears that out. With ammo it likes, this gun edges close to being a .5-MOA rifle. Pretty remarkable from a mass-produced rifle shooting factory ammo. I think it's safe to say that some tweaking of the gun and ammo would make it a solid .5-MOA rifle.
Like the rest of Ruger's Hawkeye line, the Predator FTW rifle has a one-piece, two-lug bolt with a Mauser-type non-rotating extractor for controlled-round feeding. The ejector is a fixed blade near the rear of the receiver. A three-position, wing-type safety locks the bolt when the wing is in the rear position. The center position maintains the gun on safe, but allows the bolt to open for loading or unloading. Forward, of course, is fire.
The two-stage trigger is adjustable. In my test gun, the trigger has a total pull weight of 2 pounds, 9 ounces. The first stage is 1 pound, 9 ounces, so when the trigger is used correctly, the shooter only adds 1 pound of pressure to fire.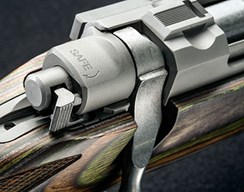 Set in a Green Mountain laminated-wood stock, the stainless steel barreled action has a bead-blasted, matte finish. The stock is stable and tough, and it has large panels of checkering on the pistol grip and fore-end. Rounded edges along the barrel, on the bottom of the buttstock and on top of the pistol grip make it comfortable to carry and shoulder. The FTW model includes three, .5-inch-thick, polymer buttstock spacers for adjusting the length of pull from 12.75 inches to 14.25 inches.
The Hawkeye Predator FTW is available in 6.5 Creedmoor and .308 Win. (The standard Hawkeye Predator also comes in .204 Ruger, .223 Rem. and .22-250 Rem.) I chose the 6.5 Creedmoor as it is emerging as the best of the short-action cartridges for long-range precision work. It's also a great hunting cartridge for deer-size game as well as large predators out to 600 yards. Four 6.5 Creedmoor cartridges fit in the magazine, which is evacuated via a hinged, solid-steel floorplate engraved with the Ruger logo.
Measuring .620 inch in diameter at the muzzle, the 24-inch barrel is probably best described as having a "heavy sporter" contour. That is, it's slightly heavy for a big-game rifle but a bit light for a long-range precision rifle. The twist rate for the 6.5 Creedmoor barrel is a relatively fast 1:8 inches, which has become popular for long-range rifles chambered in this cartridge. It stabilizes the long, heavy-for-caliber 140-grain bullets well, but it also does a fine job with the lighter bullets weighing 120-129 grains that a lot of hunters prefer.
The barrel is cold hammer-forged. There is an endless argument about which barrel-making process is best for precision shooting, and hammer-forging is never the first choice among the accuracy snobs. But they ignore a couple very important points.
First, the barrels on production guns must be affordable. I have a custom-built precision rifle in 6.5 Creedmoor. It's one hell of a shooter, but the barrel blank alone cost more than a third of the retail price of the Hawkeye Predator FTW. By the time you pay a gunsmith to chamber, thread and install such a barrel, it will end up costing more than half the retail price of the entire Ruger rifle. Hammer-forging keeps the cost reasonable in a production rifle.
The other point is proven performance. Criticism from accuracy snobs aside, a well-made hammer-forged barrel can really shoot. Look at this rifle—it's incredibly accurate. Factory loads that group almost .5 MOA the first time the gun is shot? That's pretty incredible accuracy. No break-in, no tweaking loads, just screw on a scope and shoot. With a production gun capable of this kind of accuracy you can take the money you saved with the factory hammer-forged barrel and buy ammo. That's how you become a great long-range shooter: practice, practice, practice.
The rifle has Ruger's integral scope mounts machined directly into the receiver, and the gun comes with scope rings. This eliminates another cost factor as there is no need to buy bases and rings.
The Ruger Hawkeye Predator FTW is a great multitasking crossover rifle. It's fine for most general hunting, well suited for long-range hunting and capable of long-range precision target shooting. What more do you need?
Technical Specifications:
• Type: bolt-action centerfire rifle
• Caliber: 6.5 Creedmoor (tested), .308 Win.
• Barrel: 24"; cold hammer-forged stainless steel; medium contour; 6 grooves, 1:8" RH twist
• Trigger: two-stage adjustable
• Magazine: internal box w/hinged floorplate; 4-rnd. capacity
• Sights: none; receiver milled for Ruger scope rings
• Safety: three-position wing
• Stock: Green Mountain laminated wood; adjustable LOP 12.75"-14.25"
• Metal Finish: matte stainless
• Overall Length: 43.25"-44.75"
• Weight: 8.1 lbs.
• Accessories: 3 buttstock spacers, Ruger scope rings
• MSRP: $1,159