by
posted on April 14, 2017
Support NRA American Hunter
DONATE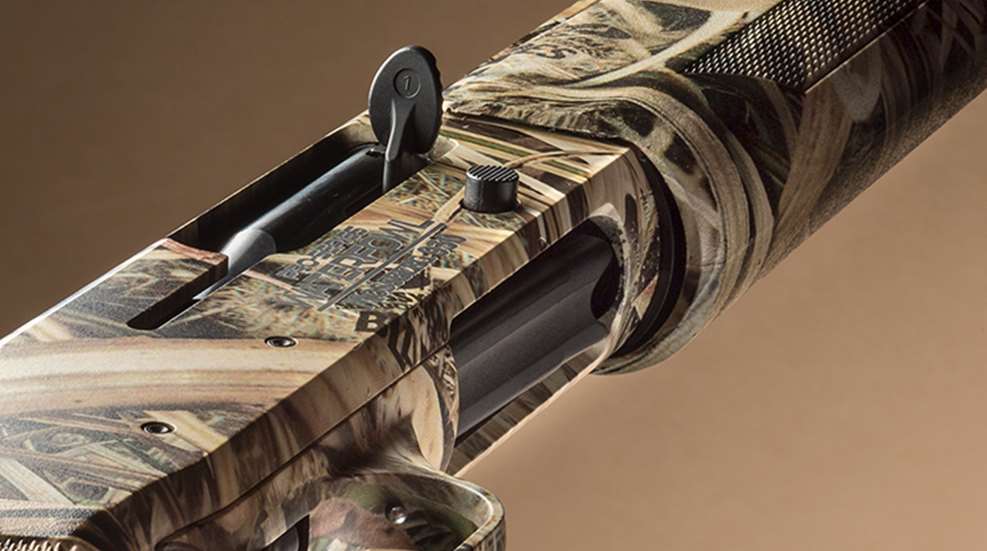 Everyone knows what great workhorse pump shotguns Mossberg makes for hunting and home defense, but since 2004 with the introduction of its 935 Magnum, the company has also produced great semi-automatics. (Mossberg actually offered semi-auto shotguns in the mid-1980s through the '90s, but they never really caught on with hunters.) Today, however, I don't believe the word is fully out that the 98-year-old family-owned company from North Haven, Conn., makes versatile, reasonably priced semi-autos for sportsmen. Just ask one of the best all-around shooters in the world, Jerry Miculek, who uses a Mossberg 930 JM Pro-Series for competition. Of course Mossberg sponsors Miculek, but he wouldn't use the 930 if it handicapped his chances of winning—something he does a lot.
Another version of the 930 Pro-Series targets the waterfowl market, where expensive semi-autos also dominate. Duck and goose hunters, listen up.
In a partially submerged blind full of Benelli shotguns and Sitka gear, my Mossberg 930 Pro-Series Waterfowl in Mossy Oak Shadow Grass Blades stood alone. Certainly I took some ribbing for this $800 gun, but that's OK, as this was a duck club and I gave the smack talk right back. Hunters, like most segments of society, tend to be cliquey. My longtime buddy Kyle, who's habitually suffered gun envy and therefore bought his Super Black Eagle not long after I bought mine in 1992, was making sport of my Mossberg as some greenheads committed to the spread. After five shots, three birds hit the flooded field with a splash. Most of them were mine.
All morning long, the Mossberg shot where I pointed, mitigated recoil nicely, blended with the tans of fall, withstood the swampish elements and, I believe, raised my buddy's opinion of this workingman's brand. While I experienced one jam on the second round I fired, I suspect it was because I had just removed the gun from its box that morning. Though all semi-autos require a break-in period, I did not experience another hang-up.
The 28-inch-barreled 930 Waterfowl is balanced like a waterfowling gun should be, with a small majority of its weight slightly forward to promote smooth barrel movement. Unlike upland bird hunters  who benefit from a weight-between-the-hands balance more conducive to point-shooting, waterfowlers generally like a little weight out front for uninterrupted swings where leading birds on passing shots is the norm.
This, combined with the low-profile receiver, vent-rib barrel and comfortable drop at comb, dictated that my eye aligned down the rib, not over it, and that the shotgun printed its pattern where I looked without mandating I readjust my head. For those shooters who prefer a different drop at comb, Mossberg provides a shim kit with the gun.
One area where gas-operated shotguns shine over inertia-driven and pump guns is recoil mitigation. While it's tough to measure perceived recoil, you needn't be an engineer to feel it. Basically, some of the recoil force is counteracted by the rearward movement of the bolt and the bleeding off of gas that otherwise would contribute to the gun's rearward movement. Secondly, the recoil pulse is spread out over a longer time period, so perceived recoil is reduced. And while the time it takes to get back on target is tougher for hunters to quantify than it is for Miculek, who knows his split times with various guns, it's still noticeable in a duck blind. With heavy 3-inch magnum loads my follow-up shots were fast, and they didn't require me to re-find the flock of birds altogether, but rather just make a slight movement to realign the barrel before pulling the trigger again.
One significant downside to gas actions is they tend to foul easily because carbon residue is forced into the gas ports and collar. Over time, this can cause jams. It's remedied simply by cleaning the gun regularly, though Mossberg also addresses this issue by coating internal components with boron nitride to aid lubricity.
The 930's gas action utilizes a system slightly different than some others. Rather than using an action-bar assembly attached to the bolt carrier, the bolt is sent rearward to eject the shell and cock the hammer when the carrier is struck by dual metal "pusher" rods. The pusher assembly and metal spacer tube, positioned behind the gas piston, only move .75 inch, so travel time and wear is minimized. Once the bolt is forced back, a stainless steel return spring around the magazine tube drives the pusher, spacer and piston forward into position for the next shot. It's a proven system.
The four-round magazine has one of the best loading gates in the industry. It's fast, simple and doesn't pinch the fingers. The trigger is excellent; the one in my test gun is lighter than most shotgun triggers at 5 pounds. A metal cocking indicator pokes out of the polymer trigger guard so that it can be felt by the shooter. That's a nifty feature. The 930 also has Mossberg's signature tang safety that's ambidextrous. The soft recoil pad is outstanding.
At the other end of the gun, a red fiber-optic pipe provides a point of reference when shooting. Improved cylinder, modified and full choke tubes, combined with a receiver drilled and tapped for optics, add to the gun's versatility, although I wish it also came with cylinder and improved modified tubes. I like the attachment points for a sling, because waterfowlers often must carry loads of decoys without having a place to set down a gun.
As for negatives, I have only two. First, the shotgun's furniture, while durable plastic, felt cheap. I wish it had a softer, warmer touch that didn't seem so brittle. Second, the fore-end on my test unit rocked slightly. No doubt the stock is where the company saved some money, as the 930 Pro-Series Waterfowl's action, barrel and performance are sound if not stellar. And there is something satisfying in outshooting your snobbish buddies with a gun costing half as much.

Technical Specifications:
• Type: gas-operated semi-automatic shotgun
• Gauge/Chamber: 12/3"
• Barrel: 28"; vent rib; threaded for Accu-Set choke tubes
• Sights: red fiber-optic front
• Magazine Capacity: 4 rnds.
• Trigger: 5-lb. pull weight
• Safety: tang-mounted
• Stock: polymer; Mossy Oak Shadow Grass Blades finish; LOP 14"; adj. drop at comb 13/16"-11/2"; adj. drop at heel 17/8"-21/2"
• Metal Finish: Mossy Oak Shadow Grass Blades; boron nitride on gas-system and trigger components
• Overall Length: 48.5"
• Weight: 7.75 lbs.
• Accessories: 3 choke tubes (IC, M, F); choke-tube wrench; stock shim kit
• MSRP: $874