by
posted on November 19, 2019
Support NRA American Hunter
DONATE
The chassis stock is a contradiction of sorts in that it delivers both the rock-solid stability needed for precision shooting plus adjustability to optimize shooter performance. The Magpul Pro 700 series—including both short- and long-action models contoured to mate with rifles built on the Remington 700 footprint—boasts a machined aluminum substructure clad in a proprietary polymer, a combination that provides a rigid framework for the barreled action along with a host of machine-tool-like adjustments.

The Pro 700/700L (long action) contains built-in "V-block bedding" that securely cradles the receiver while providing a generous channel for the free-floated barrel. At the rear, the chassis connects to a steel hinge assembly that links to and facilitates a folding buttstock. From lockup in the open position, the hinge is freed by an inset button, and while tension remains, it does not lock in the pivot position. Folded, the stock's thumbhole recess swallows up the bolt handle, thus allowing the butt to flatten against the receiver area for an overall length of just 23.5 inches (short action). When deployed at max length of pull, the stock extends to 34.1 inches, and measures 1.86 inches at its widest point. The Pro 700 also can be had in a non-folding version.
The Pro 700's list of customizable dimensions is extensive, allowing shooters to fine-tune:
• length of pull, 13.25 inches to 15.125 inches
• butt-pad height and lateral shift
• comb height by 1 inch
• cheek riser adjusts fore and aft and is right-/left-hand interchangeable
• interchangeable grips with 5- or 8-degree forward edge sweep
What's more, the Pro 700 is fully ambidextrous. Thanks to a bolt-cutout plate that can be attached to either side, along with hinge reversibility, both right- and left-hand barreled actions will drop right in. Likewise, the bedding block is configured to support ambi-capability.
Included with our short-action sample was an alternate grip plus a Magpul PMAG 5 7.62 AC that mates with the polymer AICS-pattern magazine well. The PMAG 10 7.62 AC and other similar AICS-pattern magazines will also function. Accessory mounting is enabled via a total of 21 M-LOK slots on the fore-end and stock.
Magpul outfits the Pro 700 with more "skin" than many competing chassis models, making the look somewhat closer to a conventional rifle, but more important is how that aids shooter comfort and ergonomics, and reportedly helps mitigate noise. Color options include black, flat dark earth and drab olive.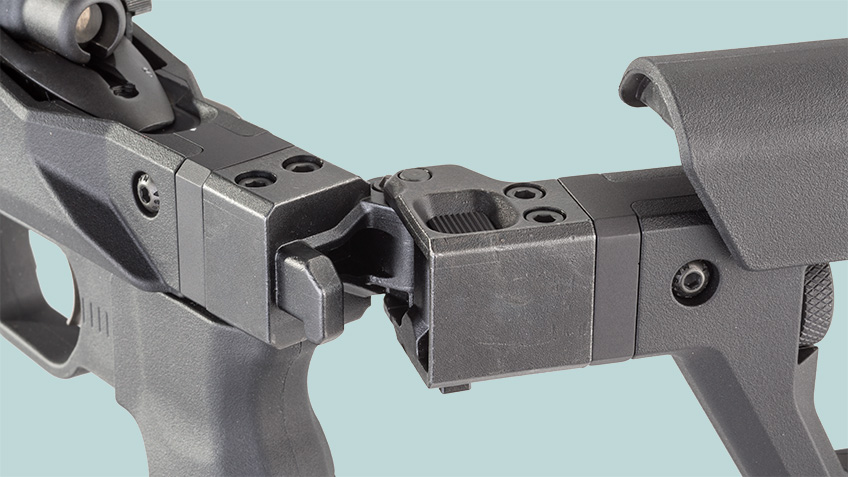 The adjustment wheels boast tactile detents, and the trigger guard can be used with gloves. The magazine release is an ambidextrous steel paddle tucked between the trigger guard and magazine box.
Chassis stocks appeal to various riflemen, beginning with match and tactical shooters, and to a lesser extent, long-range hunters. However, because of the assembled rig's weight—ours scaled 11.8 pounds with a heavy-contour, 24-inch barrel—field applications will be limited by user mobility. But for shooting from a rested field position, whether prone supported by a bipod or from a supported stand or sticks, it figures to up the accuracy quotient.
Curious to try the adjustments and observe actual firing performance, I compared it with two Model 700 rifles in factory-available stocks. The first was a similarly equipped Model 700 Tactical Chassis supplied in a Magpul MAG307 PRS stock, likewise offering numerous adjustments for fit. That model in short-action .308 Win. comes with a 24-inch heavy-contour barrel. Pitting one Magpul chassis stock vs. another amounted to an apples-to-apples scenario, and the results bore that out.
With the barreled action mounted in both stocks, I fired five, five-shot benchrest groups at 100 yards then ran both at 400 yards for 10 shots prone off a bipod. In the end there was a stock-to-stock variance of about .15 MOA at both distances. However, significant improvement occurred when repeating the same comparisons using a 1980s-vintage M700 ADL and its early synthetic stock. This one was also a .308, but its 22-inch barrel had a thin No. 1 sporter contour. As expected, its groups were bigger than those from the heavy-barreled gun, but respectable with the barreled action bolted into the Pro 700, which delivered an average .38 MOA improvement over the old factory stock.
Magpul lists the MSRP on the Pro 700/700L at $999.95, or $899.95 for the fixed-stock version.
Technical Specifications
• Type: aftermarket folding stock
• Fit: Rem. Model 700 short action (shown) or long action, ambidextrous controls
• Construction: reinforced polymer; type III hard-anodized 6061-T6 aluminum bedding block
• Dimensions: adjustable LOP 13.25"-15.25"; 1" adjustable comb height; three-position adjustable cheek riser; adjustable butt pad; interchangeable grips; weight 5.4 lbs. (SA), 5.6 lbs. (LA)
• Finish: black (shown), flat dark earth, olive-drab green; metal finished in Melonite
• MSRP: $999.95; magpul.com