by
posted on September 11, 2018
Support NRA American Hunter
DONATE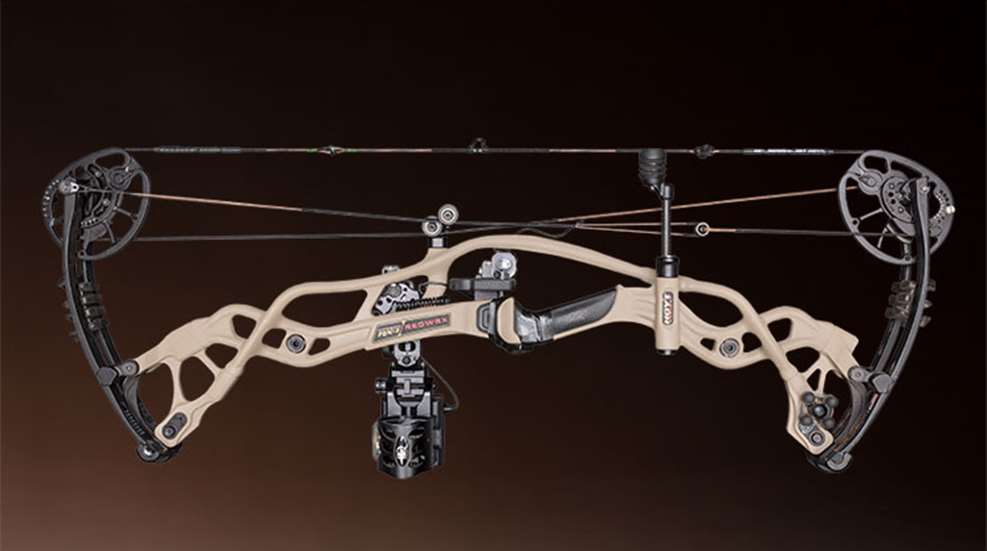 Sometimes a better mousetrap actually comes along. It just takes some time to prove itself. Take carbon-fiber rifle stocks. From a pure performance standpoint they're superior to wood, though my grandpa wouldn't publicly admit it.
Carbon fiber is five times stronger than steel, twice as stiff, impervious to environmental conditions and much lighter. It's the same reason this material—essentially crystalline carbon filaments woven into a flexible sheet—is used in the aerospace industry. In the archery world, carbon-fiber arrows were received skeptically, but after manufacturing techniques were perfected to ensure straightness and prevent splintering, it was hard to give away an aluminum arrow.
Hoyt Archery of Salt Lake City debuted its first bow with an all-carbon-fiber riser in 2010, but according to president Randy Walk, Hoyt began the project 18 years prior. That means today's carbon bow was not just a few years in the making, but 26. Still, carbon-fiber technology continues to evolve, and the Hoyt Carbon RX-1—stamped "REDWRX" to identify it as the company's best—represents the current pinnacle.
"Whereas the Matrix's riser was made exclusively of round tubes," said Hoyt marketing manager Jeremy Eldridge, "there are round, helical and square carbon-fiber tubes on the RX-1."
Hoyt employs a technique of hand-laying plies of carbon fiber around air bladders; when the resin hardens, the bladders are popped to leave precisely formed, hollow tubes. Those tubes are then epoxied together. Hoyt says this method takes advantage of various shapes to offer strength and rigidity in some spots while saving weight in others.
Eldridge believes carbon fiber is superior to aluminum as a riser material. "All of us at Hoyt are hunters," he noted. "We're shooting our carbon bows for a reason."
It's also durable. Hoyt claims that in testing it has dry-fired the RX-1 1,500 times at 80 pounds of draw weight without fail. To validate, I called Casey Sanford at Archery Country in Austin, Texas. He said (at the time of this writing) he's sold dozens of RX-1 bows, and none have come back for warranty repair. Sanford said this surprises him because he sees plenty of bows that are broken after they're accidentally dry-fired. Either his customers aren't dry-firing their Hoyts, or the bows aren't breaking.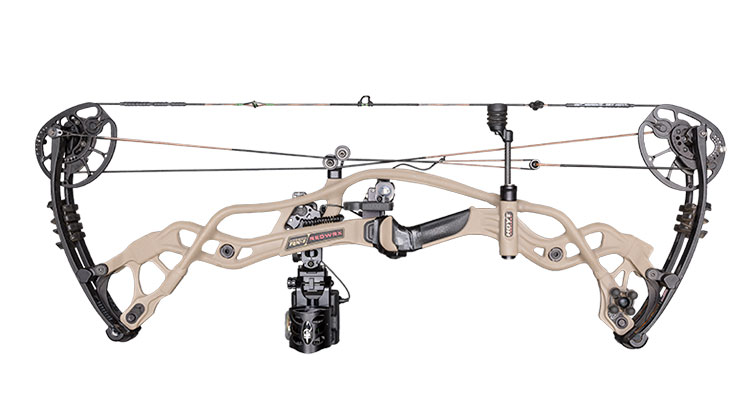 What I know for sure is the RX-1 is likely the quietest bow I've ever shot. It's quiet due to a host of technologies, but mainly, carbon fiber doesn't transmit vibrations like metal. It kills them, which imbues that coveted dead-in-the-hand feeling. My test bow (27-inch draw length and 60 pounds of draw weight) gives off more of a whipping sound than the louder thunk of most other bows. I shot two notoriously schizzy axis deer with the RX-1, and they didn't react in time to jump the string.
It should be noted that while carbon bows are normally marketed as being ultra light, at 3.9 pounds the RX-1's weight is on par with top-end aluminum bows. It's likely the RX-1 gained a few ounces with its aluminum riser junctions and some other technologies, like the one I'll mention next.
"Our goal was 4 pounds or less," said Eldridge. "If you go too light, shooters will add weight to hold steady. Four pounds is a sweet spot between hunting with it and shooting it well."
Previously Hoyt made its bows with a nock point 1.5 inches above the grip. The design gave its bows that balanced feel for which Hoyt is known, but they may not have been the easiest bows to tune perfectly. However, Hoyt lowered the grip 1.5 inches on the RX-1, then made the bottom limb pockets wider and therefore heavier than the top pockets to balance it out. Sanford reported that in general, the RX-1 is indeed easier than most bows to tune, and he tunes hundreds of them per year. In my hand, the bow didn't feel top-heavy, and I shot excellent groups with it.
The RX-1 utilizes Hoyt's most advanced eccentrics, including its Cam & 1/2 System wherein a control cable links the cams together to fire at the same time for consistent accuracy. While this bow is silly fast at 340 fps per Archery Trade Association protocol, kudos to Hoyt for not trying to set the speed record. Its ZT Hyper cam's split-cable yoke reduces sideways torque on the cam, thereby mitigating cam lean and nock travel. And because the Hyper cams offer 80 or 85 percent let-off but don't have that shoulder-ripping lurch of more aggressive cams, the RX-1 is easy to draw smoothly from a tree. After initially shooting the bow I was very surprised to learn its brace height is just 6 inches, more indicative of a super fast bow that's touchier to shoot. I assumed it was greater, a testament to the ease with which the RX-1 can be shot accurately.
Bow satisfaction and accuracy are paramount upon fit; the 32-inch axle-to-axle RX-1 is available in 10-pound draw-weight ranges of 30-80 pounds (plus 55-65 pounds) and in draw lengths of 24.5-28, 27-30 and 29-31 inches. Adjustments can be made without a press.
It was tough for me to find any negatives, so I asked Sanford, who hears complaints all day long. He said the common gripe about the RX-1 is its back wall is not rock-firm. To that I'd argue a softer back wall (provided it has a definite stop) is better for hunting because it reduces shake as the cam snaps over. Draw stops that are too firm can also be noisy. Regardless, the draw stop can be easily changed. But the biggest negative? It's currently the highest priced hunting bow on the market. Cutting-edge technology isn't for cobblers.
Based on the superior qualities of the Hoyt REDWRX Carbon RX-1 as a hunting bow—mainly its quietness and shootability—I'm ready to jump on the carbon-riser bandwagon and proclaim it a better mousetrap. But bows are personal; before you shell out the substantial cash required to own an RX-1, shoot one at your bow shop and judge for yourself.
Technical Specifications
• Type: compound bow
• Riser: carbon fiber
• Limbs: Quad-Flex parallel split
• Cams: ZT Hyper; 80, 85 percent let-off
• String and Cables: Fuse Custom
• Grip: X-Act Grip
• Dimensions: axle-to-axle length 32″; weight 3.9 lbs.
• Brace Height: 6″
• Draw Lengths: 24.5-28″ (tested), 27-30″, 29-31″
• Draw Weights: 30-40 lbs., 40-50 lbs., 50-60 lbs., 55-65 lbs. (tested), 60-70 lbs., 70-80 lbs.
• ATA Speed Rating: 340 fps
• Finish: 4 camo patterns, 2 solid colors
• MSRP: $1,599; hoyt.com