by
posted on June 27, 2019
Support NRA American Hunter
DONATE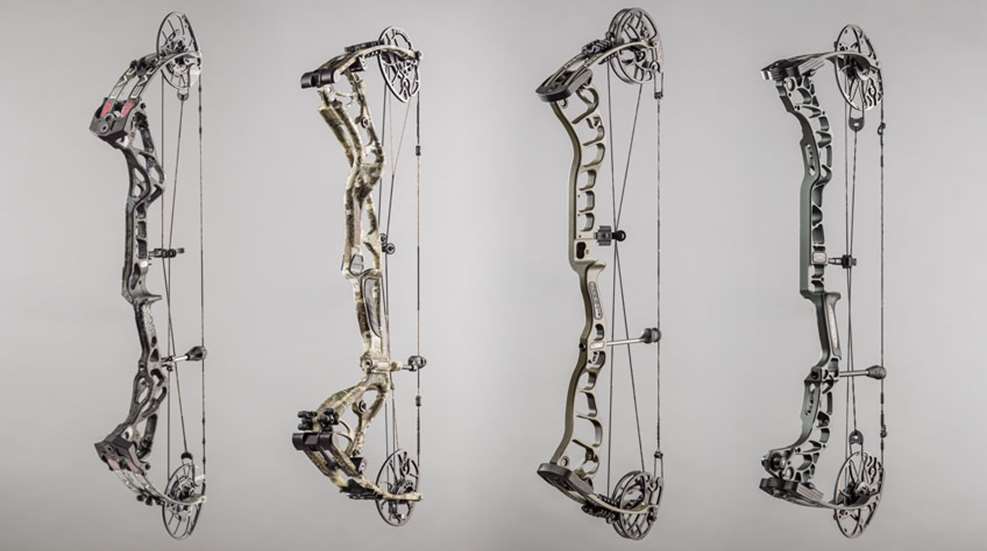 Hoyt REDWRX Carbon RX-3
Hoyt continues to build off the huge success of its carbon-fiber riser technology introduced in the REDWRX RX-1 with a more compact, 30.5-inch axle-to-axle RX-3 model. I'm a smaller dude who likes to sneak around the woods, so I like a smaller bow that's easy to handle and shoot even while sitting. But plenty of folks prefer bigger bows, and for them Hoyt also makes its Carbon RX-3 Ultra at 34 inches axle-to-axle.
The RX-3 checks in at less than 4 pounds, making it unbelievably light before the sight, rest and accessories are installed. What's more significant is that it remains quiet, thanks not only to its carbon-fiber build but also to more vibration-deadening devices than a Nashville recording studio. That's what Hoyt specializes in: making all-around bows for hunters that are plenty fast but, mainly, cobra-quiet and easy to shoot well. From my extensive testing, the RX-3 follows that pattern in spades, as it is one of the lightest and fastest bows available—a rare combination indeed.
While some hunters might not be sold on carbon-fiber technology in bows, I am. After using several models over the last few years, I believe they're inherently quieter in the woods—both when shooting and while moving around. Carbon fiber doesn't clank like a machined aluminum bow if you bump it on a rock or a treestand platform, and it tends to deaden shot vibrations rather than transmit them.
The ZT Pro cam is not Hoyt's smoothest drawing, but it is one of the company's fastest ever. The RX-3 reaches 342 fps ATA. If I concentrate on drawing the bow easily as the cams snap over the peak, I can reach the back wall without the bow lurching during the break-over, something I never want to happen while I'm drawing on a deer. A wonderful aspect of this bow's cam system is that its draw length is easily adjustable without a press, so you can make the bow fit your exact specs in .5-inch increments. The importance of this for accuracy and overall satisfaction cannot be overstressed.
Perhaps my favorite element other than the carbon fiber, however, is the RX-3's grip. Made of molded, rigid polymer, the grip is thin enough that my hand feels like it's in direct contact with the riser, but it also provides a layer of insulation. Lastly, I must admit I love the camo patterns that are available, such as Kuiu Verde and several others.
The RX-3's downside? It's the most expensive bow on the market at $1,699. Is it that much better performance-wise than most $1,000 bows? Probably not, but if you want the latest technology, you've got to pay for it. And if you believe what I said about it all coming down to feel, this Hoyt feels best to me.
Technical Specifications
• Speed: 342 fps (ATA)
• Axle-to-Axle Length: 30.5″
• Brace Height: 6″
• Weight: 3.9 lbs.
• Draw Length: 25″–28″, 27″–30″
• Draw Weight: 40 lbs., 50 lbs., 60 lbs., 65 lbs., 70 lbs., 80 lbs.
• MSRP: $1,699; hoyt.com

Mathews Vertix
Mathews sells more hunting bows than any other firm, and I've never heard a valid complaint from anyone who shoots them. If you don't like a Mathews bow's distinct, almost top-heavy feel, here's a newsflash: It's not supposed to feel like other bows because Mathews designed it that way. But I guarantee whatever new Mathews bow you try, it will be fast, smooth, quiet and accurate.
The Wisconsin company's newest model is called the Vertix. It's similar to last year's model, the Triax, but with three major differences.
First, the Vertix is 2 inches longer than the Triax at 30 inches axle-to-axle. Mathews likely catered to the growing segment of bowhunters who do not like really short bows with acute string angles (I prefer them, but I'm in the minority here).
The other main difference, and a big one, is the Vertix features what Mathews calls its Switchweight modular cam system that gives the shooter 5 extra pounds of draw weight, while allowing the bow to function at maximum efficiency at the peak weight for which it was designed. Here's how it works. Say you want a 60-pound bow because it's plenty for whitetails and it's easy to draw. Order a 60-pound Vertix, and it will shoot most efficiently at that maximum draw weight. Perhaps you also plan to hunt elk. You know penetration on these huge animals can be an issue, and so you desire a little more kinetic energy. Formerly, you'd have to buy a new bow (or replace the entire cam system). But with the Vertix, you can simply order a Switchweight module, drop it in and presto, you're shooting at 65 pounds, which should translate to an additional 10 fps or so. Modules are available in 65, 70 and 75 pounds. It's an innovative concept from an innovative company.
The Vertix is the heaviest bow on this list at 4.6 pounds, and unsurprisingly, to my ears it's also the quietest. You have to determine whether a few extra ounces is worth a decrease of a few decibels. In most hunting scenarios, particularly from a treestand, I'd say yes, but that's a personal choice. What is most surprising is the Vertix is one of Mathews' fastest bows ever.
I love this bow's new Engage grip, a balance between a minimal target grip and a rubber hunting grip. It features a textured backstrap that's new for 2019.
Mathews is leading the new wave of customization options. Customers can choose the colors of the limbs, servings, strings and cables in any combination. When you're paying this much for a new bow, that's cool.
And, oh yeah, this thing shoots lights out. While accuracy is extremely dependent on an individual bow's tuning—as well as the shooter on a given day—I shot the Vertix more accurately than any other bow on this list. I have a feeling I'm going to be getting really acquainted with the Vertix during this year's upcoming seasons.
Technical Specifications
• Speed: 343 fps (ATA)
• Axle-to-Axle Length: 30″
• Brace Height: 6″
• Weight: 4.67 lbs.
• Draw Length: 26″–30.5″
• Draw Weight: 60 lbs., 65 lbs., 70 lbs., 75 lbs.
• MSRP: $1,099; mathewsinc.com

PSE Evoke 31
While Mathews, Hoyt and Bowtech (see for my review of Bowtech's new Realm SS here) grab most of the headlines due to their great bows combined with their big marketing budgets, PSE also continues to make fantastic bows. In my opinion, PSE's Evolve cam system is the best ever invented. It's blazing fast, amazingly quiet, smoother during the cycle than you would think and it comes out of the box adjusted to an almost ridiculous 90 percent let-off.
While some people don't like this much let-off, it certainly has advantages. After all, what bowhunter hasn't missed a shot opportunity because he couldn't hold the bow at full draw any longer and had to let it down? I have. You can hold back the Evoke 31 seemingly forever, while you think of your release trigger as a rifle trigger and let it surprise you as you focus on squeezing it.
Granted, if you take a trophy with the bow set at 90 percent let-off, it won't be admissible for the Pope and Young Club's records program. That may not bother you. If it does, simply dial down the let-off to 80 percent. The cam is also adjustable for draw length without a bow press, and that's probably the No. 1 thing you can do to any new bow in order to shoot it well.
The Evoke 31's machined-aluminum riser is a hybrid cage design, which translates to less lateral flex (if there was a significant amount to begin with). Like the other bows here, it has a string stopper and a roller-style cable guard for silky smooth drawing and vibration control after the string is released.
Engineers likely chose 31 inches for the axle-to-axle measurement because it's a good balance between compact 30-inch bows and more commonly made 32-inchers. However, due to the Evoke 31's giant cams that make the bow 37 inches in overall length, it handles longer than that.
PSE is noted for its minimal, target-style grip that places the hand in direct contact with the riser. Its only downside is the grip is cold in the winter, but that's nothing a glove can't handle. I like the vertical groove on the front of the grip that provides a familiar alignment point for my fingertips to rest in, something I've found enhances my shot-to-shot consistency.
PSE is also getting with the program in terms of aesthetics. The Evoke 31 is available in multiple colors and camo patterns. It is as great a bow as the Arizona-based company has ever produced, and that's saying a ton considering PSE has been building top-end bows since 1971. The Evoke 31 is also a great value for the money—less than $1,000, which sadly is no longer the upper end.
Technical Specifications
• Speed: 342 fps (ATA)
• Axle-to-Axle Length: 31″
• Brace Height: 6″
• Weight: 4.2 lbs.
• Draw Length: 25″–30.5″
• Draw Weight: 50 lbs., 60 lbs., 65 lbs., 70 lbs., 80 lbs.,
• MSRP: $999; psearchery.com

Prime Logic CT3
Prime has developed a cult following among Western hunters and 3-D shooters. Several of my hunting buddies who own pro shops say Prime, with its parallel-cam technology, produces the easiest-to-tune bow in the business. In the past, however, with their large footprints, bare grips and back walls that seemed like they struck iron, Prime bows felt more like target bows than hunting bows. Turns out that's what a growing segment of hunter/archers want; these guys figure accuracy is the most important thing, especially when shooting at longer ranges.
Even so, Prime undertook a concerted effort this year to make its Logic CT3 more of a hunting bow while keeping everything that made its previous models inherently accurate. For example, some hunters like me don't like a back wall that's so hard it makes a noise and causes the bow to lurch when it bottoms out, so Prime includes cable stops that soften it, giving shooters the option
of both.
Most notable about the CT3 compared to past models is its compactness. (The CT5 model is longer and faster, and the CT9 is longer yet.) Stubby little limbs and a brace height of 6.5 inches make the CT3 narrower and easier to carry, and this is a vast departure from the box-kite size of prior models.
Prime is owned by G5, a Michigan company that's been around for years as a top-quality OEM machinist, and the machining expertise shows in the CT3 just as it has in all Prime bows. Everything, from the design of the riser and its CNC execution to the limb pockets and cams, is perfectly made; it all fits together without a bunch of plastic or sound-mitigating gimmicks. I believe this shows up when shooting the CT3 on the range. To describe it the best I can, the bow feels like driving a race car that has next to no suspension. It's precise and handles great, but it's not real smooth or cushiony.
Prime continues to stick to its unique parallel-cam design that minimizes cam lean. Most pros I've consulted say it works as advertised. The only downside is it adds a little weight, which is why the bow weighs 4.4 pounds.
The CT3 has a very firm and solid feel with a direct-riser target grip. It's not the quietest here, nor the smallest or the fastest, but many hunters love its feel and swear by its accuracy.
Technical Specifications
• Speed: 335 fps (ATA)
• Axle-to-Axle Length: 33″
• Brace Height: 6.5″
• Weight: 4.4 lbs.
• Draw Length: 24.5″–30″
• Draw Weight: 40 lbs., 50 lbs., 60 lbs., 65 lbs., 70 lbs., 80 lbs.
• MSRP: $999; g5prime.com