by
posted on December 2, 2017
Support NRA American Hunter
DONATE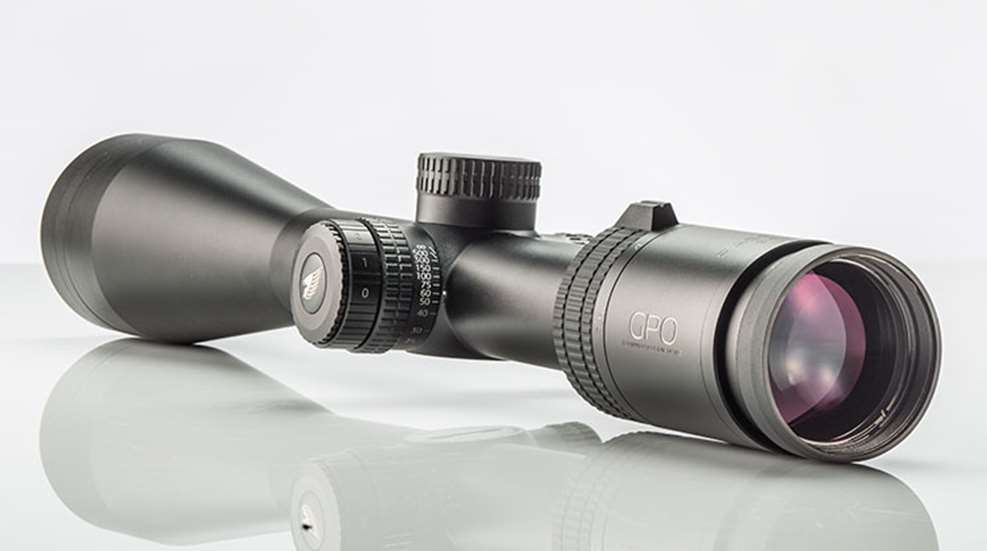 Long shots, long barrels, big rifles and big scopes with plenty of magnification, brightness and resolving power are all the rage. The new 2.5X-15X-50mm GPO Passion 6X scope with iControl reticle illumination seems aimed squarely at that market. Despite what sounds like the name of a perfume, this German-engineered scope is a serious shooting tool.
If you've never heard of GPO that's because the U.S. company, based in Virginia, just got started. This is one of its first products. But that doesn't mean the movers and shakers behind the brand are novices to the optics world. They have been working for top optics companies for decades and know how to build the kind of performance and optical quality persnickety hunters demand.
From what I see and feel in the sample Passion 6X I tested, GPO is not targeting the entry-level scope market—or even the midlevel. Based on ingredients and performance, the company is taking a swipe at the upper rungs of the market. Proof of this is at least suggested by the price point of this scope: $1,249.99 (MSRP). That's still well below the $3,000-plus mark reached by Europe's highest priced scopes, but my hunch is GPO, new to the market and eager for market share, is trying hard to provide more for less. Let's examine this big 2.5X-15X and see if the company has succeeded.
First, as always, is appearance and "feel." These days even some pretty low-grade scopes can fool you in the looks department. A few even feel pretty solid at first. But the more you manipulate them, the flimsier they begin to feel. Not the Passion 6X. Its silky black finish feels as nice as it looks. The knurled aluminum turret caps, parallax dial, illumination dial and rubber power dial are all precisely cut and provide effective gripping surfaces. All dials turn smoothly with consistent tension. Elevation and windage turrets click crisply with no play. You can easily hear and feel each click, but the adjustments are not obnoxiously loud.
Like many power rings, this one includes a raised rib that serves as a gripping aid and the power-setting indicator. Power increases clockwise, putting the rib at 3 o'clock on 15X. There's a chance this could interfere with bolt manipulation, depending on the rifle, bolt shape, shooter, etc. On a Nosler M48 the rib came to within 1/8 inch of touching the bolt handle, but it proved no impediment during three different styles of bolt manipulation. Even when I felt contact during fast, sloppy bolt cycling, the rubber nub was so soft my fingers emerged unscathed.
The diopter adjustment ring is the rim of the eyepiece, the typical European system. Diopter adjustment values are not marked but appear to be significant: I'd guess easily 3 or 4 diopters in both directions. A rubber ring covers the sharp edge of the eyepiece, but it's so thin and easily bumped off that I doubt it would attenuate any forehead contact under heavy recoil. With this scope's practical eye relief of just 3.5 inches, "scope eye" is a real possibility with heavier recoiling rifles, especially for shooters who creep the stock.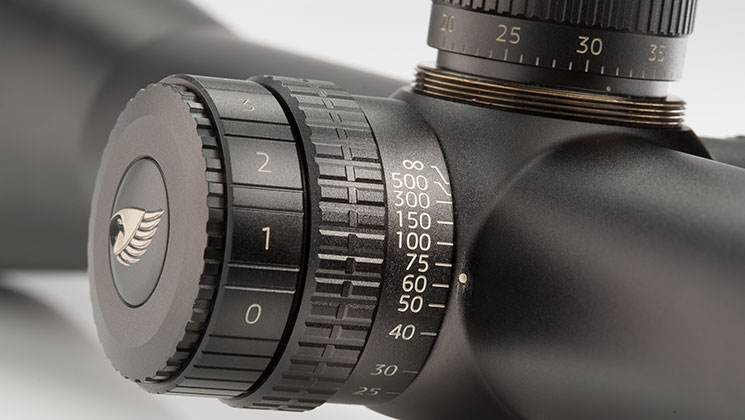 Parallax adjustment is via the popular left-side dial, and impressively, it focuses down to about 15 yards. The illuminated reticle rheostat is integral with the parallax dial, the CR2032 battery fitting in its center. With two dials and a knurled battery cover on one turret, twisting the wrong one might seem a possibility, but I found each easily identified and manipulated by feel alone with no confusion.
The reticle's tiny center diode glows red and ever brighter as the numbered dial is turned clockwise. At about setting No. 4 the vertical reticle begins to glow, and by No. 8 it's fully illuminated. This is an interesting twist that might prove advantageous in quickly directing a shooter's eye toward a dark target in dim light. The illuminated reticle turns off automatically if the unit remains motionless for three hours, and when the battery declines to 15 percent remaining power, the reticle blinks rapidly when first turned on.
As is traditional for German-designed scopes, the windage and elevation adjustments are marked in centimeters instead of inches. Each click moves the impact 1 centimeter at 100 meters, the practical equivalent of .36 inch at 100 yards. If you intend to dial for long-range shooting, you'll find it much easier to work with this scope by using the angular milliradian (mil) system. One mil spans approximately 3.6 inches at 100 yards, 7.2 inches at 200 yards and so on. To make a 1-mil adjustment, you'd dial 10 clicks.
I mention dialing though the 2.5X-15X Passion 6X comes with a traditional turret cap. The dial beneath, however, is large enough with sufficiently precise click stops to function as a dialing turret. It's numbered in increments of five from 0-45 with five more clicks completing the revolution. Beyond there, the turret moves another 44 clicks (if the reticle is mechanically centered in the scope at the start) for a total adjustment of 9.4 mils in one direction, although GPO lists less in the specs. The dial can be set to the 0 mark without affecting adjustment by pulling it up so it turns freely.
During testing I cranked the elevation and windage turrets through their complete ranges several times, carefully watching the reticle movement over a grid of 4-inch squares. It appeared to move as advertised and returned precisely to zero every time.
The Passion 6X is designed for dialing with the advantage of protecting the turret beneath the cap. Makes sense, but for serious dialing, I'd like larger or bolder mil markings on the turrets. Inscriptions for dialing directions atop each dial are tiny and difficult to read, although that might be as much a product of older eyes as text size. The German No. 4 reticle is the only one offered, which correlates nicely with dialing for long-range corrections, but I'd like to see a BDC reticle also offered. That or the more familiar MOA system with bolder turret markings would improve the versatility of this scope.
I compared optical quality to a high-end European scope with a 1-inch tube and 44mm objective, and a mid-range Euro model with a 1-inch tube and 50mm objective. The Passion 6X matched the amazing edge-to-edge sharpness of the higher-end scope that had an MSRP of about $400 more. It bested the other with an MSRP of about $200 less. In overall optical quality it fell between the two but closer to the more expensive model. Honestly, I could hardly tell the difference, thanks to anti-reflection coatings called GPObright. A "Double HD" lens (two extra-low-dispersion glass elements laminated to make a single lens) reduces color fringing to naught but a bad memory. Flare control when looking directly toward the setting sun was excellent, and dark targets in deep shadow showed clearly against the reticle, illuminated or not. At first light the reticle, regardless of its illumination setting, was clearly visible against the dark underside of a rock outcropping. GPO claims 91 percent light transmission through this unit, and I don't think it's embellishing.
The scope is guaranteed waterproof, fogproof and dustproof, and it's backed by what the company calls its Spectacular Lifetime Warranty. Essentially, GPO promises to repair or replace your scope at no charge, forever, no matter how long you've had it or where you got it. Loss, theft, deliberate damage and intentional misuse are exceptions, of course. Don't drive tent stakes with it and expect a new scope. Other than that restriction, I think you'll be in the driver's seat with the new GPO Passion 6X.
Technical Specifications
•Type: variable-power riflescope
•Magnification: 1X-6X, 2.5X-15X (tested)
•Objective Lens Diameter: 24mm, 50mm (tested), 56mm
•Eye Relief: 3.74"
•Exit Pupil: 20mm (2.5X), 3.3mm (15X)
•Field of View @ 100 Yds: 44' (2.5X), 7.6' (15X)
•Reticle: second focal plane; German No. 4 w/iControl illumination
•Adjustments: 145cm @ 100m in 1cm increments
•Coatings: fully multi-coated; GPObright anti-reflective, Passiondrop hydrophobic
•Dimensions: tube diameter 30mm; length 15"; weight 24.7 ozs.
•Construction: one-piece anodized aluminum tube; laminated extra-low-dispersion glass objective lens; nitrogen-filled; waterproof, fog-proof, shockproof; side-mounted parallax adjustment and illumination control
•Accessories: flip-up objective lens cover, CR2032 battery
•MSRP: $1,249.99