by
posted on September 21, 2021
Support NRA American Hunter
DONATE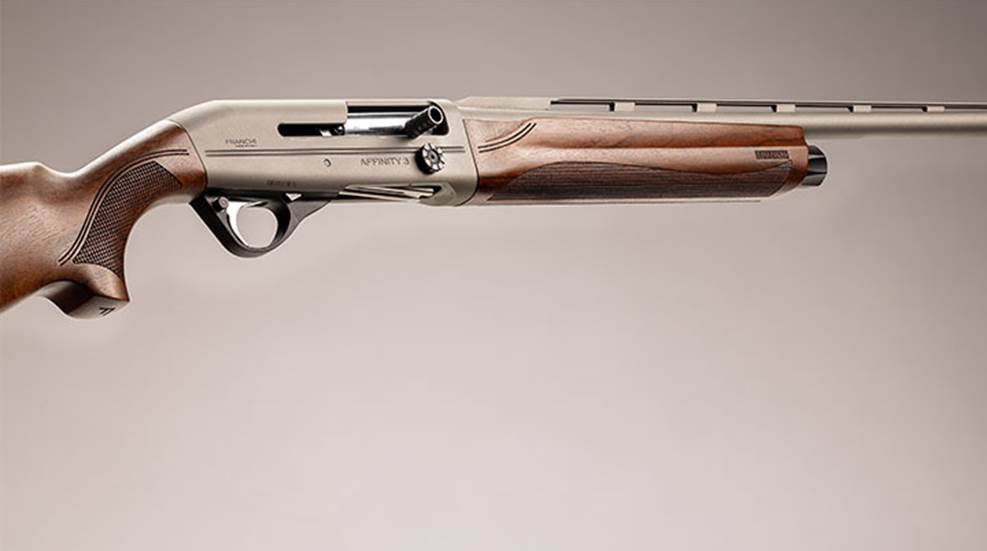 I usually know if I'll like an upland shotgun in the first minute or two. If the gun feels alive in my hands, fits well and just seems to possess a soul, I like it. If the gun feels dead, clubby or lazy, I don't.
Much of that judgment stems from fit, balance and "feel." A gun that feels alive has all those traits lined up just so. For upland hunting it can make a huge difference in how well you shoot, first because a lively gun is on target faster, but more because you believe in the shotgun.


Wingshooting is cerebral, and believing in the shotgun is half the battle. It took me about 30 seconds to "believe" in this new Franchi Affinity 3 Elite Upland shotgun. For my evaluation I chose a 20-gauge, of course. Back in my formative years I carried a 12-gauge for upland because I wanted all the shot I could get in the air, and nobody made a good 10-gauge upland gun. As I grew as a hunter and progressed as a shotgun shooter, I discovered the folly in that approach. Once I started using smaller-gauge shotguns that are lighter and livelier—guns I believed in—I started to hit more birds. I have run the table on shotguns over the years and have used everything from a 10-gauge to the .410-bore. I still love to experiment, but for most of my upland hunting, woodcock, ruffed grouse and rabbits, I have come to believe the 20-gauge is the best fit. My grandfather told me that 50-some-odd years ago, but I had to learn the hard way.
At just 6 pounds, this Franchi shotgun is light. With the trim design it is lively. The slim pistol grip and slim fore-end fit well in my hands. The balance point is 5¾ inches forward of the trigger, which makes the gun slightly front heavy. All these factors are part of the matrix that is the "feel" of the shotgun, and this is one of the best "feeling" semi-autos I have hunted with.
Franchi is a sister company of Benelli and shares the Inertia Driven technology developed and perfected by Benelli. Franchi recommends a minimum load of ⅞ ounce and 1200 fps for reliable operation out of the Affinity 3 Elite Upland. That's a common load for hunting and target shooting, and I shot over a hundred of them without a problem. I also shot a bunch of 1-ounce hunting loads. The lightest loads I had on hand were 2¾-inch, ¾ ounce, 1275 fps, and the Franchi digested those without a burp. At the other end of the spectrum I shot some of the new Federal Bismuth 3-inch magnum ammo with 1⅛ ounces of shot at 1350 fps. (You read that right, Bismuth is back!) That's a pretty wide range of ammo, and the gun ran it all perfectly. I expected nothing less after years of experience with Franchi inertia-operated shotguns.
As an inertia gun, everything goes out the barrel, rather than bleeding off debris-filled gas to operate the system like a gas gun. That keeps the operating system free from gunk and junk build-up, so the shotgun will run a long time between deep cleanings. I'll also note that inertia-driven shotguns seem to soak up a little of the felt recoil as the recoil energy is bled off to operate the action. Combined with a thick TSA recoil pad, this gun is easy on the shoulder in spite of its light weight. The recoil pads are offered in multiple thicknesses to adjust the length of pull (LOP). On my shotgun, LOP is 14⅜ inches. It fits me fine as do most "average" dimensioned shotguns.
My only disappointment in the Affinity 3 Elite Upland is the A-grade satin walnut stock. On my test model, the wood is rather straight-grained and plain, with a drab finish. The checkering is cut into cubes rather than diamonds. It grips fine, but looks a bit odd to the American eye. Of course this is an Italian shotgun and we should expect Italian styling. The Franchi name is cut into the sides of the fore-end and a large capital "F" is cut into the grip cap. There are stylish double-lined swoops on the grip and the fore-end. It is a very good-looking shotgun in an exotic sort of way.
The stock is adjustable by swapping out the shim between the stock and the action, and the guns ships with five shims. The front-end cap has an attachment for a sling swivel, but there is not an attachment in the back. There is a rubber plug that may or may not be removable for installing a rear swivel stud. Opinions vary, and I don't like to pry.
The action and 26-inch barrel are coated with Gun Metal Gray Cerakote, which I like. Does that contradict me on style for not lamenting the lack of a deep blue finish? I suppose so, but my tastes are complicated and I like the overall look of this shotgun. Cerakote also provides a level of protection for the metal.
The action is drilled and tapped for mounting an optic. There is a vent rib on the barrel that starts at .320 inch high and tapers to .165 inch at the muzzle. The front is fitted with a large TruGlo dual-color, fiber-optic front-bar sight, with an orange center and green outer band.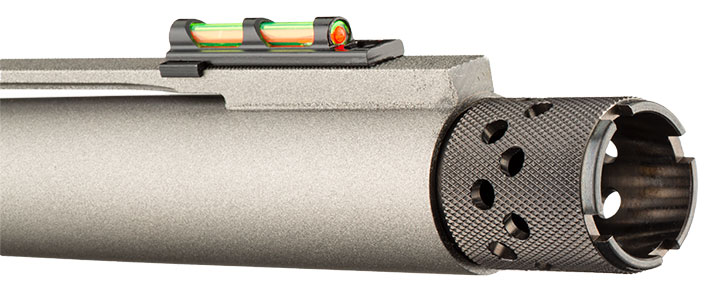 The barrel is threaded for screw-in chokes and comes with three ported Trulock extended choke tubes; Close-Range .615-inch (cylinder), Mid-Range .611-inch (SK2), and Long-Range .596-inch (full). A choke wrench is included.
We are seeing more and more crossover to hunting guns from the tactical and competition side. That is apparent in this shotgun with the oversize bolt handle and bolt release often seen in tactical shotguns and some sporting clays guns. It's said they make the gun more easily operated with gloves. I'm not sure I like them on a hunting gun, but I'm not sure I hate them either. From a pragmatic, operational point of view, they are an improvement. The safety is a cross-bolt behind the trigger.
I have to say, anybody looking for a semi-auto upland hunting gun would do well to look at this Franchi. I shot a lot of clay birds with this shotgun during the COVID-19 lockdown, and I carried it a few days in the upland woods last fall. I expect by the time you read this, I'll have spent time carrying this shotgun over the winter in the company of beagles, chasing snowshoe hares. The truth is, I have come to believe in it implicitly. 
Technical Specifications
• Type: semi-auto, inertia-operated shotgun
• Gauge/Chamber: 12/3"; 20/3" (tested)
• Capacity: 4 rnds.
• Barrel: 26"; vent rib, interchangeable choke tubes
• Trigger: 4 lb. pull weight
• Sights: TruGlo dual-color fiber-optic front pipe; drilled and tapped for optics bases
• Safety: cross-bolt
• Stock: A-grade walnut; satin finish; 14⅜" length of pull; adjustable drop at heel 2-2½"; drop at comb 1½"
• Metal Finish: Gun Metal Gray Cerakote
• Overall Length: 48"
• Weight: 6 lbs.
• Accessories: 3 Trulock choke tubes (close-range, mid-range, long-range); choke tube wrench; Omni Stock shim kit
• MSRP: $1,249; franchiusa.com