by
posted on October 5, 2020
Support NRA American Hunter
DONATE
If pretty is as pretty does, the ugly CZ Upland Ultralight All-Terrain 12-Gauge is quite lovely. Just keep your eye on the birds, not the gun.


If the above analysis of this shotgun's beauty is confusing, blame the confluence of tradition and novelty. Traditionally over/under shotguns have leaned heavily on figured walnut, fine-line checkering, polished and deeply blued barrels, varying degrees of metal engraving and often a touch of gold inlay. This has made them a wish list drool item, but at a premium price aimed straight at gentleman upland hunters who see themselves as engaging in something more akin to a religious experience than meat hunting.
I might be overstating this, but I don't think so. Rough and tumble shotguns sell to hard-core meat hunters who expect to step in the mud. They want shotguns to be utilitarian and "waterproof." They don't mind black or camo finishes so much as functional durability. Think pumps and autoloaders. On the other hand, double-barrels sell to romantic hunters who imagine themselves strolling effortlessly through golden woods and grasslands where plume-tailed setters pose haughtily with their snoots pinning royal grouse and regal pheasant for the flush.
So what to make of this CZ Upland Ultralight All-Terrain 12-Gauge? It has the walnut stock and clean lines of a classic over/under, but a jarring, discordant, O.D. green Cerakote finish on the barrels and receiver. It's as if a World War II Jeep mated with a Ferrari. What sort of hybrid is this?
Well, an All-Terrain hybrid, according to CZ—and an inexpensive one, at that. This Ultralight 12-Gauge sells for well under $1,000. CZ seems to be targeting a pragmatic hunter, someone happy to combine the warmth and functional durability of walnut with the pragmatic, knockabout, rust-proof utility of a Cerakote finish. That makes perfect sense for a serious, hard-driving upland hunter busting brush in the grouse woods. This over/under is perfect for the men and women ripping pants in desert quail brush, abrading chaps in the rasping prairie grouse grasslands or sloshing mud in Dakota's bulrush pheasant sloughs. The CZ All-Terrain combines the quick-handling, smooth-swinging performance of an over/under with the durability and function of the best waterfowling autos.
The look will take some getting used to, but I like the philosophy. Question is, has CZ pulled it off?
Let's go to the tale of the tape. An aluminum receiver with steel hinge pins and action bar trims total gun weight to just 6 pounds, 5 ounces. This balances an inch-and-a-half in front of the hinge pins for just the right muzzle-forward feel that helps swing momentum. An open radius pistol grip accommodates variable hand sizes. The fore-end has relatively narrow, checkered panels, but long finger grooves that provide excellent grip and control. Small panels on the fore-end and pistol grip are 18-line checkered precisely with clean borders. The diamonds are flat-topped, but provide reasonable grip without the rasp of sharply tipped diamonds.
Gun weight might be too light to justify its 3-inch chambers, especially when you realize the recoil pad is really just a hard rubber buttpad. It has a hollow, flexing center about three-quarters of an inch wide by 2¼ inches high, but all the edges are hard. The polished, slick plastic heel facilitates a smooth shoulder mount without catching clothing, but I think today's average shooter would appreciate more padding over the rest of the butt. That said, this is an upland gun, and most upland hunters have evolved away from baby magnums toward 1- to 1⅛-ounce loads in 12-gauge. With the right muzzle velocity and good quality shot, especially steel shot, these pattern better than some harder-kicking 1¼- and 1⅜-ounce loads. Yes, a 1-ounce charge is a 20-gauge load, but in a 12-gauge there's an advantage: the wider bore funnels larger pellets more efficiently. Number 4 or No. 3 steel pellets are required to approximate the downrange performance of No. 6 chilled lead. The .729-inch bore of a 12 will handle these more efficiently than any smaller gauge.
The barrels on our test gun are 28 inches long, the perfect compromise between snap-shooting portability and follow-through swing. An 8mm-wide, ventilated rib leaves a distraction-free sighting plane that should dissipate any barrel heating and subsequent mirage, not that you're likely to build any while upland hunting.
Length of pull on this CZ is 14.5 inches. That feels about perfect to me, but I'm no NBA center. The 1.5-inch drop at comb and 2.25-inch drop at heel put my eye right where it needs to be for a slightly high point-of-aim, just what I want for rising birds.
There is no mid-rib on this gun. This reduces cost, weight and wind planing. There are also sling attachment studs, one on the under barrel, which is the proper place on a shotgun, and one on the bottom of the butt. At first I thought these were silly, but then I recalled some 12-mile days prospecting for prairie grouse and pheasant, and some grueling climbs for Hells Canyon chukar where two hands are sometimes needed for negotiating cliffs. Yes, a quick-detach sling can be useful on an upland gun.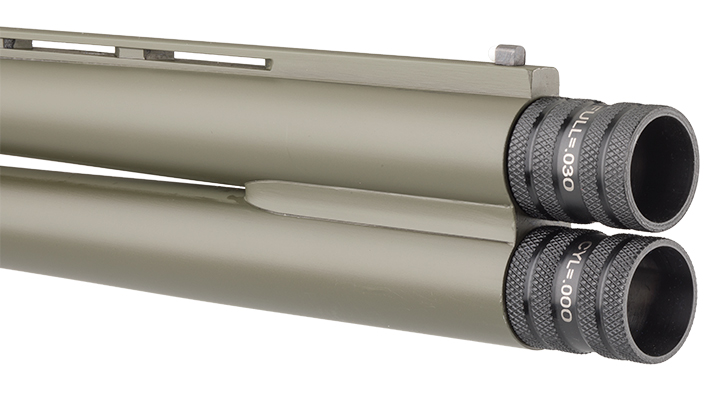 Like most shotguns these days, the Upland Ultralight All-Terrain has screw chokes. These are the extended type. I don't care for the look, but I like the clearly visible choke constrictions printed on the tubes. Knurled rings make changing chokes convenient and easy. The gun ships with two chokes, improved cylinder .010 inch and improved modified .025 inch.
I've saved some meat and a treat for last. This CZ gun has a single trigger, but it is mechanical. No inertia is required to set the second firing pin, so if your first barrel fails to fire, the trigger will work to set off the second. The tang-mounted safety with barrel selector switch in its center is manual, too, so no distracting automatic reset. Finally, this is an extractor system, not ejector. I prefer this because it's easier to police one's hulls if they don't fly over your shoulder and into the grass. Just pluck and pocket. But there's more! The extractor includes rare-earth magnets strong enough to hold fully loaded shells in the chamber with the action open. No more dropping shells when you cross fences or interact with the dog while your gun is safely broken. Brass is not magnetic, but the neodymium rare earth magnet creates an electrical field sufficient to hold brass-headed shells.
There you have it. One odd, hybrid over/under that actually makes sense for serious, hard-nosed upland hunters. Should work fine for decoyed, early-season ducks, too. Wood-to-metal fit is much better than I'd expect on a sub-$1,000 gun and so is balance and responsiveness. 
Technical Specifications
• Type: over/under shotgun
• Chambering: 12, 3"
• Barrel: 28", ventilated rib, no center rib
• Trigger: single selectable
• Sights: front bead
• Safety: manual, tang mounted, barrel selector switch in center
• Stock: Turkish walnut, pistol grip, minimal figure, satin finish; 14.5" LOP; 1.5" drop at comb; 2.25" drop at heel
• Metal Finish: Cerakote OD Green
• Overall Length: 47.5"
• Weight: 6.3 lbs.
• Accessories: two extended choke tubes (IC, IM)
• MSRP: $890; cz-usa.com