by
posted on November 15, 2021
Support NRA American Hunter
DONATE
For some folks, the sight of a scoped bolt-action rifle or elegant over/under shotgun instantly makes them think of hunting. For me, the glimpse of a long-barreled big-bore revolver does the same thing. In the case of Colt's new stainless steel Anaconda with an 8-inch barrel, visions of big-game animals immediately popped into my mind. Knowing the Anaconda is chambered in .44 Magnum, and seeing the overall size of the new revolver up close, made me focus on the largest of the animals I've hunted. This is clearly a handgun and caliber one could use worldwide on any land animal.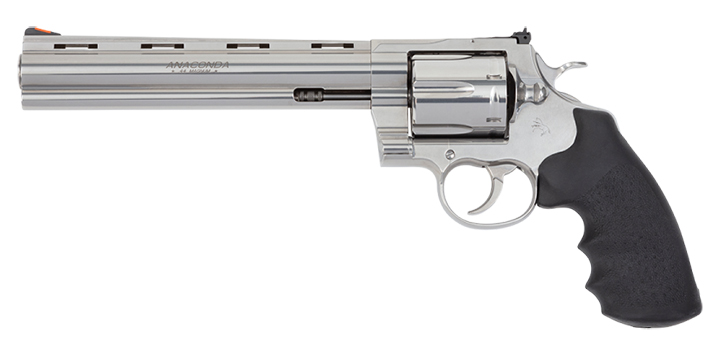 Yes, the Anaconda does remind you of its smaller relative, the new Python, with its world-famous ventilated rib, full-length lug and highly polished stainless-steel finish. A little closer look reveals the fully adjustable rear sight, wide hammer spur, open-back rubber Hogue grips, replaceable front sight with orange insert, and a top strap already drilled and tapped to facilitate the mounting of optics. All these features have a purpose, some more useful than others.
The ventilated rib is simply branding; it screams "Colt" to anyone who knows anything about revolvers. Regular snakes have scales; large Colt "reptiles" have ventilated ribs! Case closed.
As a handgun hunter I might categorize the bright stainless-steel finish as unnecessary, but since the Anaconda isn't being offered with the Python's original blue finish, why not go high polish? When not hunting, the Anaconda's size and quality of fit and finish qualify it as a coffee table gun suitable for proud display to your shooting buddies. Perhaps of equal satisfaction would be the pleasure derived in flaunting the gun in front of envious friends!
The full-length lug does offer serious value in this kind of gun not just by adding weight to absorb recoil, but by adding a couple ounces where they will do the most good: up front at the muzzle. Compared to other .44 Magnum revolvers, the Anaconda's cylinder also provides additional weight by virtue of being .2 inch longer and slightly larger in diameter. The cylinder's extra length can prove extremely helpful when using ammo with heavyweight bullets, the kind most useful for hunting large critters with big bones and thick skin. The wide hammer spur with serrations on its top surface makes it easier to manipulate the hammer when preparing for a first single-action shot or returning the hammer to rest when the shot doesn't materialize and you need to continue the stalk. This is particularly true when hunting in inclement weather or wearing gloves.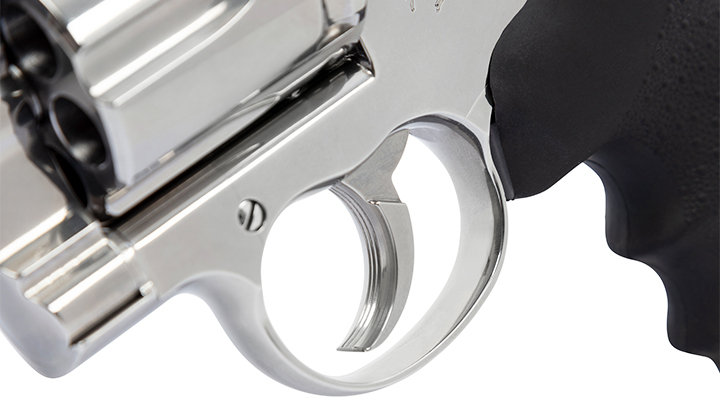 For big-bore handguns, I'm a big fan of open-back, rubber Hogue grip panels with finger grooves. The grooves help me maintain a grip that both "tames" recoil and allows quicker recovery for a second shot. The rubber panels aren't soft enough to effectively dampen felt recoil, but the their dimpled surface does help maintain your shooting hand's grip. I have rather short fingers, so by being thin and not covering the frame's backstrap, the panels assist me in reaching the trigger and allow me to exert more control during trigger press regardless of whether I'm firing single or double action.
If you're not planning to mount some optics on your Anaconda, the factory drilled and tapped top strap may not thrill you much. I was a dedicated iron sight guy in my youth, but fading vision brought me around to accepting and using optics on handguns. Colt didn't stop thinking about maximizing the Anaconda's visual capabilities with just drilling and tapping. The big snake's iron sights have some serious upgrades built in. The front sight blade has an orange insert for increased visibility, especially in reduced light conditions. Don't like orange? Remove and replace the blade. There's an additional advantage to the replaceable front blade you may not need unless you change ammo to a specialty load that is outside the adjustment range of your rear sight. Insert a taller or shorter front sight blade as necessary to bring the rear sight's adjustment range back into play. The adjustable rear sight has three unique features for a factory revolver. First, there is a set screw that must be loosened before (and tightened after) adjusting the location of the blade for windage. Second, the blade is dovetail-mounted in the housing of the rear sight base. Once it's adjusted and locked in place by the set screw, it's set! Third, there are three detents on the rear sight housing and one on the base of the moveable blade that will help you return to a previous setting.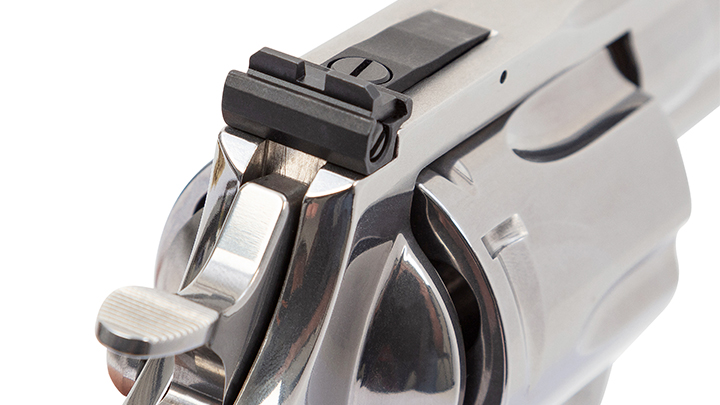 Not immediately visible but at least as important as any other feature on the new Colt is the use of the "V" style mainspring offered in the smaller Python rather than the old coil spring system used in the original Anaconda. The Python always had (and still has) a reputation for a smooth double-action trigger. The new Anacondas share that capability with double-action pull weights that progress smoothly throughout the trigger's total travel distance from application of initial pressure to less than 10 pounds when the gun fires. An educated trigger finger can easily stage the trigger pull so the hammer pauses just before the trigger breaks and the hammer falls. This pause allows you to verify a precise sight picture just prior to applying the last bit of pressure to the trigger. It's not quite as precise as firing single action, but when a quick follow-up shot is desired on a wounded animal, it's almost as good. It's far better than double action shooting the original Anacondas.
Earlier I mentioned the hunting memories generated by a first glance at the new Anaconda. The most moving and vivid memory wasn't about big game but rather my first successful javelina handgun hunt in Arizona some four decades ago. I was carrying an early 8-inch-barreled Python—the first 8-inch revolver I ever owned with a full-length lug—and I dropped a mature pig with one shot. What made that hunt special was that I had failed in taking a javelina the previous four seasons. Despite the obvious visible differences between the new Anaconda and the old Python, it was the memory of a successful hunt with a look-alike Colt revolver that made the moment so vivid. I think the new Anaconda and I will have to venture forth in search of a bigger pig!


Technical Specifications
• Type: double-action revolver
• Caliber: .44 Mag.
• Cylinder Capacity: 6 rnds.
• Barrel: 6", 8" (tested); stainless steel; 1:15" LH twist; ventilated rib
• Trigger Pull Weight: 6 lbs. (SA), 9 lbs. (DA)
• Sights: red ramp front, adjustable rear
• Grip/Stocks: Hogue rubber grips
• Metal Finish: polished stainless steel
• Overall Length: 15"
• Weight: 3 lbs., 11 ozs.
• MSRP: $1,499; colt.com