by
posted on July 4, 2018
Support NRA American Hunter
DONATE
The names manufacturers assign to new products sometimes make consumers scratch their heads. The Chevy Nova was a no-go in Latin America because Spanish-speaking consumers translated the car's name, literally, to "no go." On the other hand, a name has the capacity to inspire consumers. Bushnell is betting on the latter with three new lines of sport optics: Prime, Nitro and Forge.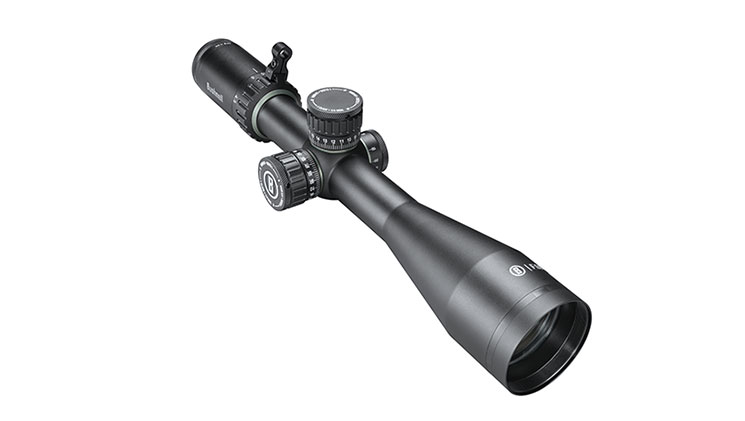 The company introduced the new members of its family at the 147th NRA Annual Meetings & Exhibits in Dallas in early May. From the entry-level Prime to the mid-priced Nitro to the top-shelf Forge, each line delivers revamped features, benefits and performance for which Bushnell is famous. Each includes riflescopes, binoculars, spotting scopes and laser rangefinders. Forge includes 21 riflescopes, four binoculars and three spotters. (Forge laser rangefinders will be added soon.)
I was part of a press junket that hunted New Zealand's South Island in February for chamois, tahr and red stag. When I was briefed on the new optics, I zeroed in on Forge riflescopes with 30mm main tubes and 6X zoom, and picked a 4.5X-27X-50mm unit with Bushnell's Deploy MOA reticle to mount on a Savage Accufit rifle chambered in .30-06 Sprg. I carried a Forge 8x42 binocular, too. Both units functioned marvelously. More importantly, both proved unbelievably durable.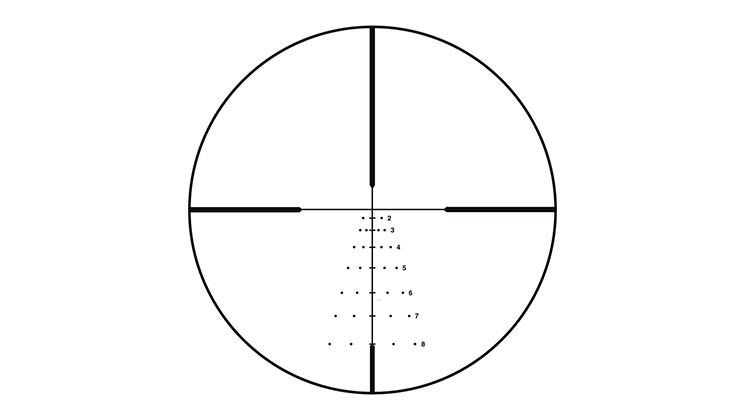 I like the Deploy MOA reticle because it "speaks" in minutes of angle. Its view isn't particularly cluttered, and as it's mounted in the second focal plane I can intuitively figure out holds for 200 and 300 yards and greater distances. I limited my testing to 300 yards, which is enough to say the reticle works splendidly out to the distance. My first shot on the first day of the hunt was 319 yards, and my hold for elevation was spot on. I needed to send a follow-up, mind you, but that was due to the nut behind the trigger—not the scope. In fact three of us shot three chamois bucks simultaneously, with equally successful results. None of us could complain about optical performance.
But we could have complained about the hike that came next. We'd left our gear in a spike camp not far away. Trouble was the terrain dominated. From 4,000 feet, we climbed off the face where we shot the chamois then hiked down a valley along a stream until stream and hillsides squeezed into a brush-choked gorge. Then we side-hilled through vegetation that literally stripped my pack from my body numerous times, bouncing off rocks, slip-sliding 20 yards at a time. It took us six hours to hike a mere 5.5 miles that felt like 20. We staggered into camp, beat to hell. Our gear was beat to hell, too.
Then three days later I used the same scope (untouched) to kill a bull tahr at 220 yards. I checked the distance then used the 200-yard stadia line: point of aim equaled point of impact. One shot proved all that bumping, falling, sliding and cursing did nothing to diminish the performance of the Forge scope.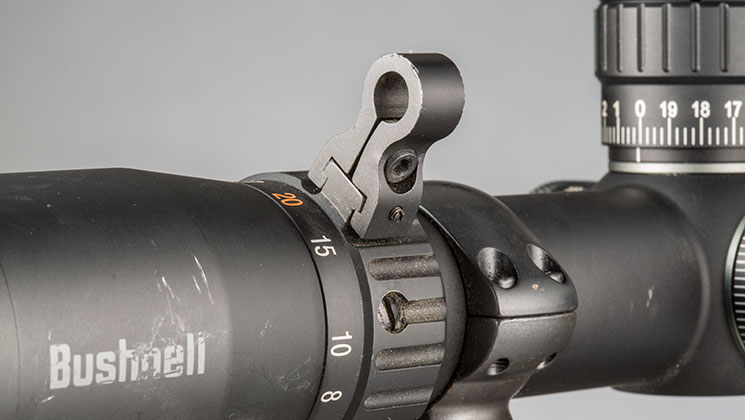 All units in all the new lines are built in China. Product design and quality control is managed in the States by Bushnell personnel in Overland Park, Kan. Twenty-one Forge riflescopes are available in three basic bodies: 2.5X-15X-50mm, 3X-18X-50mm and 4.5X-27X-50mm. Seven of each are available with four different reticles located in the first or second focal plane: Deploy MOA, Deploy Mil FFP, DOA LR600 and DOA LR800. As the names imply, each reticle provides bullet drop compensation.
The scopes are built with 30mm aluminum main tubes. All measure between 13.8-14.4 inches long. All weigh between 26.9-29.3 ounces. I didn't really need a 27X scope, but since any 2.5X-15X unit is only two-tenths of an inch shorter and an ounce lighter, I used a 4.5X-27X-50mm. That kind of zoom will help a rifleman do just about anything he may want with a centerfire rifle.
Truthfully, I may crank up to 27X only on a range; in the field, I don't trust myself to remember to adjust for parallax. Forge scopes include a side parallax knob; you don't need to pull your head from the scope to make an adjustment. That's convenient. Also convenient are locking turrets, a magnification throw lever and Bushnell's Z-Lok zero stop: exposed, locking turrets that allow users to zero for a given distance, dial up for elevation then return to zero without thinking.
Glass coatings are numerous. For starters, every glass surface is fully multi-coated. Bushnell's Ultra-Wide Band coating, says the company, renders true colors in every lighting condition. Additionally, all Forge scopes include a brand-new coating Bushnell calls Exo Barrier that resists water, fog, smudges and debris. Hunters who like Bushnell's Rain Guard coating will note this is a step up: Exo Barrier is a nano-coating on exterior glass surfaces that fills every microscopic pore of the glass to repel water and debris that would otherwise block our view. All units also include Butler Creek flip-up scope covers and a 2.5-inch sun shade.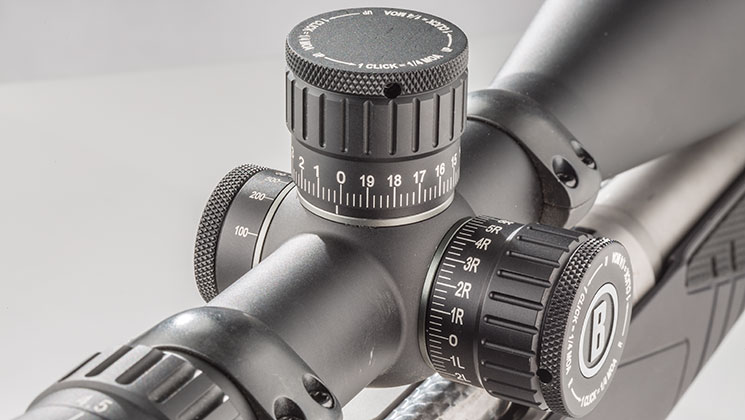 I counted just 147 clicks when I bottomed out the knobs of my scope on the range before zeroing the rifle. I could have missed a few, of course, but that seemed a bit meager; I've counted as many as 300 in other 30mm scopes. However, a check of the specs highlights 60 MOA of adjustment; 20 MOA of adjustment lie in every revolution of the turrets. That's plenty of room, as reinforced by Bushnell product manager Matt Rice.
"The determination for erector travel relies on the focal length difference between low and high magnification," he said. "You used the 4.5X-27X; with 6X magnification the difference between focal lengths is large. The specs for this scope include 20 MOA in any direction from center. When mentioning click value, it's less about MOA/click and more about the total travel in MOA or mil."
I would like to see smaller units but that's clearly not going to happen. The trend these days is more magnification, which adds length and weight. I'd admonish every hunter who likes magnification to remember how it affects exit pupil, the size of the circle of light that actually reaches our eye behind the ocular lens. Divide the 50mm objective lens of this scope by 27X: a stream of light only 1.85mm in diameter will shine through, hardly enough to line up a shot on a bull at dusk. Crank down to 8X and you'll note a decent amount of light coming through a 6.25mm pinhole. Either way, it's true the Forge 4.5X-27X-50mm delivers. A rifleman just needs to understand his surroundings and his hardware.
Regardless, note the hardware displayed on this page is the very riflescope I used in New Zealand. Normally we display nice, new, clean products, but this time we thought the dings and scratches helped proved my point. The marks may not look like much, but they are testament to me that the Forge riflescope took a licking and kept on ticking. Indeed it's safe to say I subjected the brand-new scope (and a binocular) to what many hunters would consider a life of duty in just one day. If a name conjures durability, Forge is it.
Technical Specifications
• Type: variable-power riflescope
• Magnification: 4.5X-27X
• Objective Lens Diameter: 50mm
• Eye Relief: 4″
• Exit Pupil: E11.1mm @ 4X, 1.85mm @ 27X
• Field of View @ 100 Yds: 22.5′ (4X), 4′ (27X)
• Reticle: Deploy MOA SFP (tested); Deploy MOA FFP; Deploy Mil FFP; DOA LR600 SFP; DOA LR800 SFP
• Adjustments: 60 MOA in .25 MOA increments
• Coatings: fully multi-coated; Ultra Wide Band; Exo Barrier
• Dimensions: tube diameter 30mm; length 14″; weight 27.9 ozs.
• Construction: one-piece anodized aluminum tube; shock-, smudge-, water-, fogproof; locking turrets; Z-Lok stop; throw lever
• Accessories: Butler Creek scope covers, sun shade
• MSRP: $849.99; bushnell.com