by
posted on November 18, 2017
Support NRA American Hunter
DONATE
Last month I bumped into a neighbor who asked me what shotgun she should buy her son, who had joined his high school's skeet team. I soon learned her son is a hunter, and before asking about her budget I reassured her that buying a shotgun is an investment—something that would retain its value should she sell it later. She said she was prepared to spend up to a couple grand. Lucky kid.
"Buy a Browning Citori CXS," I said. "I've heard of the Citori," she replied. "My father has one. But why that model?"
"It's a blend between a hunting and a target gun, and it's all the shotgun your son will need until he makes the Olympics and gets sponsored by Krieghoff," I said. "And if he doesn't, he can still use it hunting for the rest of his life." "How much is a Krieghoff?" she asked. "Fifteen to 50 grand," I said. She raised her eyebrows and said, "Tell me more about the Citori." So I did.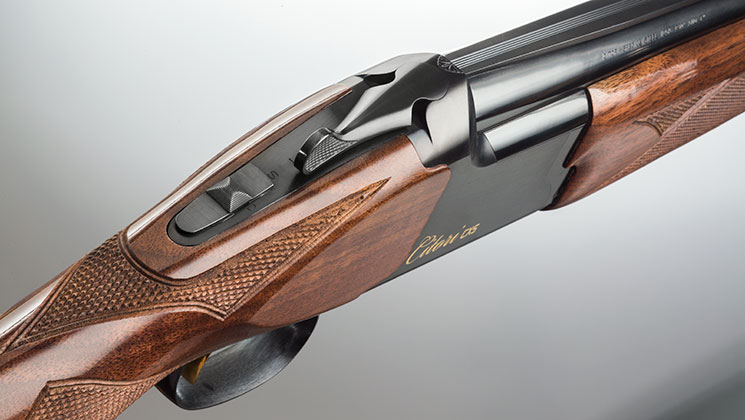 Of course you're familiar with Browning's venerable over/under introduced in 1973 as a more affordable option to its Superposed. About of 70 different Citori versions have been sold since then. Some of them are strictly for trap, while lightweight versions are intended to be carried all day behind a bird dog.
Recognizing that most folks, especially younger shooters, don't have the means to buy multiple shotguns, Browning produced a shotgun called the CX, which stood for "crossover." The idea was the gun would be suited primarily for one task but could be used for others as well, so people could buy one quality over/under and use it for everything.
In 2017 Browning introduced line extensions to the CX: the CXT primarily for trap, and the CXS for skeet and sporting clays but also suited for hunting. The CXS does away with the CX's barrel porting—something few hunters want—and is available with 28-, 30- or 32-inch barrels.
Browning claims the CSX's barrels are regulated for a 50/50 pattern distribution. Generally I think of this to mean that if you aim dead center at a bullseye, the pattern will impact all around the aiming point in an even distribution. Many target shooters (and even hunters) prefer a 60/40 distribution so that the target, whether it be clay or feathered, will not be covered by the bead as the shot is fired. Trap shooters sometimes prefer a 70/30 pattern because trap targets are always shot on the rise. I found, however, that the CXS' pattern was in line with typical target guns with about a 55/45 distribution. When I asked a Browning rep about this, he told me the company's definition of 50/50 point of impact means the shooter should take a 6 o'clock hold and expect the pattern's center to print in the middle of the bullseye. Browning calls it a "flat" pattern, but if you point the gun at the bottom of a clay so it's not covered by the front bead, you'll dead-center it. I believe this is ideal for the majority of clay targets and wingshooting.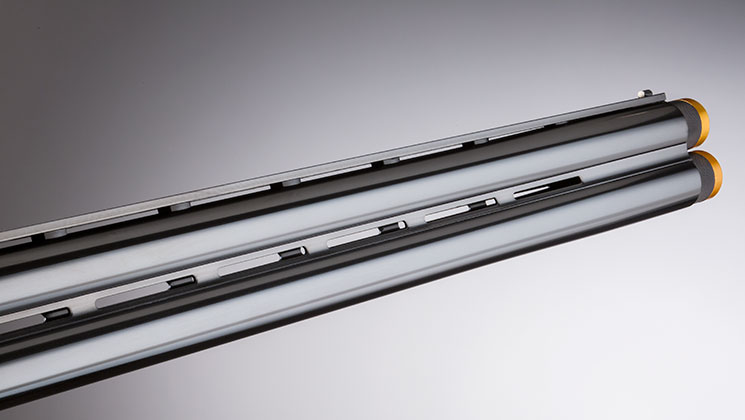 Make no mistake, the CXS isn't a lightweight. With a steel receiver and 30-inch vent-rib barrels it weighs almost 8 pounds. You'll appreciate that weight if you intend to use it mostly for target shooting. I'd much rather carry a heavier gun hunting a few times than routinely shoot a lighter gun for clays. Fact is, success is easier on clays with a heavier gun that has 28-inch or longer barrels. (Most competitive clays shooters want 32 inches.) Slow, smooth barrel movements are better for target shooting than herky-jerky, reactive movements that are often more necessary when hunting birds.
Also realize recoil mitigation is perhaps the biggest factor when considering a shotgun for a new shooter, especially one who plans to compete. Most newbies can't shoot a 6.5-pound break-action gun for more than about 50 rounds straight without developing bad habits caused by pain. Academically, the CXS' extra pound and a half is the difference of roughly 5 ft.-lbs. of recoil energy with each shot. That's huge. But while the CXS might be on the heavy side for upland hunting, with its 3-inch chambers and 1-inch Inflex recoil pad, it's right at home in a duck blind where hunters don't walk all day and flight paths are more predictable.
The CXS utilizes Citori's acclaimed boxlock action that "wears in, not out." That's not marketing hype. As the metal of the action's hinges wears slightly, the tapered thumb lever seats deeper into it, thereby keeping the gun's lockup just as tight as it was when it was hand-fitted via lampblack and file at the factory. It's an ingenious system that fine shotgun makers, including CXS manufacturer Miroku, have employed for years. Quite frankly, as I told my neighbor, her funds for ammo will wear out long before the shotgun does.
The CXS wears glossy, Grade II American black walnut furniture that exudes class. The Schnabel-style fore-end and pistol grip feature 18-lines-per-inch checkering. All external metal, except the gold-colored trigger and "Citori CXS" receiver inlay, has a polished blued finish.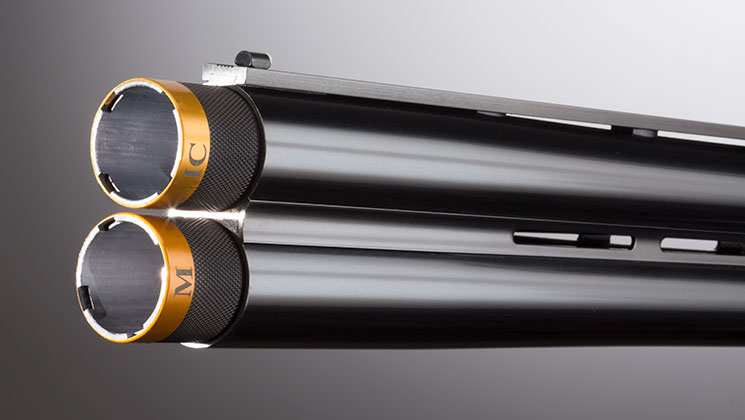 Internally, the CXS owns features that have helped make the Citori one of the most popular over/unders ever. First, its barrels feature Browning's Vector Pro lengthened forcing cones that smooth the pellets' transition into restriction so they deform less and produce more uniform patterns. Second, Browning's extended Invector-Plus choke tubes are proven to deliver patterns to specification. (I just wish the CXS came with five choke tubes rather than only three. I told my neighbor she could expect to purchase a few more tubes.) Third, Citori hammers have a dual cocking system. The gun's trigger is considered an inertial design; it utilizes force from the recoil of the first shot to cock the other chamber's hammer. However, if the first shell fails to fire, the shooter needn't open the gun to re-cock the hammer. Rather, simply thumb the manual, single selective safety back then forward to cock the hammer of the second barrel. It's brilliant.
The CXS features Browning's Triple Trigger system wherein the gun's wide, checkered trigger shoe is adjustable over three positions to fine-tune length of pull. Other shoes are available for a custom feel. Finally, the CXS comes with snap caps that also serve as chamber locks via an Allen-type tool that prevents their removal.
I fired several hundred rounds from the CXS and was most impressed. Like all Citoris before, it's a serious shotgun with top-end performance characteristics. No one would be at a disadvantage with the CXS at any tournament, high school or otherwise. It shot where I looked, allowing me to smash nearly every target I attempted, all the while exhibiting little felt recoil thanks to its heft. What's more, it's a thing of beauty and an heirloom that will last generations even after copious medals—and ducks—are reaped afield. That kid owes me big-time.
Technical Specifications:
Type: boxlock over/under shotgun
Gauge/Chambers: 12/3″ (tested), 20/3″
Barrels: 28″, 30″ (tested), 32″
Sights: ivory mid- and front bead
Safety: tang-mounted manual w/barrel selector
Trigger: single, inertial; 4.5-lb. pull weight top barrel, 4.2-lb. bottom; Triple Trigger system w/adjustable LOP, interchangeable shoes
Stock: American black walnut w/gloss finish; LOP 14.75″; drop at heel 2.25″; drop at comb 1.5″
Metal Finish: polished blued
Overall Length: 47.5″
Weight: 7.75 lbs.
Accessories: 3 Invector-Plus Midas choke tubes (IC, M, F); choke tube wrench; snap caps/chamber locks
MSRP: $2,139.99