Support NRA American Hunter
DONATE
Lightweight camping trailers that can be stowed in a residential garage or at a minimum parked in a family driveway continue to grow in number and style. What's more, creature comforts that make camp a sanctuary from the elements continue to be packaged even lighter and thus are becoming easier to tow with a variety of vehicles. Listed here are but a handful of the many lightweight, towable models now available. Keep in mind that manufacturers continue to add/subtract models, features and benefits, and various options: It's best to visit a maker's website for the most up-to-date information.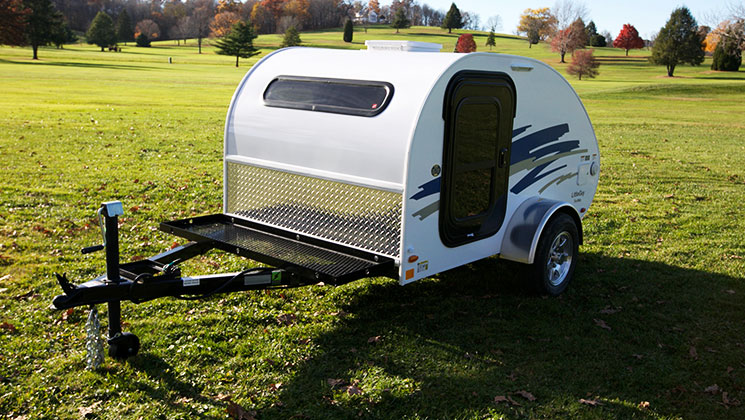 1. Go Little Guy 6-Wide
Available as a 5- and 6-foot-wide platform, Go Little Guys feature a classic teardrop shape, and are built with fiberglass panels and steel frames. Both models include locking double entry doors, a slider window and screen, and lockable rear hatches that provide access to a galley. The 5-Wide comes with 58x76-inch sleeping quarter; the 6-Wide features a sleeping area slightly larger than a queen bed. Standard equipment on both includes: 2-inch receiver; mattress; 12v/110 electric; alloy wheels; Fantastic fan; choice of exterior graphics. Available options include: Stargazer window; window shades; entertainment center; sink; stove.
MSRP: $9,611; golittleguy.com.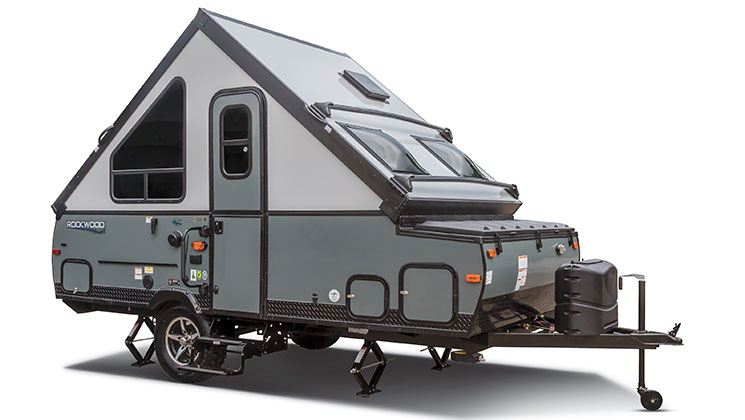 2. Forest River Rockwood Hardside Pop-up
The Rockwood Hardside pop-up is offered in two models and provides a solid-wall exterior when configured for travel and when deployed. Cargo-carrying capacity of the A122 is 1,400-plus pounds. It can sleep four adults, and is equipped with a galley, dinette and outside gas grill. The power roof assist makes setup/breakdown quick and easy. Standard features include: three-burner stovetop; microwave; 2.5-cubic-foot three-way refrigerator; residential-style kitchen faucet; USB ports; 20-gallon freshwater tank; port-a-potty; more. Available options include: 40-watt solar panel; extra-large refrigerator; more.
MSRP: $14,796; forestriverinc.com.
3. Turtleback Expedition
These multi-purpose trailers feature tube-steel chassis, and CAD-designed and CNC-cut steel and aluminum parts. They are truly built for overlanding. All Turtlebacks are built using a proprietary propane safety system on stoves. The Expedition is the flagship, and most popular. It sleeps two in its rooftop tent—or 10 with add-on sleeping areas. Standard equipment includes: full galley; 42-gallon water tank; water heater; shower; solar controller; shore charger; LED lighting; fire extinguisher; locking storage; off-road suspension; patented axle system; more. Available options include: solar panel; inverter system; custom colors; awnings; add-on rooms; tires (up to 37 inches); additional storage.
MSRP: $18,995; turtlebacktrailers.com.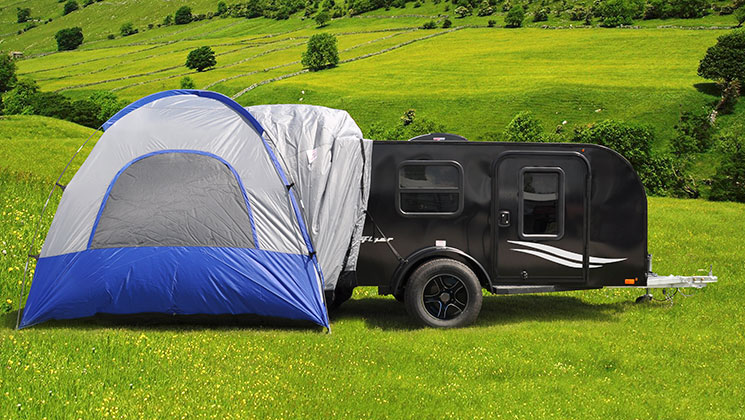 4. inTech XLT Flyer
Every inTech camper is built with a full-tube, full-perimeter aluminum frame. The XLT model doubles as a small utility trailer and weighs just 850 pounds, so you don't need a heavy-duty tow vehicle. Double rear doors provide full access to the interior, where a 4x8-foot sheet of plywood can lie flat. Standard features include: two slider windows; 12-volt power roof vent; 29x78-inch mattress; more. Available options include: 9.2K BTU roof-mount AC with heat strip; roof rack; add-a-room with rainfly; 30-amp load center; battery box; 12-volt/USB outlets; pre-wire for AC; solar panel; tinted windows.
MSRP: $6745 base; intechrv.com.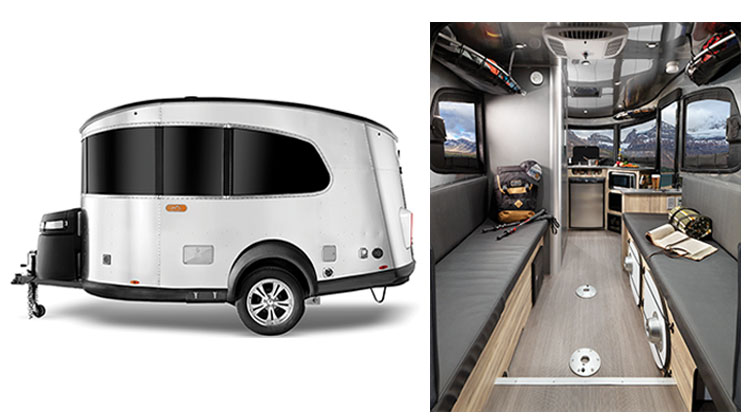 5. Airstream Basecamp
This top-of-the-line unit from legendary travel-trailer maker Airstream seats five and sleeps two. From the rear hatch for your gear to the onboard restroom to the convertible living space that forms a relaxing bed, it's all right there with you. The main space converts for living/sleeping/dining with a forward galley and a wet-bath. Benches and two tables convert the interior into a sleeping area. The 26x46-inch rear hatch lets you load and unload your gear through the back of the trailer into 126 inches of available cargo depth from the hatch to the galley cabinets. Large wheels and tires, and a generous approach/departure angle help tackle rough terrain. Front windows let you take in a panoramic view. Three decors feature durable, marine-grade wood tone flooring. The long list of standard equipment includes: two-burner cooktop; Fantastic fan; LED lights; two 20-pound LP tanks; 22-gallon freshwater and 29-gallon gray/black water tanks; deep-cycle battery with multi-stage converter; Nev-R-Adjust brakes; water heater; pop-up 110/USB outlets; porcelain toilet; more. Available options include: 160-watt solar package with upgraded AGM battery; fully enclosed rear tent; slide-in visor; patio awning; fully enclosed patio tent.
MSRP: $35,900; airstream.com.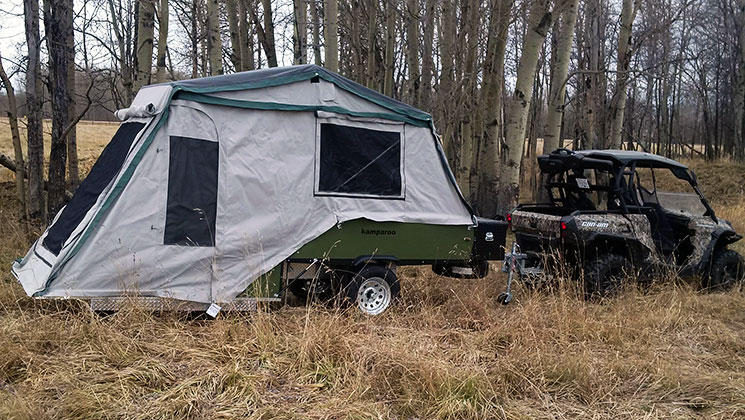 6. Kamparoo Vacationer
The weight of the base Vacationer is 725 pounds. It can be set up in seconds, and bedding and pillows are ready to use. It sleeps two on the bed, plus two more in the living area on cots. The roof rack is rated to 400 pounds. A large-capacity storage compartment lies under the bed. Canvas pockets surround the bed area to hold books, flashlight, glasses, etc. Four of the six mesh-protected windows have a zip-open clear plastic window. Extendible awnings for the four main windows include grommets for tying off to trees or pegs. The draw bar comes with a folding wheeled jack, storage box and storage tray. Standard equipment includes: four-wire flat plug; 17/8-inch or 2-inch coupler; spare tire; aluminum stone guard; folding draw bar jack; 10-inch-deep storage well (48x30 inches); roof rack; mattress (56x84 inches); outside awnings for all windows; zipper doors with mesh openings. Available options include: deluxe awning; add-a-room screen room; 10-pound propane tank with 10-foot hose; storage box; 16-gallon water tank, C/W hand pump; deluxe mattress; LED lights; electric brakes; powder-coated panels.
MSRP: $7,695; kamparoo.com.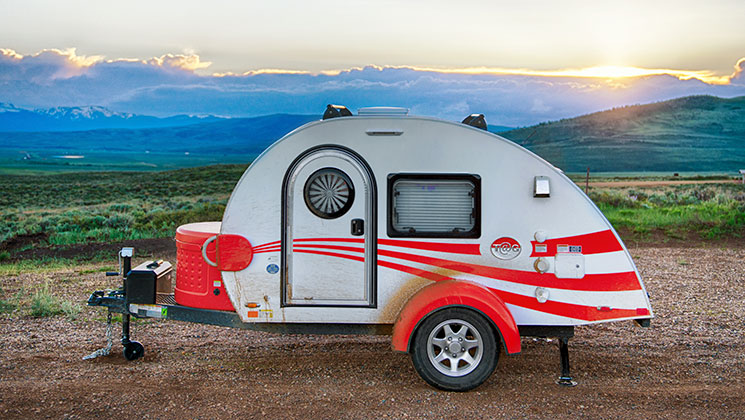 7. NuCamp RV T@G Teardrop
NuCamp's T@G Teardrop camper trailer is inspired by the classic style of the 1940s and boasts aluminum framing, dual entry doors, all-season windows, screen and shade combos and modern styling. It's equipped with a 20-pound LP tank, deep-cycle battery, sink, stove, fridge and a queen-sized sleeping area. The T@G also has storage compartments under the bed, and a roof rack can be added to haul more cargo. It's equipped with AC and can be equipped with a 12-volt ceramic heater. Standard equipment includes: queen split mattress; Fantastic fan; 5,000 BTU AC; 19-inch LED TV; entertainment system; sink; two-burner cooktop; sliding fridge. Available options include: off-road tires/fenders; pitched axle; Monster front window; external shower; Yakima roof rack.
MSRP: $13,900; nucamprv.com.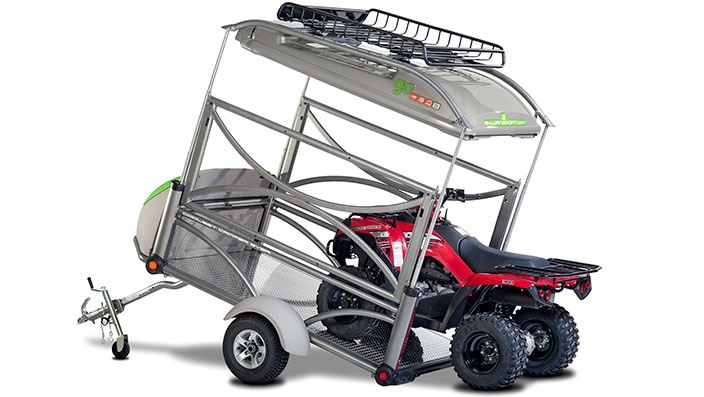 8. SylvanSport GO Pop-Up
Arrive at a campsite and in minutes pop up the waterproof tent of this versatile trailer. In travel mode, the GO camping trailer can carry 39 cubic feet of cargo in a lockable, waterproof storage box with 9 cubic feet of storage that doubles as a cooler. The top is removable so the GO can be used as an open-top utility trailer with its Control-Tilt deck that enables ramp-free loading of ATVs, mowers and more. Standard equipment includes: rear awning (80 square feet); spare tire kit; four self-inflating air mattresses; two bed/table panels. Available options include: solar kit; lighting system; storage options; rug set.
MSRP: $9,995; sylvansport.com.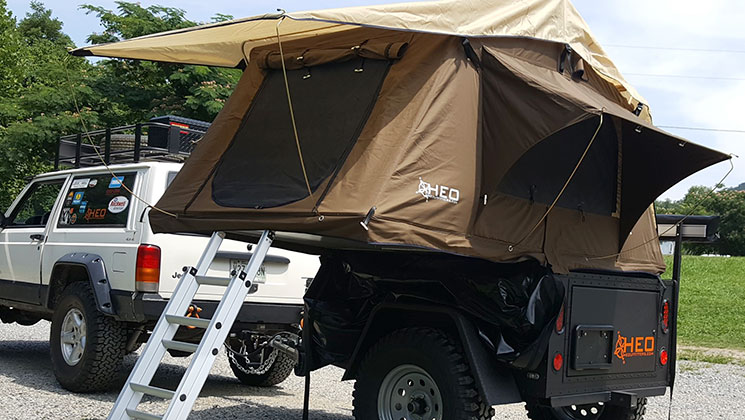 9. HEO T3 Overland
The Highland Expedition Outfitters T3 Overland is made in Tennessee entirely of lightweight aluminum and aluminum composite material, and mig-welded double-wall construction. Every T3 is equipped with a three-axis Lock-N-Roll coupler and an HEO rooftop tent made of rip-stop, poly-cotton fabric, and deploys in less than five minutes. Large windows and doors provide ample cross-ventilation. Standard equipment includes: 31x10.5R 15-inch tires with steel wheels; lockable, reinforced tailgate with stabilizer legs; LED lighting; folding jack, safety chains. Options include: electric brakes; rooftop tent; telescoping/retracting awning; custom paint/vinyl wrap; Timbren axle-less suspension (2,000-pound axle with 3,500-pound spindles); solar package; 6-cubic-foot powder-coated tongue box.
MSRP: $7,995; heoutfitters.com.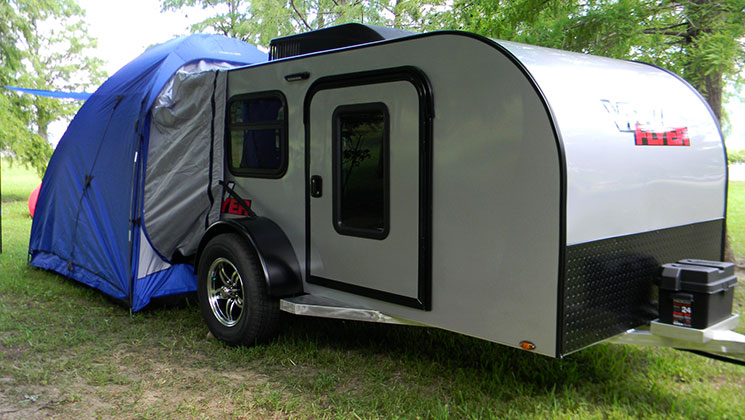 10. VRV Eco Flyer
VRV's all-aluminum, all-welded-frame, modified teardrop-style camping trailer weighs less than 790 pounds. Its large, flat roof makes it roof-rack ready with integral fender steps for accessing the roof. The large rear entry door can host an optional 8.5x8.5-foot nylon, freestanding and sleeved add-a-room tent that attaches at the back. This doubles usable space and permits standing, changing clothes, setting a table or chairs out of the weather or sleeping an additional two to three hunters for a total of five (two sleeping on the interior queen-size bed). Standard equipment includes: aluminum welded frame on torsion axle; insulated walls, ceiling; aluminum tongue-and-groove flooring; birch wood floor-to-ceiling front cabinet; 30-amp electric service with 20-foot service cord; LED lights (interior, exterior, porch); 14-inch aluminum sport rims with radial tires; 2-inch coupler; tongue jack; rear stabilizer jacks; tinted crank windows; deluxe multi-speed electric roof vent; pre-wired for roof AC. Available options include: 9.2K BTU Coleman roof AC; sleeved freestanding dome tent add-a-room; 4-inch dense foam mattresses (fold against wall); 3-inch extra-ground clearance axle.
MSRP: $8,380; toyhaulersbyrv.com.